Diadem with diamonds and sapphires, 1910, Carrington & Co. Collection Fabery Young, Antique Jewelry.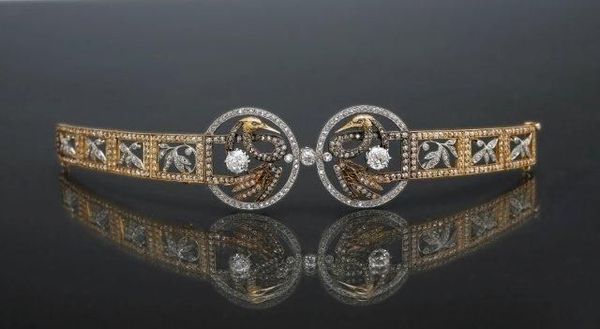 Art Nouveau diadem, 1935, Luis Masriera. A. Collection Pottery, Jewelry Antique Hague.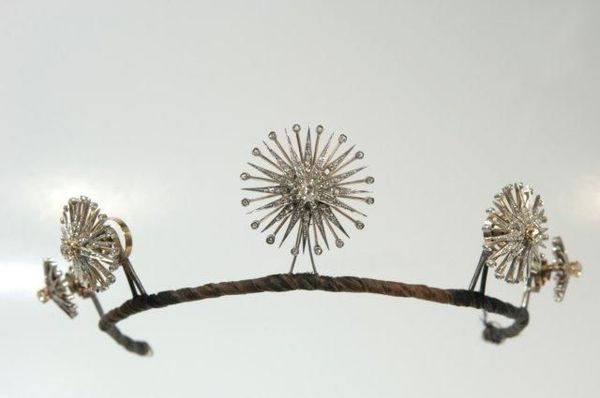 Stars Diadem, Helene Lieben, ca 1900. Jewelrer Emil Biedermann,Vienna. Part. Collection
"The family Auspitz-Lieben played a prominent role in Viennese society. Helene held regularly jour in her famous salon. Her star diadem is worn around 1900 in many big parties. The stars are removable and can also be worn. As brooch The large number of points each star has the diadem late date. In the nineteenth century Stars with only a few points are much earlier, but never before about 1850. "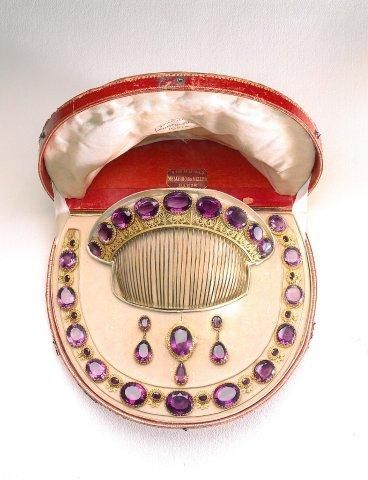 Mellerio. Parure of gold and amethyst, ca 1825 in the original case. Colletion Mellerio dits Meller.
"The shape of this diadem does not think of examples from the Empire, which in turn were based on the classics again. The use of amethyst is typical for the period 1820-1850. The Napoleonic wars in Europe had rapidly depleted and a lot of money for precious gems was not easy. "
Kokoshnik diadem, Paris, ca 1911 by André Falize, Paris. Colletion Mellerio dits Meller.
One of the most popular designs is diadem from the late eighteenth century kokoshnik, a derivative of the headdress of Russian peasant women was. The diadem right of platinum and set with brilliant cut diamonds. It dates from 1911 and bears the signature of Andre Falize, Paris.
"After 1800 the kokoshnik for diadems also popular in Western Europe, especially during the Empire of Napoleon I. A second important period for this model emerged around 1900. Russian grand dukes and princes bought when city palaces in Paris and stayed there sometimes months. At the same time opened big jewelers such as Cartier and Boucheron branches in St. Petersburg. "
Gold, silver and rose cut diamonds, approx 1895, Jeweller B.C. Reeser & Son, the Hague. Part. collection.
"This jewel is a typical and beautiful example of a "hofjuweel" from the end of the nineteenth century. It will undoubtedly be worn. To the Hague court during festive occasions and offcial It is performed in the neo-Louis XVI style, which at the European courts despite the rise of the emerging Art Nouveau was detained. Using a small screwdriver and associated frames can be converted into a jewel necklace, brooches and hair ornaments. '

Lotus tiara / necklace, Studio Steltman Jeweler, The Hague, 2011.
It is a contemporary Dutch diadem of gold, set with briolet cut aquamarines. Hundreds brilliants are links that take the form of stylized lotus petals.The tiara can also be worn. As necklace It is to be found in the state of Steltman. That's not so strange. The jewel is in fact produced in the studio of the hofjuwelier.
Tiaras & Diadems, Regal jewelery, PAN Amsterdam, RAI, Parkhal (Hall 8), 20 - November 27, 2011. Further information: www.pan.nl
Copyright Els Smit
Published on October 24, 2011