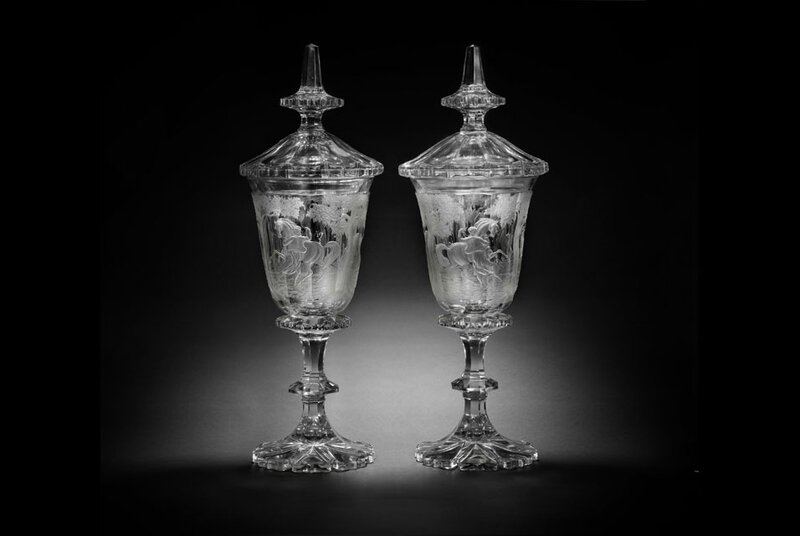 An important and massive pair of Bohemian clear-glass goblets and covers, circa 1850-70. Sold for £47,500. Photo: Bonhams.
LONDON.- Two huge 2ft 9 inch tall Bohemian glass goblets made in Carlsbad in the mid 19th century were the star performers at Bonhams Masterpieces of Bohemian Glass sale in New Bond Street, London on 11 December. The pair sold for £47,500 in a sale which made over £450,000.
The clear glass goblets, complete with covers, were part of a private and unique collection of high quality work by all the leading names from the golden age of engraved glass.
Many of the pieces sold for well over their estimates. A massive ruby-stained bottle vase (est £10,000-15,000) was bought for £33,750. An exceptional amber-stained goblet and crown cover (£7,000-10,000) sold for £22,500 as did a pair of part-amber-stained goblets and covers probably made by August Böhm in Meistersdorf around 1840-50. They had been estimated at £6,000-8,000.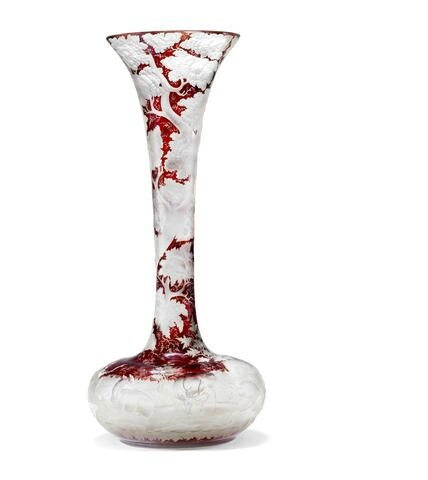 A massive Bohemian ruby-stained bottle vase, circa 1850-60. Sold for £33,750.

With a round onion shaped body and tall trumpet neck, deeply wheel-cut and engraved with a continuous forest scene with two rutting stags, a further stag standing by a resting doe and a younger stag grazing, a single massive tree encircling the neck with leafy branches all around as high as the rim, 70cm high.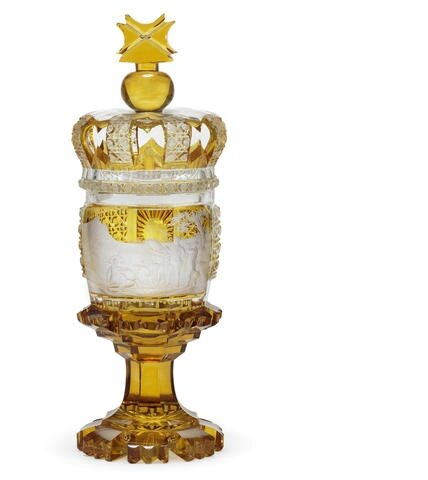 An exceptional Bohemian amber-stained goblet and crown cover, circa 1850-70. Sold for £22,500.
The cover remarkably formed as a coronet or crown with pierced panels of hobnail-cut diaper pattern pierced in between, surmounted by an orb forming the finial, the cup-shaped body with a rectangular panel engraved with an aristocratic hunting party hunting deer in the Highlands, two smartly-dressed gentlemen standing by their horse with attentive hounds, all watching three gillies displaying a shot stag, the gillies wearing highland dress with kilts, the reverse of the bowl with further diaper pattern panels and a viewing lens within a sunburst, raised on an eight-sided spreading stem deeply cut at the base and underneath with fan-shaped barbs, 41cm high (2)
For an amber-stained goblet of this same, most impressive shape see John Sandon, Antique Glass (1999), p.107. A crown cover of related shape occurs on a goblet engraved by Dominik Biemann with a portrait of Archduke Franz Karl, see Paul von Lichtenberg, Glasgravuren des Biedermeier, p.119, fig.88. According to Michael Kovacek, Glass of Five Centuries (1990), p.188, crown-shaped covers were a speciality of the Harrachov glassworks.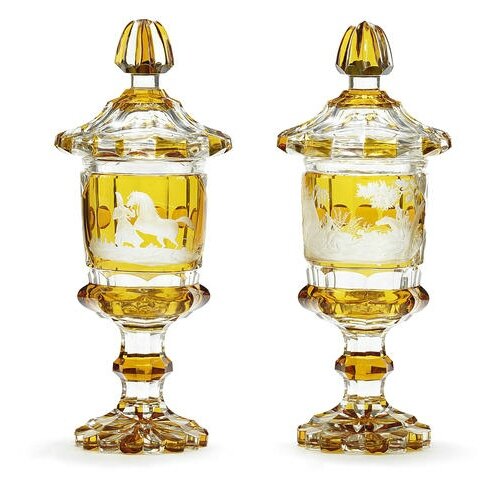 A pair of Bohemian part-amber-stained goblets and covers probably by August Böhm, Meistersdorf, circa 1840-50. Sold for £22,500.
Variously cut with facets and pillar flutes, some heightened with amber stain, the undersides of the scalloped feet with star cutting alternately stained in amber and left clear, the ovoid bowls with a single reserved panel, one engraved with a Janissary holding the reins of a spirited horse, the other with a hunting scene with a horseman and hounds surrounding a stag, 38cm high (4)
An identical figure of a Turk with his horse is engraved on a goblet in the Passau Glasmuseum, signed by August Böhm, see Georg Höltl, Das Böhmische Glas 1700-1950, vol.2 Empire-Biedermeier, p.125, fig.166. See also p.126, figs.168-169 for two other goblets with the same subject in reverse, one attributed to August Böhm, the other probably by Eduard Pelikan.
Bohemian glass is the epitome of the Biedermeier taste which flourished in Central Europe in the first half of the 19th century and these goblets and covers were made during that period and for a time shortly afterwards. The stark, strong shapes are decorated with the finest craftsmanship using the technique known as Tiefschnitt, which involves carving away layers of glass to create entire scenes in intaglio.
Deer hunting was a favourite theme, reflecting the main sporting pursuit in the region. In the 19th century, as part of 'The Season', Europe's wealthy flocked to the spas of Bohemia – an historical kingdom which today is part of the Czech Republic – to take the waters and hunt. Many of the pieces in the sale would have been presented as trophies by aristocratic hosts to successful hunters.
Sadly, the craftsmen who made these beautiful objects did not always enjoy the recognition and respect they command today. August Böhm, for example, who excelled at carving figures on horseback, left his wife and family at home to seek his fortune abroad only to return unsuccessful and die in penury.