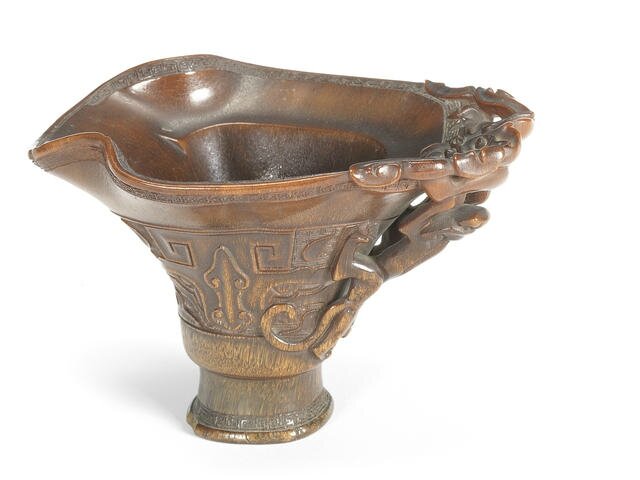 An archaistic rhinoceros horn libation cup, 17th-18th century. Photo Bonhams.
The richly-grained and glossy dark amber horn exceptionally finely formed with a high stepped foot beneath the body carved with a dramatic taotie mask decorative band, the double-handle formed from two chilong, the smaller sheltering beneath one arm of the larger reaching up to bite the rim of the cup opposite the spout formed with strongly sweeping curves. 13.8cm (5 3/8in) long. Estimate £25,000 - 30,000 (€30,000 - 36,000)
Provenance: an English private collection formed in the late 19th and early 20th century, and thence by descent within the family
The present lot is notable for its exceptionally confidently and elegantly carved sweeping lip, and the deeply hollowed interior. The archaism of the taotie motif reflects the interest in the 18th century for reviving and adapting designs from ancient bronzes, not only for their decorative qualities but also serving as a reminder to look to ancient morals for guidance in present life. Related libation cups combining chilong and archaistic bands are illustrated in T.Fok, Connoisseurship of Rhinoceros Horn Carving in China, Hong Kong, 199, no.41, formerly in the Mary & George Bloch Collection, and also see J.Chapman, The Art of Rhinoceros Horn Carving in China, London, 1999, pls.174 and 185 from the Chester Beatty Library in Dublin and ibid., no.184 in the Staatliches Museum für Völkerkunde in Munich.
Compare another rhinoceros horn libation cup with a chilong handle but a geometric ground decorative band, sold in these rooms, 16 May 2013, lot 361.
Bonhams. FINE CHINESE ART. London, New Bond Street, 15 May 2014 - www.bonhams.com