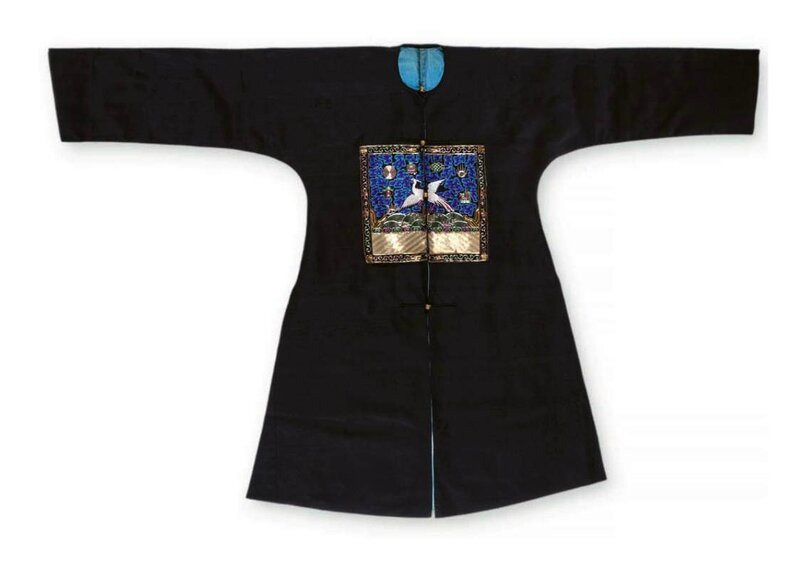 A civil official's cotton blue cotton surcoat, bufu, 19th century. Photo Dreweatts & Bloomsbury Auctions.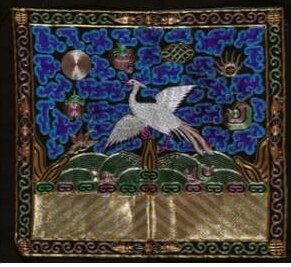 the dark blue ground applied on the front and back with a satin-stitched insignia badge, buzi, of a Paradise Flycatcher, for the official of the ninth rank, worked in satin and couched gold thread, with the white, long tailed bird, lanque, facing the sun as it stands atop a rock emerging from waves above wide gold stripes, surrounded by the Eight Buddhist Emblems, bajixiang, amid lingzhi shaped scrolling clouds, within a border of floral scroll, all in shades of blue, coral, white, green and yellow, outlined in couched gold thread, 104cm high and 174cm wide This bufu was worn over the dragon robe, jifu, featured in lot 70, when attending official functions and in the presence of the emperor. Estimate £800-1,200

Provenance: Private UK Collection. Acquired in conjunction with lot 70, with Linda Wrigglesworth package.

清十九世纪 石青地文九品补服. 补服圆领,对襟,平袖端,裾左右开。前胸后 背饰九品补子 (练雀)
Dreweatts & Bloomsbury Auctions. Chinese Ceramics and Asian Works of Art. 17th May 2014. http://www.dreweatts.com/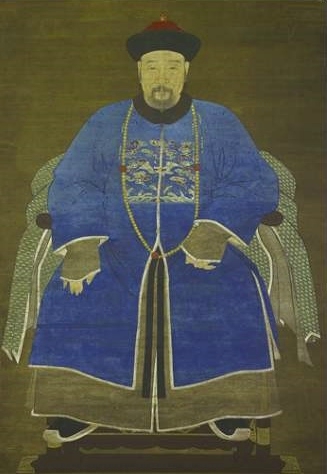 Offical surcoat from the de Young Memorial Museum, San Francisco, California, Christie's Hong Kong, 27 May sale 2008, lot 1531.