David LaChappelle's Inflatables: Wonderbread, 2002. Estimate HKD150,000-200,000. Photo: Sotheby's.
HONG KONG.- Sotheby's Hong Kong will present the third installment of Boundless: Contemporary Art auction at Sotheby's Hong Kong Gallery on 10 June 2014. Building on the success of the previous sales, this auction will provide a unique opportunity for collectors in the region to acquire both Western and Asian contemporary art by blue-chip and emerging artists including James Turrell, Allora & Calzadilla, Gilbert & George, Zhang Xiaogang, Zeng Fanzhi and Kazuo Shiraga, among others. Comprising works in various media such as paintings, photographs and installation pieces, this highly-curated sale will offer a total of over 80 lots estimated in excess of HK$28 million / US$3.6 million*.
Isaure de Viel Castel, Head of Mid-Season Sales, Contemporary & Modern, Fine Art Department, said: "There has been tremendous interest in contemporary Western and Asian art in this part of the world, as demonstrated by the solid results achieved at the previous Boundless: Contemporary Art auctions. In response to the rising demand and diversifying taste of collectors in Asia, we are excited to be offering yet another meticulous selection of quality art pieces in various forms and media by renowned Western and Asian contemporary artists. Together with specially- curated sections on the Japanese Gutai Group and contemporary photography, this auction presents works that transcend the boundaries of East and West, testifying the 'Boundless' concept which is instrumental to the sale."
AUCTION HIGHLIGHTS
James Turrell (b. 1943), Magnetron Series: Pancho 2000, Television installed within a wall, with an installation manual, Dimensions variable depending on the exhibition space Est. HK$800,000 – 1.2 million / US$104,000 – 155,000. Photo: Sotheby's.
James Turrell is one of the most important living artists creating art using light and space. His work is concerned with light in its pure form, striving to present light in and of itself instead of a reflection of something else. A work from Turrell's Aperture Series – one of the most well-known bodies of work by the artist – the present Magnetron Series: Pancho is the first light installation by the artist to be auctioned in Asia. It consists of a small aperture in the shape of an old television screen, and as in Turrell's aperture works, there is only a shape cut through the wall with no glass over the opening. The light comes from an actual 12-inch CRT television, out of view within the wall and tuned to a specific channel. Few viewers have considered or seen the light emanating from the TV screen in its pure, isolated form. As such, the present work offers a rare opportunity to experience something that many people are familiar with, yet know so little of, and is a brilliant example using television as a medium for a work of art.
As a celebrated light artist, Turrell's works have been exhibited worldwide. In 2013, the Guggenheim Museum in New York held a major retrospective of his works, where it became one of the most popular exhibitions the museum has ever held. The artist is also well-known in the region, especially in Japan where his works are exhibited in several large museums, including the 21st Century Museum of Contemporary Art, Kanazawa, and in a permanent installation at the Chichu Art Museum at Benesse Art-Site in Naoshima.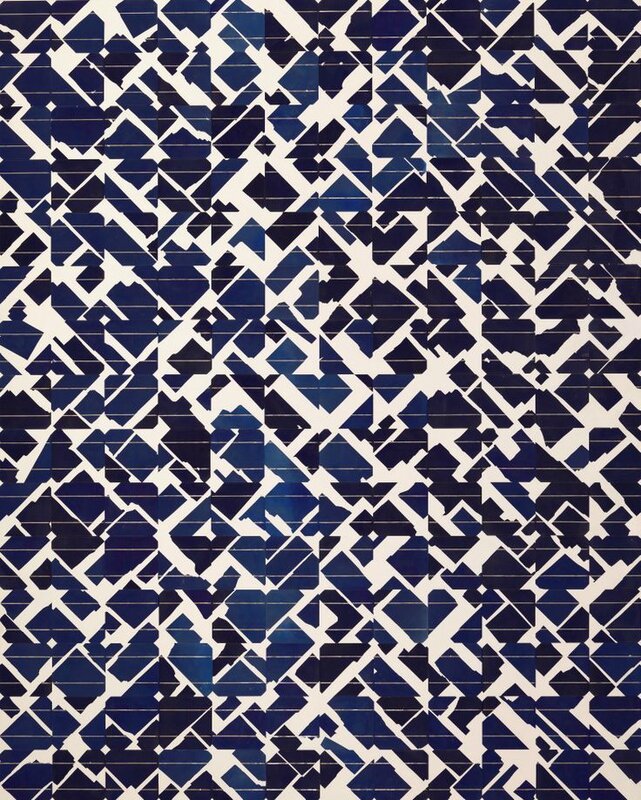 Allora & Calzadilla (b. 1974 / 1971), Solar Catastrophe 2011, Broken solar cells on canvas, 235.6 x 188 cm Est. HK$800,000 – 1.2 million / US$104,000 – 155,000. Photo: Sotheby's.
Based in Puerto Rico and represented the United States at the 2011 Venice Biennale, Allora & Calzadilla expose and scrutinize areas of political tension in the public sphere through a wide-ranging body of work in various media, heightening our understanding of a given material by investigating its symbolic dimension. In Solar Catastrophe, solar panels are broken into geometric shapes to form a striking abstract collage on canvas. The solar panel, a seemingly ubiquitous symbol of environmental progress today, is deconstructed on a canvas to be merely decorative. It alludes to an aestheticizing of environmental activism and perhaps the hypocrisy of it all. It is also a strong example of a conceptually rich work yielded by simple re-appropriation of material.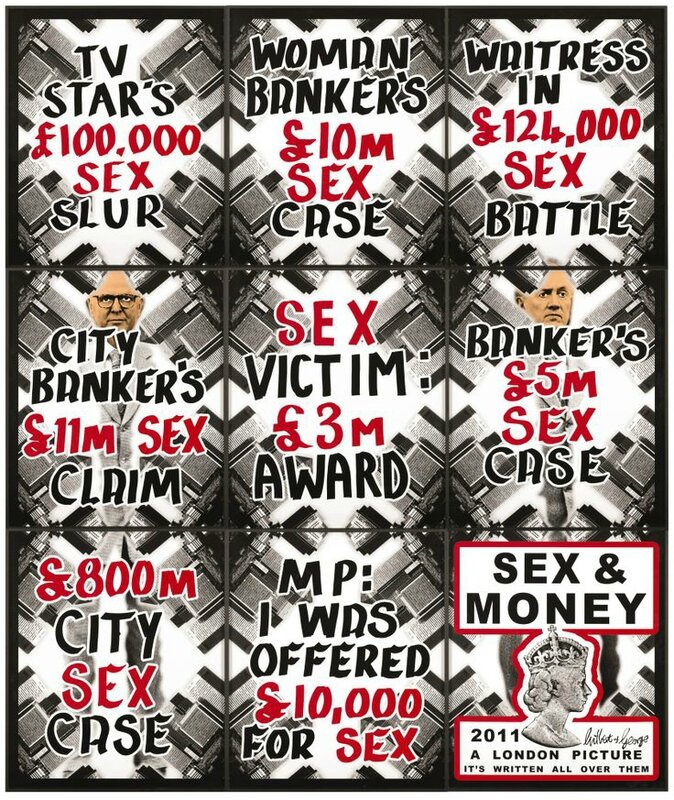 Gilbert & George (b. 1943 / 1942), Sex & Money (A London Picture) 2011, Mixed media, Each: 73.9 x 61.8 cm, Overall: 226 x 190 cm Est. HK$500,000 – 700,000 / US$64,500 – 90,500. Photo: Sotheby's.
In the London Pictures series, Gilbert & George depict the urban life in its absurdity and routine violence. Each picture from the series is based on the sorting and classification by subject of 3712 newspaper headline posters, stolen by the artists in London over a number of years to create a monumental body of 292 works, the largest series yet created by the artists. In the present work Sex & Money, the red and black words contrast with the almost abstract vision of the London City buildings. As always, the artists appear in their work but this time, they seem to be less important than the text itself, which relates varying court cases concerning sexual harassment. This series of works shows the real story of London in an attempt to create a contemporary townscape.
Zhang Xiaogang (b. 1958), Portrait 1999, Oil on canvas, 190 x 150 cm Est. HK$6 – 8 million / US$775,000 – 1.04 million. Photo: Sotheby's.
Created in 1999, Zhang Xiaogang's Portrait was inspired by the then-conventional black-and-white, occasionally hand-coloured photographs in China. The subdued monochromatic palette of this work contrasts with the pink cheek of the subject, creating an effect similar to actual photographs. A signature of the Bloodline series, the red line extending beyond the canvas suggests a connection of the figure to a larger family unseen in the frame. Just as the red line connects the figures to their family or past, it singularises the persistence of private memories to be found in each individual – even in a standardized society with little room for the expression of the self.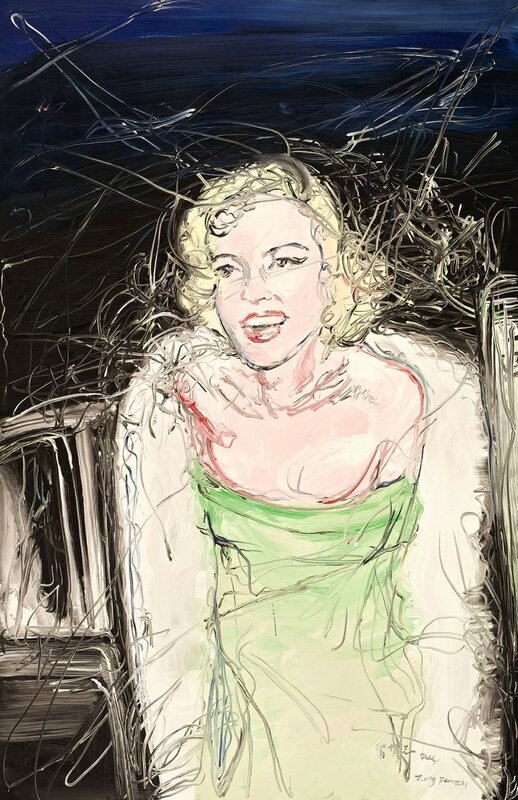 Zeng Fanzhi (b. 1964), Marilyn 2004, Oil on canvas, 200 x 130 cm Est. HK$5 – 7 million / US$645,000 – 905,000. Photo: Sotheby's.
Based on a photograph of Marilyn Monroe descending a car to attend the premiere of Walter Lang's There's No Business Like Show Business in 1954, Zeng Fanzhi's Marilyn tells the same story of red-carpet glamour, yet the mood seems more somber. Bright hues explode around the subject's golden locks, resembling the lasting impressions left by camera flashes on our eyes, unsettling and blinding. This Marilyn is glamorous yet alone; angel-like yet surrounded by darkness. Through Zeng's experimental brushstrokes, what is supposed to be a high-gloss, high-definition fashion photograph turns into a melancholic and uncertain impression of a star long gone.
THEMED SECTIONS
The Gutai Group The Gutai group is Japan's most-influential avant-garde collective of the postwar era. Started by the visionary artist Yoshihara Jiro in 1954, the group aimed to open a dialogue between the materials and the artist's spirit while attempting to transform the material into something new. In Boundless: Contemporary Art, Sotheby's is proud to present works by Kazuo Shiraga, Sadamasa Motonaga, Atsuko Tanaka, Shuji Mukai, Sadaharu Horio and Senkichiro Nasaka, showcasing the artists' audacious and liberating modes of self-expression, comparable to that of their Western contemporaries.
Kazuo Shiraga (1924 – 2008) Kasuminova 1976 Oil on canvas 33 x 24 cm Est. HK$140,000 – 180,000 / US$18,100 – 23,300. Photo: Sotheby's.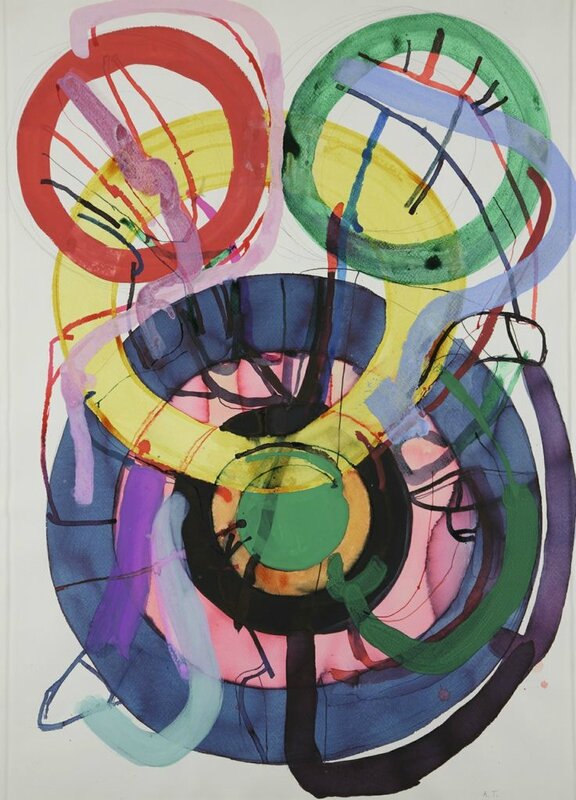 Atsuko Tanaka (1932 – 2005) Untitled 1985 Gouache, ink and pencil on paper laid down on canvas 80.3 x 58.5 cm Est. HK$80,000 – 120,000 / US$10,400 – 15,500. Photo: Sotheby's.
Contemporary Western and Chinese Photography
Also on offer is an exciting array of contemporary Western and Chinese photography which illustrates the different perspectives of the East and West. From the contrast of attraction and repulsion in Andres Serrano's work to Vik Muniz's appropriated image using refreshing materials, or Andreas Gursky's calm and structured depiction of an architecture in Singapore to Ma Liuming's documentation of performance art through the photographic medium, the works featured are as diverse in process and material as in subject and theme.