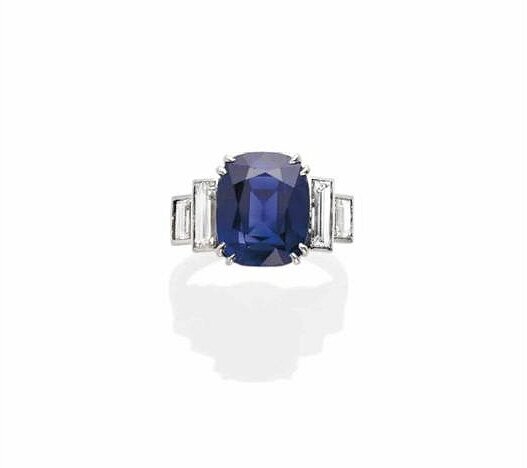 Bague saphir et diamants, par Chaumet. Photo: Christie's Images Ltd 2014.
Ornée d'un saphir coussin pesant environ 7.05 carats épaulé de chaque côté de deux diamants baguette, monture en platine, poinçon français, poids brut: 6.25 gr., dans son écrin. Porte le poinçon de la Maison Chaumet. Estimate €150,000 - €200,000 ($204,943 - $273,258). Price Realized €559,500 ($763,740)
Accompagnée de certificats de l'American Gemological Laboratory (AGL) no. CS60129 en date du 26 mars 2014, de l'Institut Suisse de Gemmologie (SSEF) no. 72850 en date du 24 février 2014 et du Laboratoire Français de Gemmologie no. 207948 en date du 3 juillet 2013 attestant que le saphir possède les caractéristiques des saphirs des gisements du Cachemire, pas de modification thermique constatée
Provenance: Duchesse de Luynes
Le terme de Cachemire renvoie au plus recherché et au plus onéreux des saphirs bleus, et désigne à la fois la provenance et la couleur de la pierre.
Ces pierres extraordinaires proviennent des mines légendaires de la chaîne du Zanskar, au nord-ouest de l'Himalaya, au-dessus du village presque inaccessible de Sunjam.
Les saphirs ont été découverts en 1881, lors d'un glissement de terrain survenu dans la vallée et dès 1882, la région fut envahie par les mineurs, tous à la recherche des plus beaux saphirs jamais découverts. Il leur arrivait d'extraire des pierres brutes aussi grosses que des pamplemousses qu'ils vendaient ensuite à titre privé. Ayant entendu parler de ces superbes saphirs, le Maharajah du Cachemire envoya son propre régiment pour prendre possession de la mine, et toute entreprise privée fut interdite. Cette exploitation d'envergure perdura sous son contrôle durant les cinq années suivantes, et en moins de dix ans la ruée vers le saphir prit fin, les mines étant épuisées. De nouvelles mines ont été ouvertes depuis, mais toutes ont produits des résultats décevants.
Les saphirs du Cachemire atteignent des prix beaucoup plus élevés que tous les autres saphirs, non seulement parce qu'ils sont rares mais aussi pour leur indéfinissable et envoûtante couleur, oscillant d'un bleu bleuet à un bleu velouté.
A SAPPHIRE, DIAMOND AND PLATINUM RING, BY CHAUMET
The term Kashmir has come to signify the most desirable and expensive of blue sapphires, and identifies both the place of origin and the colour of stone.
These extraordinary gems are from the legendary mines in the Zanskar range of the northwestern Himalayas, above the virtually inaccessible village of Sunjam.
The sapphires were discovered in 1881 when a landslide occurred at an upland valley. By 1882, the area was crowded with miners, all looking for the most beautiful sapphires ever to be found. At times they were removing rough stones as large as grapefruits from the site and selling them privately. Upon hearing of the superb gems, The Maharajah of Kashmir sent his own regiment to take the possession of the mine and all private enterprise was forbidden. Extensive and productive mining went on for the next five years under his control and within a decade the sapphire rush ended as the mines were exhausted. Some new mines were opened since then but all have yielded poor results.
Kashmir sapphires command a much higher price premium than all other sapphires, not only for their rarity, but also for their rich, cornflower blue or velvety blue color that have a mesmerizing sleepy quality.
Christie's. PARIS JEWELS, 28 May 2014, Paris - http://www.christies.com/