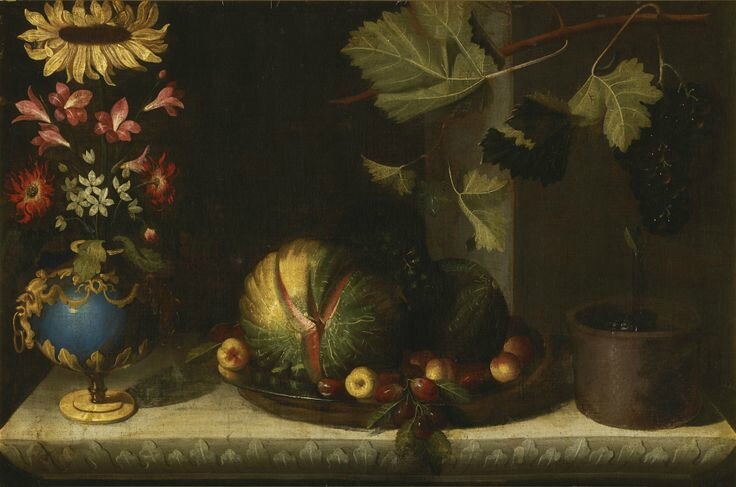 Bernardo Polo (Active Zaragoza circa 1650 - circa 1675), Still life of a sunflower and other blooms in a gilt mounted bluestone vase, together with melons, apricots, grapes and plums in a pewter dish alongside a planter with grapes on a vine branch, all on a carved marble ledge. Photo Sotheby's
oil on canvas, 72 by 108 cm.; 28 1/4 by 42 1/2 in. Estimation 50,000 — 70,000 GBP
Provenance: Ilustrísimo Señor Don Félix de Abásolo y Zuazo, Conde de Abásolo (1863-1930);
Thence by direct family descent to the present owner.
Bernardo Polo is recorded as working in Zaragoza, the capital of Aragón, during the third quarter of the 17th century. According to the contemporary biographer Antonio Palomino, he had a 'very special skill' for painting floreros and in his Diccionario histórico de los más ilustres profesores de las Bellas Artes de España, published in Madrid in 1800, the Spanish writer Juan Agustín Céan Bermúdez observed that 'he was distinguished for painting flowers and fruit from life: his canvases are high prized in that city (Zaragoza) and Madrid, where they hang in the galleries of private collectors'.1
Despite these early accounts of Bernardo Polo, it was not until 2009 that the first signed painting by the artist came to light – a Still Life with Melons, Grapes, Apricots and Plums on a Pewter Dish now in a private collection. This permitted the identification of a corpus of over forty still lifes by the same hand which had hitherto been grouped under the pseudonym the 'Pseudo-Hiepes' by Dr. William Jordan and Dr. Peter Cherry on account of the paintings' stylistic affinities with the work of the Valencian still-life painter Tomás Hiepes (1595-1674).2 This painting forms part of a group of works that are designed around a stone slab carved with leaves, upon which sit simply but symmetrically arranged objects. The tendency to repeat certain objects or motifs within his own works is common within Polo's œuvre. Another closely related version of this composition, for example, with a different arrangement of flowers in the bluestone vase, was sold London, Bonhams, 4 July 2012, lot 12.3
1. See J.A. Céan Bermúdez, Diccionario histórico de los más ilustres profesores de las Bellas Artes en España, Madrid 1800, vol. IV, p. 105.
2. See W.B. Jordan and P. Cherry, Spanish Still Life from Velázquez to Goya, exhibition catalogue, London 1995, pp. 124-28.
3. See W.B. Jordan, 'El Pseudo-Hiepes es Bernardo Polo', in Archivo Español de Arte, Madrid, October-December 2009, LXXXII, p. 328, fig. 5.
Sotheby's. Old Master & British Paintings Day Sale.London | 10 juil. 2014, 10:30 AM - http://www.sothebys.com/