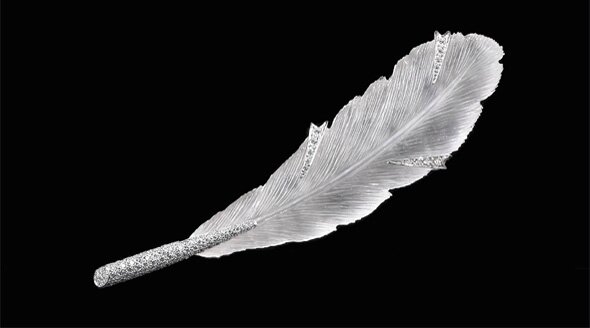 A Rock Crystal Carved In The Form Of A Feather Set With Diamonds exhibited by Grima, United Kingdom at Art Antiques London.
LONDON.- Art Antiques London had much to celebrate when its doors closed on Wednesday 18th June after eight very exciting days. The Fair acted as a magnet for collectors and connoisseurs with notable sales to younger buyers, with many established buyers visiting the Fair, and museum curators out in force. The central location in Kensington Gardens next to the Albert Memorial is one of Art Antiques London's greatest assets. The fair is convenient for the well-heeled local population, which includes a number of diplomatic missions, as well as visiting international collectors.
The glittering charity opening, 'Party in the Park' at Art Antiques London in aid of Children in Crisis took place 10 June at the fair. The spectacular evening was designed as a Victorian Children's Party and began with a Champagne Reception and Preview of the Fair. The Gala Dinner was co-chaired by HRH Princess Eugenie of York and Alexandra Buxton and attended by Sarah, Duchess of York, Cressida Bonas, Tracey Emin, Guy Pelly and Lizzie Wilson, Jack Brooksbank, Astrid Harbord and Alice Naylor-Leyland.
The centrepiece of this year's Lecture Programme was a sell-out entitled FACE TO FACE: DAME ROSALIND SAVILL IN CONVERSATION WITH THE DUKE OF DEVONSHIRE featuring a fascinating and entertaining conversation between the two, sponsored by 1stdibs.com. The Fair's world-renowned Lecture Programme is an annual highlight of fair and has consistently hosted the world's leading experts and academics presenting new research in their respective fields.
High profile visitors to the fair this year included Julian Sands, Sir Timothy Sainsbury, Sir Neville Marriner, Jeffrey Tate, Lorraine Chase, Michael Heseltine, Dame Monica Mason and Bianca Jagger.
'Asian Art in London Pavilion' at Art Antiques London
It was a buoyant start for Asian Art in London's Pavilion at Art Antiques London with a large number of visitors to the stand, where 23 leading Asian art dealers held a stunning selling exhibition of museum quality Asian works of art. Meeting new clients and making sales are essential to make any fair appearance a success and Asian Art in London is delighted to announce success on both fronts. This new venture from Asian Art in London brought together a wide range of art works from antique to contemporary, including Imperial Chinese porcelain, jade and cloisonné enamels, Japanese netsuke and lacquered works of art, Tibetan gilt bronzes, Indian miniatures and stone sculptures, Chinese textiles and a diverse range of contemporary Asian art.
The Indian market is particularly strong. Rob Dean Art sold several Indian miniatures on the opening day to 3 separate clients. He commented that: 'Coinciding with the Indian Art auctions in London, the Indian art showcased at the Pavilion provides another reason for Indian collectors to be in town in June. The response from domestic Indian collectors has been excellent with sales to both private and institutional buyers'.
Chinese art was also a major attraction, with many Mainland clients visiting London after the Chinese auctions in Paris. David Baker Asian Art achieved success within a few minutes of the fair opening, selling a fine blanc de chine figure of Guanyin with impressed 'fisherman' mark, The individual dealers exhibiting with Asian Art in London reported increased visitor numbers to their galleries, directly as a result of the fair and following a visit to the Pavilion. Jacqueline Simcox was still negotiating the sale of an imperial Qing silk to a new Chinese client – with photographs flying between London and Beijing on a mobile phone.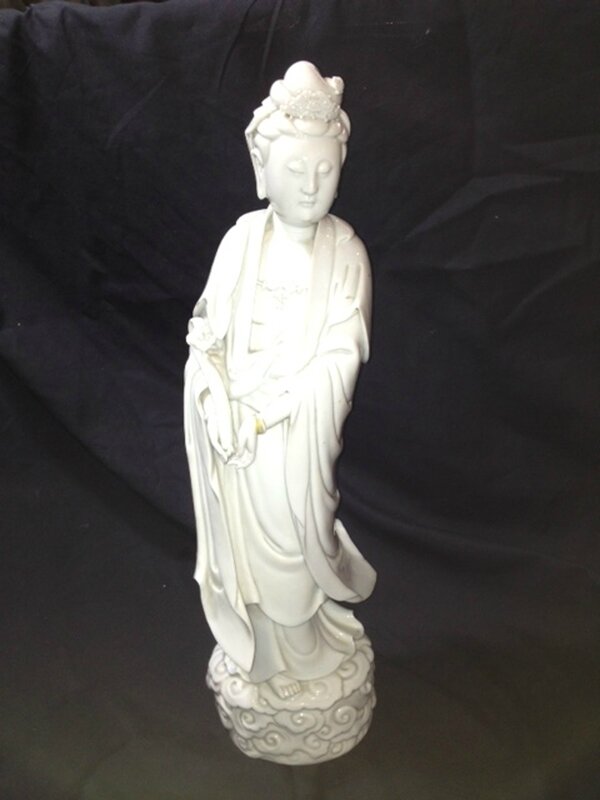 A blanc de chine figure of Guanyin. Circa 1700. With impressed 'fisherman' mark. Height: 43cm. Photo courtesy David Baker Asian Art
Japanese specialists, Max Rutherston, Robert Brandt and Simon Pilling were delighted with the results, with a fine gold lacquered crane flying out of the fair and Japanese bronze animals quickly finding new homes. Gregg Baker commented that the Pavilion has been very successful for him; he sold to both old and new clients and feels that the venture should definitely be repeated. The combination of Asian arts on display acted as a magnet for old and new clients alike and a number of new visitors to the fair expressed their admiration for the mixture of art forms which resulted in an elegant and dynamic display.
"Both the exhibitors and the public love this fair," commented exhibitor John Howard, who continued to say that Art Antiques London is "accessible and fresh, and exceedingly comfortable for my clients who are known to have high standards." That Art Antiques London attracted a discerning, knowledgeable audience was one of the most frequently heard comments from exhibitors.
Among the new exhibitors at the fair, FitzGerald Fine Arts (New York and Beijing) enjoyed an excellent first outing, commenting, "Much like the June weather this fair is absolutely gorgeous," commented Benjamin Walker, Gallery Director. "Superbly organized, the vetting assures customers may buy with confidence. The prospective clients we have met are well versed in both the antique and contemporary worlds. We find the combination of exhibits and the curatorial angle is especially keen. There is something for everyone at this particular fair." Fitzgerald Fine Arts made sales of contemporary ink paintings and Jingdezhen blue and white porcelain including several pieces at prices in the region of £20,000 to £25,000.
Exhibitor Sales
Julian Hartnoll sold Bambi's, Big Girls Need Big Diamonds on Opening Night and Fabric Designs by Bianchini-Ferier.
Strachan Fine Art (London) specialists in portrait paintings and drawings from the 16th to the 20th century, medieval sculpture, and 20th-century British sculpture sold two English 16th century portraits at The Private View on 11 June.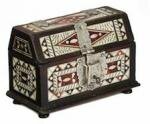 Roell Fine Art sold a variety of outstanding pieces including a Small Casket, Spanish colonial, Mexico, 17th century, A fantastic Comb, Ceylon, Kotte, late 16th century, in ivory for £15,000 to the Asian Civilisations Museum in Singapore; A Chest, Sri Lanka, late 17th century, Jackwood and ebony to a new Russian buyer.
Bazaart sold a rare terracotta vase and base, painted in earth tone colours, Wonderland Pottery, Bombay School of Art, Bombay, India, circa 1880 for £15,000 on opening night.
Marchant sold a Longquan celadon large saucer dish with gently flared rim, carved in the sacred-seed symbol hrih in Siddham script, Early Ming, 14th / 15th c, Japanese wood box, £19 500. The Siddham script sacred-seed symbol hrih is used by both the Amitabha Buddha and the Bodhisattva Avalokiteshvara and is a symbol of compassion.
Hampton Antiques sold a much admired, rare pair of urn tea caddies, circa 1790, veneered in harewood, with various inlaid bandings.
Julia Korner sold a pencil and watercolour, by William Daniell RA (1769-1837 entitled Capriccio view of Benares and Mosque of Aurungzeb which sold to a Foundation in India for around £10,000 as part of her special stand exhibition, Travels Within the Empire. Daniell was an English landscape and marine painter and engraver. He travelled extensively in the Far East helping to produce one of the finest illustrated volumes of the period – Oriental Scenery.
John Spink: Painting by Samuel Phillips Jackson 1830-1904) A hulk lying at anchor in Cattewater, Plymouth £7600 and The Guildhall, City of London, by J. Tim Macdonald (Fl 1889-1919).
Samuel Phillips Jackson (b 1830- d 1904), A hulk lying at anchor in Cattewater, Plymouth. Watercolour over pencil heightened with white 171/2 x 29 1/4 in ( 44.4 x 74.3 cm ) Signed and dated 1856. Photo courtesy John Spink
Imperial Fine Books sold an exceptional set of Mark Twain books (signed) asking price £26,000. Christopher Buck Antiques sold a William and Mary 17th century marquetry side table for a 5-figure sum.
Christoph Perlès sold a Saint Cloud porcelain pot (18C); Japanese Arita porcelain small square bottle (end of 17C, early 18C); Mennecy porcelain miniature basket, DV mark, 18C.
Goodman Fine Art: Sold several pictures by Alan Davie (September 28, 1920 – April 5, 2014) a Scottish painter and musician. 4 Davies sold, three 1960s, one 1950s. Total sales value £350,000.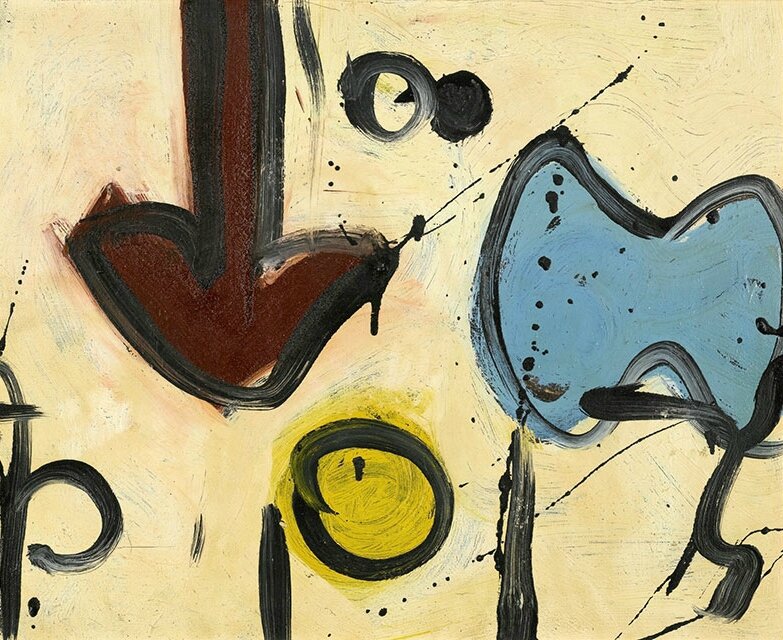 Alan Davie, Arrow and Guitar Shape, 1956, Oil on canvas, 18 x 24 inches. Photo courtesy Goodman Fine Art.
Gray Modern and Contemporary Art: Eva Aldbrook (1925-) Original fashion Illustration, Coat and Knee High Boots sketch of Dior model, Christine Tidmarsh for Sunday Times Fashion Page, 1956.
Rodney Woolley sold an unusually large and very rare Portuguese faience blue and white jug, c1635-50, Lisbon for £25000 to a private collector. (10 inches high).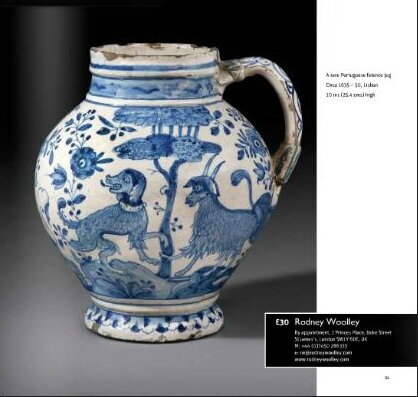 Laura Bordignon sold a Pair of bronze doves (Japan c. 1880) to an Australian businesswoman, Dimensions: 36.00cm wide 46.50cm high 27.00cm deep, Nihon koku Maruki-sei, Meiji Period.
Brian Haughton Gallery sold a collection of Meissen tea caddies to a new collector, Worcester pieces from the Sir Anthony Tuke Collection and a very rare Alcora Spanish Porcelain Figure of a Turk, circa 1750-60 (height 13 ins).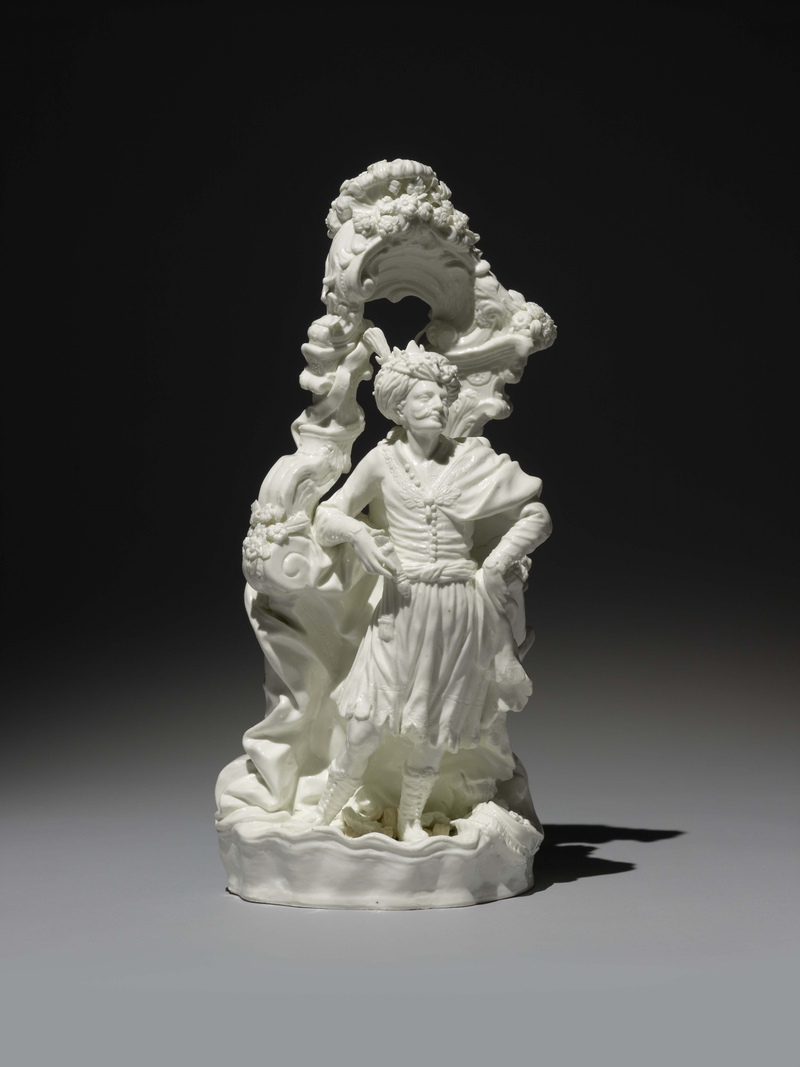 An extremely rare Alcora Porcelain Figure of a Turk. Circa 1750-60, Spain. Photo courtesy Brian Haughton Gallery
Jean-Paul Bogart, Co-Director of Martin du Louvre, Paris, summed up the fair by saying, "There are very few venues in the world that are as well-placed as Art Antiques London with such a high concentration of clients of quality. We benefit from that and as far as sales, we are all smiles too!"