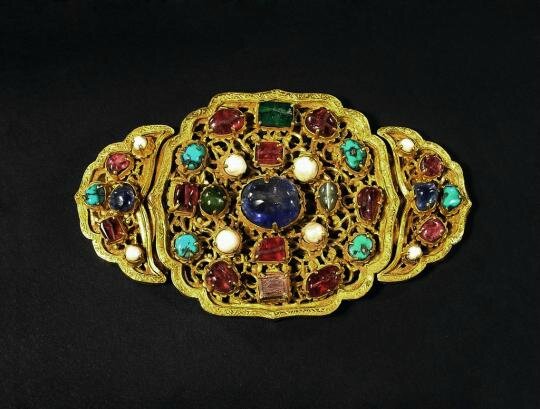 Gemmed Golden Buckle, 14th Century; Ming Dynasty; Hong Wu Period (1368 - 1398). Gold, Precious stones. Length of the hook 6.3 cm. ; Length of the biggest flower 7.5 cm. Unearthed from Duke Lu Zhu Tan's tomb in Zoucheng City in 1971. Shandong Museum © Virtual Collection of Asian Masterpieces, 2013
The buckle was found together with a jade blade. The buckle is made of gold and gemmed with precious stones.
The grave of Lu Zhu Tan (1370-1389) was discovered in 1970. Zhu Tan belonged to the Imperial Family of the early Ming Dynasty; he was the tenth son of Emperor Hongwu, founder of the Ming dynasty. More than 2000 objects were found at the grave site.