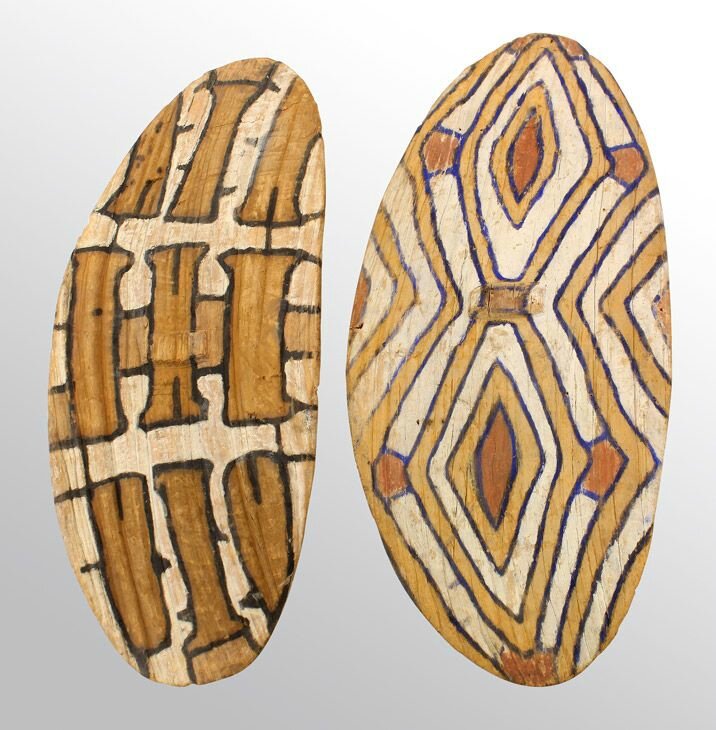 Two Aboriginal Peoples Northern Australia shields. Sold for $47,600. Photo courtesy Clars Auction Gallery
OAKLAND, CA.- On July 12, 13 and 14, Clars Auction Gallery hosted their monthly fine art, jewelry and decorative art auction. The sale would become their largest July auction in the firm's history realizing just over $1 Million. The success of the sale was fueled by both exceptional estate property and Clars' global marketing on several platforms.
FURNITURE AND DECORATIVE ARTS
The excitement began on Saturday when two (2) Aboriginal Peoples Northern Australia shields came up for sale. The shields came to auction as part of the ethnographic collection of a prominent San Francisco (CA) estate. They were both made of fig tree wood, had carved handles and carved bosses to the front. They measured 34.5" long x 14.25" wide. Prior to the sale, because of the difficulty of putting an age on the shields, they were conservatively projected to likely be post WWII by Clars and another major auction house. Based on this assumption, they were both assigned pre-sale estimates of $400 to $600 (US).
The bidding opened on the first shield at $400 but quickly became a heated phone battle between two Australian collectors. The increments jumped from $100 to $1,000 skyrocketing the final sale price to $23,000. It was a repeat performance for the second shield which also earned the same amount. In the end, both shields were bought by the same Australian collector. After the sale, Deric Torres, Vice President and Director of Furniture and Decorative Art for Clars Auction Gallery commented that, after further evaluation, these shields were in fact, likely 19th century, not Post World War II. Australian fine art and decorative art have made for several exciting sales at Clars. In February, "Possum Dreaming" by contemporary aboriginal artist Clifford Possum Tjapaltjarri (1932-2002) achieved the highest price ever for this artist in the United States selling for $131,000 (US).
The Decorative Arts and Furniture category continued to have exceptional results throughout the next two days. Almost tying the world record price for its form, a Murano glass "Pulcini" bird by Alessandro Pianon for Vistosi, circa 1963, sold for $4,000, solidly surpassing its high estimate of $2,500. Also surpassing high estimate was a pair of Meissen covered urns which garnered an impressive $9,000. Selling for solidly within estimate were a pair of Napoleon III boulle style commodes which earned $7,500 and a pair of Empire ormolu and patinated bronze ewers fetched $10,000. Rounding out this category, a slick 2012 Nissan 370 Z Touring Coupe sped off for $22,500.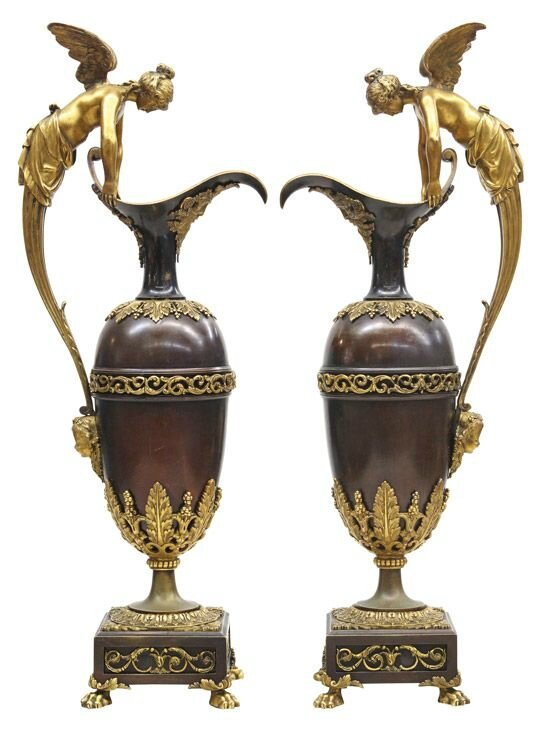 Pair of Empire ormolu and patinated bronze ewers, attributed to Claude Gallé, Paris circa 1810, each having a single handle accented with Classical style winged nymphs, above the spout having a figural mask mount, and rising on a pedestal base terminating on paw feet, 22.5″h Sold for $10,115. Photo courtesy Clars Auction Gallery
2012 Nissan 370 Z Touring Coupe. Sold for $22,610. Photo courtesy Clars Auction Gallery
FINE ART
Two new world auction records were set during this sale. The first, an oil on board painting by Douglas Hofmann (American, b. 1945), titled Madam Derriere, soared past its high estimate of $2,000 achieving the new record price for the artist of $11,900. The second was a colorful, majestic oil on canvas by Tarmo Pasto (American, 1906-1986). Titled "California Foothills," this work sold for $2,300, more than doubling the previous record of $1,080.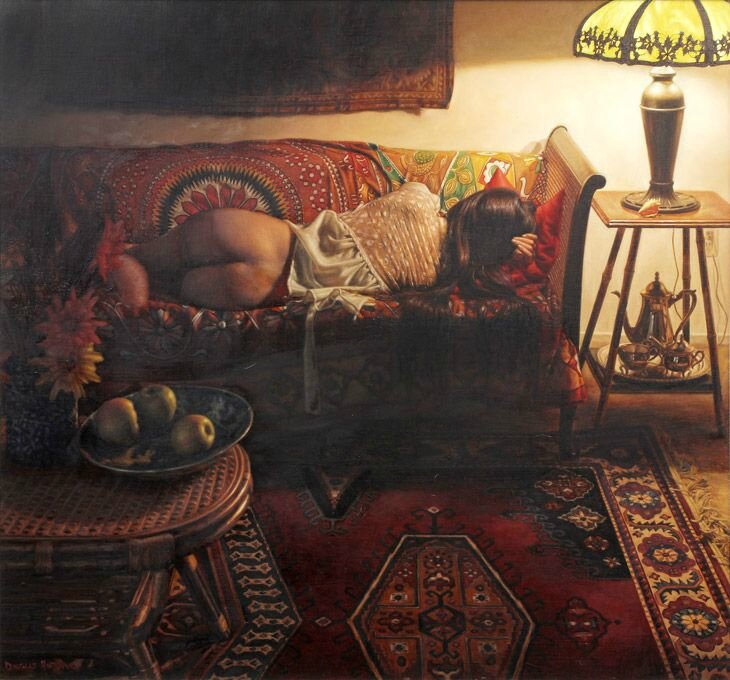 Douglas Hofmann (American, b.1945), Madame Derriere, oil on board, signed lower right, sight: 39.25"h x 42.25"w, overall (with frame): 45"h x 47.25"w. Sold for $11,900. Photo courtesy Clars Auction Gallery
Another high achiever was the large, but dramatic, bronze sculpture by Bob Grieves (b. 1986) titled, "Shanandoah Farewell," which amazed the crowd to settle at $15,470, well above its $8,000 to $12,000 estimate. Works by Peter Max continued to be strong with a vibrant acrylic on canvas titled, "Better World," landing well past its $4,000 to 6,000 estimate selling for $11,900.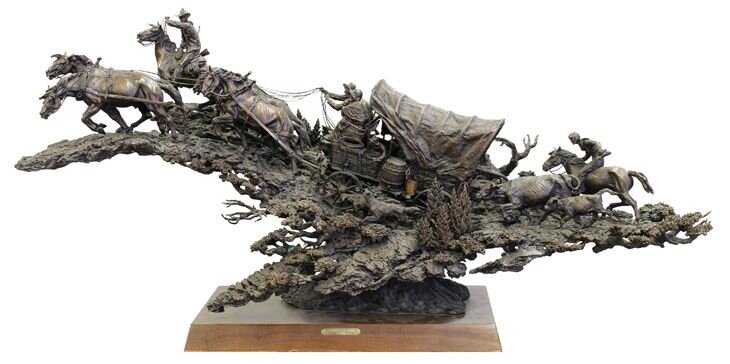 Bob Grieves (American, b. 1986), "Shenandoah Farewell," bronze sculpture, title placard lower center base, mounted on wood base, overall (with base): 27″h x 59″w x 20″w. Provenance: Estate of Dean and Margaret Lesher (former owners of the Contra Costa Times). Sold for $15,470. Photo courtesy Clars Auction Gallery
JEWELRY
Once again, it was a spectacular jewelry offering that took top lot of the sale. A fancy light brownish pink unmounted diamond weighing 1.51 cts. sold for $24,000. A Rolex Submariner stainless steel wristwatch, circa 1971, and retailed by Tiffany stunned the crowd earning well over twice its high estimate selling for $15,500.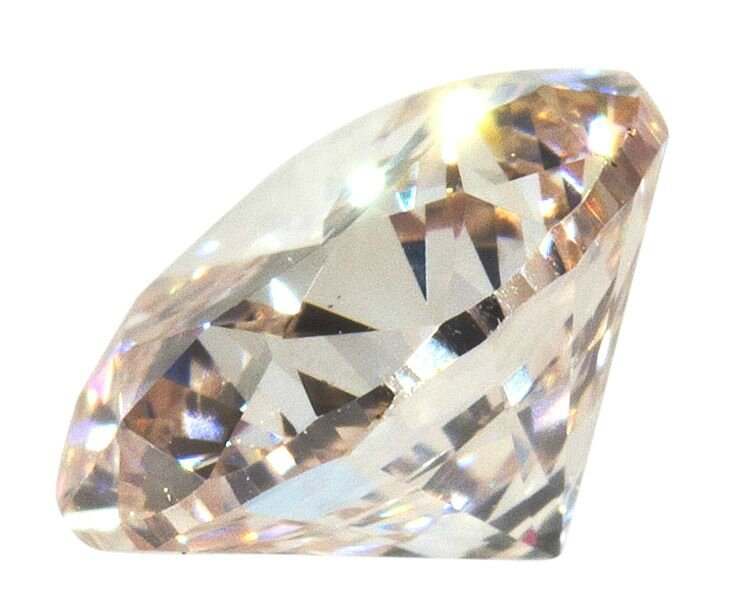 Fancy Light Brownish Pink unmounted diamond, one unmounted round brilliant cut diamond weighing 1.51 cts., accompanied by a GIA Colored Diamond Grading Report #216103058, dated April 29, 2014, stating Fancy Light Brownish Pink, Natural, Even, VS1. Sold for $23,800. Photo courtesy Clars Auction Gallery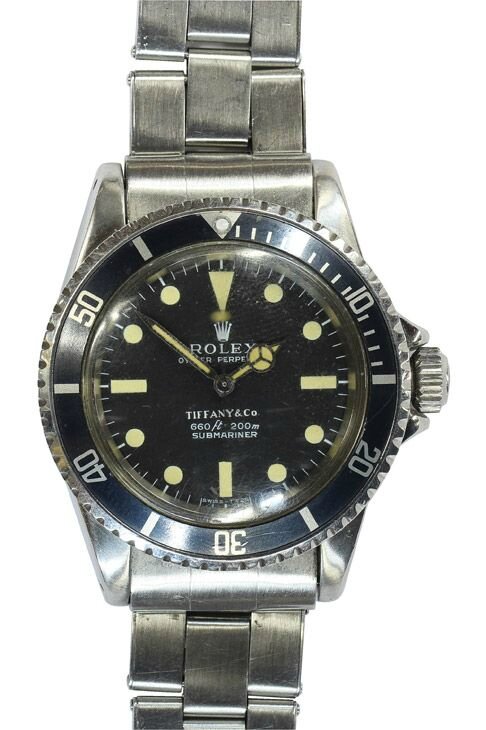 Rolex Tiffany & Co. submariner stainless steel wristwatch, ref. 5513, circa 1971. Sold for $15,470. Photo courtesy Clars Auction Gallery
ASIAN ART
Typical for Clars, the Asian art section had a high sell through rate and was a well-rounded sale with items from various categories all performing well. The category had a great start with the first lot, a painting in the manner of Fu Baoshi (Chinese, 1904-1965), Scholars Playing Chess, experiencing competitive bidding bringing the final price to eight (8) times its high estimate selling for $9,250. In the jades offered, a celadon nephrite carving intricately sculpted with a cricket perched on a bitter melon achieved $5,300. The Himalayan offerings performed above their estimates including one thangka of Penden Lhamo which sold for $3,300.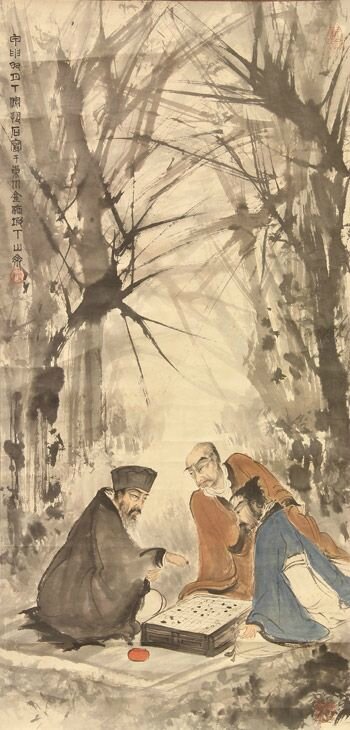 Manner of Fu Baoshi (Chinese, 1904-1965), Scholars Playing Chess, ink and color on paper, the left with a colophon bearing signature and sealed 'Fu', painting: 32″h x 15.5″w, overall (scroll): 71″h x 18.75″w. Sold for $9,520. Photo courtesy Clars Auction Gallery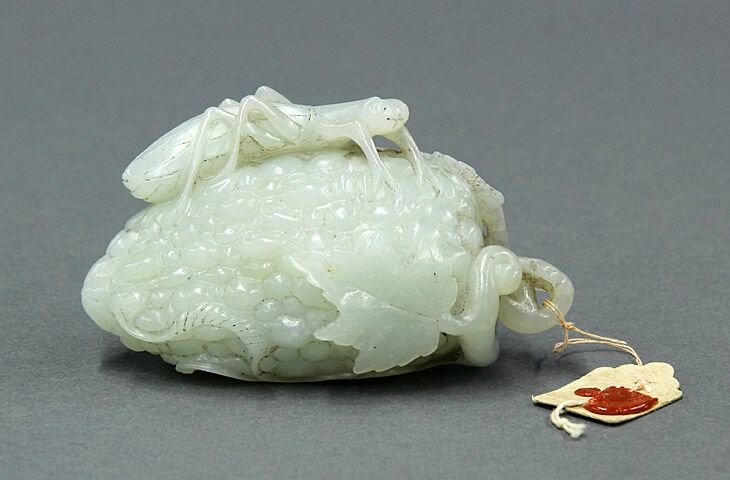 Chinese celadon jade carving, featuring a cricket perched on a bitter melon, 3.5″w; Provenance: Estate of Carolyn T.C. Chang, Tucson, Arizona, acquired in Hong Kong in the 1970′s. Sold for $ 5,355. Photo courtesy Clars Auction Gallery