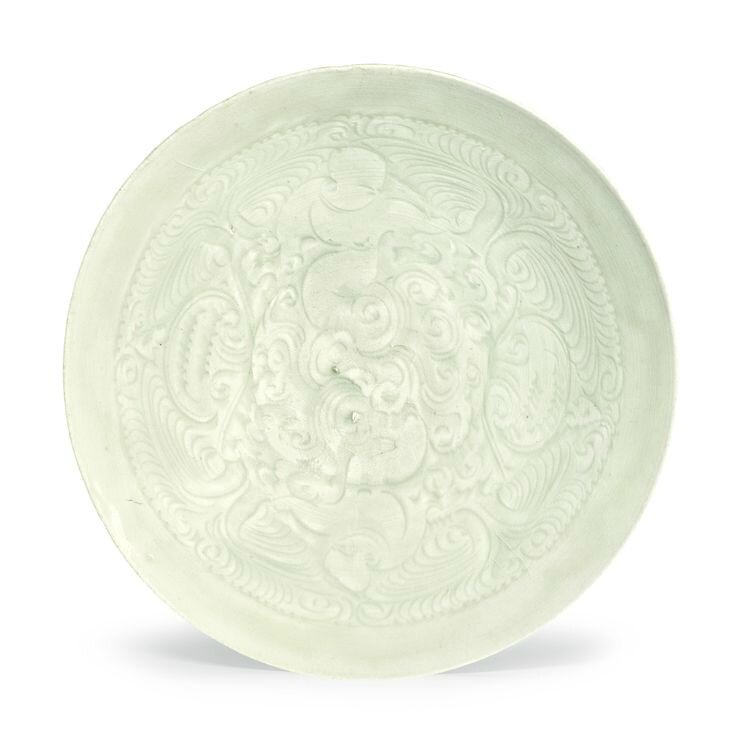 A 'Qingbai' carved 'Boys' bowl, Southern Song dynasty. Estimate 4,000 — 6,000 USD. Photo Sotheby's.
of conical form with gently rounded sides rising from a slightly tapered foot with a shallow footrim, the interior carved with an exuberant depiction of two boys surrounded by a lush ground of scrolling peonies, applied overall with a transparent light blue glaze pooling to a deeper color in the carving, the recessed base partially glazed revealing the body burned russet in the firing, Japanese wood box. Diameter 7 3/4 in., 19.5 cm
Notes: Qingbai bowls decorated with the popular 'boys' motif can be found in many important museums and private collections. Excavated examples include two examples from the Hutian kiln site in Jingdezhen, Jiangxi province, published in Chai Kiln and Hutian Kiln, Nanning, 2004, pp. 94 and 95; another unearthed from the Jinycun hoard of Suining City, in the Suining Municipal Museum illustrated in Song Yun: Sichuan Yao Cang Wenwu Jicui (The Charm of Song: Cultural Artefacts from Hoards in Sichuan), Beijing, 2006, p. 58; one from a tomb in Yihuang county, Jiangxi province, dated in accordance with 1201 AD, and now preserved in the Jiangxi Provincial Museum, is illustrated in Peng Shifan (ed.), Dated Qingbai Wares of the Song and Yuan Dynasties, Hong Kong, 1998, pl. 65. A similarly incised bowl is illustrated in Bright as Silver, White as Snow, Chinese White Ceramics from Late Tang to Yuan Dynasty, ed. Kai Yin Lo, Hong Kong, 1998, pp. 162-163, pl 39; and another bowl in the Avery Brundage Collection, Asian Art Museum of San Francisco, illustrated in Stacey Pierson (ed.), Qingbai Ware: Chinese Porcelain of the Song and Yuan Dynasties, London, 2002, pl. 7. For the example in the Palace Museum, Beijing, see The Complete Collection of Treasures of the Palace Museum: Porcelain of the Song Dynasty (II), Hong Kong, 1996, pl. 182. A similar example of slightly paler tone was sold in these rooms 23rd March 2011, lot 574.
Sotheby's. Chinese Art through the Eye of Sakamoto Gor – Ceramics, New York, 17 mars 2015, 10:00 AM