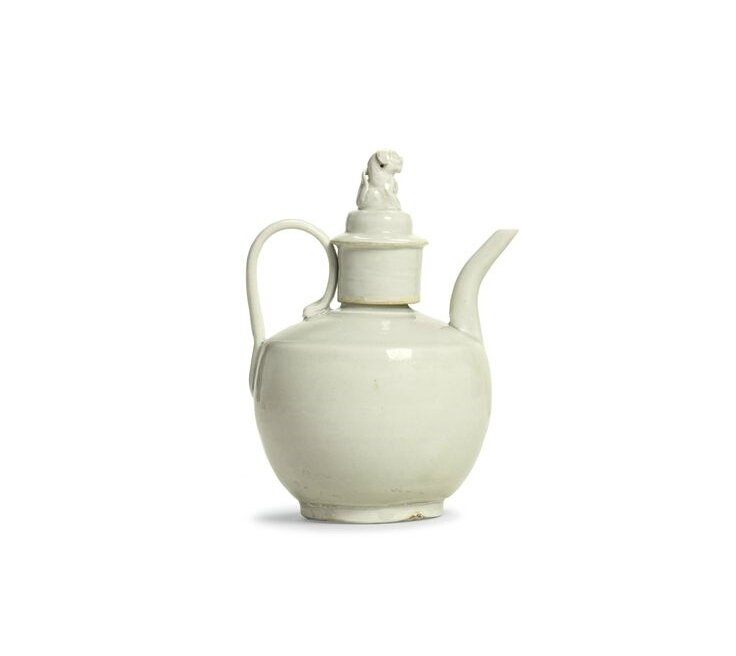 A 'Qingbai' ewer and cover, Northern Song dynasty. Estimate 10,000 — 15,000 USD. Photo Sotheby's.
the ovoid body rising to sloping shoulder, with a tall, slender curved spout set opposite a looped strap handle, the narrow cylindrical neck surmounted with a fitted straight-sided cover with a knop modeled as a seated lion, covered overall with a translucent, pale blue glaze pooling to a darker tone within the recesses and stopping just short of the unglazed white base and footrim, Japanese wood box. Height 8 3/8 in., 21.27 cm
Notes: closely related example of the present ewer, in the Idemitsu Museum of Arts, Tokyo, is illustrated in Yutaka Mino,Chinese Ceramics, White Porcelain, vol. 5, Tokyo, 1998, no. 63. Another of this type with canted shoulder, minimally decorated and dated to the Northern Song was unearthed in 2004 in Dantu District, Zhejiang city, illustrated in Zhongguo chutu ciqi quanji , [Complete Collection of Ceramic Art Unearthed in China], Beijing, 2007, vol. 7, pl. 116. A similar hand-modeled lion knop can be found on a plain ewer published in the Chai and Hutian Kiln, Guangzhou, 2003, p. 166, from the Hutian kiln site at Jingdezhen. For related ewers see a more ornately carved example with its warmer excavated in Yanshan county and dated to 1086, illustrated in Dated Qingbai Wares of the Song and Yuan Dynasties, Hong Kong, 1998, p. 48, no. 20; and another excavated from a tomb dated in accordance with A.D. 1087 published in Sekai toji zenshu, op.cit., pl. 152, with a very similar cover. Compare also a Qingbai ewer carved with petals on the foot and cover, in the British Museum, London, from the Eumorfopoulos collection, included in Oriental Ceramics. The World's Great Collections, vol. 5, Tokyo, 1981, col. pl. 16. An example with its warmer was sold in these rooms 23rd March 2004, lot 619 and a round shouldered example with overlapping lotus petals was sold in our London rooms, 7th November 2007, lot 277.
Sotheby's. Chinese Art through the Eye of Sakamoto Gor – Ceramics, New York, 17 mars 2015, 10:00 AM