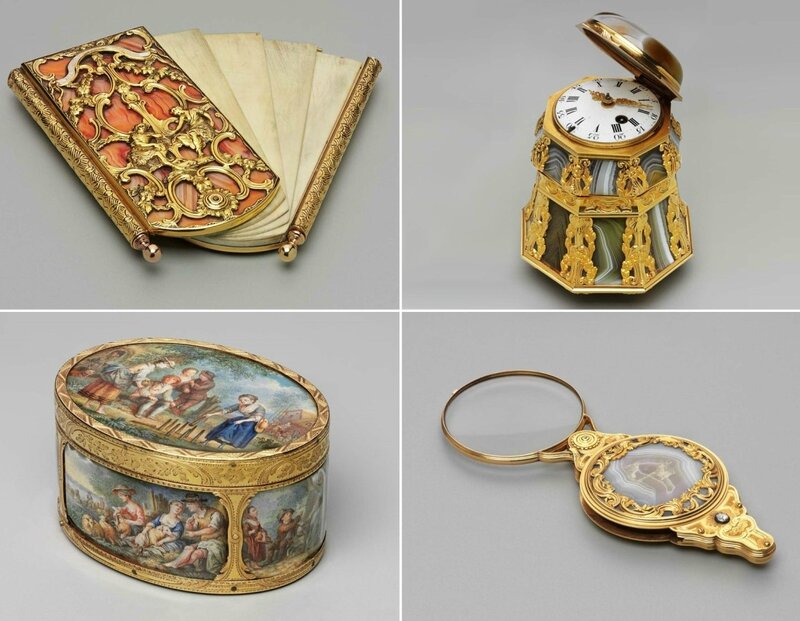 BOSTON, MA —The Museum of Fine Arts, Boston (MFA), is acquiring a collection of 186 objects originally owned by Baron and Baroness Alphonse and Clarice de Rothschild of Vienna—members of the celebrated Rothschild banking family. The gift includes European decorative arts, furniture, prints, drawings, paintings, and personal objects including jewelry and jeweled objects, miniatures and rare books. Many of these works were seized in 1938 following the Anschluss, or annexation of Austria to Nazi Germany. A selection from the gift will be on view in the exhibition Restoring a Legacy: Rothschild Family Treasures from March 1–June 21, 2015. Telling the story of how the objects were collected, looted and then recovered by the family and its heirs, the exhibition—on view in the MFA's Lee Gallery—offers an evocative sampling of the exquisite objects that earned the admiration of collectors around Europe, embodying what was once known as le goût Rothschild, or "the Rothschild taste." By tracing the provenance, or ownership history, of the works from the historic Rothschild palaces in Vienna, through World War II and finally back to the Baroness and her daughter, exhibition curators illustrate how generations of Rothschild women worked diligently to secure the return of their family's treasures. The collection is a gift of the heirs of Bettina Looram de Rothschild, who was a daughter of the Baron and Baroness. Her daughter, MFA Trustee Bettina Burr, is among the donors who have made this gift to the MFA.
"It is the Museum's mission to bring art and people together, and we believe that art tells powerful stories," said Malcolm Rogers, Ann and Graham Gund Director at the MFA. "This collection—with its rare and beautiful objects treasured by the Rothschild family, then lost and recovered—tells a story like no other."
The Rothschild family has been involved in the world of international banking since the 18th century, and each branch—including members in Germany, England, Austria, France and Italy—amassed legendary collections of art. Following the Anschluss in March 1938, Nazi forces seized Rothschild properties and collections in Vienna, specifically targeting the family's art collections for confiscation. The only objects that escaped seizure were jewelry, which Baroness de Rothschild had taken with her on a trip to England at the time. Bettina Looram de Rothschild, then 13 years old, was still in Vienna and attempted to flee Austria with her sister Gwendoline and household staff. Before they could reach the Swiss border, the Gestapo stopped the train and forced all Jews to disembark. The sisters spent the day in jail before being released.
The Nazi regime confiscated nearly 3,500 works of art from the Rothschild collection. Many of the objects were selected for the Führermuseum, the art museum Adolf Hitler planned for the Austrian city of Linz. After World War II, Allied forces uncovered the Nazi-looted artwork in the Austrian salt mines of Alt Aussee, and began the process of its restitution, or return to its rightful owners. In 1947, Baroness de Rothschild visited the mines and, with the help of the Allied "Monuments" men, was able to identify crates of art from her family's collection, and the majority of the works were returned to her soon after. However, in exchange for permission to export her collection to the US (where she was then residing with her family), she was required to donate approximately 250 of the finest works to the Austrian state. After the Baroness passed away in 1967, her daughter Bettina continued to pursue the return of these objects. It wasn't until 1999, after Austria passed a national restitution law, that Bettina was able to recover these works.
Many of the works that were restituted from Austria were sold at auction in 1999 by Bettina and her fellow beneficiaries, but a few objects of personal significance were kept back—many of which have now been given to the MFA. In addition to telling an important story about the history of the Rothschild collections, the quality and rarity of the objects enhance the MFA's collection of European decorative arts, paintings, drawings, jewelry and books. Precious objects known asobjets de vertu embody European aristocratic taste before the French Revolution, and are prized by curators and collectors as examples of virtuoso craftsmanship. The jewelry includes an array of high-style adornments from the 19th and early 20th centuries, and a number of rare drawings and illustrated books greatly enrich MFA holdings of European works on paper.
"The recent story of this art is one of incessant movement—taken from my grandfather's house by the Nazis, and stored for safekeeping in the salt mines at Alt Aussee. When the war ended, the art was recovered by the Monuments Men, but for every object that was restituted, another was held back by the Austrian government for its museums," said Bettina Burr, daughter of Bettina Looram de Rothschild and Vice President of the MFA's Board of Trustees. "Through my mother's tenacity and courage, 60 years after the 1938Anschluss, these works were returned to my family. Now, as my mother would have wished, I am delighted that this collection will stay at the MFA for as long as I can envision."
The exhibition, Restoring a Legacy: Rothschild Family Treasures, features nearly 80 objects that were personally meaningful to the Rothschild family, including a Portrait of Clarice de Rothschild (1925) by Philip de László, and much of her jewelry. Mostly from the 19th and early 20th centuries, the jewelry was with the Baroness in London at the time of the Anschluss, which meant it was not confiscated by the Nazi regime. Exquisite artistry and craftsmanship can be seen in objects such as a Diamond necklace/tiara (1920s) with nine stunning, pear-shaped diamonds, and an Art Deco Brooch (Austrian, about 1937) incorporating two emerald beads that originated in Colombia and were cut in India. The emerald brooch was a gift of the Baron to the Baroness on the occasion of their 25th wedding anniversary on November 20, 1937, just a few months before the Anschluss.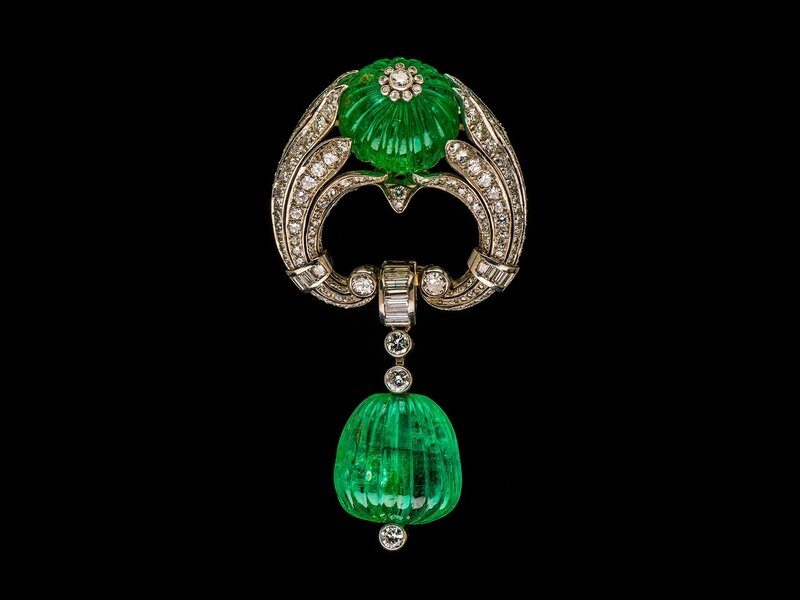 Art Deco Clip-Brooch, about 1937, Austrian. Platinum, white gold, emeralds, and diamonds. Gift of the heirs of Bettina Looram de Rothschild. Photograph © Museum of Fine Arts, Boston.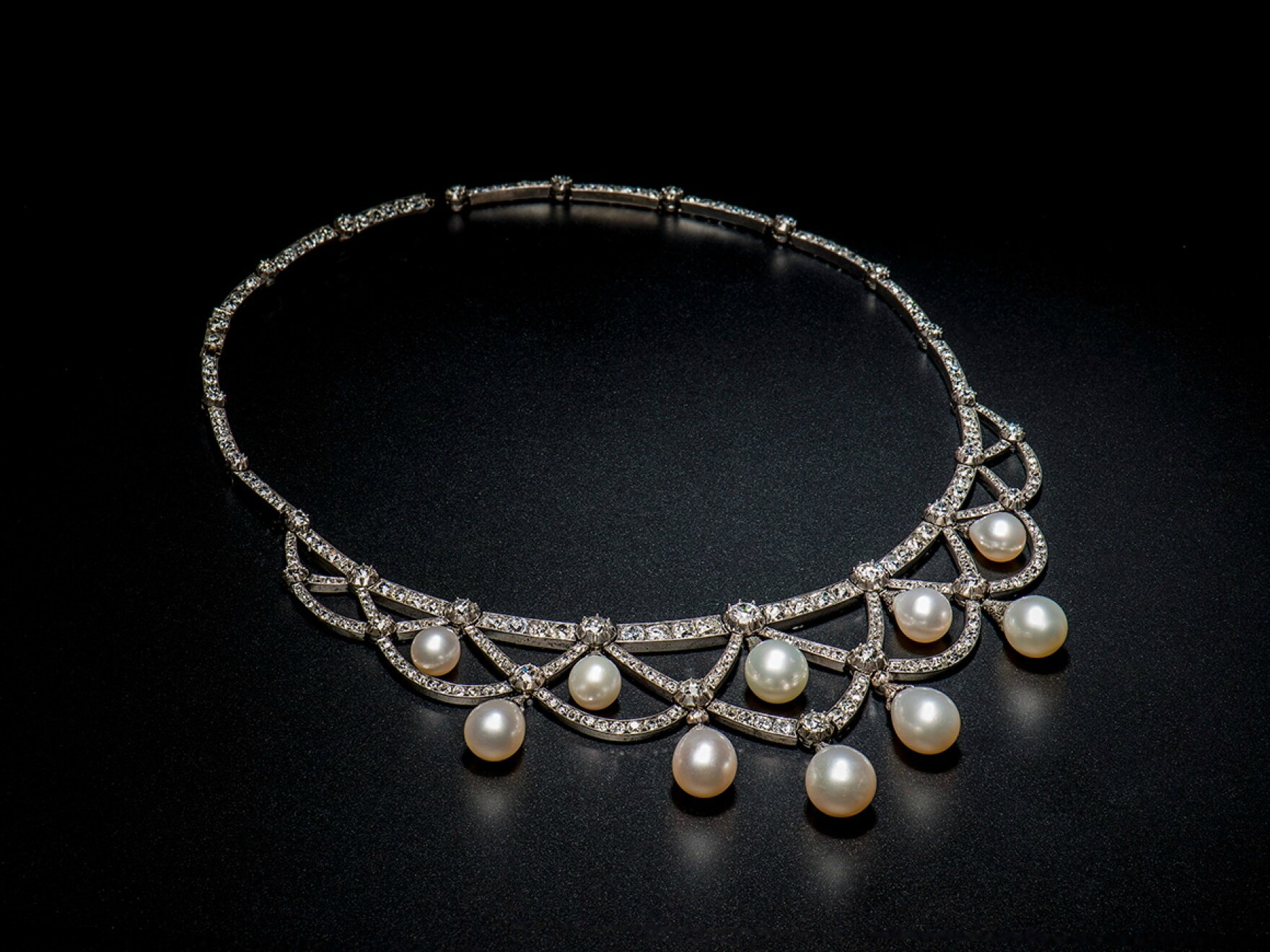 Pearl and Diamond necklace, c.1880. European. Silver, gold, pearls, and diamonds. Gift of the heirs of Bettina Looram de Rothschild. Photograph © Museum of Fine Arts, Boston.
Included in the exhibition is Portrait of Emma Hart, later Lady Hamilton(George Romney, English, 1734–1802). This painting depicts the mistress to Admiral Lord Horatio Nelson and, before him, Charles Greville—a friend and patron of the painter. Known for her beauty and ability to strike a range of expressions, she regularly sat for the artist beginning in 1782. In the work, Hart is presented in contemporary dress, though Romney more frequently depicted her in allegorical, mythological or religious guises. The painting was in good condition when it arrived at the MFA, and cleaning revealed its glowing colors and exciting brushwork. The location of this particular work was previously unknown to scholars, and it has since proven to be the primary version of one of the artist's most popular compositions. Furniture in the exhibition includes a Commode with corner cupboards (commode à encoignures) attributed to Claude Charles Saunier from about 1770-80, which has a shaped front that incorporates a circular Japanese lacquer panel. Designed with open shelves at either end, the cabinet is in the English taste—a popular fashion in France during the reign of Louis XVI.
George Romney, (English, 1734–1802), Portrait of Emma Hart, later Lady Hamilton. Oil on canvas. Promised gift of the heirs of Bettina Looram de Rothschild. Photograph © Museum of Fine Arts, Boston.
Commode with corner cupboards (commode à encoignures), about 1770-80. Attributed to Claude-Charles Saunier (French, 1735–1807), French (Paris). Wood, black Japanese lacquer, gilt-bronze, white marble. Promised gift of the heirs of Bettina Looram de Rothschild. Photograph © Museum of Fine Arts, Boston.
A wide variety of objets de vertu made of lavish materials—including gold, agate, lacquer, enamel and gemstones—form an important part of the gift. Beautifully constructed Snuffboxes and Etuis (cases) would have been meant for holding ground tobacco, personal grooming tools (toothpicks, needles, scissors and files), dance cards, spyglasses or timepieces, or would have been used as elegant costume accessories. By the end of the 19th century, when the fashion for snuff-taking had declined, these objects were often collected to be displayed and enjoyed by connoisseurs. The inscription around the rim of one Snuff box (Probably England, about 1750–60) reads "L'ESPOIR DE TA FIDELITE FAIT MA SEULE FELICITE" (The hope of your fidelity is my sole happiness)—leaving no doubt that this box was presented as a token of love.
Portrait miniatures—small-scale, portable paintings—were initially made for an exclusively royal or aristocratic market, frequently using costly materials such as ivory, gold and jewels. A Swiss-made Oval snuff box with miniature of Catherine the Great (about 1775), recalls the long tradition of presenting boxes with royal portraits as diplomatic gifts. Affluent individuals (including members of the Rothschild family) would assemble large collections of these miniatures, which were often passed down, with successive generations adding new works. Connoisseurs increasingly sought images by eminent miniaturists like Richard Cosway or those depicting famous personalities like the notorious socialite Georgiana, Duchess of Devonshire (1757–1806) (Attributed to Samuel Shelley, English, 1756–1808).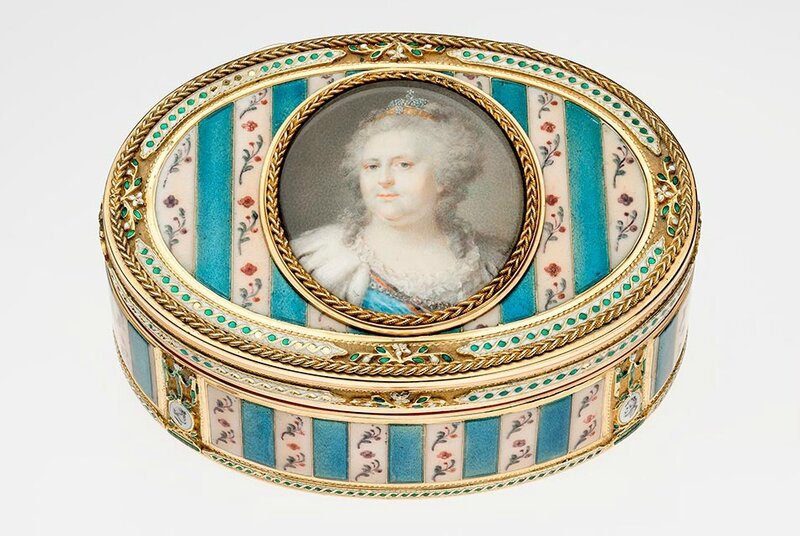 Oval snuffbox with miniature of Catherine the Great, about 1775. Gold and enamel, set with semi-precious gemstones. Gift of the heirs of Bettina Looram de Rothschild. Photograph © Museum of Fine Arts, Boston.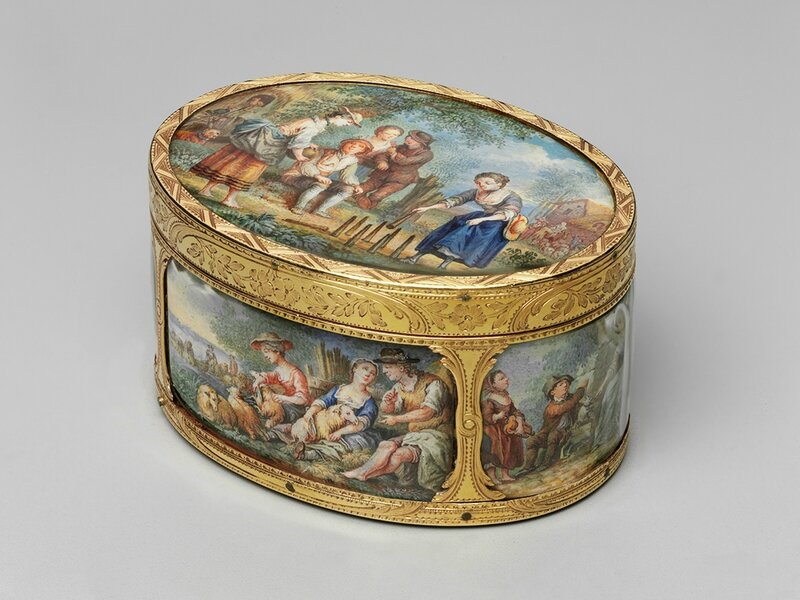 Snuff box, about 1770. Marked by Jean-Baptiste Bertin (French, master 1740, died 1771). Retailed by Jean George (French (Paris), active 1752-1765). French (Paris). Gold, enamel decoration. Gift of the heirs of Bettina Looram de Rothschild. Photograph © Museum of Fine Arts, Boston.
In addition to the immense art collection, the Rothschild library was also plundered, and many of the books bear Nazi-era marks from the Austrian National Library, where they were taken for cataloguing. The Rothschild love of elaborate and finely made objects extended to their book collections, and they owned a large number of fine 18th- and early 19th-century book bindings. While most of the books in the collection of the Vienna Rothschilds date from this time period, their library also had some important earlier works, such as a full suite of Nicholas Hogenberg's "History Sheets," which chronicle the violent wars of religion that ravaged 16th- and early 17th-century France and the Low Countries. Works such as English novels and periodicals, books about country houses and horse racing, and enormous tomes about the history of London reflect the close relationship between the English and Austrian branches of the Rothschild family. A small selection of the Rothschild library is featured in the exhibition. Other works from the Rothschild gift, including suites of prints by François Boucher and books that recorded royal festivals, are available for viewing by appointment in the Morse Study Room for Prints, Drawings, and Photographs.
MFA curators address the issue of how to trace the provenance, or ownership history, of works of art in the exhibition. One painting—A Dordrecht nobleman on horseback with retainers and grooms (attributed to Nicolaes Maes, Dutch, 1634–1693)—is displayed in such a way that visitors are able to view the painting's back rather than its front. Both Nazi and Allied inventory numbers remain on the stretcher, or wooden support. Together, these numbers allow MFA curators and visitors to document the painting's movements between the time of its seizure in Vienna in 1938 and its return to Baroness de Rothschild in 1947.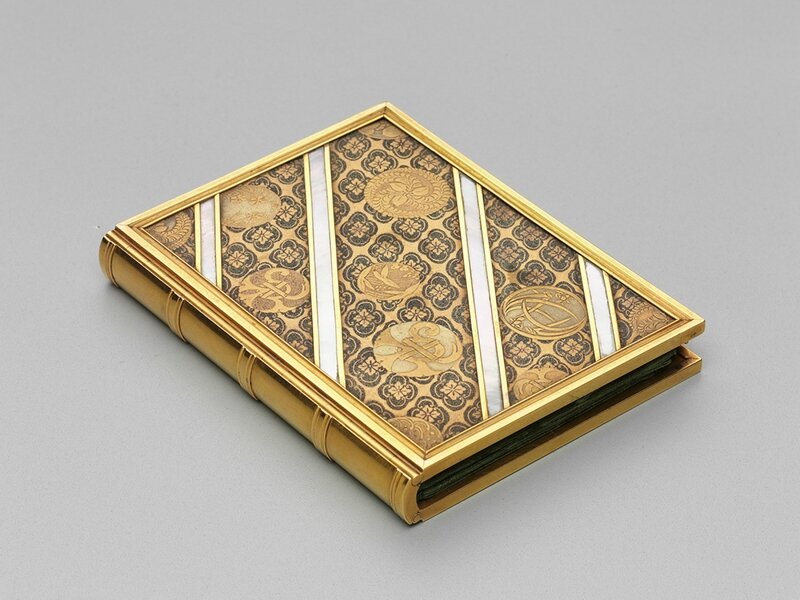 Souvenir notebook with pen, 19th century. French. Gold, lacquer, mother of pearl. Gift of the heirs of Bettina Looram de Rothschild. Photograph © Museum of Fine Arts, Boston.
Carnet de bal, about 1765. probably English. Agate, gold, enamel. Gift of the heirs of Bettina Looram de Rothschild. Photograph © Museum of Fine Arts, Boston.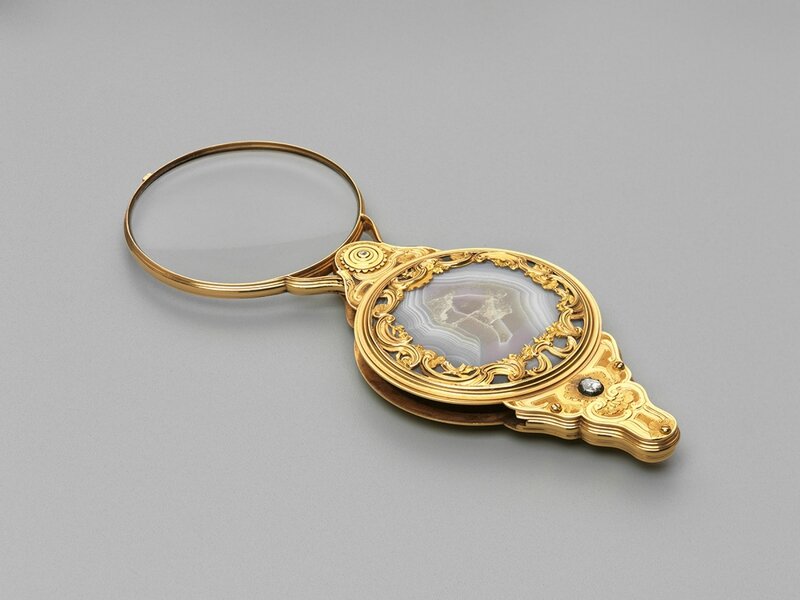 Magnifying glass, about 1765. English. Gold, agate, diamonds. Gift of the heirs of Bettina Looram de Rothschild. Photograph © Museum of Fine Arts, Boston.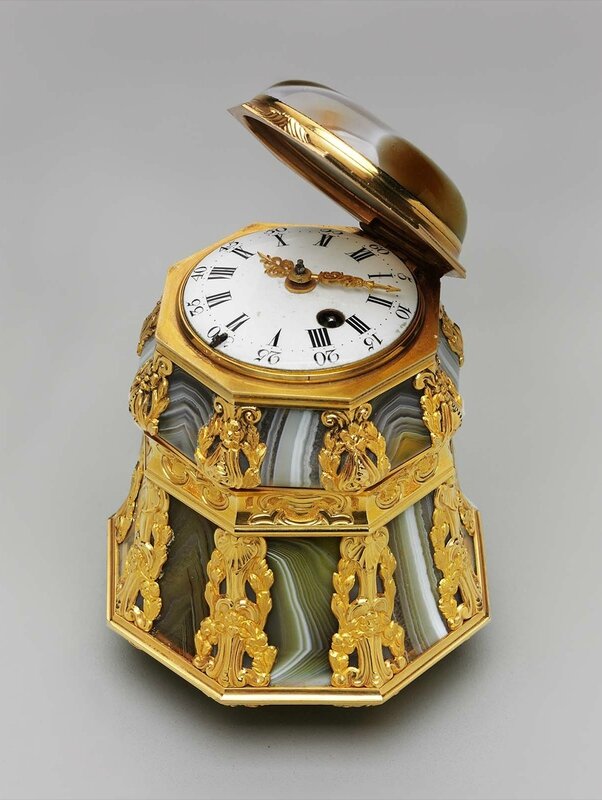 Bonbonnière mounted with a timepiece, about 1765. Probably by John and George Hannett (English, active in London, about 1730-90). English. Agate and gold. Gift of the heirs of Bettina Looram de Rothschild. Photograph © Museum of Fine Arts, Boston.