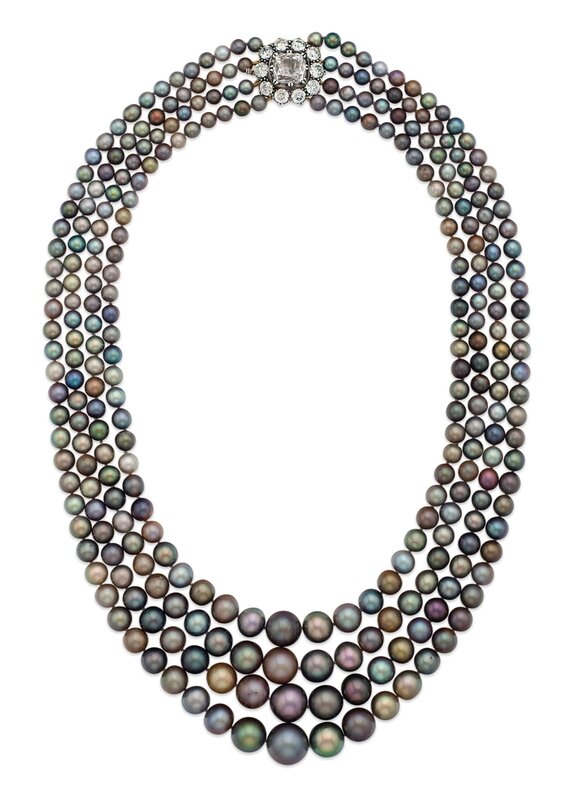 Lot 160. A magnificent and rare natural colored pearl and diamond necklace. Estimate $3,800,000 – $4,500,000. Price realised USD 5,093,000. Photo Christie's Image Ltd 2015
Comprising four strands of eighty-one, seventy-six, sixty-nine and sixty-three natural gray and brown pearls, measuring approximately 12.65 to 4.90 mm, joined by a clasp, set with cushion-cut diamond, weighing approximately 3.03 carats, within an old European-cut diamond surround, mounted in silver-topped gold, 17 ins.
With report 78724 dated 3 March 2015 from the SSEF Swiss Gemmological Institute stating the analysed properties confirm the authenticity of these saltwater natural pearls. No indications of artificial colour modification (based on a sampling); accompanied by a supplemental appendix attesting to the rarity of this natural pearl necklace
With report 6127963527 dated 18 February 2011 from the Gemological Institute of America stating that the diamond is D color, Internally Flawless clarity
Notes: Black pearls have been admired throughout history for their mysterious luster and rarity. They vary in color from dark gray/black to aubergine and brown, with beautiful green and purple overtones. The oyster which produces most black pearls found off the Mexican coast and the South Seas is called the Pinctada Margaritifera and is best known for its dark gray and gunmetal colored pearls. The degree of "blackness" of a pearl is due in part to the color of the oyster shell as well as to the black organic substance within the pearl itself.
The early Spanish merchants in the pearl trade found it much easier to sell fne white pearls in Europe and it was not until the second half of the nineteen century that black pearls began to grow in popularity. This was largely due to Empress EugHnie, wife of Napoleon III (married 1853), who developed a taste for these exotic gems. In the historic Christie's sale of her jewelry in 1872, a black pearl necklace sold for (4,000 ($20,000), an unprecedented sum at the time. The vogue for black pearls eventually spread to other European courts and one of the most impressive black pearl necklaces in history belonged to Empress Elizabeth of Austria, considered the most beautiful woman in Europe of her time.
Black pearls count amongst the rarest of natural gems. Much scarcer than their white counterparts, they represent beauty of the highest order. Very few black and gray pearl necklaces have been offered for sale in the past ffty years, the most famous being:
The Nina Dyer Black Pearl Necklace. Three-Strand Black Pearl Necklace First sold at Christie's Geneva, 1 May 1969 and subsequently at Christie's Geneva, 17 November 1997 for $913,320
Two Single-Strand Black Pearl Necklaces, by Cartier and Janesich. Sold at Christie's Geneva, 17 May 2000 for $1,044,153
The Cowdray Pearl Necklace. Single-Strand Gray Pearl Necklace. Sold at Christie's London, 13 June 2012 for $3,371,015
The importance of the four-strand necklace here on offer is unparalleled. Measuring up to an impressive diameter of 12.65 mm, the 289 colored pearls in this magnifcent fourstrand necklace are well matched, with highly attractive rosH, green or purple overtones and superb luster. Christie's is pleased to offer gem connoisseurs the remarkable opportunity to acquire this exceptional necklace.
Christie's. MAGNIFICENT JEWELS, 14 April 2015, New York, Rockefeller Plaza