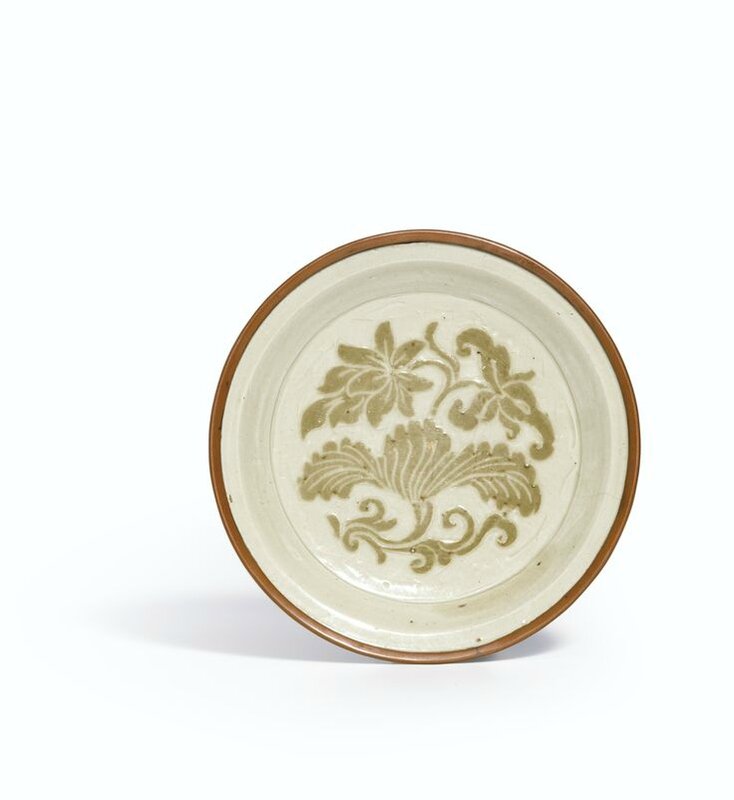 Lot 31. A rare 'Dingyao' slip-decorated dish, Northern Song dynasty; 15.6cm., 6 1/8 in. Estimate 500,000 — 700,000 GBP (162,780 - 244,170 EUR). Lot sold 557,000 GBP. Photo courtesy Sotheby's
the shallow flared sides rising from a flat base to an everted rim, the interior delicately carved through the pale russet-brown slip revealing the ivory-white ground depicting a stylised luxuriant lotus spray, the large lotus leaf with furled edges and combed veins, borne on elegant foliate tendrils issuing lotus blooms and trefoil arrowheads, all beneath a transparent glaze, the rim bound with copper, Japanese wood box. Quantité: 2
Provenance: Mayuyama & Co. Ltd., Tokyo.
Exhibition: Sō ji meihin ten [Exhibition of Sung Ceramics Celebrating the Tenth Anniversary of the Japan Ceramic Society], Tokyo, 1955, cat. no. 72.
Chūgoku Sō Gen bijutsu ten [Chinese Art of the Sung and Yuan Periods], Tokyo National Museum, Tokyo, 1961, cat. no. 224.
Tō Sō meitō ten [Exhibition of Tang-Song Ceramics], Japan Ceramic Society, Tokyo, 1964, cat. no. 129.
Chūgoku bijutsu ten series: Sō Gen no bijutsu [Chinese art exhibition series: The art of Song and Yuan dynasty], vol. 4, Osaka Art Museum, Osaka, 1978, cat. no. 1-109.
Teiyo hakuji [White porcelain of Ding yao], Nezu Institute of Fine Arts, Tokyo, 1983, cat. no. 146.
Special exhibition charm of black & white ware: Transition of Cizhou type wares, Osaka Municipal Museum of Art, Osaka, 2002, Part 3-9.
Chūgoku tōji bi wo miru kokoro [Chinese Ceramics, Enlightening through Beauty], Sen-oku Hakuko Kan Bunkan, Tokyo, 2006, cat. no. 19.
Bibliography: Tōki zuroku shina hen (Jo) [A pictorial catalogue of pottery, China], vol. 7, Tokyo, 1938, pl. 80.
Fujiō Koyama, ed., Sekai tōji zenshū. Sō Ryō [Collection of world ceramics. Song and Liao dynasty], Tokyo, 1961, pl. 80.
Ryūsen Shūhō. Sōgyō shichijū shūnen kinen/Mayuyama: Seventy Years, Tokyo, 1976, vol. 1, pl. 366.
Tsuguo Mikami, Tōki koza chūgoku II: Sō [Ceramics course China, II: Song], vol. 6, Tokyo, 1982, pl. 12.
Note: A Ding ware vase with peony design from the Museum of Oriental Ceramics, Osaka, decorated in the same sgraffiato technique, is ranked as Important Cultural Property by the Japanese government. It also has been exhibited and published on numerous occasions. It was included, for example, in the touring exhibition Song Ceramics, Museum of Oriental Ceramics, Osaka, 1999, cat no.42 (also at the Tobu Museum pf Art, Tokyo, and the Hagu Uragami Museum, Hagi); and is illustrated in The Beauty of Asian Ceramics: from the Collection of the Museum of Oriental Ceramics, Osaka, Osaka, 2014, pl.20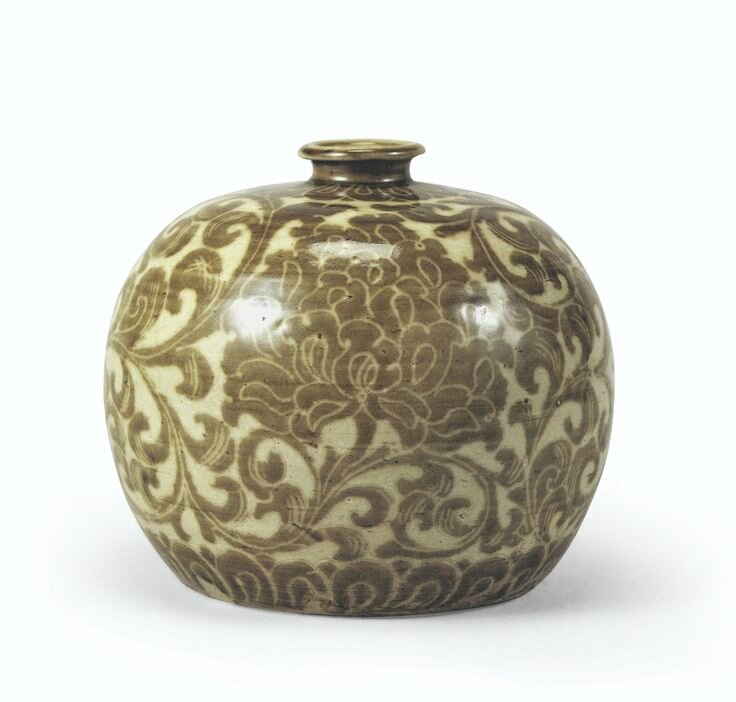 A Ding ware vase with peony design © 2014 All Rights Reserved by The Museum of Oriental Ceramics, Osaka.
This kind of sgraffiato decoration is more often seen on Ding ware pillows, although examples are also rare. In the Palace Museum, Beijing, there is a pillow with lotus design related to the present dish, with an ink inscription on the base, written in AD 1168, during the reign of the Shizong Emperor of the Jin dynasty: see Li Huibing ed., The Complete Collection of Treasures of the Palace Museum, Porcelain of the Song dynasty (I), Hong Kong, 1996, pl.89.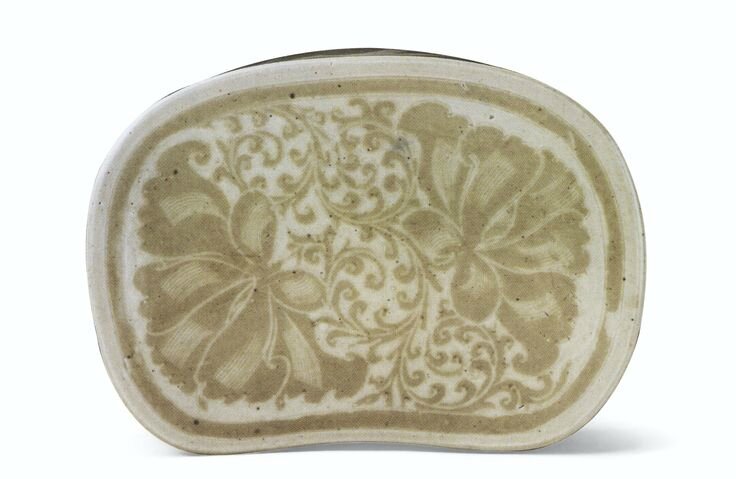 Ding ware pillow with an ink inscription of 1168, Palace Museum, Beijing. After Liu Tao. Dated Ceramics of the Song,Liao and Jin periods. Beijing, 2004, pl.4.
Sotheby's. The Soul of Japanese Aesthetics – The Tsuneichi Inoue Collection, Londres, 13 mai 2015, 10:00 AM