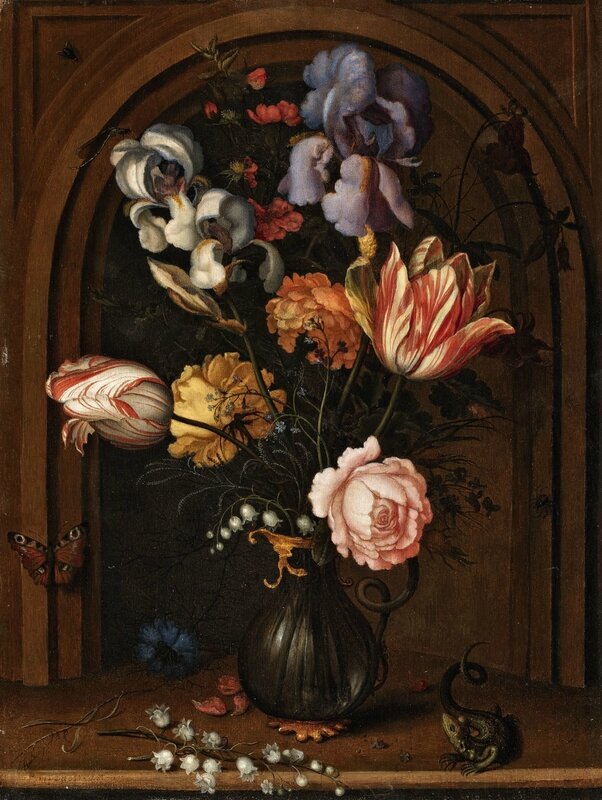 Balthasar van der Ast (circa 1594 Middelburg - 1657 Delft), A Vase of Flowers in a Niche with a Butterfly, Fly, Dragonfly and a Lizard. Oil on panel. 48.5 x 36.6 cm. Signed lower left: B. van der Ast. Estimated price: €100.000 - €120.000. Photo Lempertz 1845
Provenance: Alexander Wheelock Thayer (1817-1897).
- Alice Thayer (labelled to the reverse).
- Eugène Slatter Gallery, London 1956.
- Sotheby´s London 2.12.1964, lot 29.
- Leggatt Brothers, London until 1965. - Christie´s 10.1.1980, lot 115. - Private collection, Germany.
- On loan to the Niedersächsisches Landesmuseum in Hannover from 1999 to 2006.
- Private collection, Europe.
Literature: L. J. Bol: The Boschaert Dynasty, 1960, p. 72, no. 20.
Notes: Balthasar van der Ast was around 13 or 14 years old when his father, a wealthy Middelburg widower, passed away. The orphan Balthasar was sent to live with his elder sister, who was married to the painter Ambrosius Bosschaert (1573 -1621). Thus, the boy's decision to also become a painter seemed an obvious choice. The work of this still life painter, who originally came from Antwerp but resided in Middelburg since 1593/94, had a great influence on van der Ast's further artistic development. Even following his later moves to nearby Utrecht and then to Delft in 1632, Balthasar van der Ast remained loyal to the still life genre.
Van der Ast painted only floral and fruit still lifes which he enriched with insects, small animals and shells in the manner of Bosschaert and Savery. These additions are not only decorative, but also have a symbolic character. Whilst the butterfly in the left of the painting represents the ephemeral nature of the flowers, the other insects are a reference to the themes of life and death, fertilisation and decay. The lizard in the foreground, whose tail bears astounding resemblance to the handle of the vase, is seen in the Christian tradition as a symbol of resurrection and the search for God due to its love of sunlight, whereas in Italian Humanism lizards are regarded as a general symbol of love.
Lempertz 1845. Alte Kunst, 16.05.2015, 11:00, Cologne.