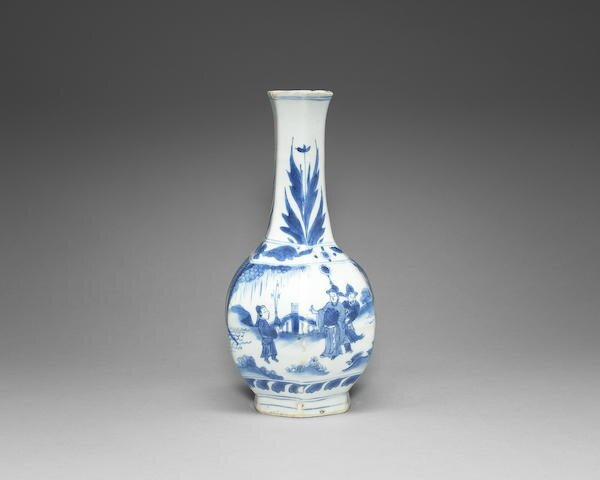 A blue and white octagonal bottle vase, Chongzhen. Estimate £800 - 1,200 (€1,100 - 1,700). Photo: Bonhams.
The faceted vase boldly painted in a vibrant cobalt blue with a garden scene with a boy presenting a vessel holding three halberds to a scholar official, the neck typically painted with tulip motifs. 24cm (9 1/2in) high
Note: An appropriate gift for a promising scholar official, a trio of halberds rising from a vase illustrates the desire for 'three official promotions' in the rebus ping sheng san ji: 生 or 升, both sheng,mean rise and promoted respectively, 三戟 or 三级 both san ji, communicate either three halberds or three grades. The vase (ping 瓶) also alludes to 平 ping in the saying 平步青云 pingbu qingyun, or a meteoric rise.
Bonhams. ASIAN ART, 11 May 2015 10:30 BST - LONDON, KNIGHTSBRIDGE