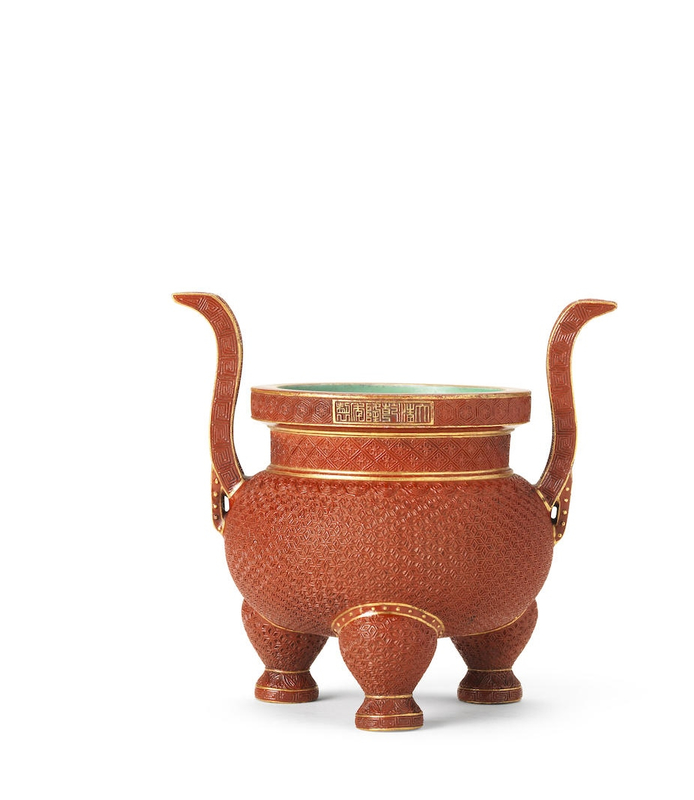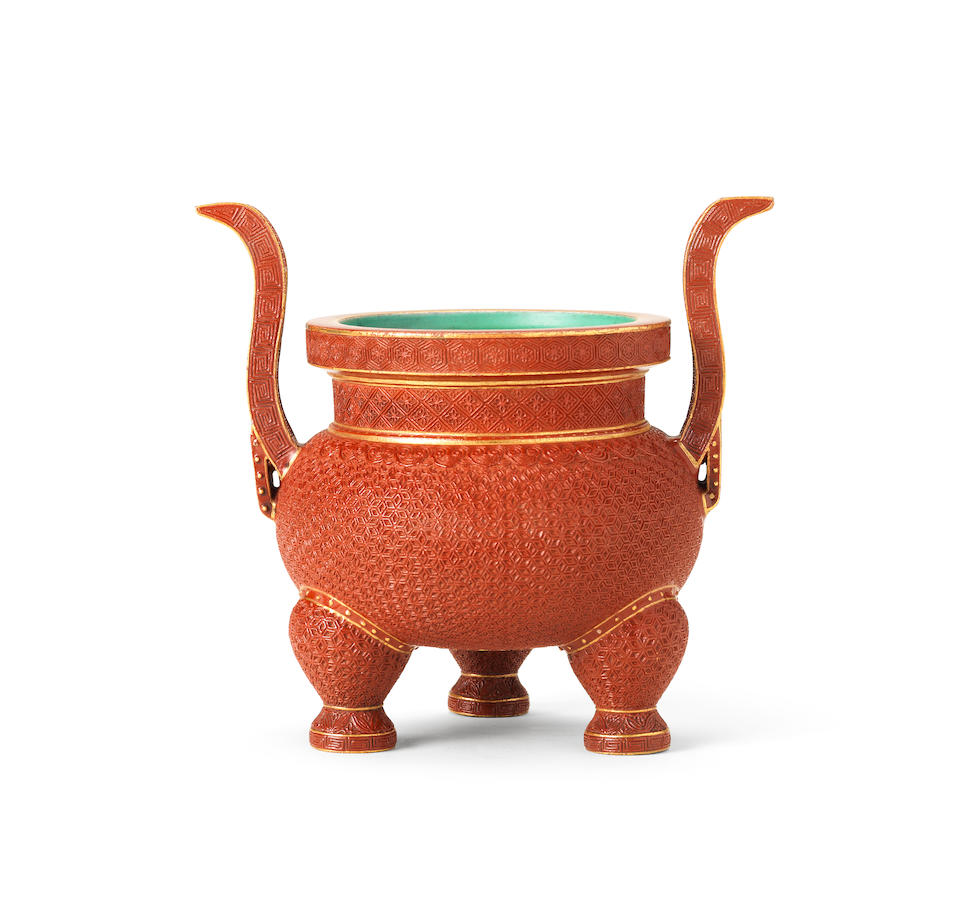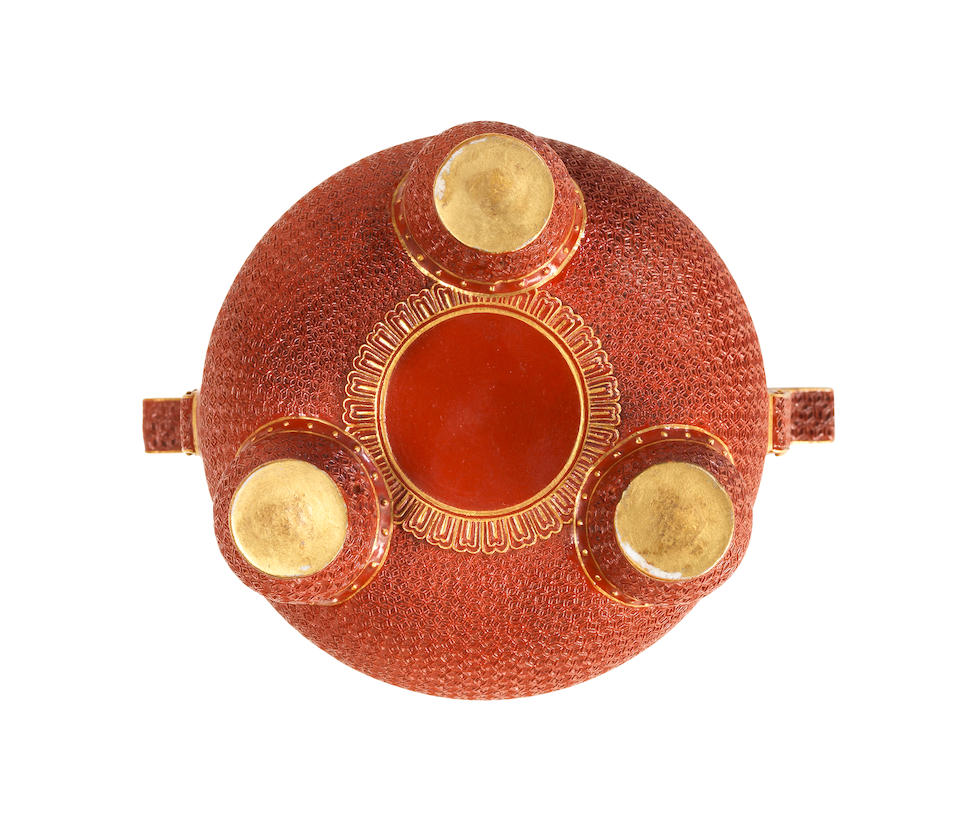 Lot 24. A very rare imperial porcelain simulated-cinnabar-lacquer, Qianlong seal mark and of the period (1736-1795); 14.8cm (5 7/8in) wide. Estimate HK$ 400,000 - 600,000 (€47,000 - 71,000). Sold for HK$ 812,500 (€ 97,065). Photo Bonhams
The globular body supported on three short bulbous legs, with a pair of upright curling handles at the sides, elaborately moulded all over with various geometric and floral lattice patterns in imitation of cinnabar lacquer, the underside with a chrysanthemum-shaped medallion, carved with a six-character Qianlong zhuanshu mark in a line below the rim, the interior covered with turquoise enamel, with a later Japanese silver cover decorated with bamboo, box (3).
Note: A great lover of the arts, the Qianlong emperor's reign saw an application of creative ingenuity combined with high technical capabilities in porcelain production to playfully recreate objects of other media, like hardstones, bronze, cloisonné enamel, wood and lacquer, as exemplified by this lot. These 'simulated' wares reflect the emperor's penchant for interesting, innovative and luxurious pieces, and the playful pleasure in admiring these unusual artefacts.

Other examples of Qianlong period porcelain imitating cinnabar lacquer are found in museum collections, including a bowl with a similar floral diaper ground from the Qing Court Collection in the Palace Museum Beijing, illustrated in China's Jingdezhen Porcelain Through the Ages, Qing Dynasty, Beijing, 1998, no.242. Compare also with a bowl and cover in the National Palace Museum, Taipei, illustrated in Empty Vessels, Replenished Minds: The Culture, Practice, and Art of Tea, Taipei, 2000, p.161, no.139. Another bowl simulating cinnabar lacquer, with a shou medallion on a lozenge diaper ground and a key-fret band below the mouth rim, Qianlong, is in the Nanjing Museum, illustrated in The Official Kiln Porcelain of the Chinese Qing Dynasty, Nanjing, 2003, no.308. See also a porcelain model simulating a cinnabar lacquer sundial, also with diaper grounds on the exterior, Qianlong mark and period, illustrated by J.Ayers, Chinese Ceramics in the Baur Collection, vol.2, Geneva, 1999, p.142, no.250; and see a simulated cinnabar lacquer lobed tray, Qianlong, illustrated by Geng Baocheng, Ming Qing ciqi jianding, Beijing, 1993, p.285, fig.492.

The present lot closely imitates imperial cinnabar lacquer incense burners, Qianlong seal mark and of the period, such as the one from the Qing Court Collection, illustrated as part of a garniture in The Complete Collection of Treasures of the Palace Museum: Lacquer Wares of the Qing Dynasty, Shanghai, 2006, no.25; and the one illustrated by Lin Manli,Carving the Subtle Radiance of Colors: Treasured Lacquerware in the National Palace Museum, Taipei, 1997, pl.147.
BONHAM'S. FINE CHINESE CERAMICS AND WORKS OF ART, 4 Jun 2015 10:30 HKT - HONG KONG, ADMIRALTY