Bronze Buddha (detail), Bhumisparha Mudra pose, Thailand, 19th century CE, est. $7,000-$10,500. Artemis Gallery image.
NEW YORK, NY.- Hundreds of elusive cultural treasures from ancient times await bidders in Artemis Gallery's Early Summer Variety Auction taking place on Tuesday, June 30th. Not only are all of the auction items unconditionally guaranteed to be authentic and legal to purchase, many have been cataloged with extremely reasonable estimates, making them accessible to beginning collectors or dealers with an eye toward resale.

Starting with Lot 250, Artemis Gallery's popular, recently introduced Marketplace section will return with a beautifully varied selection of antiquities offered at a fraction of their current retail values.

"Our Marketplace is ideal for those who are just starting their ancient-art-collecting journey," said Teresa Dodge, executive director of Artemis Gallery. "Each and every piece we have chosen for that portion of the sale is a fine, authentic item but offered with a very reasonable opening bid, in some cases as low as $75."
Highlights come first in previewing the contents, and topping that list is Lot 64, a 19th-century Thai bronze Buddha in Bhumisparha Mudra, or a serene, earth-touching position – one of the Buddha's most important postures commemorated in ancient artworks. Measuring 29 x 24 x 13.5 inches and with provenance from well-known Los Angeles dealer and collector Leonard Kalina, the bronze is expected to sell for $7,000-$10,500.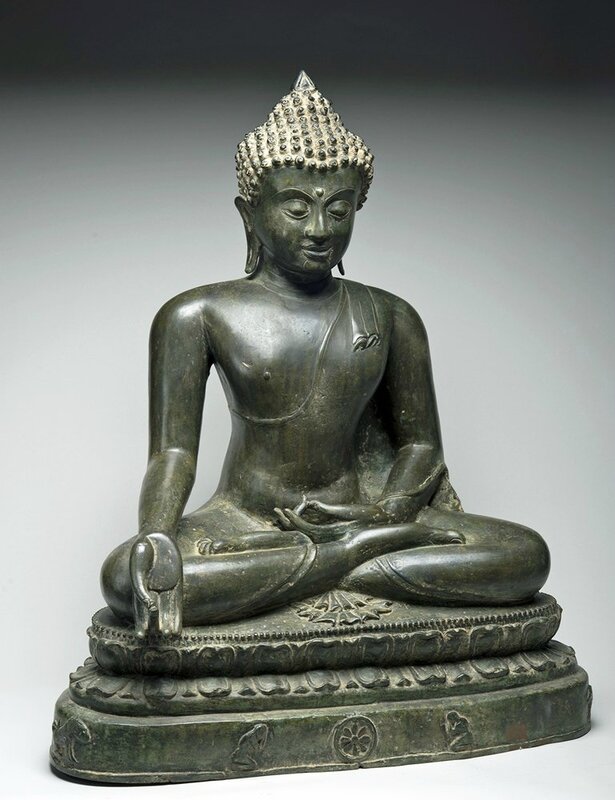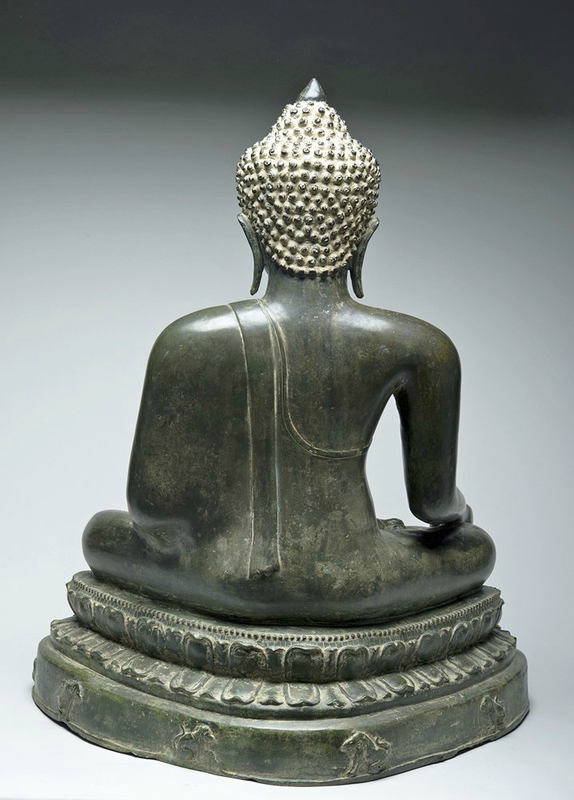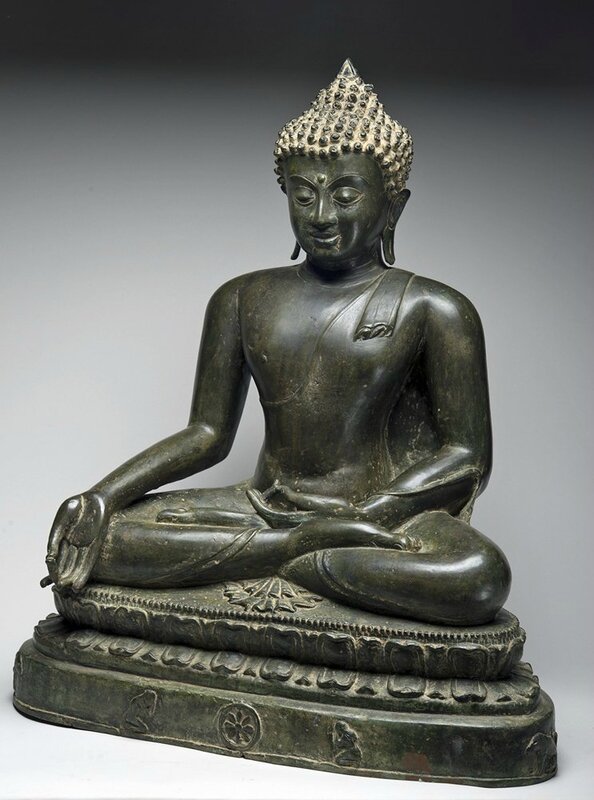 Bronze Buddha, Bhumisparha Mudra pose, Thailand, 19th century CE, est. $7,000-$10,500. Artemis Gallery image.
Bhumisparha Mudra in Lotus Seat. Beautiful facial expression manifesting inner piece. A mudra is a gesture and body posture holding special meanings and commemorating few of the important moments in the Buddha's life. One of the most common and popular mudras which are found depicted in Buddha statues is the Bhumisparhamudra, translated as the earth touching gesture. Size: 29" x 24" x 13.5".

Provenance: Ex-private Leonard Kalina collection, California.
While the Buddha represents peace, Lot 48, a 32-inch-long Luristan battle sword was made specifically for war. Originating in northwestern Iraq around the late 2nd to first millennium BCE, the bronze weapon has a rectangular handle and knuckle-shaped grip, with natural verdigris patina overall. Previously held in British private collections, it is estimated at $5,000-$7,000.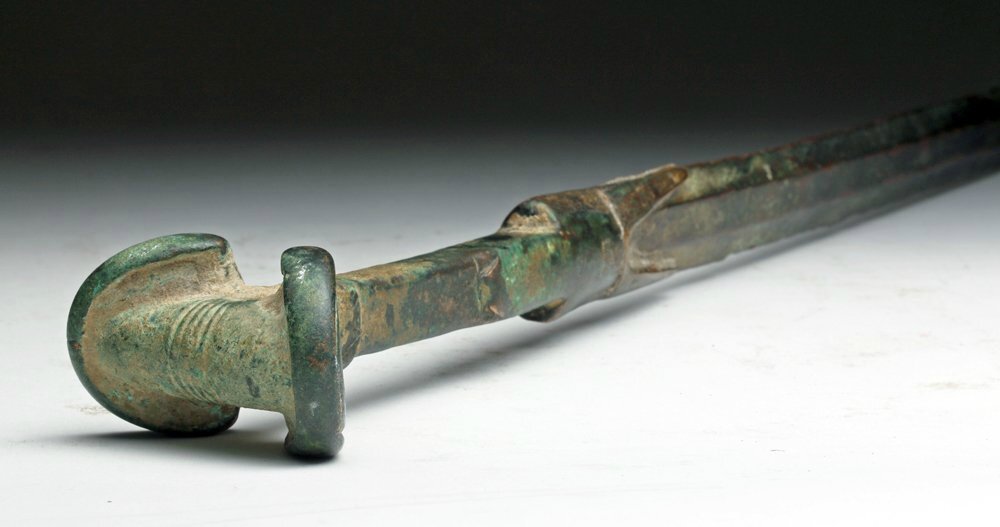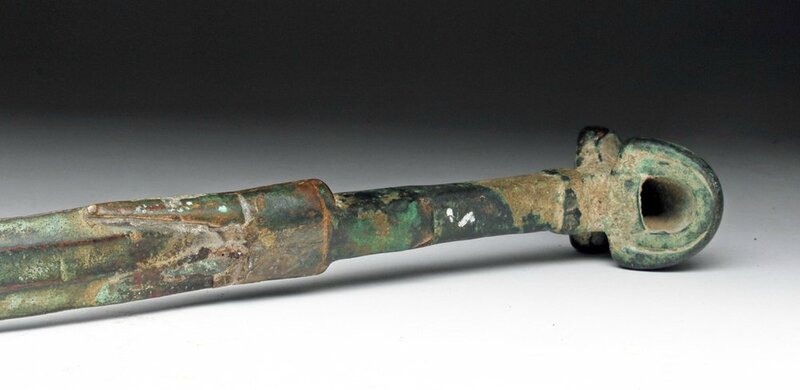 Luristan battle sword, Northwestern Iraq, ca. late 2nd to first millennium BCE, est. $5,000-$7,000. Artemis Gallery image.
Long and lethal bronze long sword. Recessed blood ridge, rectangular handle and knuckle-shaped grip. A superb examle! Size: 32"L.

Provenance: Ex-private A. Green collection, UK; ex-David Kennedy collection, acquired London Art Market in late 1980's
A fascinating natural history rarity, Lot 171 is large and lethal tooth dating to the Cretaceous Era, circa 68 to 66 million years ago, that came from either a juvenile Tyrannosaurus rex or its relative known as Nanotyrannus (Latin for "dwarf tyrant"). A daunting 4-inch-long specimen presented on a custom display, the tooth comes with provenance from the Adeon Gallery, Chicago. Estimate: $12,000-$15,000.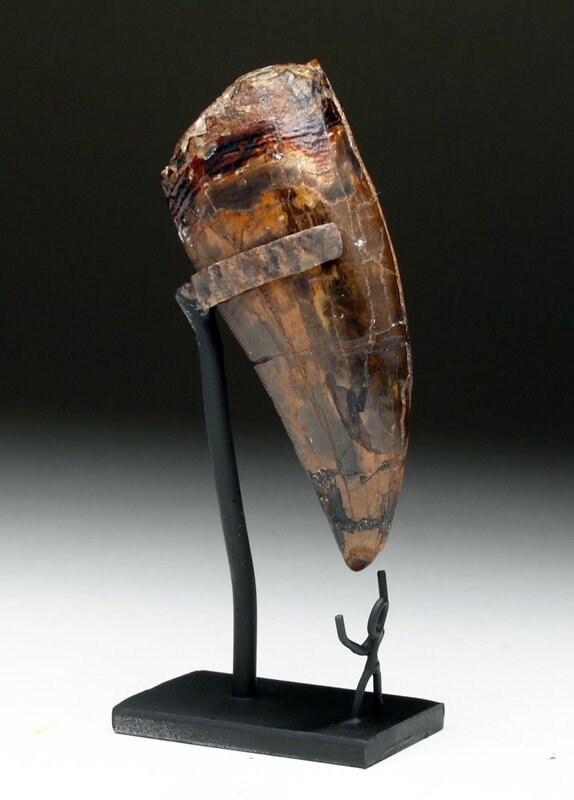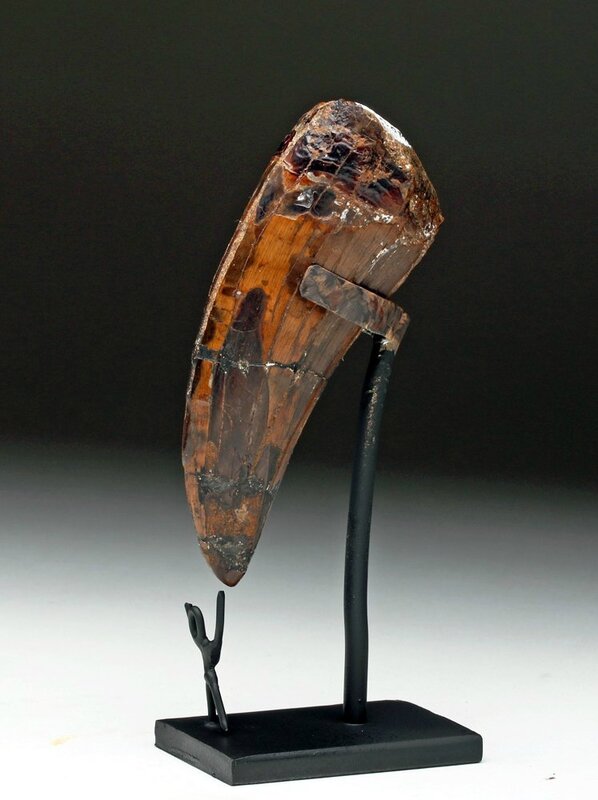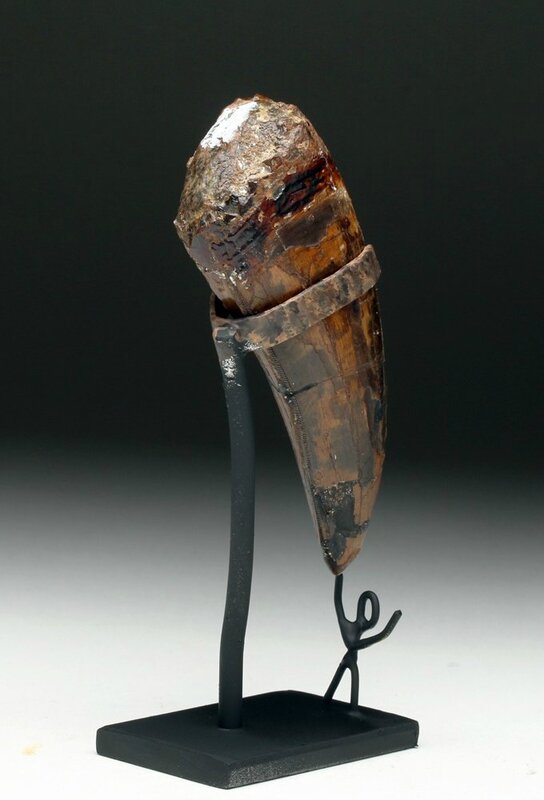 Juvenile Tyrannosaurus Rex Tooth, United States, Cretaceous Era, ca. 68 to 66 million years old, est. $12,000-$15,000. Artemis Gallery image.
Depending on where you stand on the issue, this is either a juvenile T-Rex tooth, or a tooth from a "Nano-Tyrannosaur" which is still related to the family. Own a tooth from the king of the dinosaurs! With deep brown surface and serrated edges on each side to slice through the flesh of anything that got in its path. This example is far larger, far deeper and far finer than most offered on the market. Custom, and dare I say quite clever stand. Small human figure can be removed upon request. Size: A massive 4"L (10.1 cm) x 1-1/2" in diameter (4 cm).

Provenance: Ex -Adeon Gallery, Chicago, IL, since the 1970's. Found in western United States on private land.
Ten lots of ancient glass will be auctioned. A fine example, Lot 23 is a fiery Roman vessel, circa 2nd to 3rd century CE, of hand-blown aubergine and swirled iridescent gold glass. The tradition of glassmaking in Rome began under the reign of the First Emperor Augustus (27 BCE to 14 CE). By the time this petite 4¼-inch vase was crafted, the blowpipe technique had come into use, greatly expanding creative possibilities. Appealing yet affordable, Lot 23 is estimated at $1,200-$1,800.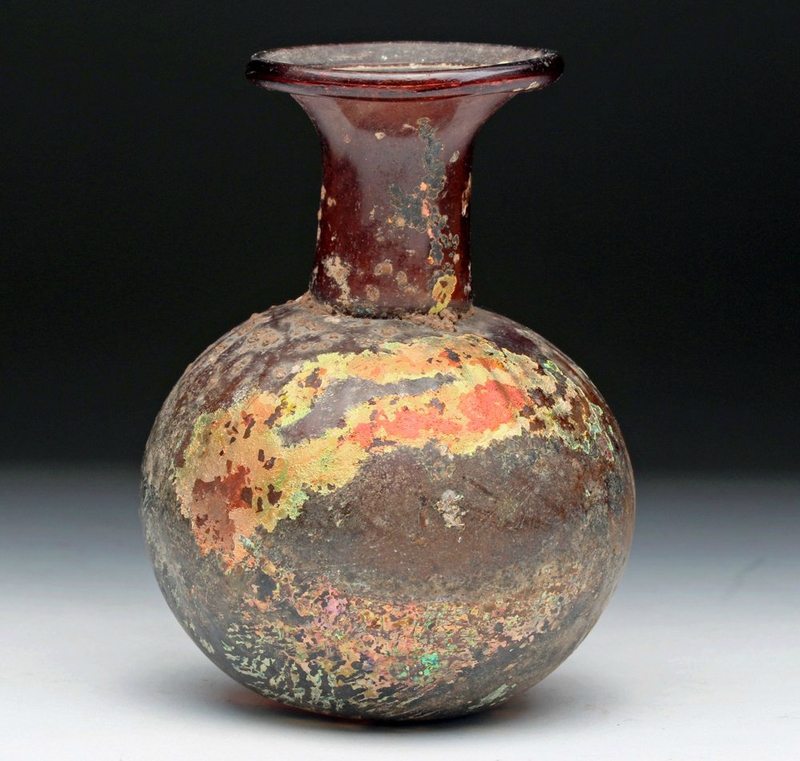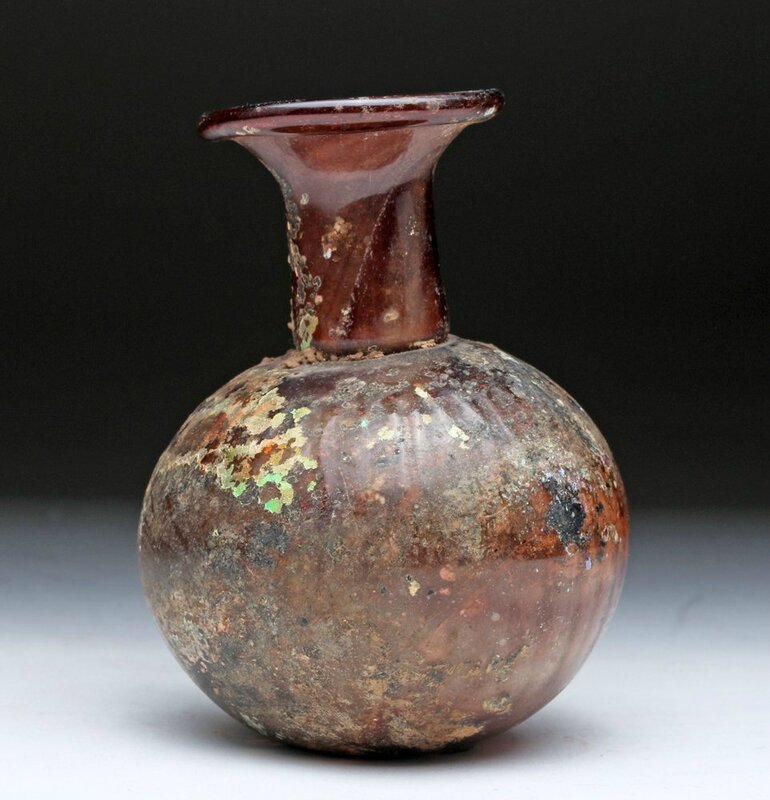 A fiery Roman vessel of hand-blown aubergine and swirled iridescent gold glass, Roman Empire, the Levant, eastern Mediterranean region, ca. 2nd to 3rd century CE, est. $1,200-$1,800. Artemis Gallery image.
A hand-blown glass vessel of petite form with a near-spherical, ribbed body, elegantly cinched neck, folded rim, and broken pontil mark, of stunning aubergine hues with a swirl particularly visible on the neck, areas of golden iridescence. The invention of the blowing pipe technique opened up many possibilities in ancient glass-making in that glass could be shaped by hand. Under the reign of the First Emperor August, 27 BCE to 14 CE, glass making became an important industry in the Roman Empire. Size: 4-1/4" (10.8 cm) x 3-1/4" (8.3 cm).

Provenance: Ex-private East Coast, USA collection.
Every ancient culture developed its own variations of vessels used to hold water, wine, libations, oils or perfumes. A fascinating array of vessels with prestigious, certified provenance will be auctioned by Artemis Gallery. Highlights include three from Pre-Columbian civilizations. Lot 135, a highly decorative circa 700-1000 CE olla from the Cocle region of Panama stands 14 inches tall and is estimated at $900-$1,200. A second polychrome-painted pottery olla, Lot 146, comes from Casas Grandes, Chihuahua, Mexico, and dates to around 1000-1200 CE. Painted in the attractive banded and dotted-checkerboard style known as "Ramos," its bulbous body measures 9¼ inches in diameter. Estimate: $1,200-$1,800. Rounding out the trio is Lot 123, a wonderful Huari (southern coastal Peru) painted terracotta ovoid vessel with two bas-relief figures: a jaguar and a crowned human whose limbs intertwine with the mountain cat's body. Its line of provenance includes Sotheby's May 17, 1993 Sale NO6420, and it will be offered on June 30 with an estimate of $1,800-$2,500.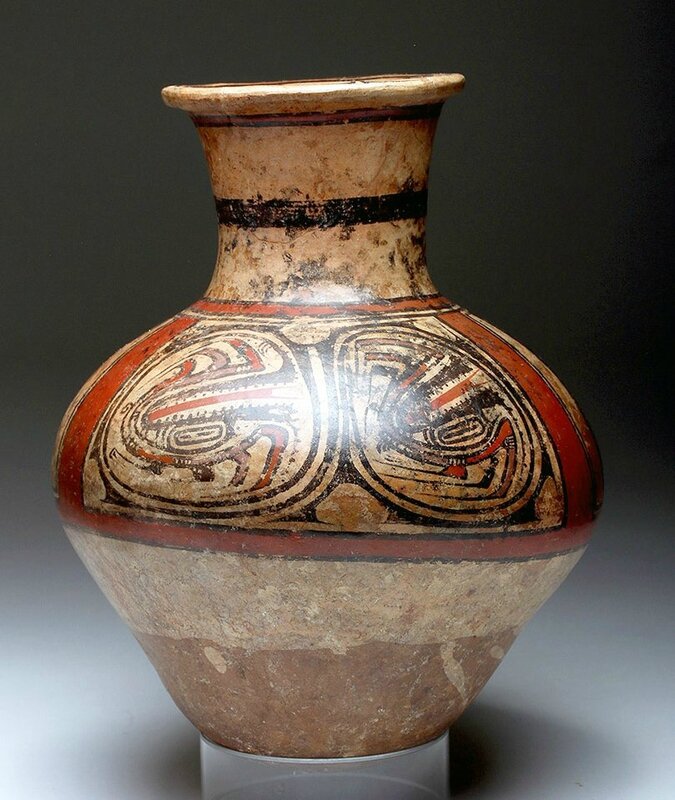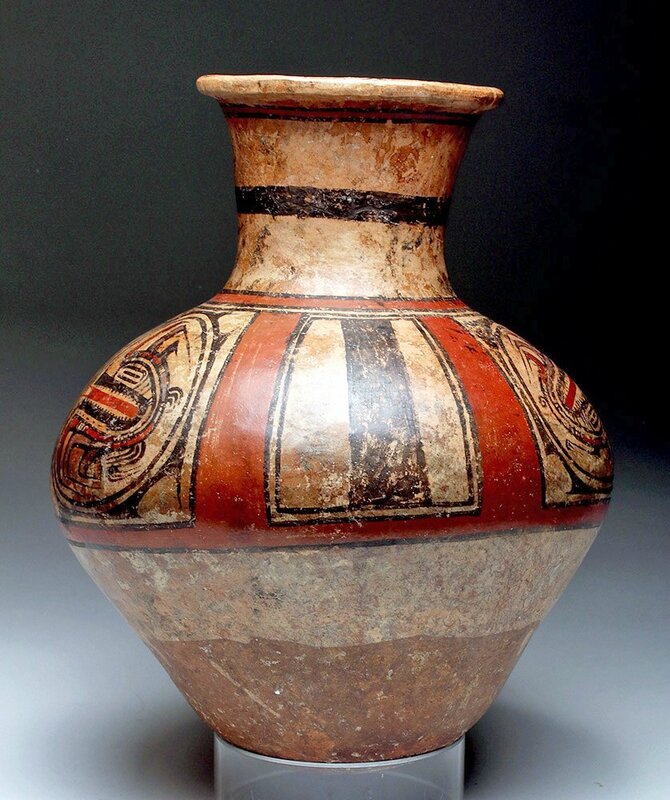 Olla, Pre-Columbian, Panama, Coclé region, Macaracas style, ca. 800 to 1000 CE, est. $900-$1,200. Artemis Gallery image.
Olla decorated with two large panels of swirling, saurian designs in black, cream, red and blue and two smaller panels with black and cream geometric designs. There are also bands of black and red around the neck and on the rim. Size: 9"L x 9"W x 14"H.

Provenance: Ex-private Rousseau collection acquired before 1984.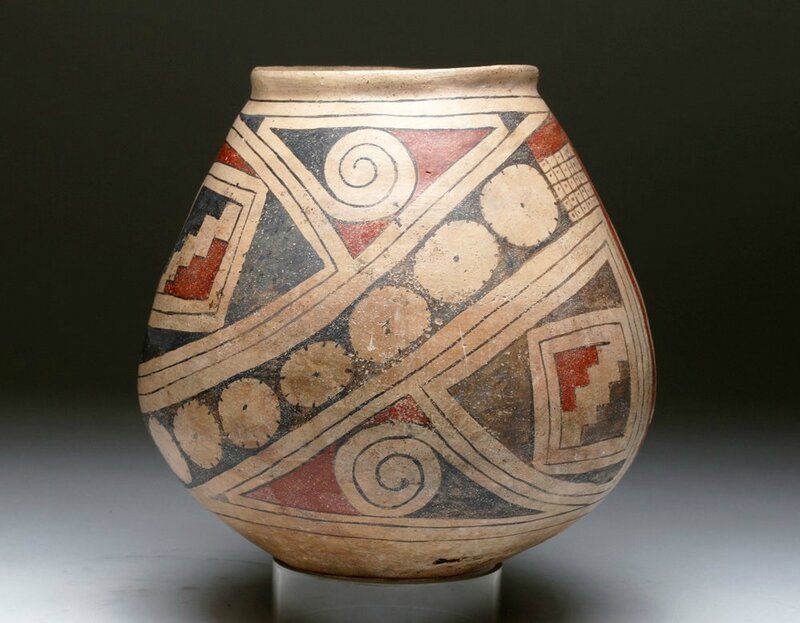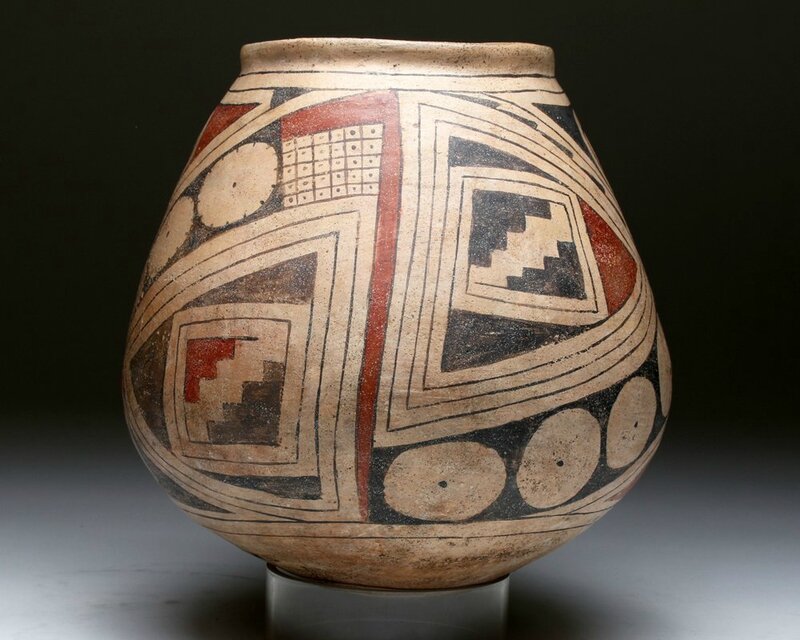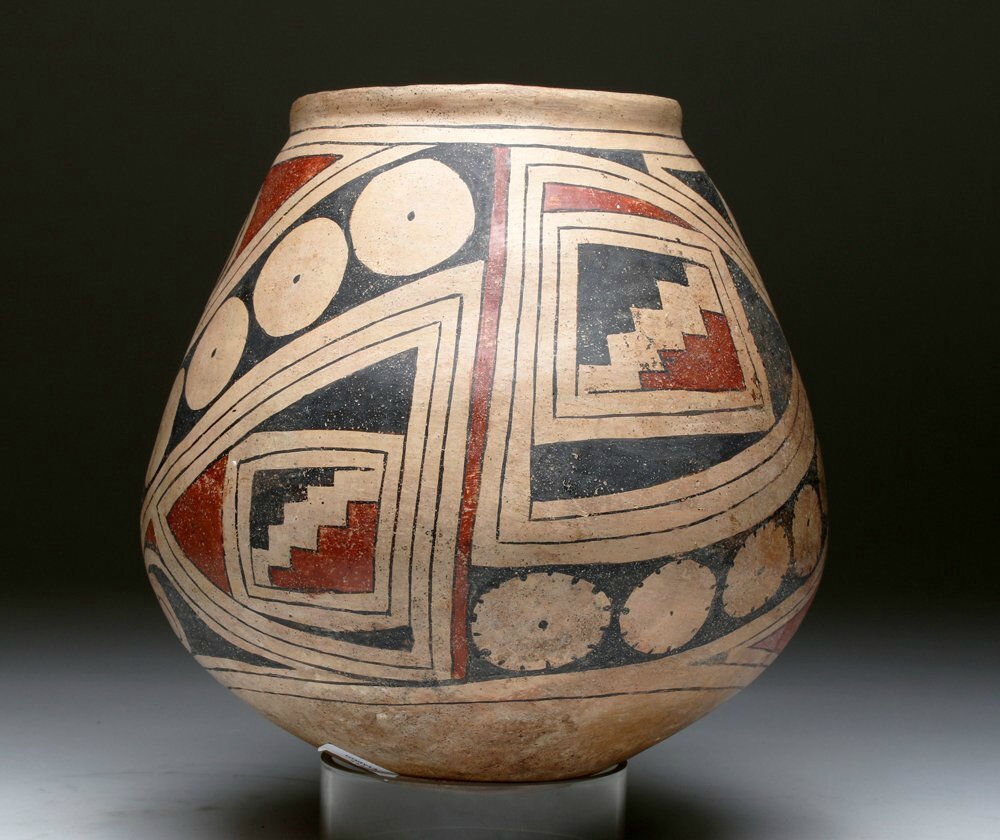 Olla, Pre-Columbian, Northern Mexico, Casas Grandes, Ramos, ca. 1100 to 1200 CE, est. $1,200 – $1,800. Artemis Gallery image.
Substantive polychrome Casas Grandes pottery olla of large bulbous, round-bottomed body, corsetted to a short, upturned rim, of the Ramos variety; Ramos is a stylistic designation used when red painted forms are outlined in black. The painted motifs covering the body boast lovely circular, stepped, checkerboard with dots and linear forms, some with spiral terminals. Size: 8-3/4"H (22.2 cm) x 9-1/4" in diameter (23.5 cm).

Provenance: Ex-private Ripley collection, Iowa, collected over last 40 years.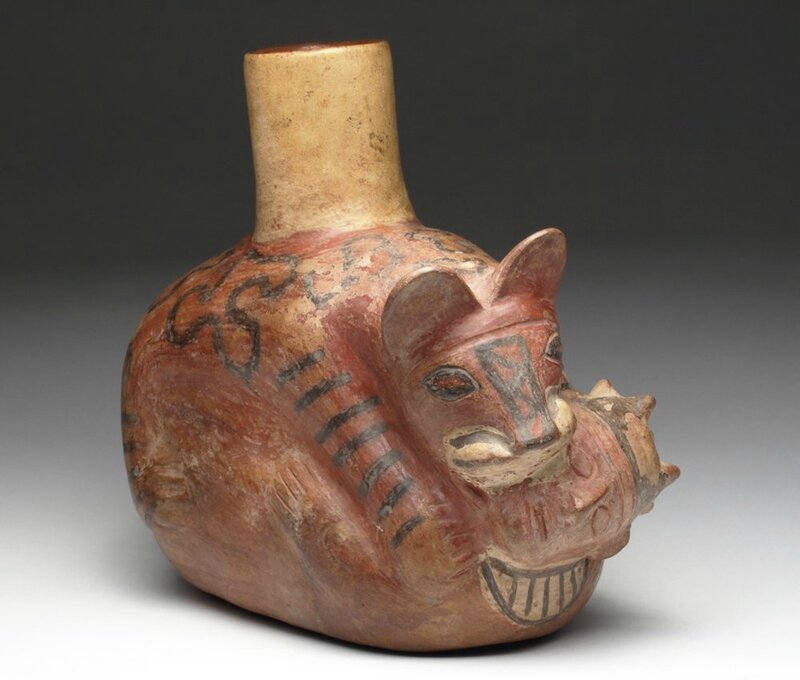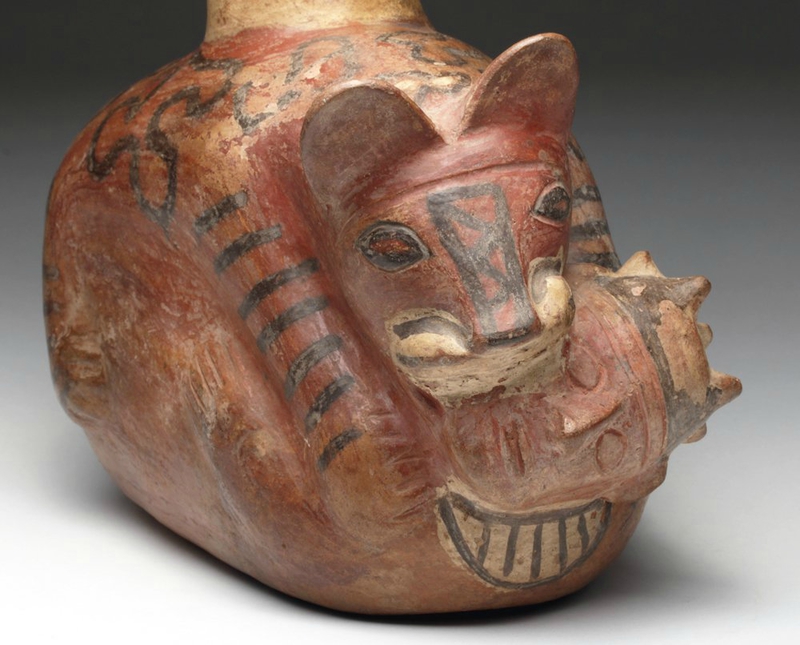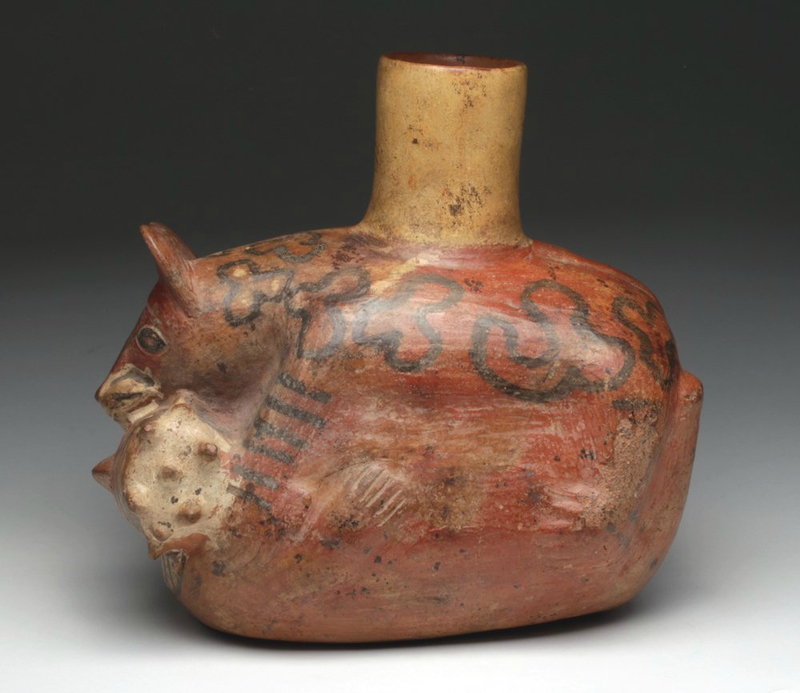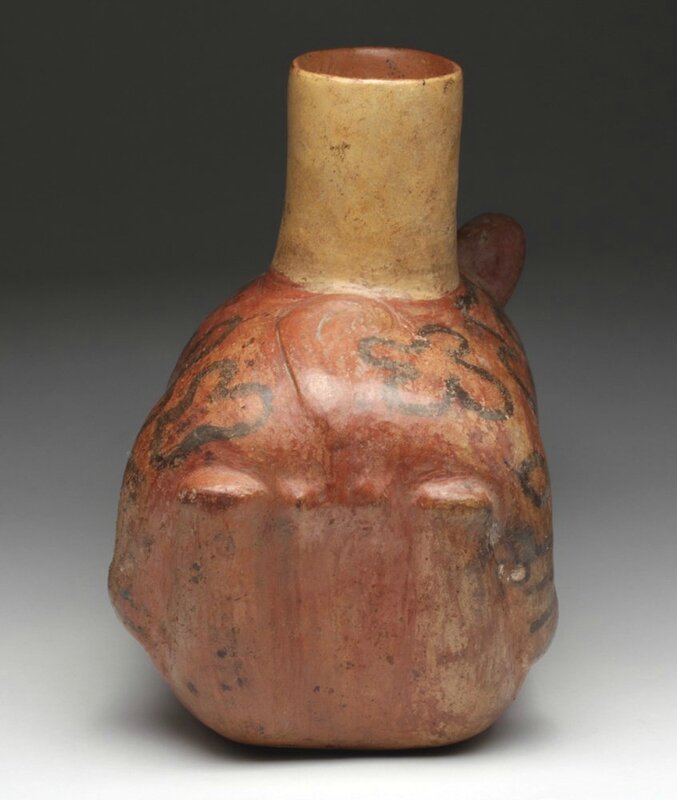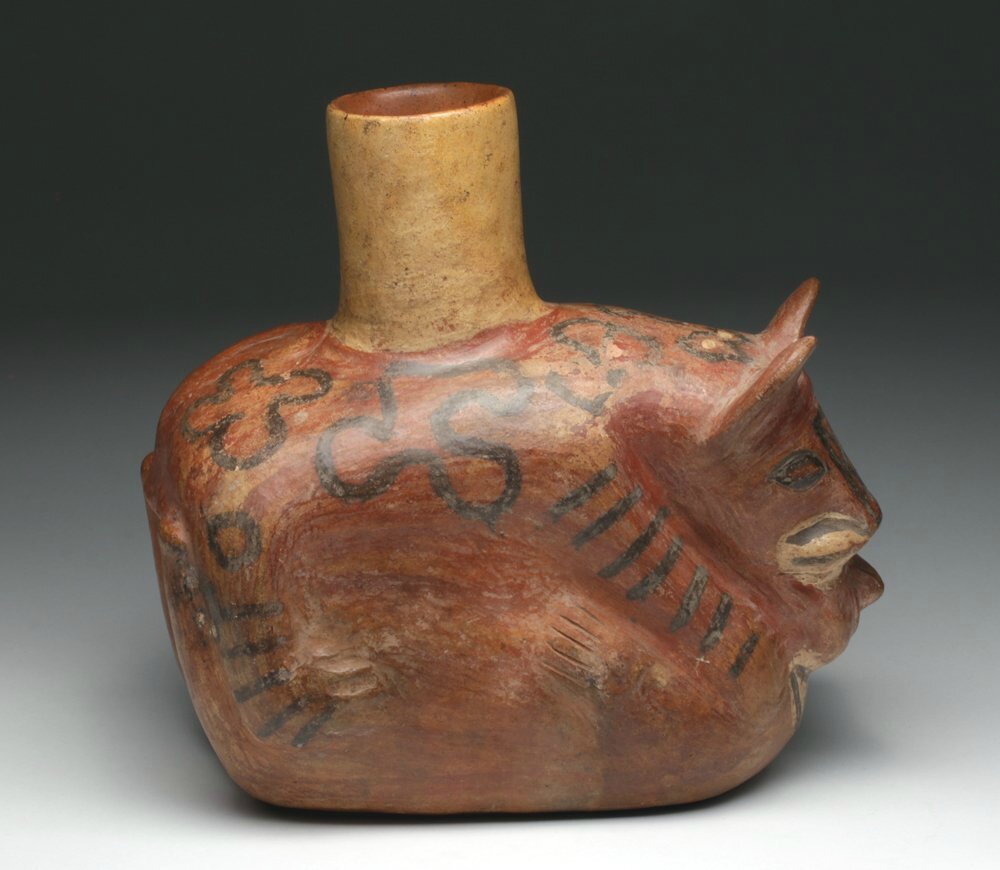 Polychrome Spouted Vessel, Pre-Columbian, South Coast Peru, Huari-Wari culture, ca. 700 to 1000 CE, est. $1,800-$2,500. Artemis Gallery image.
Terracotta ovoid vessel representing two figures. A jaguar, with coat adorned with black painted stripes and more organic looking feline markings, surmounts and fiercely feasts upon a crowned human whose arms and legs intertwine with the jaguar's body. Note how the artist took the time to paint the jaguar's teeth biting into the closed-eyed royal victim. A rare and graphic depiction! Wood block stand included. Size: 9-3/4"L x 5-1/2"W x 9-1/2"H. Stand adds 2-5/8" to height.

Provenance: Ex-private Atlanta, GA collection, acquired in Sotheby's auction, Lot 202, Sale NO6420, May 17, 1993.
An elegant Greek Apulian red-figure oinochoe (high-handled ewer) from the 4th century BCE is painted with the image of a grand Lady of Fashion on its body, a large palmette and other embellishments. Cataloged as Lot 11, it is expected to make $1,500-$2,500.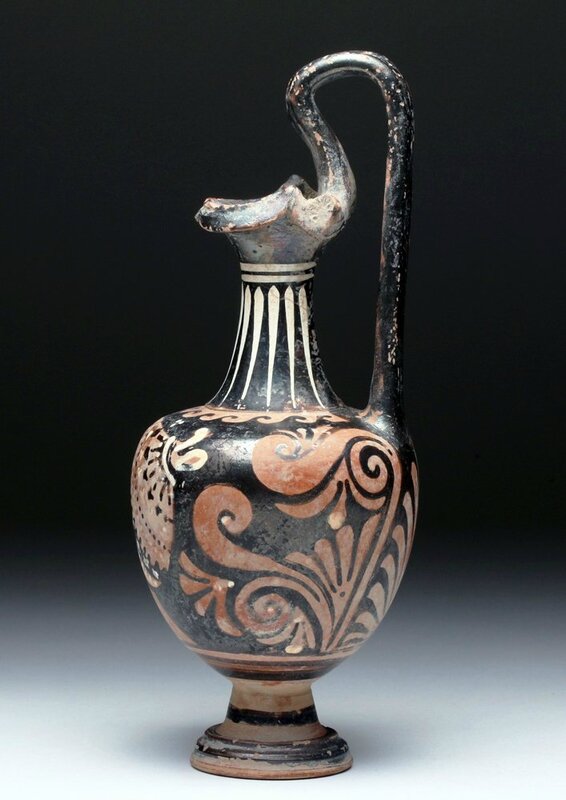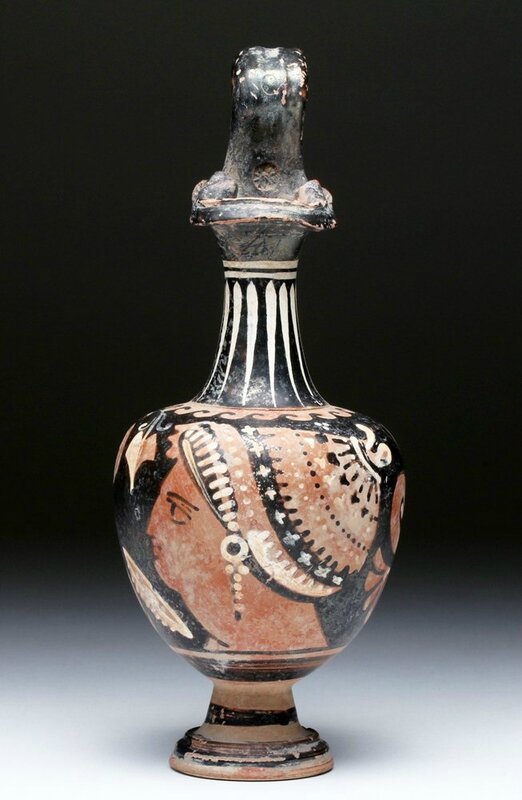 Red Figure Oinochoe with Lady of Fashion, Magna Graecia, Southern Italy, Apulian region, 4th century BCE, est. $1,500-$2,500. Artemis Gallery image.
An elegant red figure Apulian oinochoe on small foot with delicately applied white detailing as well, adorned with a grand Lady of Fashion on the body, a large palmette under the gracefully styled and applied trifurcated strap handle, a wave pattern encircling the piece just beneath the neck decorated with vertical white striations beneath two finely painted horizontal lines. Finely detailed spout with stamped spiral motifs punctuating where it meets the handle. Size: 8-3/8"H (21.6 cm).

The preference for Attic vases led to the development of South Italian workshops, strongly influenced by Attic style, but produced for local markets. "South Italic" is a term for Greek pottery manufactured during the 4th century BCE. Five regions produced South Italian wares - Apulia, Lucania, Paestum, Campania, and Sicily. Centers also developed in Teano (Campania), Canosa (Apulia), and Gnathia (Apulia), but these potteries moved away from classical red-figure and more towards less figurative work of the later Hellenistic and Graeco-Roman Periods.

Provenance: Ex-private East Coast, USA collection.
The concept of good things coming in small packages might well date back to 1200-1000 BC, when Lot 49 was created. The rare and whimsical miniature bronze group replicating a chariot with two horses is from the Amlash/Marlik culture of Iran. The well-detailed 2½-inch figural grouping could attract bids in the vicinity of $2,400-$3,500.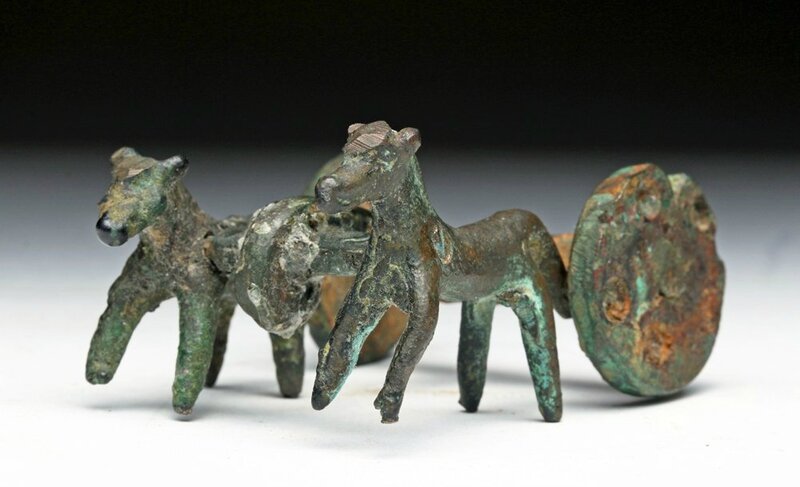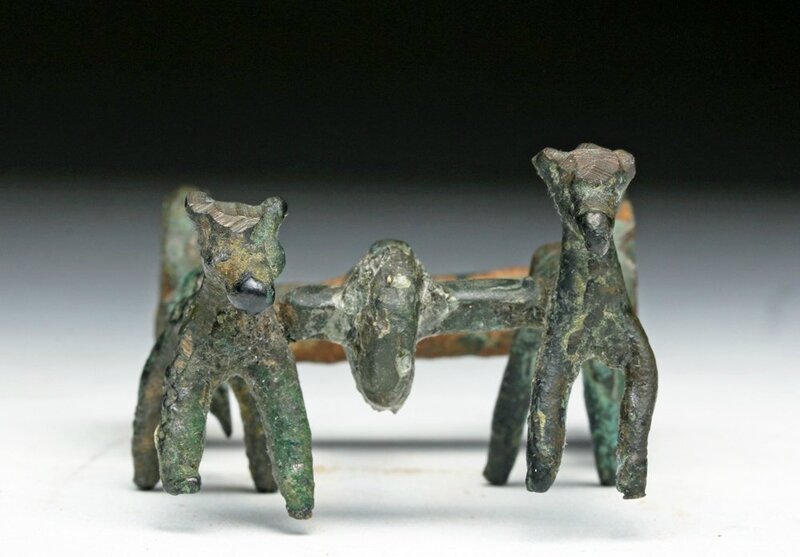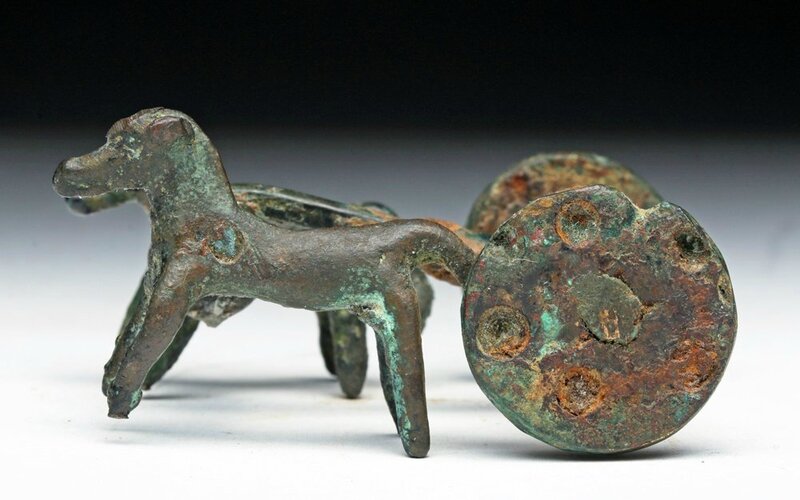 Bronze Chariot Group in Miniature, Iran, Amlash-Marlik, ca. 1200 to 1000 BCE, est. $2,400-$3,500. Artemis Gallery image.
A rare and delightful miniature bronze chariot group with two horses pulling the chariot. Each figure is simply yet completely defined. The wheels of the chariot have nice detailing, circular recesses perhaps intended for inlays. Note the exquisite workmanship of this piece. Size: measures about 2-1/2"L (6.4 cm) x 2"W (5.1 cm). Cf. Moorey: Ashmolean no. 216.

Provenance: Ex-private NYC collection.
Ancient jewelry fashioned from precious metals is always included in Artemis Gallery's sales. Leading the June 30 selection is Lot 105, a circa 500-800 CE Huari (Peruvian) hammered silver cuff bracelet with a low-relief image of a warrior holding a bow and arrows. Estimate: $2,500-$3,500.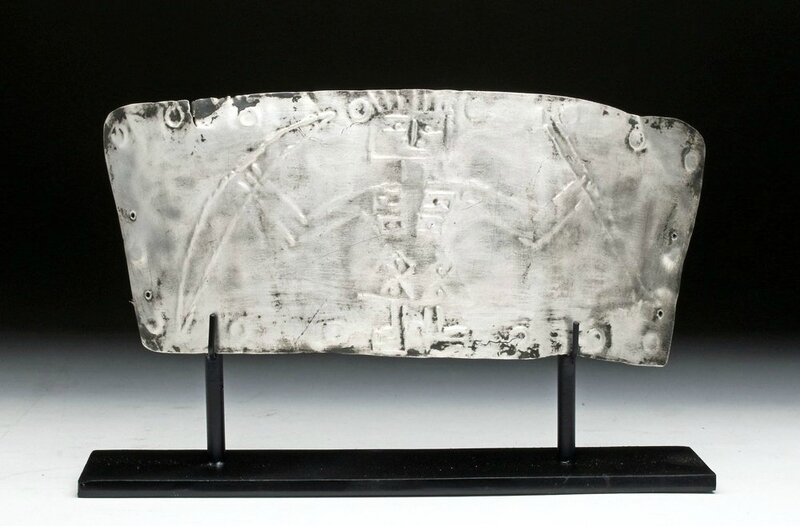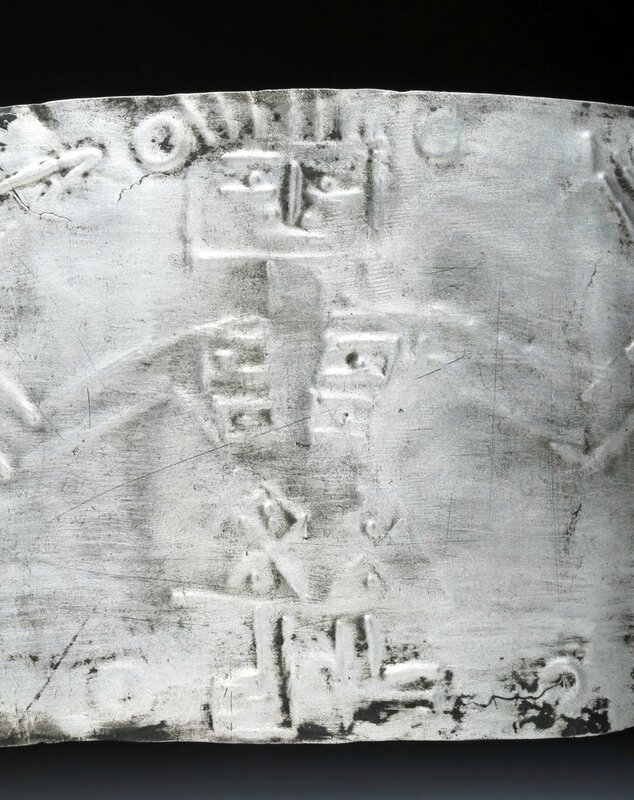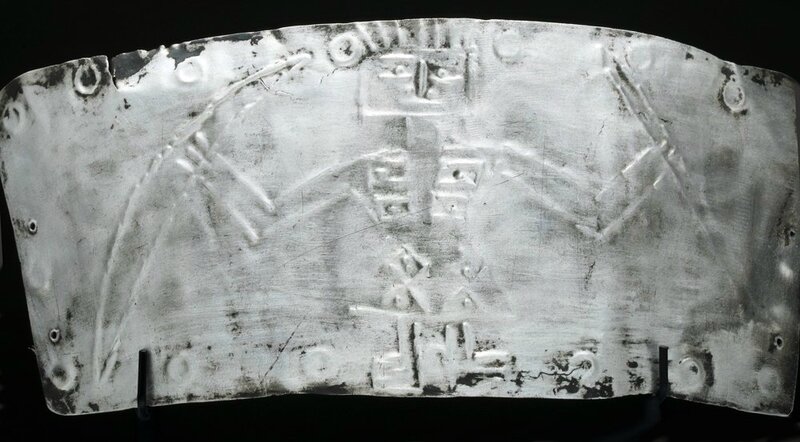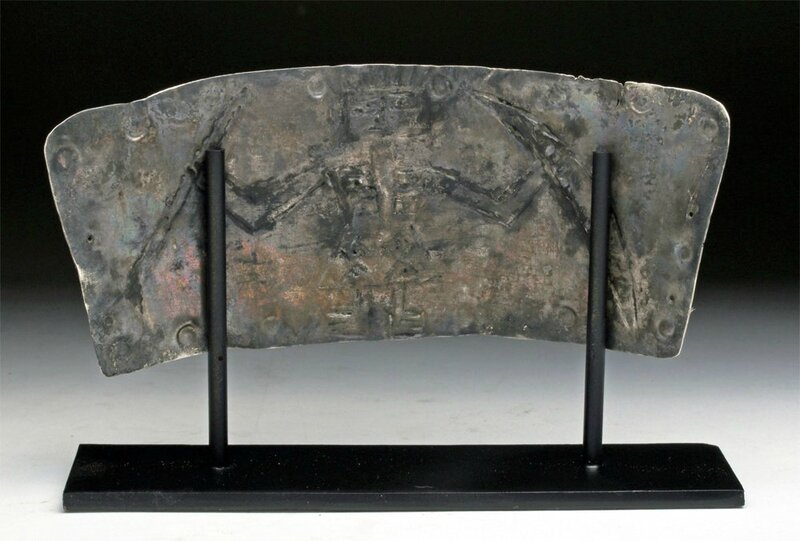 Silver Cuff Bracelet, Warrior in Low Relief, Pre-Columbian, Southern Peru, Wari-Huari culture, ca. 500 to 800 CE, est. $2,500-$3,500. Artemis Gallery image.
A very fine silver bracelet cuff. Hammered silver sheet with standing warrior in low relief. He holds a bow in one hand, arrows in the other, his head the typical squarish form so representative of the Wari art. Four small holes punched along edges to allow it to be closed with small thread. Size: 6-1/2" W x 3" H.

Provenance: Ex-private Mattox collection acquired in 1987.
Teresa Dodge summarized: "This is a good, solid, value-for-money auction with a lot of variety. There are some high-priced pieces and some outstanding values to be discovered in the Marketplace section, but most of the lots are right in the middle, where the majority of collectors feel comfortable."
Bidders may participate in Artemis Gallery's Tuesday, June 30, 2015 auction live online, by phone (please reserve phone line in advance) or by leaving an absentee bid that will be lodged confidentially and competitively on their behalf. The sale will begin at 11 a.m. Eastern Time and will be conducted simultaneously on three bidding platforms: ArtemisGalleryLIVE.com, LiveAuctioneers.com and Invaluable.com. For additional information about any item in the auction, call Teresa Dodge at 720-890-7700 or email teresa@artemisgallery.com