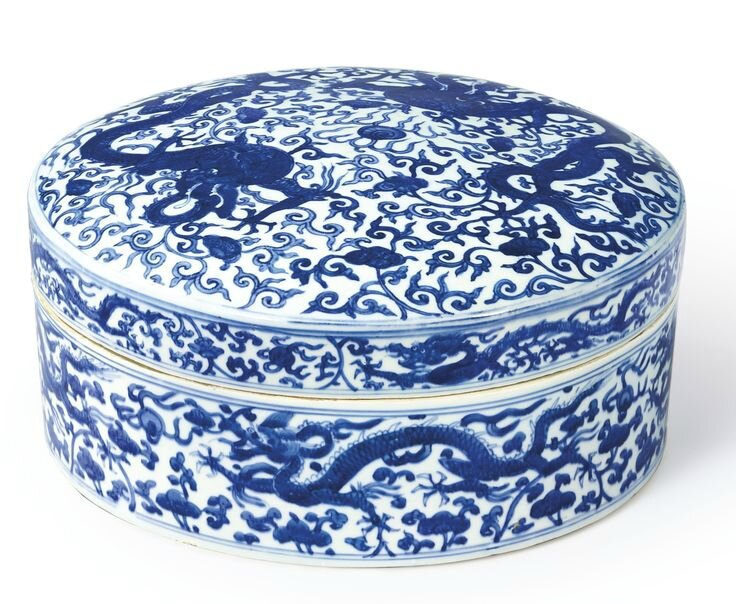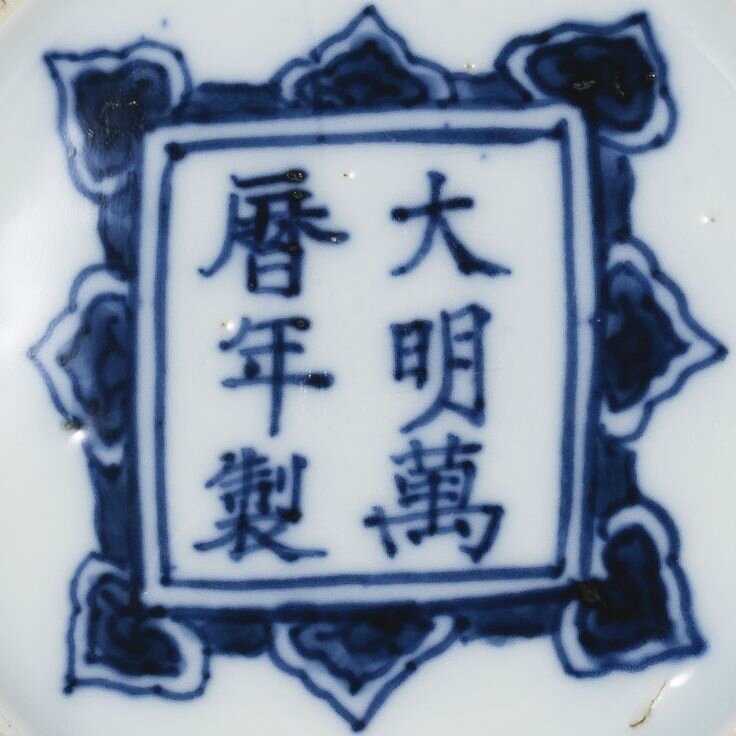 Lot 3657. A rare blue and white 'Dragon and Lingzhi' circular box and cover, Mark and period of Wanli (1573-1619); 29.7 cm., 11 3/4 in. Estimate 1,000,000 — 1,200,000 HKD (114,956 — 137,947 EUR). Lot sold 3,920,000 HKD (450,627 EUR). Photo Sotheby's.
of circular form with straight sides supported on a flat base, the slightly domed top of the cover densely painted with ferocious scaly five-clawed dragons leaping amidst lingzhi scrolls, circling a 'flaming pearl' in the centre, the sides of the box and cover further decorated with bands of four sinuous dragons striding above leafy lingzhi fungi and chasing after 'flaming pearls', the detail all in washes of cobalt blue accented with bold outlines, the base centred with a countersunk roundel enclosing an underglaze blue six-character reign mark within a frame of ruyi motifs, wood stand.
Provenance: An old Japanese collection
The Last Great Flowering of the Ming
Regina Krahl
Neither the Jiajing (r. 1522-66) nor the Wanli Emperor (r. 1573-1620) went down in history as major statesmen or devoted art lovers. And yet, after relatively quiet times for China's art production in the preceding reigns, these two periods brought new inspiration to the imperial kilns at Jingdezhen in Jiangxi province as well as to many other workshops supplying the court with artefacts. Both periods were economically thriving, with great prosperity enjoyed by the officialdom, great power held by the eunuchs, and great riches amassed by the merchant class, which resulted in an increased demand for expensive, exquisitely crafted goods, porcelains being only one of them. Both reigns are marked by a great love of luxury at court and in the upper echelons of society, and while politically the Ming (1368-1644) began to decline, the creation of artefacts in that dynasty experienced a last flowering. Production quotas were greatly increased and it is in this period that the expression 'town of year-round thunder and lightning' was coined (by Wang Shimao) to describe the vast industrial activities at Jingdezhen. Porcelain production not rarely amounted to hundreds of thousands of pieces per year. To fulfil this demand non-imperial kilns, which had refined their wares for several decades, were roped in to partake in the supply of the imperial court. Although reduced overview of the production by the imperial household department necessitated increased tolerance in quality control, at the same time it allowed for greater freedom in interpreting prescribed designs. A case in point are the dragons on the magnificent large blue-and-white box and cover, lot 3657, for example, which are rendered in an exuberant, spirited way quite untypical of the orthodox rendering of the 'paired dragon' pattern.
Despite this increased production, potters aimed at making their wares as impressive as possible. The Jiajing Emperor is well-known to have been a fervent patron of Daoist causes, a staunch believer in the search for fertility and immortality drugs and an admirer of magical practices performed by Daoist adepts. He spared no expenses for constructions and ceremonies connected with Daoist worship, where pearls, ambergris and gold were employed in lavish profusion. The Wanli Emperor was no less averse to liberal spending of government resources on personal luxury items such as jewellery, clothing and curiosities, palace constructions and festivities.
In both the Jiajing and Wanli reigns Jingdezhen's potters managed to develop new, characteristic styles with already tried and tested technical means. The former period is remarkable in particular for experimenting with new or uncommon two-colour combinations, with the rare yellow-and-red style, here seen in lot 3659, yielding perhaps the most striking and most satisfactory results. The Wanli reign saw a renewed interest in blue-and-white as well as a concentration on wucaipolychrome wares, whereby new emphasis was put on jewel-like intensity of both under- and overglaze pigments. 'Five-colour' (wucai) porcelains were among the most ambitious Ming wares ever devised, as they required complex organization of the designs to fit under- and overglaze elements together into a harmonious design and must have had an excessive failure rate due to their multiple firings. Blue-and-whites required lavish use of high-quality cobalt to achieve the deep, rich blue that is characteristic of porcelain from these periods. This costly production for the court ended with the death of the Wanli Emperor in 1620, not to be revived again until well into the Qing dynasty (1644-1911).
In both Jiajing and Wanli periods, official designs with dragons and phoenixes as emblems of the power and glory of Emperor and Empress abound, not only on porcelain but similarly also on other imperial works of art. Characteristic of both reigns are imperial five-clawed dragons surrounded by longevity motifs such as lingzhi, the immortality fungus, rather than clouds or waves (lot 3657). Jiajing artefacts of all media are brimming with auspicious Daoist imagery and many of these designs continued to be used in the Wanli reign. Characteristic are motifs intended to protect the Emperor against the vicissitudes of fortune, in particular motifs representing longevity, such as deer and cranes (lot 3666). The fish-pond motif (lots 3661 and3665) has similarly been interpreted as a combination of auspicious symbols in the exhibition catalogue Power and Glory: Court Arts of China's Ming Dynasty, Asian Art Museum, San Francisco, 2008, p. 210, where in connection with an ink painting of this subject by Miu Fu (active 1426-35) the Chinese word for 'fish' is explained as a homophone for 'abundance' or 'profit', arrowroots are said to imply compassion and benevolence, and the water lily to symbolize peace and safety. A different and more important aspect of the fish motif, however, seems to be the more positive, idealized message of fish as symbols of the happy, carefree life in tune with nature that the Daoists proposed, and which for the most part was far from the reality experienced by a Chinese emperor.
The Wanli Emperor's mausoleum, the only imperial Ming tomb to have been excavated, contained gold basins, bowls and boxes, lacquer wares, and of course imperial garments decorated with dragons in similar styles as seen on porcelain. This imperial tomb is also remarkable for having brought to light not only porcelains with the Emperor's own reign mark, but also pieces of Jiajing mark and period. Generally, a new emperor had the porcelains of his predecessor put into storage and replaced with pieces inscribed with his own reign name.
These imperial wares of the late Ming dynasty have always been particularly admired in Japan. Although Japan had revered Chinese ceramics for centuries, the wares of the 16th century played a particular role in the Japanese taste for artworks imported from China (karamono). Since they were produced in greater quantities, Chinese porcelains had become more affordable in the late Muromachi period (1333-1573); and because high-quality wares were now produced both by the imperial and by commercial kilns, porcelains of much finer quality – even pieces with imperial reign marks which had been virtually unavailable before – came onto the market and thus also reached Japan. Nicole Coolidge Rousmaniere, Vessels of Influence. China and the Birth of Porcelain in Medieval and Early Modern Japan, London, 2012, p. 97 states "… by the sixteenth century, at least along the western coast of Japan, possession and use of Chinese porcelain had become commonplace." Chinese wares were highly esteemed not only as connoisseurs' articles of aesthetic beauty, or choice items for special use in the tea ceremony, but also as fine utilitarian ware for everyday use. Many of the pieces in the present catalogue have a long collecting history in Japan, where they were carefully preserved in exquisite paulownia wood boxes.
Notes: Vigorously painted with striding dragons chasing flaming pearls, this box is notable for its large size and cylindrical form. Boxes of this form are rare although a closely related example from the Umezawa Kinenkan Museum, Tokyo, is illustrated inMayuyama. Seventy Years, Tokyo, 1976, vol. 1, pl. 961; and one painted with two phoenix is offered in this sale, lot 3658. A very similar blue and white box with the a related mark framed by ruyi motifs, but decorated with dragon and phoenix, in the National Museum of China, Beijing, is published in Zhongguo Guojia Bowuguan guancang wenwu yanjiu congshu/Studies on the Collections of the National Museum of China. Ciqi juan [Porcelain section]: Mingdai [Ming dynasty], Shanghai, 2007, pl. 95. Cylindrical boxes of this size are also known painted with dragons and phoenix in wucai enamels, such as one also in the Umezawa Kinenkan Museum, included in the exhibition Imperial Overglaze-Enamelled Wares in the Late Ming Dynasty, Museum of Oriental Ceramics, Osaka, 1995, cat. no. 32; another, also with a similar mark, sold in our London rooms, 13th May 1958, lot 90; and a third from the collections of Hon. F. Ross de Moleyns and J.C. Gilmore, sold at Christie's Hong Kong, 29th April 2002, lot 561.
This box is also notable on account of its painted decoration. While depictions of dragons among floral sprays are known on ceramic wares from as early as the Five Dynasties period (907-960), the use of lingzhi sprays originated in the Jiajing reign (1522-1566) and grew in popularity during the Wanli period, reflecting the emperor's devotion to Daoist beliefs and practices. The lingzhi, Ganoderma lucidum, was believed to possess magical qualities. It was used to treat a variety of ailments and thus earned the reputation as an immortality-inducing herb and an extremely popular ingredient in Daoist recipes for longevity.
Sotheby's. Important Chinese Art, Hong Kong, 07 oct. 2015, 02:30 PM