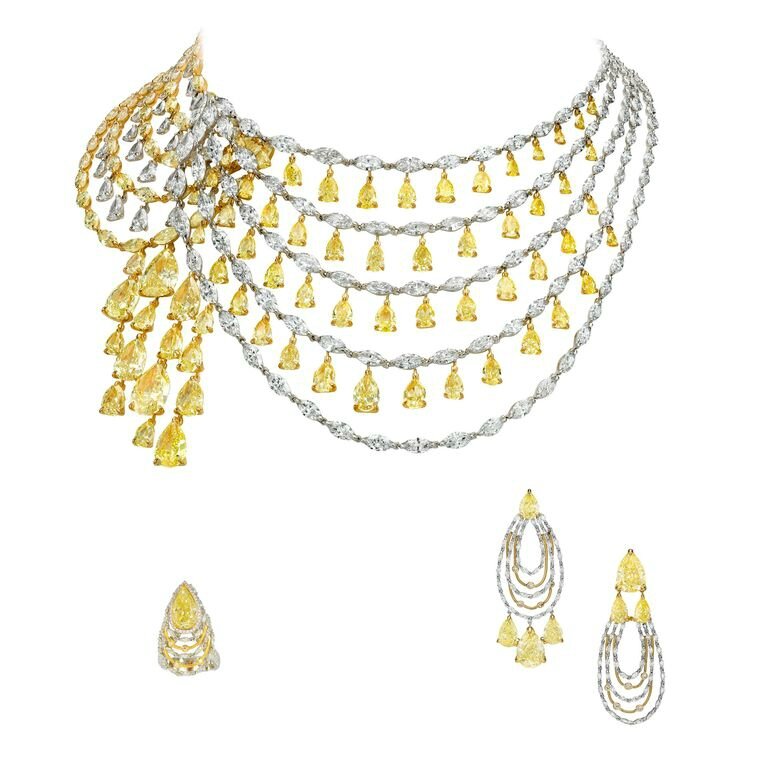 Part of the new Ballet Oriental collection, this parure from Boghossian shimmers with the light of more than 200 carats of diamonds, including almost 150 carats of Fancy Yellow diamonds.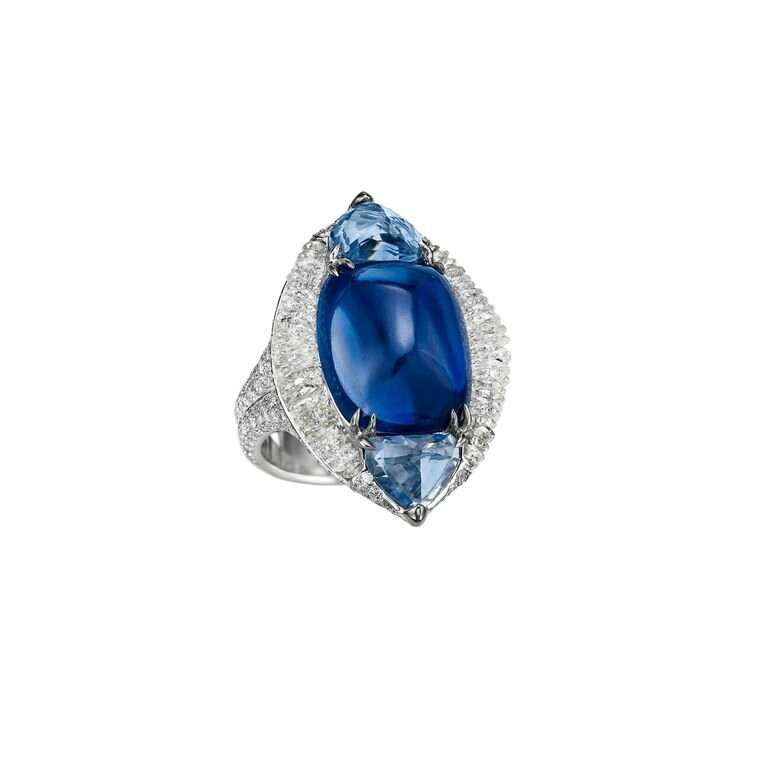 A 15.86 carat sugarloaf Kashmir sapphire is set centrally in this Boghossian ring, flanked by rondel-cut diamonds.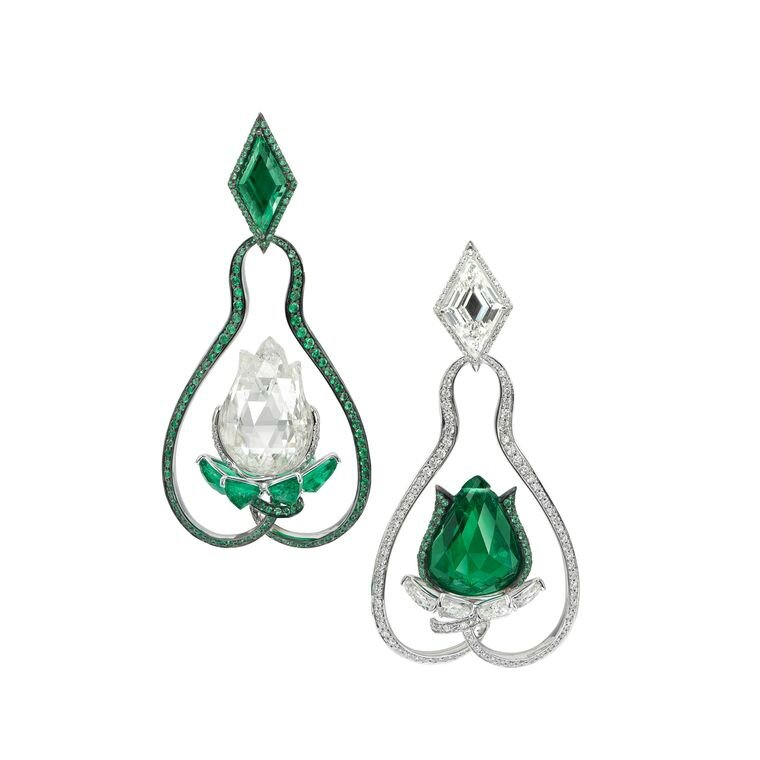 Pear-shaped motifs frame the central diamond and emerald, each carved in the shape of a lotus flower, in this pair of earrings from Boghossian.
Emeralds and diamonds appear to have merged into one, thanks to the technically demanding Art of Inlay technique in which absolutely no metal is visible in this pair of Boghossian drop earrings.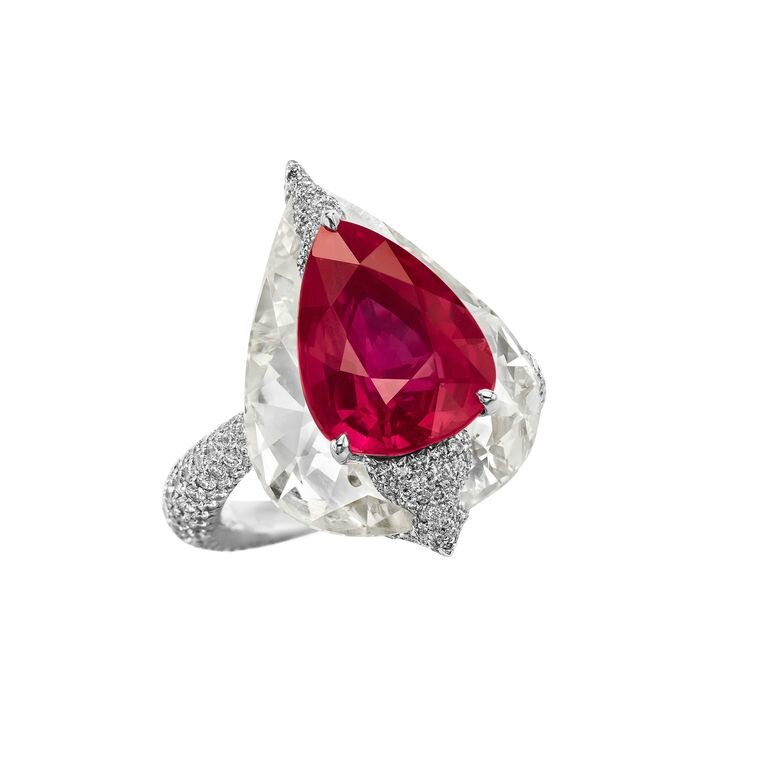 The Mozambique ruby in this ring from Boghossian is set in a 10ct diamond using the technique of Kissing Diamonds, which lays one stone on top of another.
The verdant green 2.57 carat emerald in this Boghossian ring has been set over a 7.15 carat round-cut diamond, creating an effect that radiates a high-voltage display of colour and light.
This Boghossian Reverence diamond bracelet creates a tiered formation of diamonds and graduated rubies that encircle the wrist, and which rise towards the centre, culminating in an impressive 3.06ct Burmese ruby.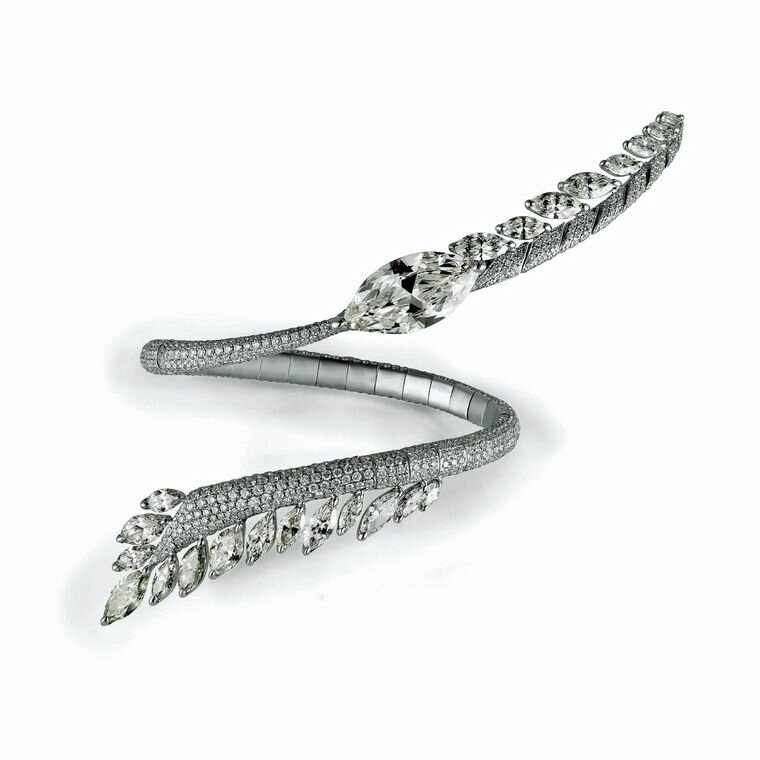 Like an exotic and bejewelled tendril, Boghossian's Saut d'Ange diamond bracelet twists around the wrist and then over the top of the hand to fasten on the pinkie finger.
Defying gravity and convention, oval-cut diamonds flow along the earlobe and taper into an impressive square, radiant-cut diamond, surrounded by clusters of marquise cuts in this pair of Boghossian Saut d'Ange diamond earrings from the Ballet Oriental collection.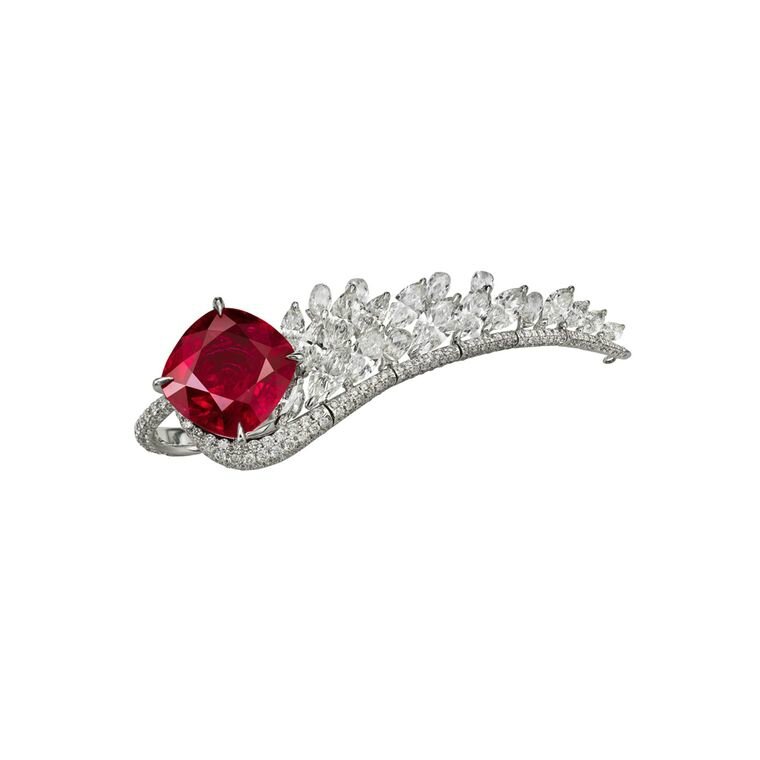 The opulence of the Orient shines through in this Boghossian Saut d'Ange ring with its impressive 14.6 carat Tanzanian ruby.
Thanks to the delicately suspended stones with an additional lower fringe, these marquise-cut High Jewellery diamond earrings from Boghossian appear to hover over the ear as if by magic.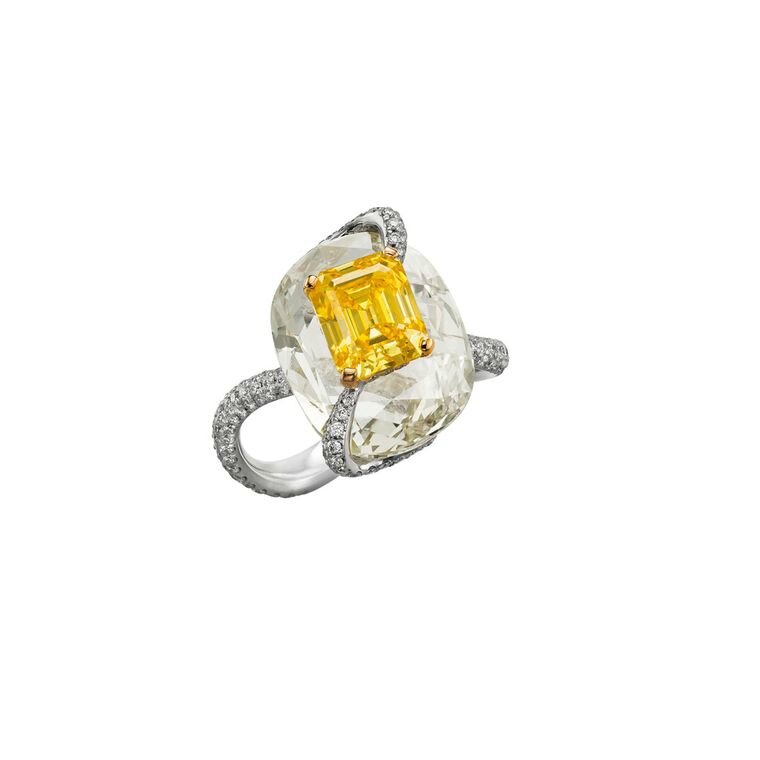 This diamond ring from Boghossian sets a rare yellow diamond into a white diamond in a daring technique that the jeweller calls Kissing Diamonds.
One-of-a-kind Boghossian Reverence bracelet from the Ballet Oriental collection, set with round-cut tsavorites, diamonds and pear-shaped jadeite.
One-of-a-kind Boghossian Arabesque bracelet from the Ballet Oriental collection, set with a Colombian emerald in blue chalcedony and diamonds.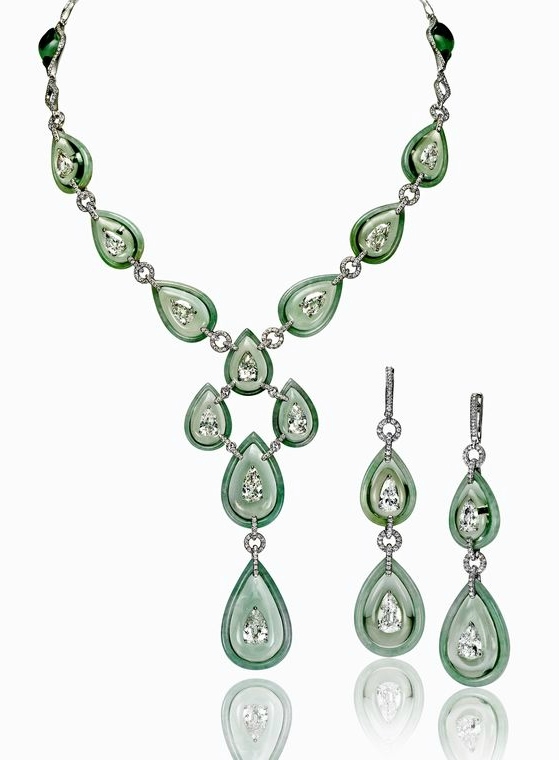 One-of-a-kind Boghossian high jewellery necklace and earrings from The Art of inlay collection, with diamond inlaid into prasiolite, enclosed in light green jade.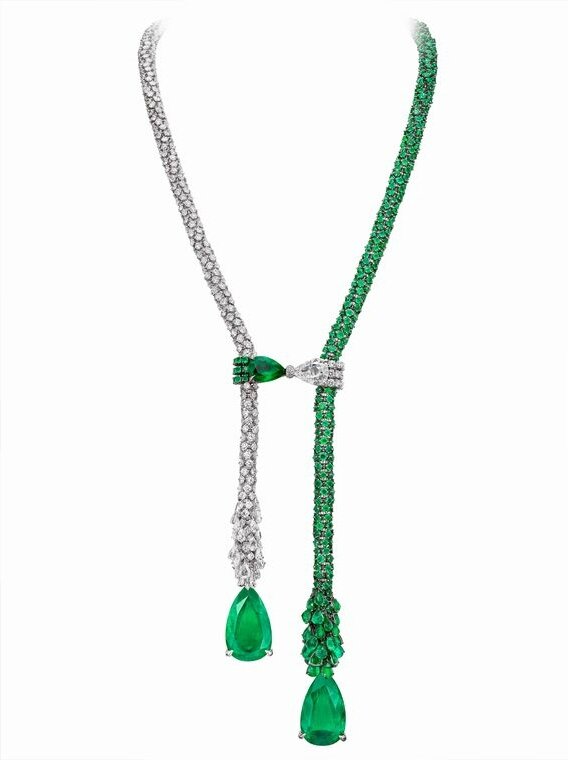 One-of-a-kind Boghossian Masterpieces necklace from the Ballet Oriental collection, set with emeralds and diamonds.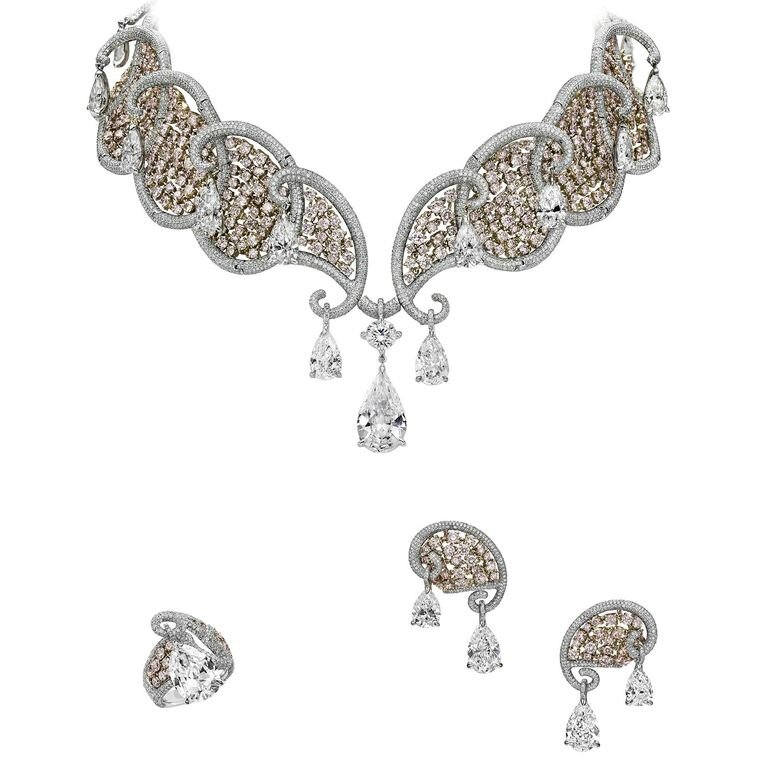 Boghossian Reverence pink and white diamond set from the new Ballet Oriental collection, in which diamonds tremble with the lightest movement and capture the intensity of the surrounding light.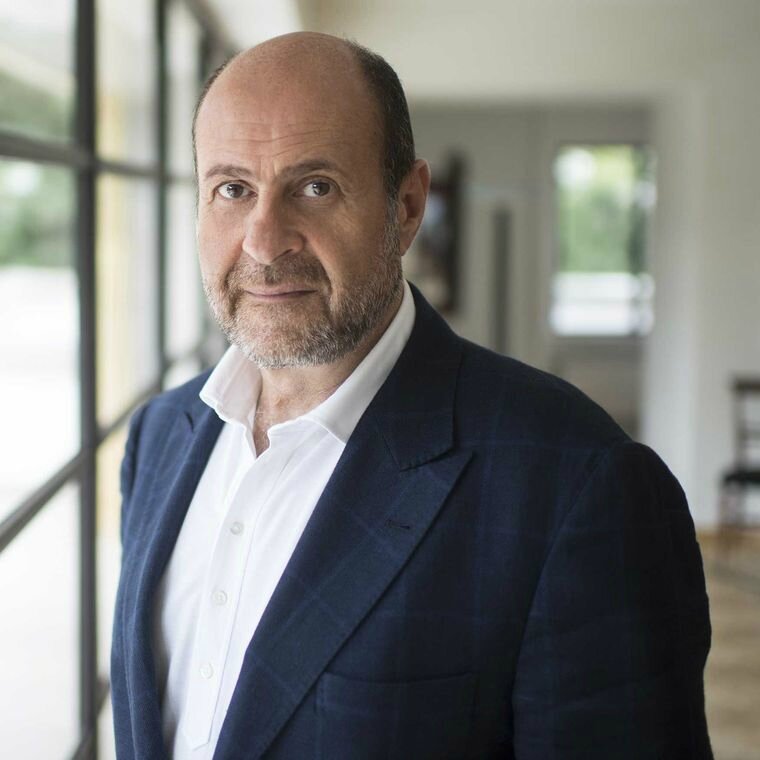 "We really wanted to do something different and take fine jewellery design into a new territory," explains CEO Albert Boghossian. "We also wanted to acknowledge the skills of past master jewellers and invent new techniques to move forward so that we, too, could leave behind a design legacy."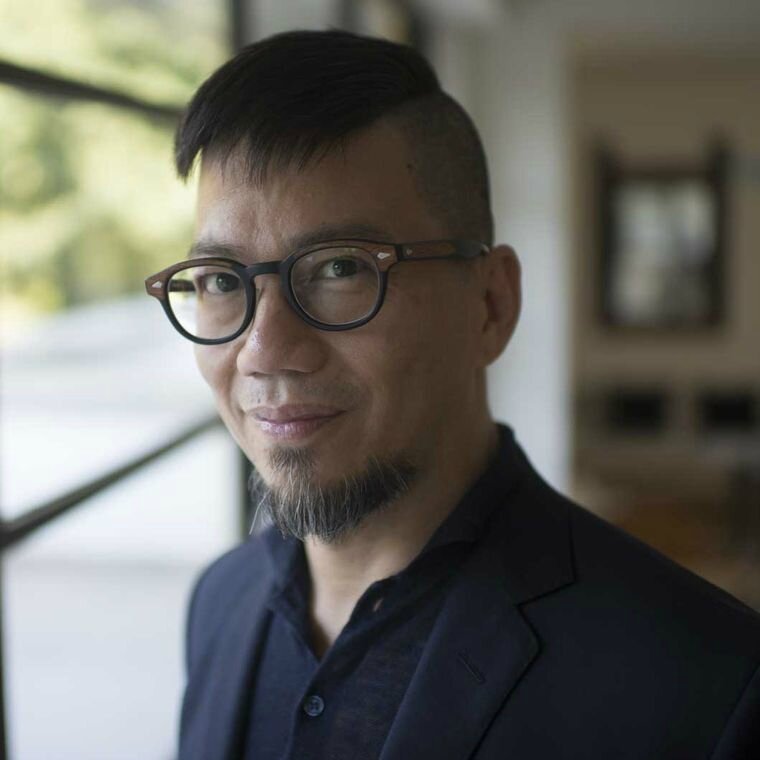 Creative director Edmond Chin - the celebrated Singaporean genius known for his groundbreaking designs incorporating magnificent stones - designed Boghossian's fabulously extravagant new Ballet Oriental collection.
(Source: TheJewelleryEditor)