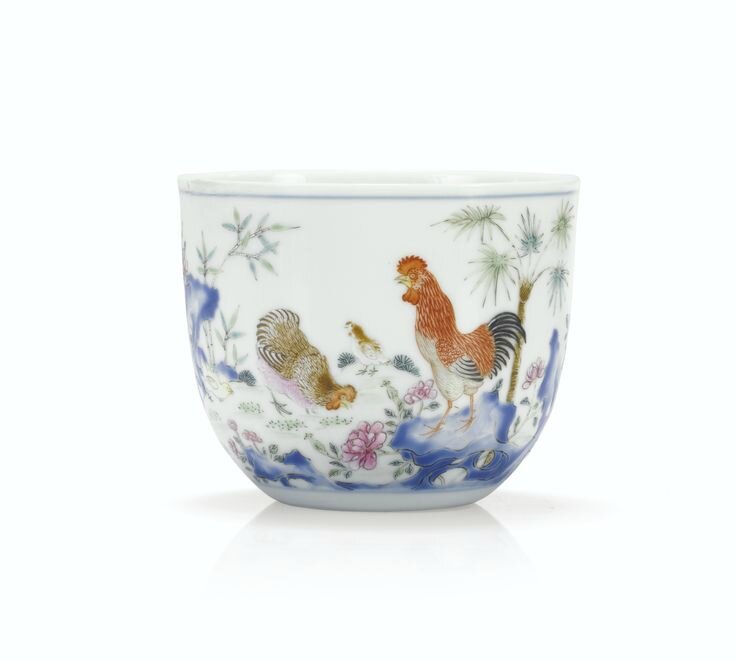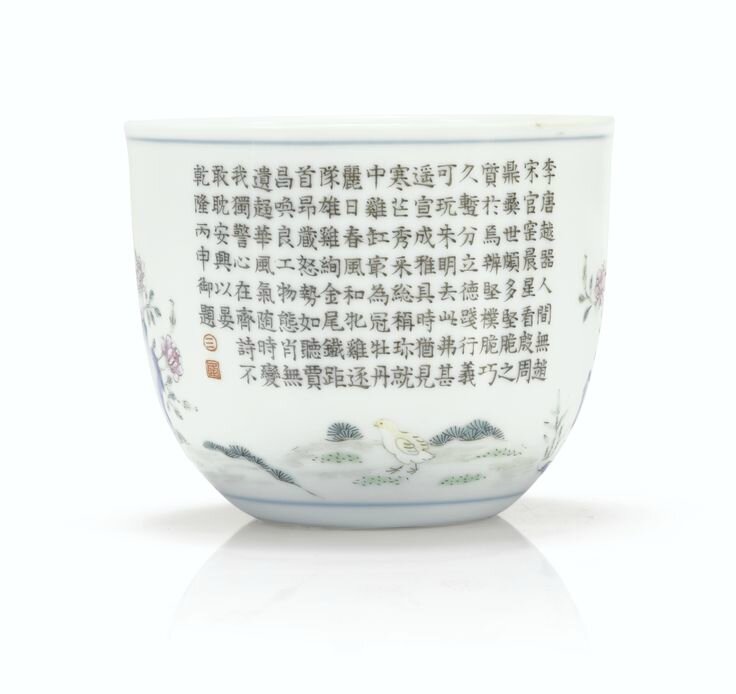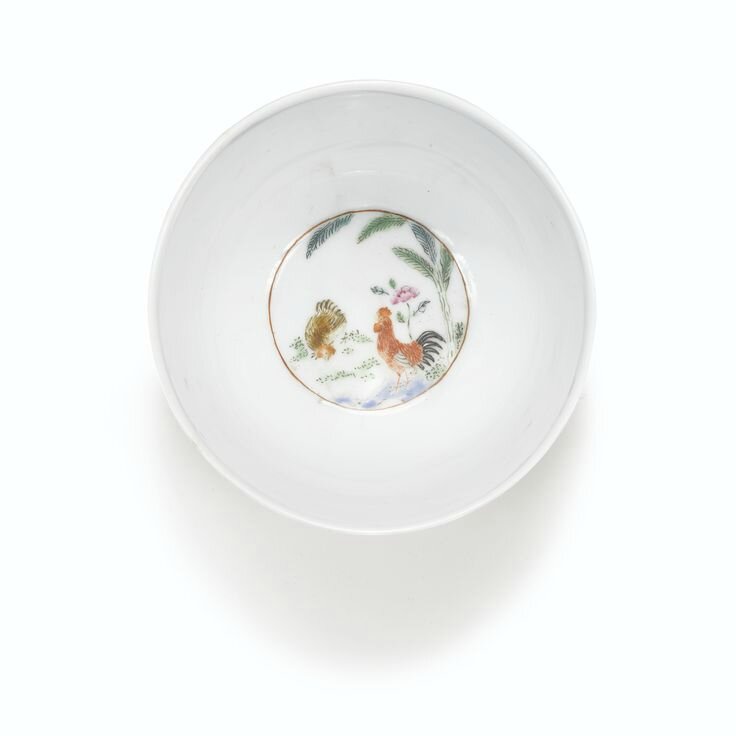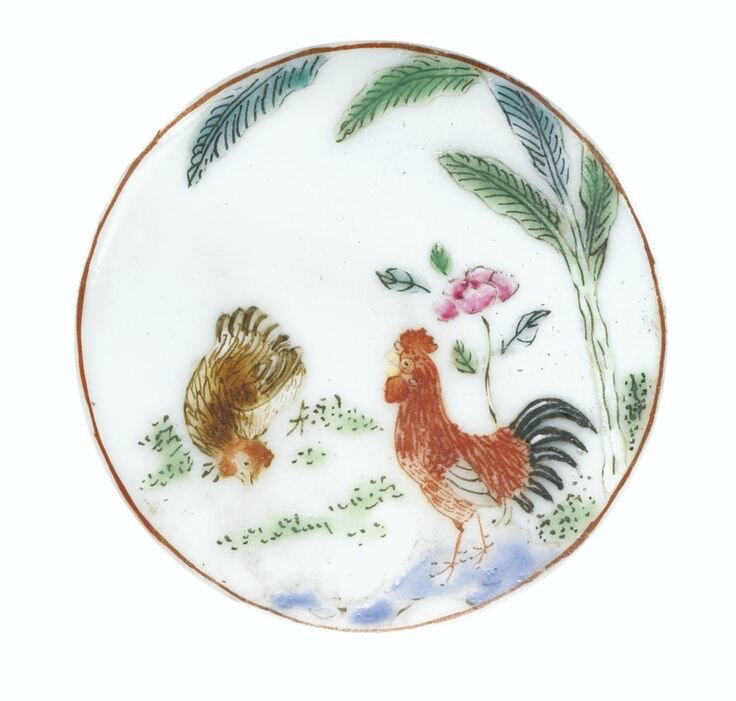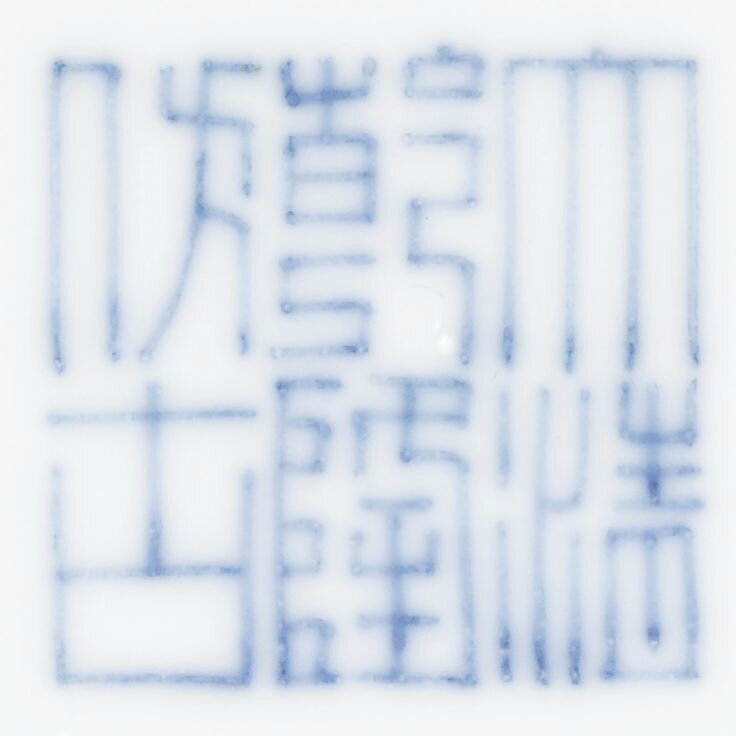 Lot 83. Rare coupe en porcelaine de la Famille Rose, Marque et époque Qianlong, datée 1776. Estimation 65,000 — 75,000 €. Photo Sotheby's
les bords droits, le pourtour extérieur orné d'un côté d'un coq, poule et poussin parmi les arbustes et les rochers, de l'autre d'une longue inscription en caractères noirs et deux cachets en rouge-de-fer, datée 1776, le bord et le pied simplement soulignés d'un cercle bleu, l'intérieur décoré au centre d'un médaillon circulaire répétant le coq et la poule aux côtés d'une fleur de pivoine rose épanouie, marque en cachet à six caractères en bleu sous couverte à la base, socle en bois (2). Diam. 7 cm; 2 3/4 in.
Provenance: Peter Boode, London.
Sotheby's London, 31st October and 1st November 1972, lot 90.
Notes: From its first appearance on porcelains of the Chenghua period of the Ming Dynasty, this charming motif of a cockerel, hen and chicks enjoyed continued popularity at court, especially during the Yonghzeng and Qianlong reigns when a variety of designs centrered around this subject were developed. While the rendering of the birds as well as the shape of this vessel have developed considerably from the Ming prototype, the Qianlong fang gu mark ('Exemplifying antiquity during the Qianlong Reign of the Great Qing Dynasty') and inscription clearly reflect the Qianlong emperor's admiration for the 'chicken' cups of the Ming dynasty as demonstrated in the contents of the poem written on the present example.

While cups of this type are commonly known illustrating a boy calling the birds to their meal, this cup is extremely rare as it depicts only a cockerel, hen and two chicks and no other example appears to have been published. For cups including the boy, see two in the National Palace Museum, Taipei, included in the Museum's Special Exhibition of K'ang-hsi, Yung-cheng and Ch'ien-lung Porcelain Wares from the Ch'ing Dynasty in the National Palace Museum, Taipei, 1986, cat. no. 144; another in the Arthur M. Sackler Gallery, Washington D.C., included in the Museum's exhibition Joined Colours, Washington D.C., 1993, cat. no. 64; and a further example from the Sir Percival David collection and now in the British Museum, London, published in the Illustrated Catalogue of Qing Enamelled Wares in the Percival David Foundation of Chinese Art, London, 1991, pl. A823, where the inscription is translated, p. 52.
Sotheby's, Arts d'Asie, Paris, 16 déc. 2015, 02:00 PM