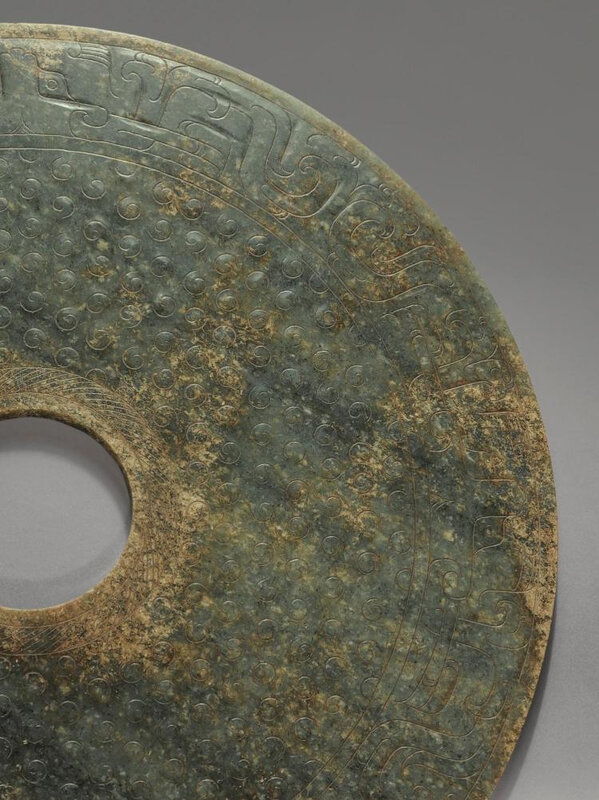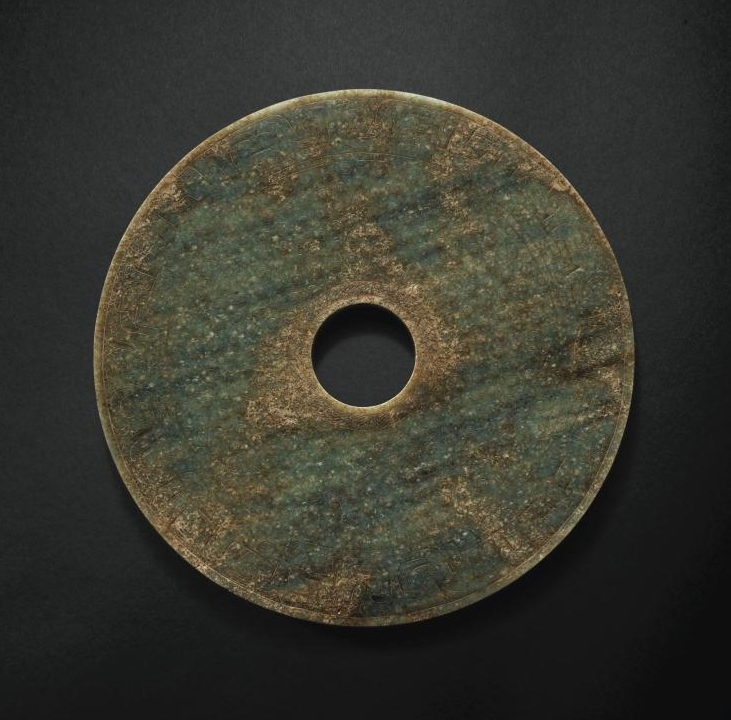 Lot 48. Rare Grand Disque en Jade, Bi, Dynastie des Han Occidentaux; Diam. 26,3 cm; 10 1/4 in. Estimation: 30,000 — 50,000 €. Lot Vendu 23,750 EUR. Courtesy Sotheby's 2015.
le jade sculpté en forme de disque avec une petite ouverture circulaire centrale bordée d'un motif de cordelette, les larges bords rythmés de cercles concentriques délimitant les registres de décoration, chaque face ornée de très légers picots accentués par des spirales gravées, les bords extérieurs soulignés d'une bande de masques de taotie dans un lacis géométrique, la pierre d'une teinte vert foncé avec des taches jaunes, D.W 3251.
A FINE AND RARE LARGE GREEN JADE DISC, BI, WESTERN HAN DYNASTY
Exposition: Arts de La Chine Ancienne, Musée de l'Orangerie, Paris, 1937, no. 121.
Littérature: Georges Salles, Arts de La Chine Ancienne, Paris, 1937, cat. no. 121 (not illustrated).
Note: Large jade discs with central holes known as bi and with surfaces that were carved with relief patterns that reflected the light and made the jades gleam began to appear in significant numbers in tombs of the late Eastern Zhou period. By the Western Han period, the relief patterns of spirals and scrolls were supplemented by hexagonal projections and bordered by a wide band carved with animal masks with intertwined bodies and limbs such as on the present disc from the David-Weill Collection. Discs of this type carved of dark green jade have been found in Western Han tombs of members of the Imperial family, such as the King of Nan Yue at Guangzhou, Guangdong, but also in the tombs of Prince Liu sheng and his consort at Mancheng, Hebei. They were strategically positioned within the coffins around and on the bodies of the deceased thus suggesting they played an important role in the afterlife as pointed out by Jessica Rawson in Chinese Jade from the Neolithic to the Qing, London, 1995, pp. 247-251, and cat. no. 15:4.
A surprisingly large number of these large dark green jade discs are preserved in collections in the West formed in the 1920s and 1930s, most notably the Sonnenschein and Winthrop Collections. Compare two discs in the Winthrop Collection, illustrated in Max Loehr and Louisa G. Fitzgerald Huber, Ancient Chinese Jades from the Grenville L. Winthrop Collection in the Fogg Art Museum, Harvard University, Cambridge, Massachusetts, 1975, cat. nos. 533 and 534; see also Alfred Salmony,Archaic Jades from the Edward and Louise Sonnenschein Collection, Chicago 1952, pl. LXX, for a disc from the Sonnenschein Collection; and three other discs illustrated by C. T. Loo in An Exhibition of Chinese Archaic Jades, West Palm Beach, 1950, pl. XXXVIII:2, 3 and 6.
Sotheby's. Trésors de la Chine ancienne de la collection David David-Weill, Paris, 16 Dec 2015, 10:30 AM