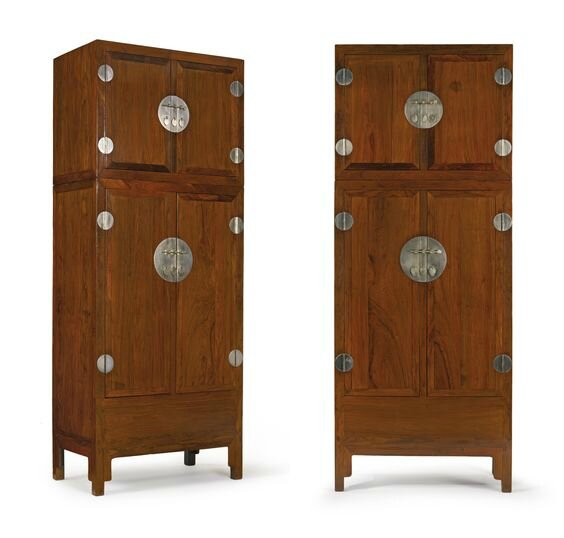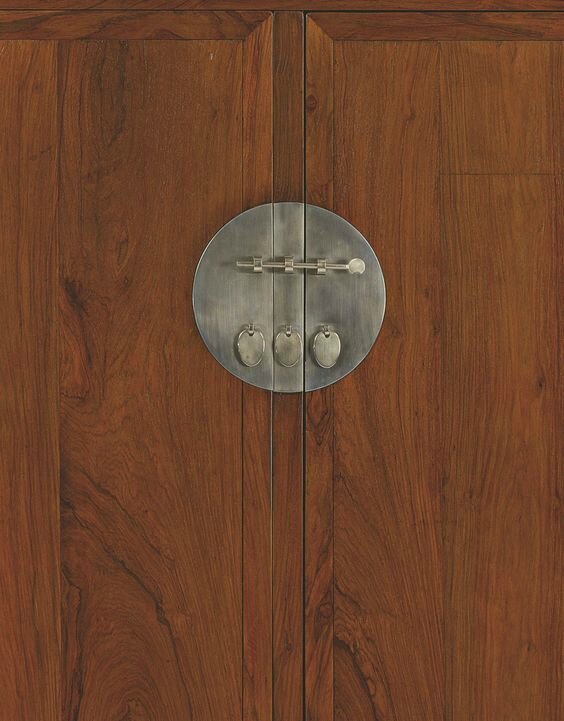 Lot 42. A pair of massive huanghuali square-corner compound cabinets (sijiangui), Qing dynasty, 17th-18th century. Estimation 500,000 — 700,000 USD. Photo Sotheby's.
each huanghuali-veneered cabinet of rectangular form, comprising a smaller top cabinet resting on a larger bottom one, the top cabinet of miter, mortise, tenon, tongue-and-grooved flush floating-panel construction with four square uprights, the bottom cabinet similarly constructed with rectangular floating panels set within a narrow frame, the side panels on both the top and bottom cabinets of the same miter, mortise, tenon, tongue-and-grooved, flush, floating-panel construction, below the doors of the main cabinet a wide rectangular panel above plain spandrel-ed aprons, the interior of the top cabinet with one removable shelf, the bottom with two shelves and two short drawers, the baitong circular hinges surface-mounted by four round headed pins, the similarly surface-mounted central circular plates with three openings for the lock receptacles and shaped door pulls (4) - Height 105 1/2 in., 268 cm; Width 42 in., 106.7 cm; Depth 21 1/4 in., 54 cm
Provenance: Evelyn Tam, San Francisco.
Notes: Known as sijiangui (four-part wardrobes), these massive two-part cabinets were generally made and displayed in pairs. Robes and large items would have been stored in the spacious lower cabinets, with smaller items reserved for the top, which being so high up often necessitated the use of a ladder.
A similar pair from the Dr. S.Y. Yip Collection is illustrated in Grace Wu Bruce, Dreams of Chu Tan Chamber and Romance with Huanghuali Wood: The Dr. S.Y. Yip Collection of Classic Chinese Furniture, Hong Kong, 1991, cat. no. 46. Another pair of similar size from the Frederic Mueller collection is illustrated in Robert H. Ellsworth, Chinese Furniture, New York, 1970, pl. 130. Another pair of this form is illustrated in Robert H. Ellsworth, Nicholas Grindley and Anita Christy, Chinese Furniture, One Hundred Examples from the Raymond and Mimi Hung Collection, New York, 1996, cat. no. 73.
Sotheby's. The Reverend Richard Fabian Collection of Chinese Classical Furniture, New York, 15 mars 2016, 10:00 AM