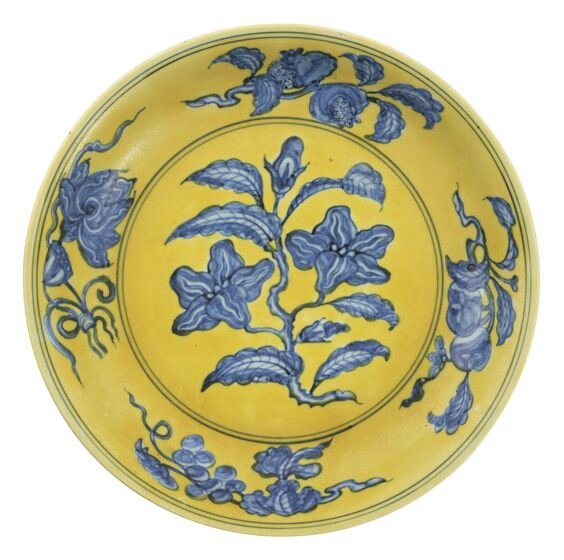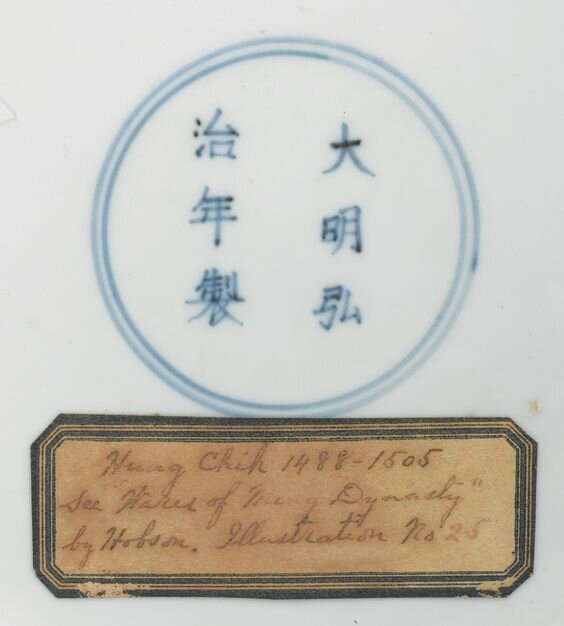 Lot 305, A rare underglaze-blue and yellow enamel 'gardenia' dish, Hongzhi mark and period. Estimate 400,000 — 600,000 USD. Unsold. Photo: Sotheby's.
with shallow rounded sides rising to a lipped and everted rim, all supported on a short tapering foot, the center finely painted in soft shaded tones of underglaze blue with a leafy branch bearing two large five-petaled gardenia blossoms and two tightly closed buds, the cavetto decorated with fruiting branches of pomegranate, persimmon, grape and a ribbon-tied lotus bouquet, all enclosed between double-line borders, the exterior wall with a continuous floral meander of large rose blossoms borne on leafy budding stems, all reserved against a brilliant clear yellow enamel ground, the base glazed white and inscribed with a six-character mark in underglaze blue within a double circle. Diameter 10⅛ in., 25.6 cm
Provenance: Collection of Edward H. Bennett (1874-1954), and thence by descent.
Notes: Yellow and underglaze-blue 'gardenia' dishes of this type were first produced during the reign of the Xuande Emperor, and continued through to the late Ming period. It has been suggested that the Xuande period dishes formed part of an original dining service, and that the dishes of subsequent reigns were manufactured as replacements for those broken in daily use.
The gardenia is indigenous to China and the flowers were not only admired for their beauty and fragrance, but the pods were also used to produce a brilliant yellow fabric dye and used as a tonic in traditional Chinese medicine. The ripe pomegranates bursting with seeds symbolized fertility and carried the wish for numerous offspring. The rich orange color of persimmons symbolized wealth and their name in Chinese, shi, formed the basis of the rebus shishi ruyi (may everything go according to your desire). The grapes were a motif popular during the Ming dynasty imported from Persia. The spreading vines, tendrils and numerous seeds of the grape also symbolized progeny and a long family line. The lotus was a Buddhist symbol of purity. The blossoms on the exterior are difficult to identify with certainty, but because of the spiralled innermost petals, which were a convention used to depict roses, the blossoms are likely to be roses.

The combination of blue and yellow, and the bold but perfectly arranged design of flowers and fruit is particularly striking. The design was first painted in cobalt beneath a colorless glaze, then fired. The yellow enamel was then filled into the spaces between the underglaze decoration and refired. Two firings were therefore necessary to attain this pleasing effect.
Hongzhi dishes of this design can be found in important museum and private collections; for example see two in the National Palace Museum, Taipei, illustrated in Minji meihin zuroku, vol. II, Tokyo, 1977, pls. 72 and 73, together with their blue-and-white counterparts, pls. 70 and 71; and one in the Palace Museum, Beijing, illustrated in The Complete Collection of Treasures of the Palace Museum. Blue and White Porcelain with Underglazed Red (II), Shanghai, 2000, pl. 231, together with a Chenghua example, pl. 230, and a Zhengde example, pl. 233. Compare also a dish in the Shanghai Museum included in the exhibition Chugoku rekidai toji ten / Chinese ceramics through the ages], Seibu Art Museum, Tokyo, 1984, cat. no. 80.
Similar dishes can also be found in the Metropolitan Museum of Art, New York, illustrated in Oriental Ceramics. The World's Great Collections, vol. 2, Tokyo, 1982, col. pl. 16; the Museum of Far Eastern Antiquities, Stockholm, op.cit., vol. 8, Tokyo, 1982, pl. 226, from the Kempe Collection; and another illustrated in Regina Krahl, Chinese Ceramics from the Meiyintang Collection, London, 1994-2010, vol. 4, no. 1674, was sold in our Hong Kong rooms, 7th April 2011, lot 57. One example from the Sir Percival David Collection, now in the British Museum, London, is included in Margaret Medley, Illustrated Catalogue of Ming Polychrome Wares, London, 1966, cat. no. A740. The companion dish to the Percival David Foundation example was sold in our London rooms, 15th October 1968, lot 108.
A similar dish from the T.Y. Chao collection was sold in our Hong Kong rooms, 31st October 1995, lot 387; another from the Toguri Museum of Art, Tokyo, was sold in our London rooms, 9th June 2004, lot 22; and one from an important private collection of Ming porcelain was sold in our Hong Kong rooms, 8th October 2013, lot 226.
Sotheby's. Important Chinese Art, New York, 16 mars 2016, 10:00 AM