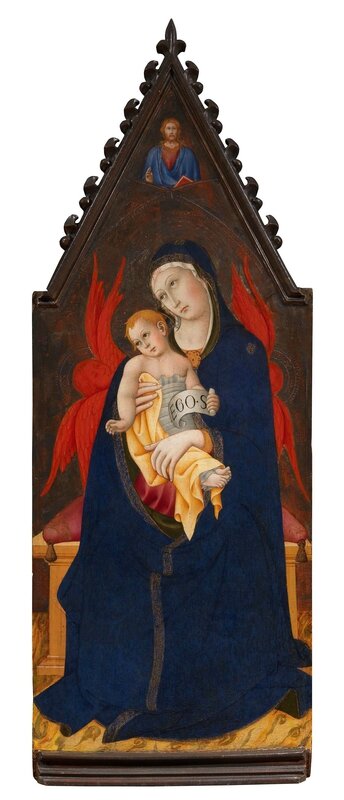 Sano di Pietro (1405-Sienna-1481), Madonna and Child enthroned; Christ Pantocrator. Tempera on panel, 150.3 x 58.4 cm. Moretti Florence - London - New York © TEFAF Maastricht, 2016
Provenance: Private collection, South of France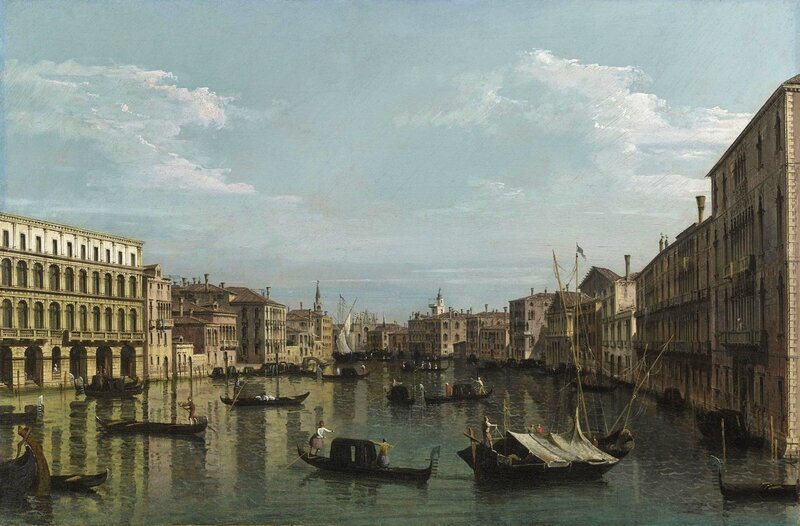 Bernardo Bellotto (Venice 1722-1780 Warsaw), Venice, A View of the Grand Canal, looking South from the Palazzo Foscari and Palazzo Moro-Lin Towards the Church of Santa Maria della Carità, with Numerous Gondolas and Barges. Oil on canvas, 59.7 x 89.5 cm. Moretti Florence - London - New York © TEFAF Maastricht, 2016
Provenance: Castle Howard, Collection of Henry Howard, 4th Earl of Carlisle (commissioned through his agent Antonio Maria Zanetti in 1738-1739); Castle Howard, Howard Collection and descent
Literature: W. J., Accounts of Travels throughout Britain, 1743, p. 92; Account of the Visit of Henrietta Countess of Oxford to Castle Howard in April 1745; 4th Earl of Carlisle, Probate Inventory, Ms. 1759, p. 20; H. Walpole, Journals of Visits to Country Seats, 1772 (Edited by Paget Toynbee) in Walpole Society, XVI, 1928, pp. 72-73; 5th Earl of Carlisle, Probate Inventory, Ms 1825, p. 2; Georgiana, Countess of Carlisle, Descriptive Catalogue of Pictures, Ms. 1837, p. 30; G. F. Waagen, Works of Art and Artists in England, London, 1838, vol. III, p. 207; Descriptive Catalogue of the Pictures at Castle Howard, 4th edition, 1845, p. 17, nos 40-57; 6th Earl of Carlisle, Probate Inventory, Ms. 1849, p. 125, nos 40-57; G. F. Waagen, Treasures of Art in Great Britain, vol. III, London, 1854, p. 324; 7th Earl of Carlisle, Probate Inventory, Ms. 1865, p. 170; Descriptive Catalogue of the Pictures at Castle Howard, 1874, nos 59-76; J. Duthie, Manuscript Catalogue of the pictures at Castle Howard, vol. I, 1878, inv. no. 501; J. Duthie, Manuscript Catalogue of the pictures at Castle Howard, vol. II, 1880, inv. no. 482; Hawkesbury, Catalogue of Portraits and Miniatures at Castle Howard and Naworth Castle, circa 1904, p. 13, nos 208-231; Rosalind, 9th Countess of Carlisle, Manuscript catalogue of pictures at Castle Howard, 1918, p. 25, no. 482; L. Jones, Manuscript catalogue of pictures at Castle Howard, Castle Howard Ms., 1926, no. 482; H. Brigstocke, 'Yorkshire Families at Home and Abroad 1700-1850' in exh. cat. Masterpieces from Yorkshire Houses, Yorkshire, 1994, p. 72, no. 32; D. Succi, in Luca Carlevarijs e la veduta veneziana del Settecento (exhibition catalogue), Padua, 1994, pp. 54 and 266, no. 85, reproduced in colour p. 270; J. G. Links, A Supplement to W.G. Constable's Canaletto, Giovanni Antonio Canal 1697-1768, London, 1998, p. 33, no. 334; D. Succi, Bernardo Bellotto nell'atelier di Canaletto e la sua produzione giovanile a Castle Howard nello Yorkshire in Bernardo Bellotto detto il Canaletto (exhibition catalogue), Mirano, 1999, p. 52; B. A. Kowalczyk, in Bernardo Bellotto and the Capitals of Europe (exhibition catalogue), Venice, 2001, p. 50, no. 3; B. A. Kowalczyk,:'l'arte della veduta' in exh. cat. Canaletto e Bellotto , Turin, 2008, p. 62, no. 4; C. Beddington, exh. cat. Venice. Canaletto and his rivals, London, 2010, p. 118, n. 8; B. A. Kowalczyk, 'Bellotto and Zanetti in Florence' in The Burlington Magazine, vol. CLIV, January 2012, p. 31
Exhibitions: Padua, Palazzo della Ragione, Luca Carlevarijs e la veduta veneziana del Settecento, 25 September-26 December 1994, no. 85; York, City Art Gallery, Venice through Canaletto's eyes, 1998
Moretti Florence - London - New York (stand 352) at TEFAF Maastricht 2016, 11-20 march.
Directors: Fabrizio Moretti, Gabriele Caioni, Flavio Gianassi
Situated at the heart of Florence, between Palazzo Strozzi and Santa Maria Novella, the Galleria Moretti was open to the public, and to major public and private collectors, on September 1999 with the inauguration of the exhibition "From Bernardo Daddi to Giorgio Vasari" and immediately distinguished itself by its specialization in Italian, and especially Tuscan, old masters.
In pursuit of the promotion of great Italian painting, a new gallery has been opened to the public in London. Situated in the heart of London in St. James's, Moretti Fine Art acts as a reference point for collectors of Old Masters of the fourteenth to the eighteenth centuries who search a reserved and discreet approach to exhibiting.
Within the shadow of the Metropolitan Museum of Art, in the heart of the East Side, the new seat of Moretti Fine Art is open to the public from October 2007.
Contact: Moretti Fine Art Ltd, 2a-6 Ryder Street, St. James's, London, SW1Y 6QB, United Kingdom. T +44 207 491 05 33 - F +44 207 491 05 53 - www.morettigallery.com - enquiries@morettigallery.com

Moretti Srl, Piazza degli Ottaviani, 17/r, 50123 Florence, Italy - www.morettigallery.com - enquiries@morettigallery.com