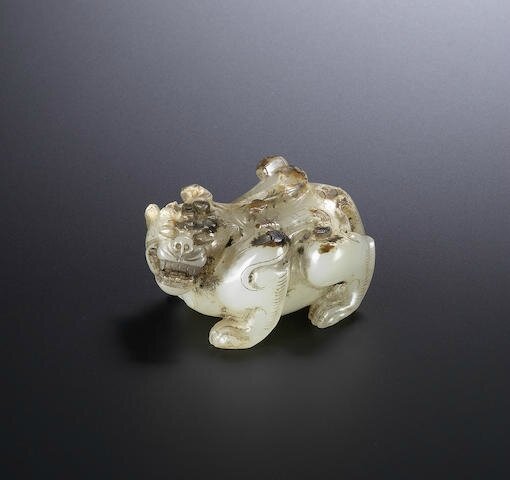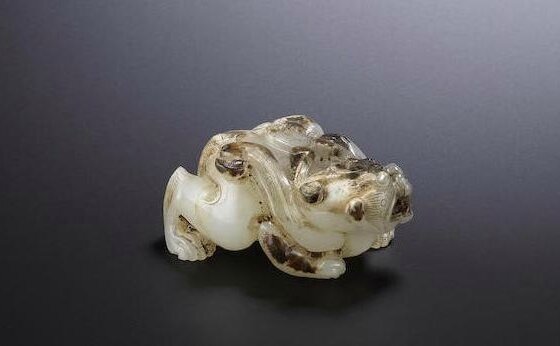 Lot 33, A grey and black jade carving of a chimera, bixie, Han Dynasty or later. Estimate HK$ 150,000 - 200,000 (€17,000 - 23,000). Photo: Bonhams.
The mythical beast in an aggressive stance ready to pounce, with its head turned left and jaws wide open, the muscular body framed by a pair of wings and with a bifurcated tail, the stone of a greyish-white tone with various gradients of dark brown inclusions and veins. 5.5cm (2 1/8in) long
Published and Illustrated: Art and Imitation in China, Hong Kong, 2006, p.119, no.14
Exhibited: University Museum and Art Gallery, The University of Hong Kong (14 October - 17 December 2006)
Note: The present lot's powerful beast, with its compact body crouched down, tensed on four legs, exudes a forceful strength. Its compelling sculptural quality, a typical characteristic of Han period jades, is emphasized by the combination of bold modeling with finely incised details and the stone's high polish. Consider the thickly formed legs and wings, further detailed with incised lines suggesting fur or feathers. The careful depiction of the creature's sharp claws in relief, is also a feature common to early animal jades of the Han period. Such jade carvings from this early period, including animals and beasts, were greatly admired in the late Northern Song and Ming periods and many archaistic copies were produced.

Compare a related pale green jade bixie, crouched as if prowling for prey, dated Han dynasty, in the Sir Joseph Hotung collection, illustrated by J.Rawson, Chinese Jades from the Neolithic to the Qing, London, 1995, p.363, no.26:7.
Bonhams. THE SZE YUAN TANG COLLECTION OF CHINESE JADES, 11:00 HKT - HONG KONG, ADMIRALTY