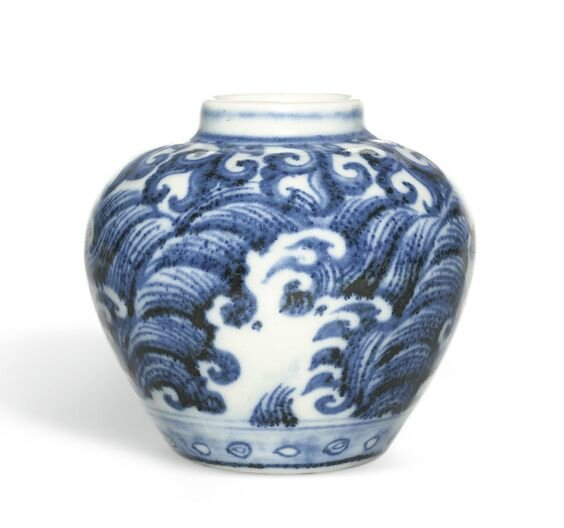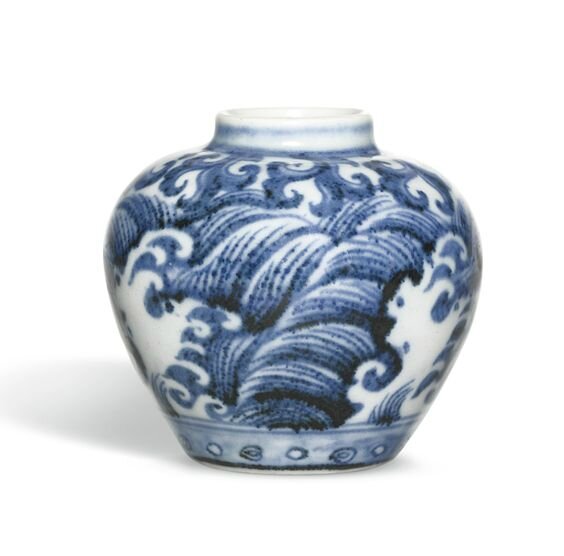 Lot 18, A fine and extremely rare blue and white 'waves' jar, Ming dynasty, Yongle-Xuande period. Estimate 1,200,000 — 1,800,000 HKD (140,332 - 210,498 EUR). Sold 17,480,000 HKD (2,253,522 USD). Photo Sotheby's.
superbly potted with the ovoid body rising to a short waisted neck, freely painted in varying tones of rich cobalt-blue with a sea of turbulent rolling waves emitting white foaming splashes, between pendent foliate scrolls at the shoulder and a band of circles against a light blue wash around the foot, all below a line border encircling the neck - 7 cm, 2 3/4 in.
Provenance: F.P. Musso, Shanghai, 1939.
Bluett & Sons Ltd, London, 1939.
Collection of H.J. Oppenheim (d. 1946), from 1939 to 1942 (£20).
Bluett & Sons Ltd, London, 1942.
Collection of H.R.N. Norton (d. 1961/62), from 1942 (£20).
Sotheby's London, 5th November 1963, lot 164 (£1300).
John Sparks Ltd, London, 1963 (£1300).
Collection of Stephen K. Garratt, until 1966.
Bluett & Sons Ltd, London, 1966.
Collection of Roger Pilkington (1928-69), from 1966 (£1850).
Exhibited: Blue and White, The Oriental Ceramic Society, London, 1946, cat. no. 32.
Mostra d'Arte Cinese/ Exhibition of Chinese Art, Venice, 1954, cat. no. 630.
Literature: Adrian Joseph, Ming Porcelains: Their Origins and Development, London, 1971, pl. 24.
Note: This enchanting little vessel represents an extremely rare creation of the early Ming imperial kilns both in form and design. The striking quasi-abstract wave decoration with gushing white splashes reserved on undulating ripples makes this design very contemporary. Its exclusive usage here may be interpreted as an indication that it was intended to be used as a water vessel, and the small piece would indeed have provided the ideal water receptacle for the Emperor's leisurely use of the brush, when composing non-official documents or practising calligraphy or painting. The water-only design is most unusual, waves generally being used as a backdrop for imperial dragons or other mythical sea creatures, and the design of small pearls reserved on a pale blue band at the bottom of the jar is equally rare.
A very similar, fractionally larger jar of this rare form and design, of Xuande mark and period, from the collection of W.W. Winkworth, was sold in our London rooms, 12th December 1972, lot 43.
Although some vessels decorated with waves only were made by the Ming imperial kilns during the Zhengtong reign (1436-49) of the so-called 'interregnum' period (1436-64), the present rendering of the motif is characteristic of the Yongle reign and very different from the 'interregnum' style. Compare, for example, porcelains painted with dragons, fishes or other sea creatures on a wave ground, excavated from the Yongle stratum of the Ming imperial kiln site, included in the exhibition Jingdezhen chutu Yuan Ming guanyao ciqi/Yuan's and Ming's Imperial Porcelain Unearthed from Jingdezhen, Yan-Huang Art Museum, Beijing, 1999, cat. nos. 45, 82 and 83, with a stem bowl, a bowl and a dish painted with waves only, from the Zhengtong stratum of the same site, cat. nos. 276, 277 and 281. Whereas the Yongle waves are loosely painted, outlined by darker strokes, with large splashes reserved in white, the Zhengtong waves are densely conceived, with outlines reserved in white.
Like many other pieces in the Pilkington collection, this jar comes from the Norton collection; for a biographical note on Norton see lot 15.
Sotheby's. The Pilkington Collection of Chinese Art, Hong Kong, 06 avr. 2016, 10:00 AM