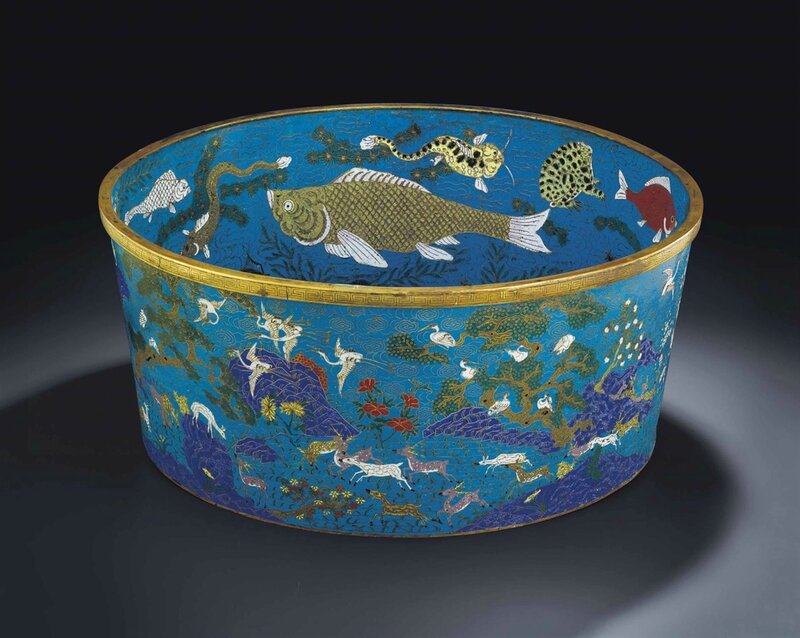 Lot 280. A rare large cloisonné enamel fish basin, China, Qing dynasty, Qianlong period (1736-1795). Estimate €100,000 – €150,000 ($113,436 - $170,154). Unsold. Photo Christie's Image Ltd 2016
The basin with slightly flaring sides is decorated on the exterior with a herd of deer and a flock of cranes in a continuous mountainous riverscape with a waterfall, incorporating peach fruiting branches, finger citron, pomegranate, prunus, pine and magnolia. The interior features a large central iron-red carp encircled by four further carps on the well amidst smaller fish, crustaceans and aquatic plants. The base has the design of plum blossoms on a cracked-ice ground. 24 1/2 in. (62.2 cm.) diam., 10 1/2 in. (26.7 cm.) high
Provenance: Property of an American collector.
Sotheby's New York, 1-2 December 1992, lot 167.
Dr Samuel and Annette Mandel collection, Palm Spring, Florida, United States of America.
Christie's Hong Kong, Masterpieces of the Enameller's Art from the Mandel collection, 30 May 2012, lot 3910.
Exhibited: High Museum, Atlanta, Georgia, exhibited on loan 1973-1992
On loan to the Norton Museum of Art, Palm Beach, Florida, 2007-2012
Notes: This basin is a particularly attractive example of this form decorated in cloisonne enamels, which has been attributed to the Imperial workshops. Two fish basins, of similar size and with similar decoration of deer on the exterior and fish on the interior, in the Pierre Uldry Collection and the Avery Brundage Collection, Asian Art Museum of San Francisco, are illustrated by H. Brinker and A. Lutz, Chinese Cloisonne: The Pierre Uldry Collection, Asia Society Galleries, New York, 1989, no. 322 (the Uldry basin) and p. 141, fig. 72 (the Brundage basin). The authors noted that the Uldry basin and an incense burner from the same collection originated in the second half of the eighteenth century and were produced from the same imperial workshop, ibid, p. 14. The authors also mentioned in regard to the Uldry and Brundage basins that "these two pieces represent the final climax to date in the history of Chinese cloisonne art". The same can undoubtedly be claimed for the current vessel. Brinker and Lutz suggested the probability that the Uldry and Brundage basins were a pair.
The choice of motif on these basins is highly auspicious. On the interior boldly coloured fish and other creatures swim amongst aquatic plants. Fish have remained a popular theme in the Chinese decorative arts and can convey a range of auspicious messages, most of them based upon the sound of the word. The word for fish itself (yu) sounds like the word for abundance or surplus. Thus two or more fish represent multiplied abundance and gold fish (jinyu) suggest an abundance of gold. Fish in water provided a rebus for yushui hexie, 'may you be as harmonious as fish and water'. Two of the fish in the basin appear to be carp, and the word for carp is pronounced li, which sounds like the word for profit, and thus two carp would represent doubled profit. On the exterior a number of different motifs suggesting longevity have been combined to create a pleasing landscape scene. The elements suggesting long life include deer, cranes and pine trees.