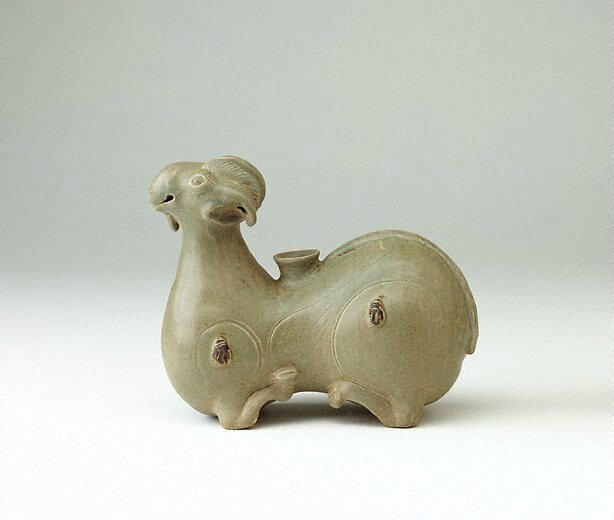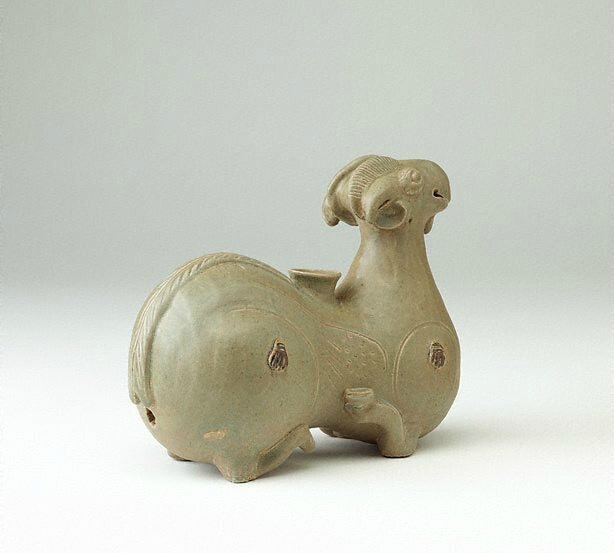 Ram-shaped candle holder, Western Jin dynasty (265 - 316), celadon stoneware, 19.0 x 24.0 x 12.5 cm. Edward and Goldie Sternberg Chinese Art Purchase Fund 2007; 358.2007 © Art Gallery of New South Wales
It was fashionable to produce celadons in the form of lively animals at the Yue kiln in modern Zhejiang province during the period of the Three Kingdoms and Western and Eastern Jin dynasties (220-420). The ram-shaped candle holder is an outstanding example of this kind. It shows a rotund ram in a recumbent but watchful manner. The ram's tucked-in legs and upturned front hooves are characteristic features of the rams produced during this period. On its back is a circular opening with a low mouth rim, indicating its function as a candle holder. The body is decorated with fluently incised lines and applied medallions. A transparent green glaze covers the surface of the whole pot except the underside.
This object is similar to two ram-shaped candle holders (without mouth rim), both in the Chinese National Museum's collection. The first was excavated from a tomb of the Three Kingdom period in Nanjing (see 'Complete Collection of Chinese Arts', Shanghai: Renmin meishu, 1991, Ceramic, vol.1, pl. 177), and the other was unearthed from an Eastern Jin tomb in Zhejiang, Jiangsu province ('National Museum of Chinese History: A Journey into China's Antiquity', Beijing: Morning Glory Press, 1997, vol. 2, fig. 288). Another similar figure (without the circular opening on its back) was excavated in 1974 from a Western Jin tomb in Nanjing ('Complete Collection of Chinese Arts', pl. 191).