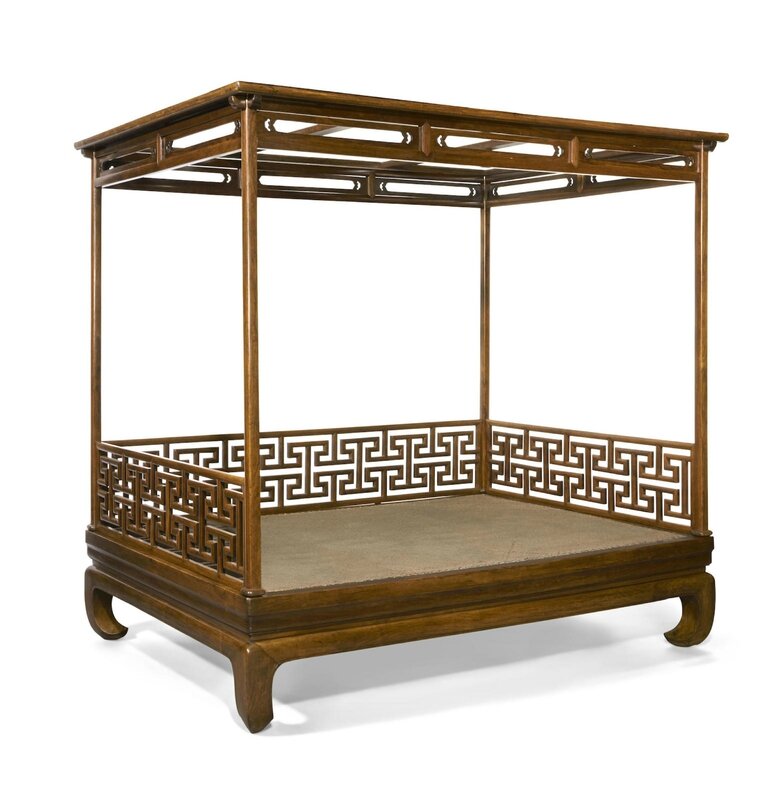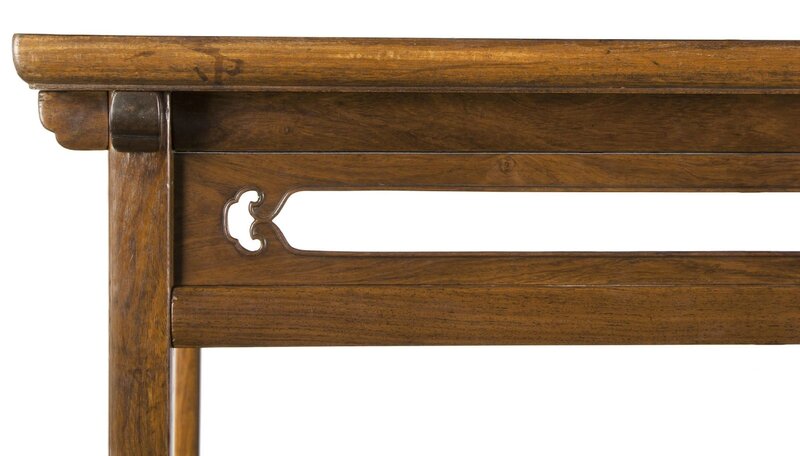 Lot 6020. A rare huanghuali four-poster bed, Jiazichuang, Late Ming dynasty. Estimate US$ 250,000 - 400,000
€220,000 - 350,000). Photo: Bonhams.
The seat frame of mitre, mortise-and-tenon construction with molded edge tapering inward to a flat edge over an elegantly grooved and beaded apron and recessed waist made of one piece of wood and mitred, mortised, tenoned, into and half-lapped on to the legs which curve strongly into finely shaped feet, the removable seat drilled for a soft seat and fitted with three strong transverse stretchers set between the original wide stretchers of the frame; the frame supports four square posts rounded on the outside and mortised and tenoned into the four corners of the seat to support the laohuali top canopy frame over paired transverse braces mortise and tenoned into it and setting off the canopy and posts with mitre, mortise-and-tenoned frames enclosing three yumendong panels on the long side, and two on the short side separated by pillar-form mitred struts and double-tenoned into the vertical posts at the top, the lower railings resting on the seat and tenoned below finely composed open work mitered geometric panels setting off the back and sides of the bed. 80 5/16 x 82 5/16 x 57 1/2in (204 x 209 x 146cm)
Provenance: Grace Wu Bruce, purchased 4 October 1996.
On loan and exhibited: The Denver Art Museum, 1996 - 2016, (Loan 227.1996).
Notes: Compare this to one with circle patterns in the Sackler Collection, now in the Arthur M. Sackler Gallery, Smithsonian Institution, Washington DC, published in William M. Drummond, "Chinese Furniture: The Sackler Collections", Journal of the Classical Chinese Furniture Society, Summer, 1993, no 66, and illustrated in Ecke, op cit., no.25. See other Ming dynasty canopy beds in public collections: the Victoria and Albert Museum, published in Rose Kerr, (ed)Chinese Art & Design: the TT Tsui Gallery of Chinese Art, Victoria and Albert Museum, London, 1991, no.128; the Palace Museum Beijing illustrated in Wang, op. cit., no. 188; the Philadelphia Museum of Art, illustrated in Jean Gorden Lee. "Chinese Furniture", Philadelphia Museum Bulletin, Winter 1963, no.57.

For examples of four-poster canopy beds sold at auction, see Christie's Hong Kong, Sale 2915, Important Chinese Ceramics and Works of Art, Lot 4075, 30 May 2012; Sotheby's, Hong Kong, Contemporary Literati Curiosity, Lot 2867, 5 April 2015. For a huanghuali couch-bed, Luohan-chuang, with the closely related elegant geometric mitred railings found on this lot, see Sotheby's Hong Kong, An Asian Private Collection, Lot 109, 6 April 2016. See also the early Qing versions, Hong Kong Guardian sale, lot 510, 5 April 2013 and one offered as lot 4311, China Guardian, 11 May 2013.
Bonhams. THE JOHN AND CELESTE FLEMING COLLECTION OF CHINESE FURNITURE AND WORKS OF ART, 2016-09-12 10:00 EDT - NEW YORK