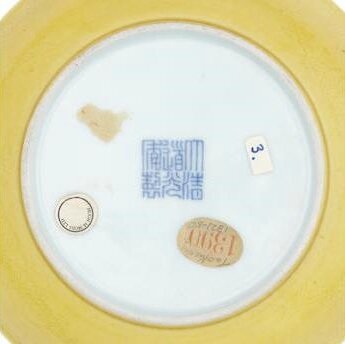 Lot 26. A small yellow-glazed incised 'dragon' saucer-dish, Daoguang seal mark and of the period (1821-1850); 14.3cm (5 5/8in) diam. Estimate £3,000 - 5,000 (€3,300 - 5,600). Sold for £ 5,000 (€ 5,714). Photo: Bonhams.
Finely incised to the interior with a writhing five-clawed dragon in pursuit of the flaming pearl amidst scrolling flames, the exterior of the gently rounded sides similarly decorated with two striding dragons, all covered under a translucent glaze of lemon-yellow colour.
Provenance: Hugh M. Moss Ltd., London (label)
An English private collection, acquired in the 1970-80s, and thence by descent.
Notes: Compare with a similar yellow-glazed dish, Daoguang seal marks and of the period, similarly incised with dragons amidst scrolling clouds, sold at Christie's New York on 13-14 September 2012, lot 1517; another related pair of dishes, Daoguang seal mark and of the period, was sold at Christie's Hong Kong on 28 November 2012, lot 2143.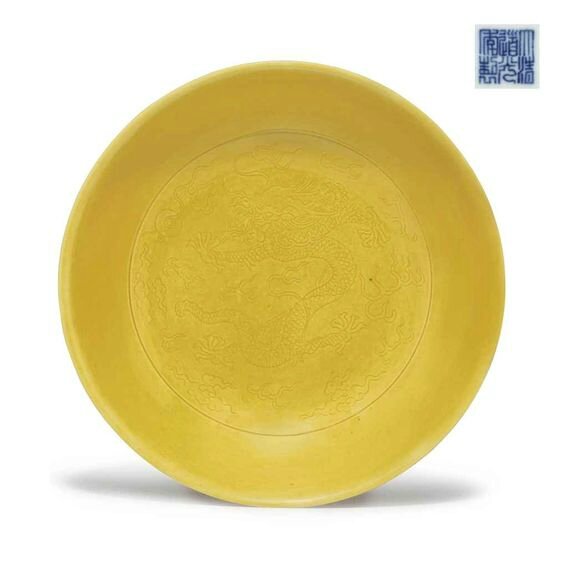 Lot 1517. A yellow-glazed incised 'dragon' dish, Daoguang seal mark in underglaze blue and of the period (1821-1850). Estimate USD 6,000 - USD 8,000. Price Realised USD 13,750 at Christie's New York on 13-14 September 2012. Photo Christie's Images Ltd 2012
The dish has shallow rounded sides that rise to a slightly everted rim, and is incised in the center with a five-clawed dragon leaping amidst clouds and flames in pursuit of a flaming pearl, and on the exterior with two dragons at a similar pursuit. The interior and exterior are covered with a glaze of rich primrose-yellow tone. 6¾ in. (17 cm.)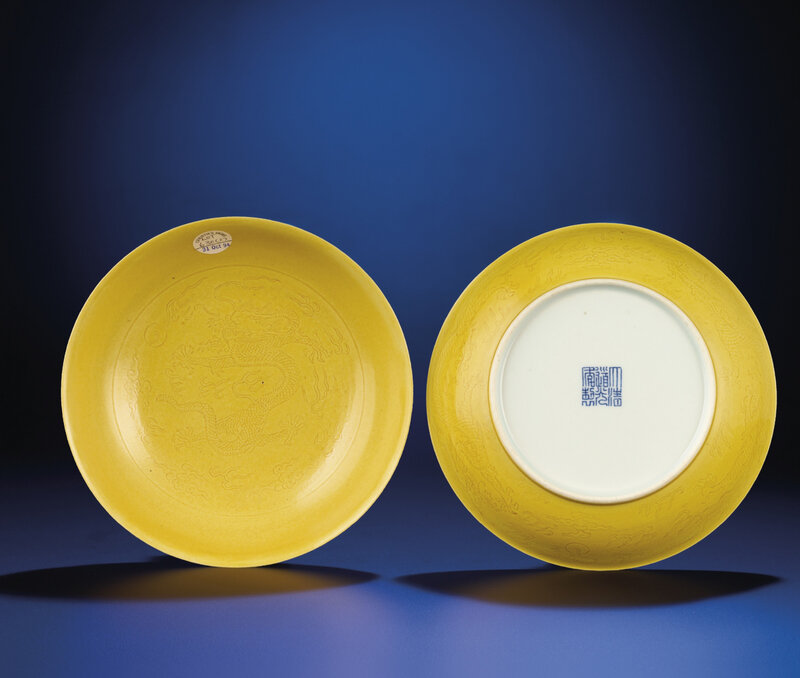 Lot 2143. A fine pair of imperial incised yellow glazed 'dragon' dishes, Daoguang marks and of the period (1821-1850). Estimate HKD 220,000 - HKD 280,000 (USD 28,527 - USD 36,307). Price Realised HKD 250,000 USD 32,415 at Christie's Hong Kong on 28 November 2012. Photo Christie's Images Ltd 2012
Each dish is finely incised in the centre with a leaping five-clawed dragon in pursuit of a 'flaming pearl' amid clouds, all within a single incised line border. The exterior is incised with two further dragons striding in pursuit of pearls. The dishes are covered overall with a rich egg-yolk-yellow glaze. 6 3/4 in. (17.2 cm.) diam. (2). Estimate HKD 220,000 - HKD 280,000
Lot 3252. A pair of incised yellow glazed dragon porcelain saucer dishes, Daoguang marks and of the period (1821-1850). Sold for US$ 11,250 (€10,225) at Bonhams,
The interior well of each dish carved with a coiled five-clawed dragon grasping at a flaming pearl and the exterior with two similar striding dragons, all beneath a rich yellow enamel that stops along the exterior foot, the recessed base displaying the six-character mark in underglaze blue seal script beneath a celadon-tinged glaze (small hairline cracks from rim). 6 3/4in (17cm) diameter
Provenance: from the collection of a U.S. diplomat, posted in several Mainland Chinese cities from 1911-1933, thereafter by descent
Bonhams. FINE CHINESE ART, 10 november 2016, 10:30 GMT, LONDON, NEW BOND STREET