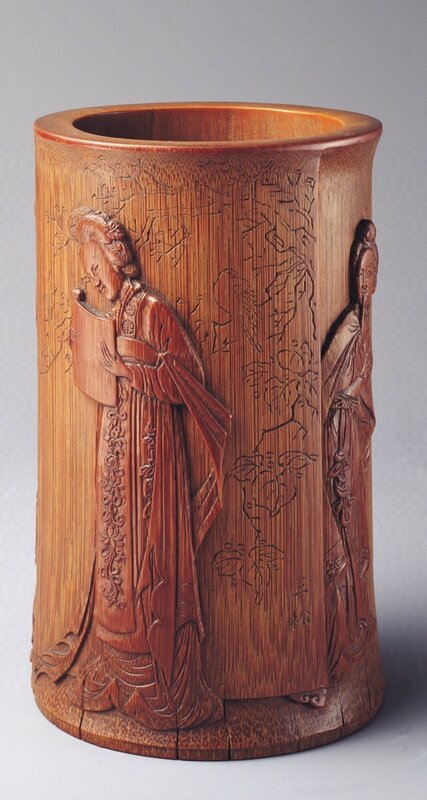 Bamboo brush-holder depicting a letter-reading scene from the Romance of the West Chamber. With signature of Ju Sansong. Mid-17th century. h. 13.5 cm, diam. of mouth 8.5 cm, diam. of foot 8.7 cm © National Palace Museum
Zhu Zhizheng, born around 1559 (year died unknown), active from 1573 to 1619, was Zhu Ying's third son. Among the many works which have come down to today carrying his sobriquet signature of "Sansong" (Third Pine), this holder is the most famous one. The high-relief scene shows a lady, her hair in tall topknots, her back to a screen, poring over a letter diffidently. A lush wutong (phoenix tree) is lightly engraved on the screen and a bird stands on a bough. The carver's name "San Song" in Kai (regular) script is inscribed at the right lower corner of the screen, appearing to serve the double functions of being the signature for the painting on the screen, as well as for the brush-holder itself. The lady in love is Ms. Cui Yingying from the Romance of the West Chamber. Peeking out at her from behind the screen, yet the whole person almost fully in view, is her naughty maid Hongniang. The latter seems to be hushing herself down with her index finger at the mouth. Farther back to the left of the screen is a wood table in relief, on which are arranged a crazed vase of lotus flowers, a potted miniature landscape with Lingzhi (Ganoderma lucidum), a qin (string instrument) in its protective wraps, and other sundry implements typical in a scholar's study: an incense burner, a brush, an ink stone, a water dish, and so on. All together, the foreground, the background, and the placement of various elements form a coherently streamlined composition around the tubular surface.
The overall layout of the image resembles that of one particular woodcut print by Chen Hongshou, active from late-Ming to early-Qing (1598-1652), for an illustrated editioni of the same famed love story. The two images are different in that in Chen's print, the screen is of four panels, and the room has no other furniture and displays, part of which however appear in the background of another illustration titled "Melancholy of Love" in a very similar manner. The illustrated edition was prefaced by Ma Chuanqi (1639), suggesting a close connection between this particular woodblock print of Chen's and the present brush-holder.
Text and images are provided by National Palace Museum