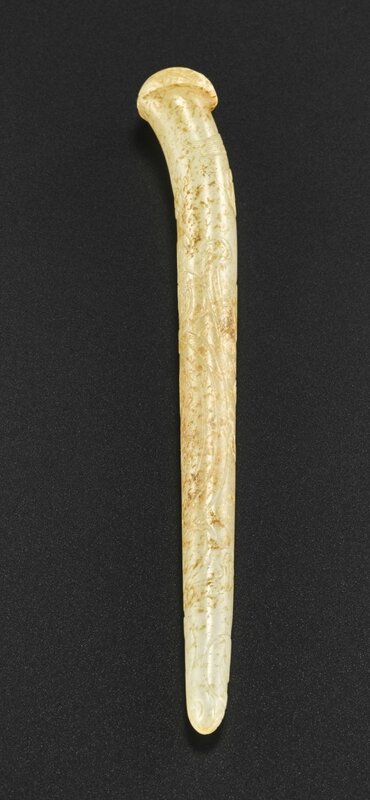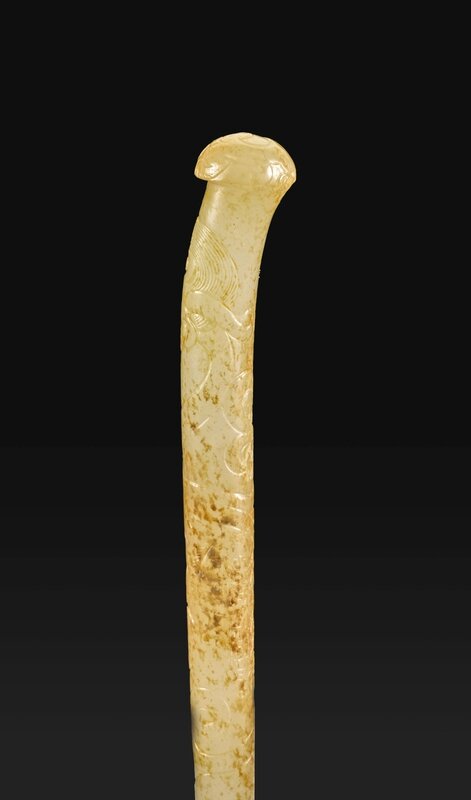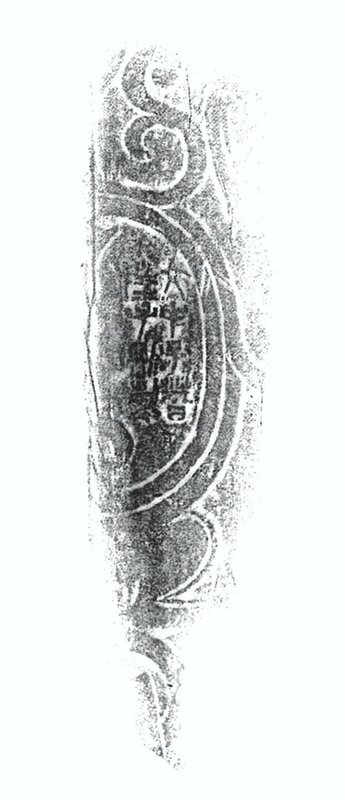 Lot 118. A calcified jade 'chilong' hairpin, signed Lu Zigang, Ming dynasty. Estimate 200,000 — 300,000 HKD. Photo: Sotheby's.
of tapering cylindrical form with one rounded tip, the other end with a hemispherical finial, the shaft decorated with a sinuous chilong and worked with an inscription ending with Lu Zigang zhi (made by Lu Zigang), the pale beige surface with calcified areas - 9.4 cm, 3 3/4 in.
Notes: In Zun sheng ba jian by the Ming scholar Gao Lian published in 1591, it was described that jade pieces by Lu Zigang from Wuzhong as archaistic, smooth, warm, charming, meticulous, and stated that Lu's carvings were copied by contemporaries already at the time. Taicang zhou zhi published in 1642 mentioned that Lu Zigang, lived fifty years ago in the province, excelled at unprecedented jade carving technique and jade hairpins carved by him costed 50-60 units of gold. Lu's jade pieces were said to be sought after by the Ming Court.
Deng shu-ping believes five jades in the collection of the National Palace Museum, Taipei, could be attributed to Lu Zigang, on which deliberate knife-like tool marks were found on the signatures to evoke a feeling of antiquity; see 'Exploring "Zi-gang": Contemplation of Carved Jade Mysteries from Jiangnan in Late Ming Dynasty', The National Palace Museum Monthly of Chinese Art, December 2011, no. 345, pp. 46-62. The five examples in the Taipei Palace Museum include a yellow jade washer with a signature comparable to that of the present lot (p. 56, fig. 6) and a celadon 'chilong' box and cover with a similar inscription (p. 57, fig. 8). See another jade 'chilong' hairpin from the late Ming also in the National Palace Museum, Taipei, inscribed with two raised characters in seal script reading Zigang, included in Art in Quest of Heaven and Truth: Chinese Jades through the Ages, National Palace Museum, Taipei, 2011, p. 137, fig. 7-2-9. There is a further signed white jade 'chilong' hairpin excavated from the Wanli period tomb of Xu Yufu, Jiangsu, preserved in the Nanjing Museum.
Sotheby's

. The Muwen Tang Collection of Chinese Jades, Hong Kong, 01 Dec 2016, 10:00 AM