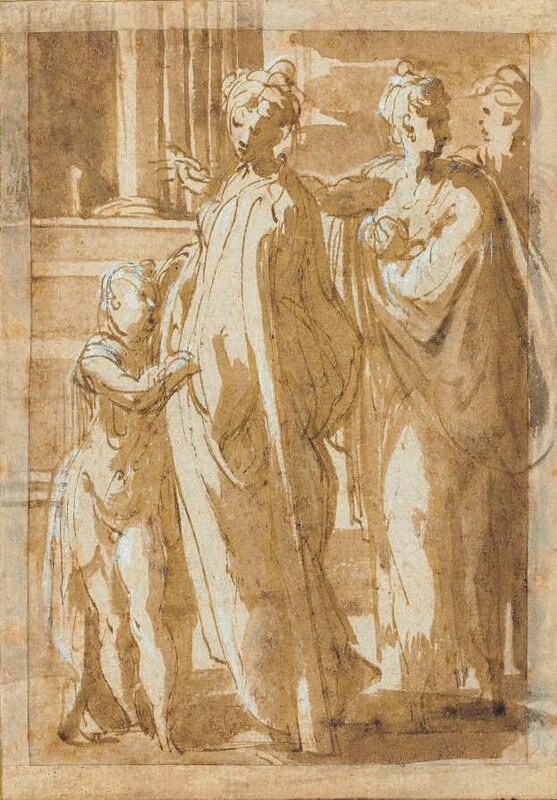 Lot 21. Girolamo Francesco Mazzola, il Parmigianino (Parma 1503-1540 Casalmaggiore), A group of figures standing by a column. Estimate USD 200,000 - USD 300,000 © Christie's Image Ltd 2017
pen and brown ink, brown wash heightened with white, made up along the edges; 6 x 4 in. (15.1 x 10.2 cm.)
Provenance: Antonio Maria Zanetti; his heirs, from whom acquired by
Giovanni Antonio Armano (according to the engraved inscription on the related etching by Rosaspina).
T. Philipe (L. 2451).
Anonymous sale; Rieuner & Associés, Hôtel Drouot, Paris, 12 April 2008, lot 12.
with Jean-Luc Baroni, London (cat. 2009, no. 3), where acquired by the present owner.
Literature: A.E. Popham, Catalogue of the Drawings of Parmigianino, New Haven and London, 1971, I, under nos. O.R. 93 and 521, II, pl. 202.
S. Folds McCullagh and L. M. Giles, Italian Drawings before 1600 in the Art Institute of Chicago, 1997, under no. 217.
Notes: A relatively new addition to Parmigianino's œuvre, the present drawing was published by A.E. Popham in 1971 as a lost work. Until recently, it was known only through a reproductive print executed by Francesco Rosaspina (1762-1841) when the sheet was in the collection of the Venetian merchand-amateur Giovanni Antonio Armano (1751- after 1823), who acquired at least 70 Parmigianino drawings from the heirs of Antonio Maria Zanetti (1679-1757).
Datable to Parmigianino's Roman years, the sheet features a series of standing draped women and possibly relates to the artist's Marriage of the Virgin, an ambitious composition developed around 1525-27. Never brought to completion, the Marriage of the Virgin is known today through several preparatory drawings, including a sheet in the École des Beaux-Arts, Paris (inv. EBA 223; D. Franklin, The Art of Parmigianino, New Haven, 2003, no. 42) for which the present drawing may constitute a detailed study for the figures standing in the right section. A drawing with a group of nine men, now in The Art Institute of Chicago (Fig. 1; inv. 1978.275), has been connected to the same project and possibly formed with this sheet a larger group of standing figure participating in a ceremony.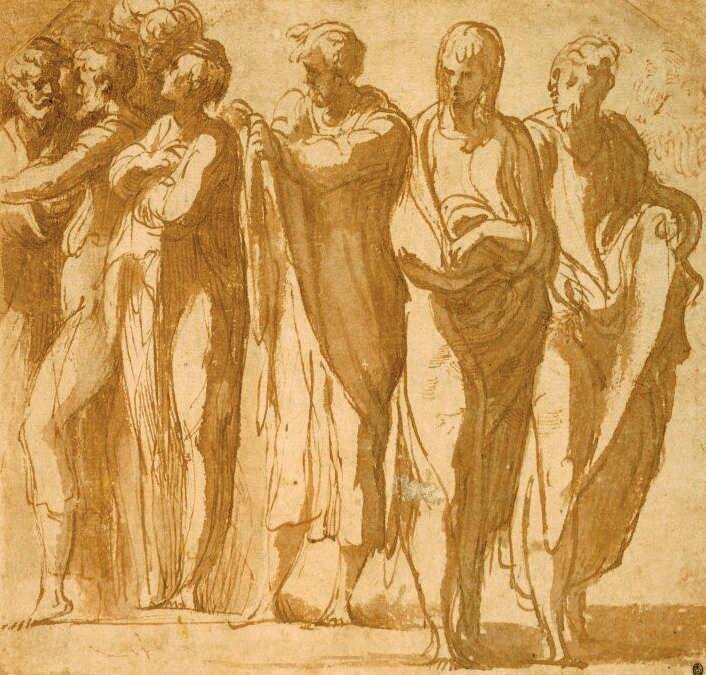 Fig. 1. Parmigianino, Group of Nine Standing Figures, Chicago, The Art Institute (Margaret Day Blake Collection, inv. 1978.275).
Deeply inspired by the classical monumentality of Raphael's Vatican frescoes in the Stanze, Parmigianino brought his elegant draughtsmanship to maturity in Rome. It is expressed here with his characteristic looping, calligraphic penwork combined with pools of wash.
Christie's. Old Master Drawings, 24 January 2017, New York, Rockefeller Center