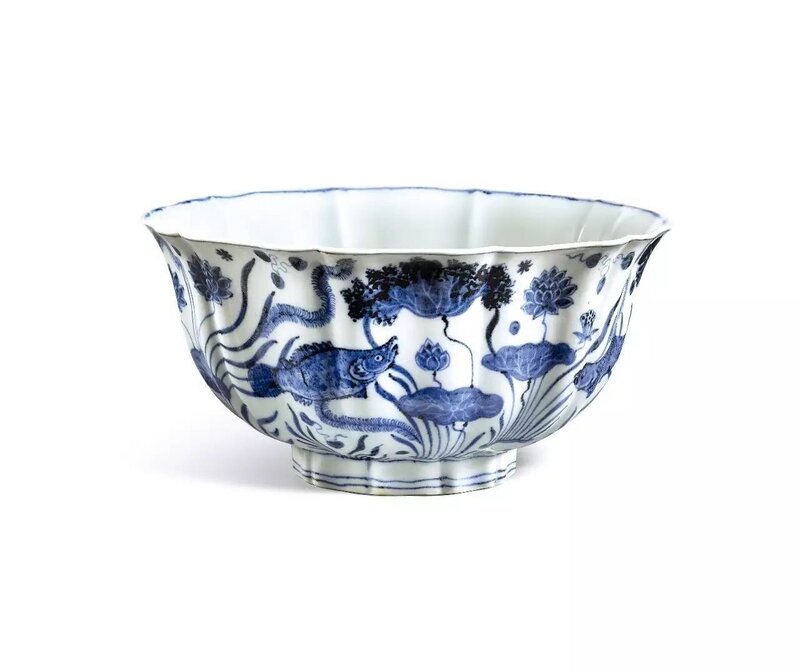 Lot 101. An Exceptionally Large, Fine And Important Blue And White Lobed 'Fish Pond' Bowl, Mark and Period of Xuande (1426-1435). Diameter 23 cm. Estimate upon request. Photo: Sotheby's.
HONG KONG.- Sotheby's Hong Kong Chinese Works of Art Spring Sales 2017 will take place on 5 April at Hong Kong Convention and Exhibition Centre. The sales will be led by an outstanding Xuande lobed bowl, one of the greatest examples of early Ming porcelain in private hands (pictured above), and a monumental Imperial silk tapestry kesi bestowing longevity on the Qianlong Emperor in celebration of his eightieth birthday. The series of eight sales will offer over 300 lots with a total estimate of approximately HK$700 million / US$90 million.

Nicolas Chow, Deputy Chairman, Sotheby's Asia, International Head and Chairman, Chinese Works of Art, said, "The wonderful array of Chinese art that we are proud to present this season covers most of the classic fields, from Chinese furniture and early jade carvings, to Song dynasty ceramics and Qing dynasty Imperial works of art. Particularly noteworthy is the richness of our Ming porcelain offerings, which includes superb yellow wares from the collection of Maureen Pilkington, two diminutive jewels of porcelain made under the aegis of the Chenghua Emperor, a stunning blue-and-white moonflask from the Yongle period as well as a remarkable Xuande stem cup rendered in vibrant copper-red with three fishes. The pièce-de-resistance is an extremely rare, possibly unique, large Xuande period bowl decorated with fishes in a lotus pond, which ranks among the very finest pieces ever produced during the reign."
SALE HIGHLIGHTS
IMPERIAL KESI COMMEMORATING THE QIANLONG EMPEROR'S EIGHTIETH BIRTHDAY AND BLESSING HIM WITH LONG LIFE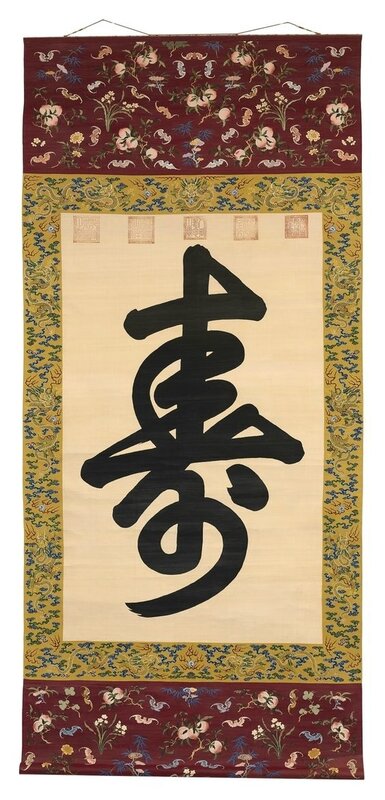 Lot 3629. A Magnificent Imperial Kesi Commemorating The Qianlong Emperor's Eightieth Birthday, Seal Marks And Period Of Qianlong, 312.5 x 145 cm. Estimate upon request. Photo: Sotheby's.
The present silk tapestry kesi scroll is of monumental size. Its design, featuring the shou ('longevity') character amidst auspicious motifs, is the ultimate blessing for long life. It was very likely a tribute from the Imperial family to the Qianlong Emperor on the occasion of his eightieth-birthday celebrations. The impressions of five of Qianlong's seals on the work suggest that the Emperor deeply cherished it for its rich cultural content and distinctive craftsmanship.
PORCELAIN RARITIES FROM THE XUANDE PERIOD (1426-1435)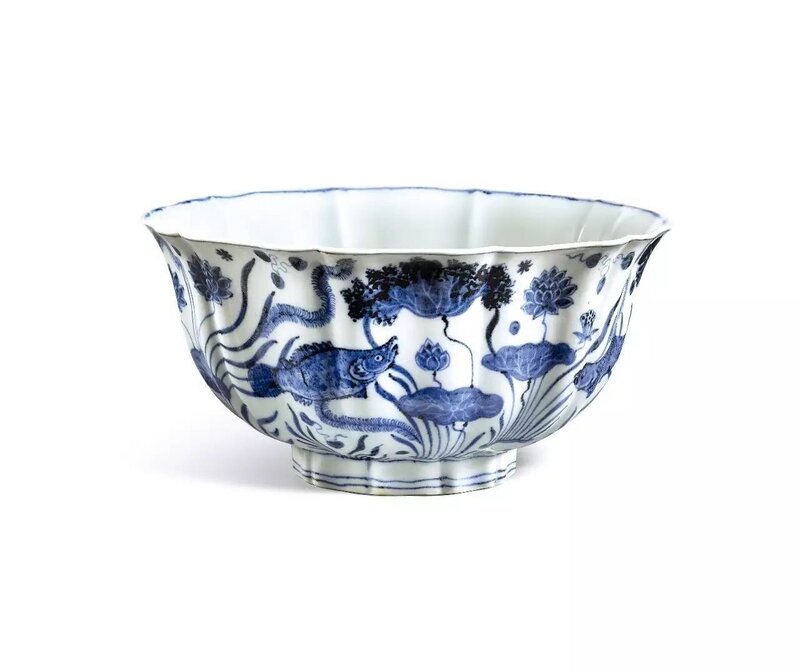 Lot 101. An Exceptionally Large, Fine And Important Blue And White Lobed 'Fish Pond' Bowl, Mark and Period of Xuande (1426-1435). Diameter 23 cm. Estimate upon request. Photo: Sotheby's.
This outstanding Xuande lobed bowl, intricately painted in the most brilliant tones of underglaze blue with a design of fish swimming in a pond, and preserved in extraordinary condition, is one of the greatest examples of early Ming blue and white porcelain in private hands. Revered and extensively published in Japan since its first public exhibition at the Tokyo National Museum in 1963, its first appearance on the international art market this Spring at Sotheby's Hong Kong is a moment of celebration. The bowl is unrivalled in its design, painting quality, shape and size. The only comparable examples are two smaller bowls preserved in the National Palace Museum, Taipei. Although the fish pond design has been frequently used as a motif on Chinese porcelain, it has rarely been infused with as much life as on the present bowl, whose shape cleverly evokes the illusion of gentle underwater motion.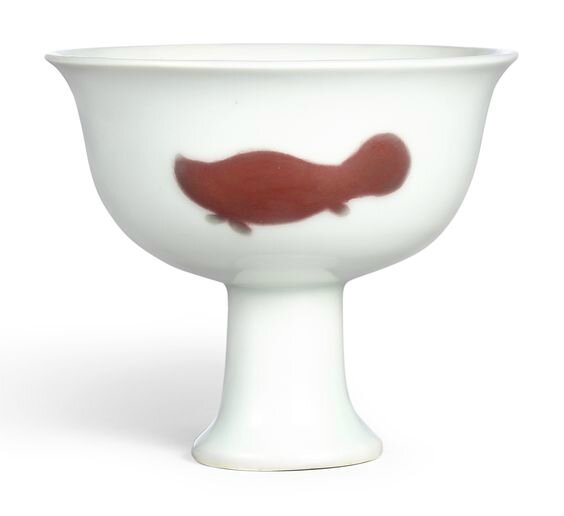 Lot 3610. An Exquisite Copper-Red 'Three Fish' Stem Cup. Mark and Period of Xuande. Diameter 11.7 cm. Est. HK$30 million – 40 million / US$3.8 – 5.1 million. Photo: Sotheby's.
Fish play an important role as symbols in Chinese thought. In Daoism, fish are the ultimate image of a glorified freedom from restraints; and in Confucian thought they immediately evoke the scholar succeeding in the imperial exams and thus assuring success in life, like the mythical carp swimming up-river and turning into a dragon. The mastery of copper-red glaze designs, such as the three fishes on this stem cup was one of the special achievements of the imperial potters of the Xuande reign (1426-35) and was not repeated to this standard in any other period. The radical simplicity of this three-fish and related three-fruit designs is without par in the history of Chinese porcelain decoration and exceptional among Chinese imperial works of art. The present piece, with its generous, deep cup shape, is a particularly rare example. This present stem cup was part of two of the most prestigious collections of Chinese ceramics; those of Edward T. Chow (1910-80) and T.Y. Chao (1912-99).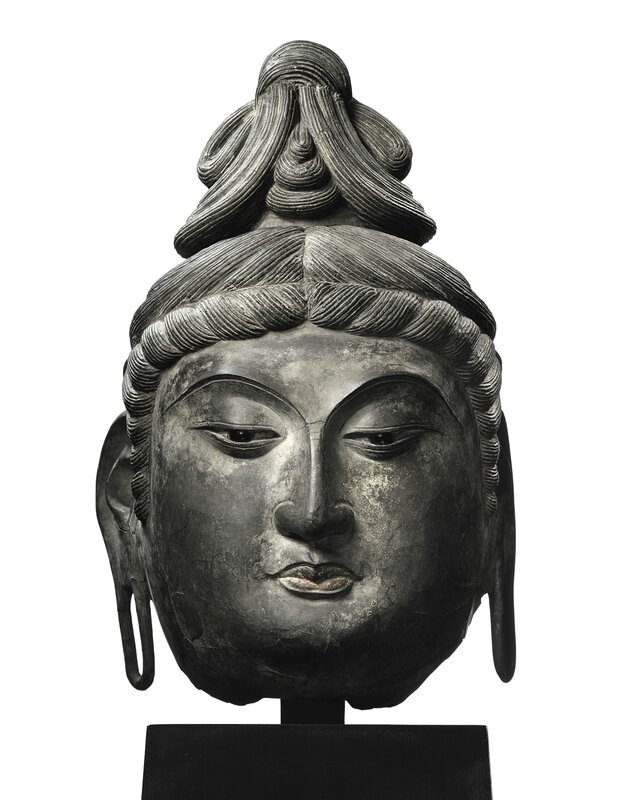 Lot 3015. A Magnificent And Extremely Rare Dry-Lacquer Head Of Avalokitesvara, Tang Dynasty, 43.3 cm / Overall (including wood stand) 67.8 cm. Est. HK$18 million – 25 million / US$2.3 million – 3.2 million (Offered at Sotheby's Hong Kong Spring 2017 *Curiosity III* sale on 4 April). Photo: Sotheby's.
Following the success of a rare dry-lacquer Head of Buddha sold in October 2013 for HK$40.4 million / US$5.2 million, it is extremely fortuitous for Sotheby's Hong Kong to offer at the upcoming Spring Sale one more extraordinary legacy marking the height of Buddhist art of the Tang period. This majestic image of the Avalokitesvara captivates the viewer as a personification of all that is admirable, desirable and reassuring in Buddhist thought. There is no technique or material that can evoke the harmony and perfection of a divine face like this 'dry lacquer' technique. In spite of its genderless, spiritual beauty, this masterful sculpture appears to breathe with life. The dry lacquer technique allowed for particularly precise modelling and in combining rounded, fleshy features with sharp, stylized lines, the sculptors palpably manifested the Bodhisattva's sanctity, wisdom and compassion. The present head derives from probably the finest era of China's sculptural tradition, the period of full maturity achieved in the High Tang around the reign of Emperor Xuanzong (r. 712-756), which is characterised by relatively life-like representation, which rendered deities more approachable and less distant than before.
EXQUISITE PORCELAIN PLAYTHINGS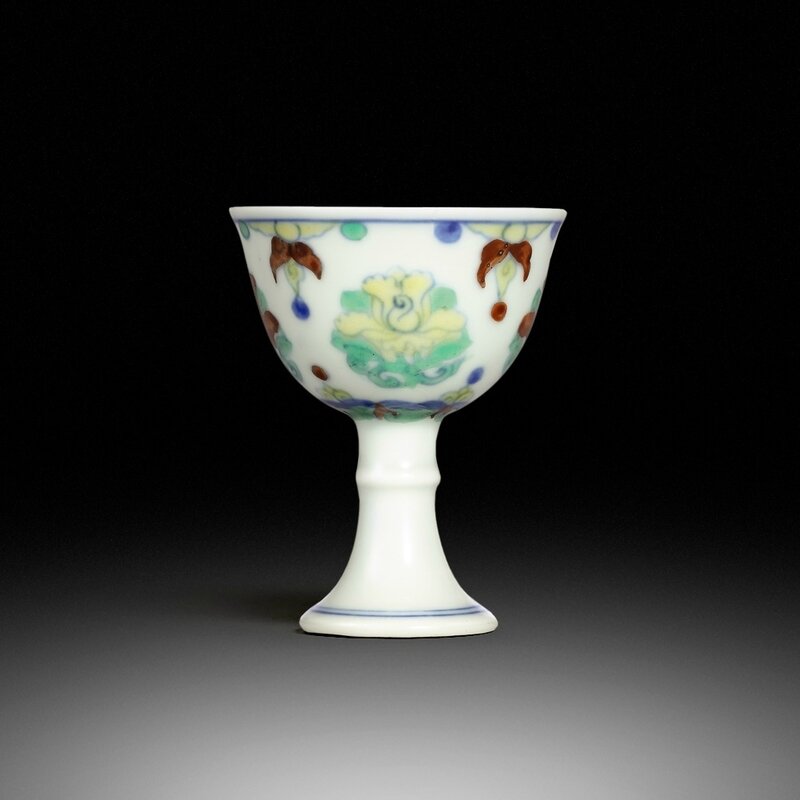 Lot 3101. An Extremely Rare Doucai Stem Cup, Mark and Period of Chenghua (1465-1487). Height 7.7 cm. Est. HK$8 million – 12 million / US$ 1.04 million – 1.55 million. Photo: Sotheby's.
Chenghua doucai is the most prestigious and treasured of all Chinese Imperial porcelain. The current world auction record for Chinese Porcelain, set by Sotheby's Hong Kong in April 2014, is the doucai Meiyintang Chenghua Chicken Cup sold for HK$281.24 million / US$36.05 millon. The joyful aspect of Chenghua doucai porcelain with its gaily combined, jewel-like colours, was never surpassed or even equalled in any other period of Chinese ceramic-making. The small, delicately potted treasures created by the imperial kilns in the doucai ('dove-tailed colours') palette for only about a decade in the late 1470s and early '80s became desirable collector's items soon after the end of the reign and are among the rarest and most sought-after Chinese porcelains today. They reflect an atmosphere of plenty at the court that was not to be of long duration. Chenghua doucai porcelains, with their fine potting and multi-coloured decoration that required several firings represented an extravagant luxury due to the labour-intensive production and high failure rate as well as their mainly pleasurable rather than utilitarian character.
Lot 3102. An Extremely Fine and Rare Blue and White Cup, Mark and Period of Chenghua (1465-1487). Diameter 7.8 cm. Est. HK$15 million – 20 million / US$1.94 million – 2.58 million. Photo: Sotheby's.
This delightful cup is one of the characteristic creations of the Chenghua imperial kilns during their most fruitful period of production. The last years of the Chenghua reign, in the late 1470s and 1480s, were not only the kilns' busiest period, but saw also the development of the finest and most distinctive wares – those generally associates with this reign name. This charming cup, with its small size, precise potting, softly curved profile, subdued painting, wonderfully tactile surface, and square reign mark embodies all the qualities that make Chenghua porcelains so desirable.
FURTHER HIGHLIGHTS
Lot 3218. An Exceptional And Extremely Rare Dingyao Carved 'Peony' Bottle Vase, Northern Song Dynasty (960-1127). Height 25 cm. Est. HK$8 – 12 million / US$1 million – 1.5 million. Photo: Sotheby's.
Lot 3508. A 'Huanghuali' Dressing Case With Carved Doors And Gilt-Bronze Fittings, Late Ming – Early Qing Dynasty, 37 x 39.1 x 32.1 cm. Est. HK$800,000 – 1.2 million / US$103,000 – 154,000. Photo: Sotheby's.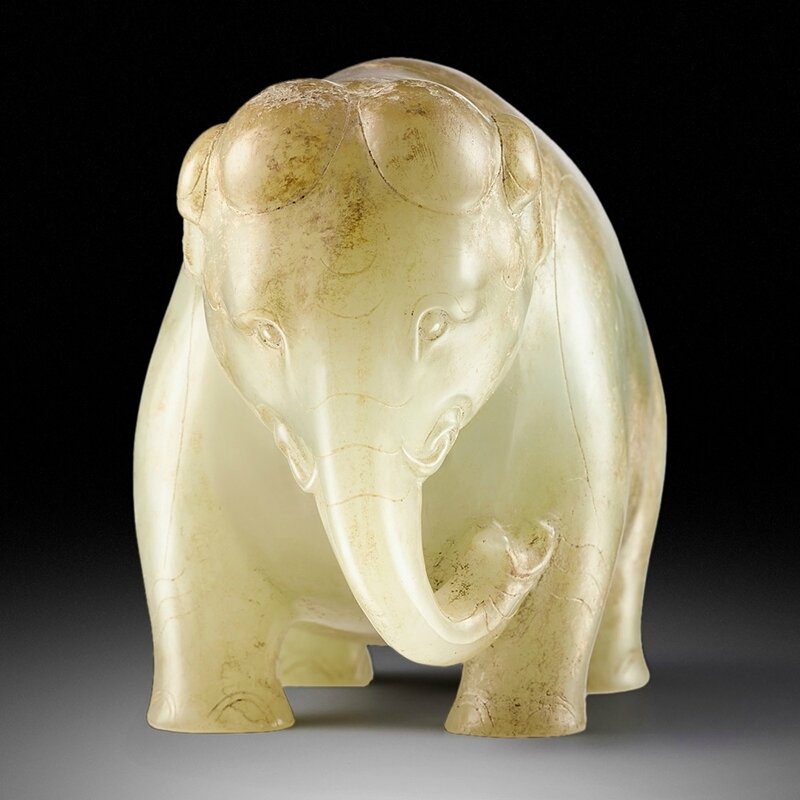 Lot 3305. An Outstanding And Extremely Rare Celadon Jade Figure Of An Elephant, Western Han Dynasty (206 BC-26 AD), 8.4 cm. Est. HK$5– 7 million / US$641,000 – 897,000. Photo: Sotheby's.
Lot 1107. An Exceptional Junyao Purple And Blue Glazed Tripod Circular Narcissus Bowl, Early Ming Dynasty. Diameter 20.3 cm. Est. HK$8– 12 million / US$1 – 1.5 million. Photo: Sotheby's.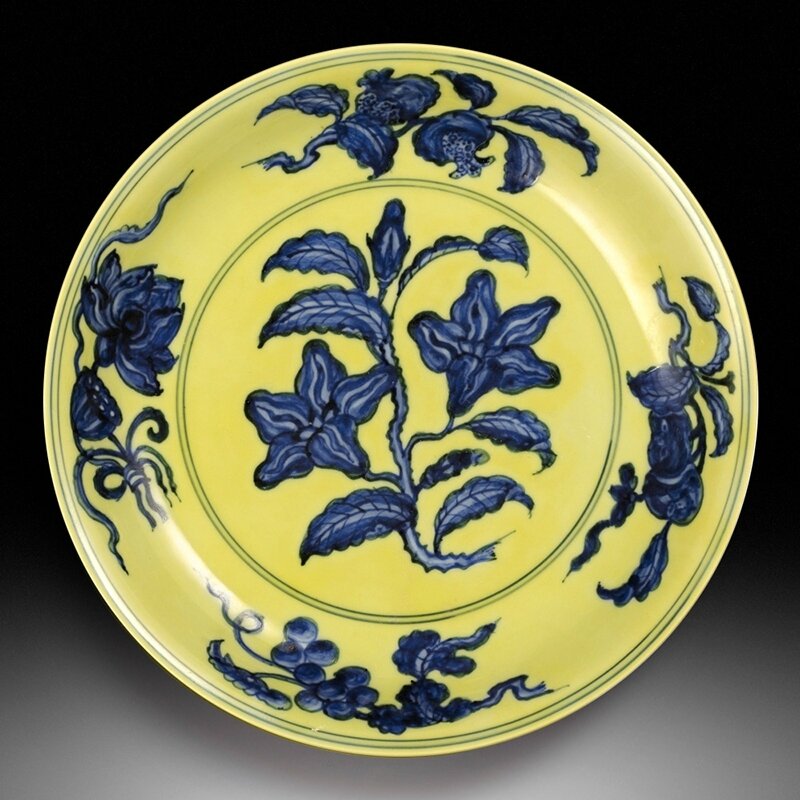 Lot 2. An Exceptional Yellow-Ground, Blue And White 'Gardenia' Dish, Mark And Period Of Hongzhi (1488-1505). Diameter 26.1 cm. Est. HK$2.5 – 3.5 million / US$320,000 – 449,000. Photo: Sotheby's.