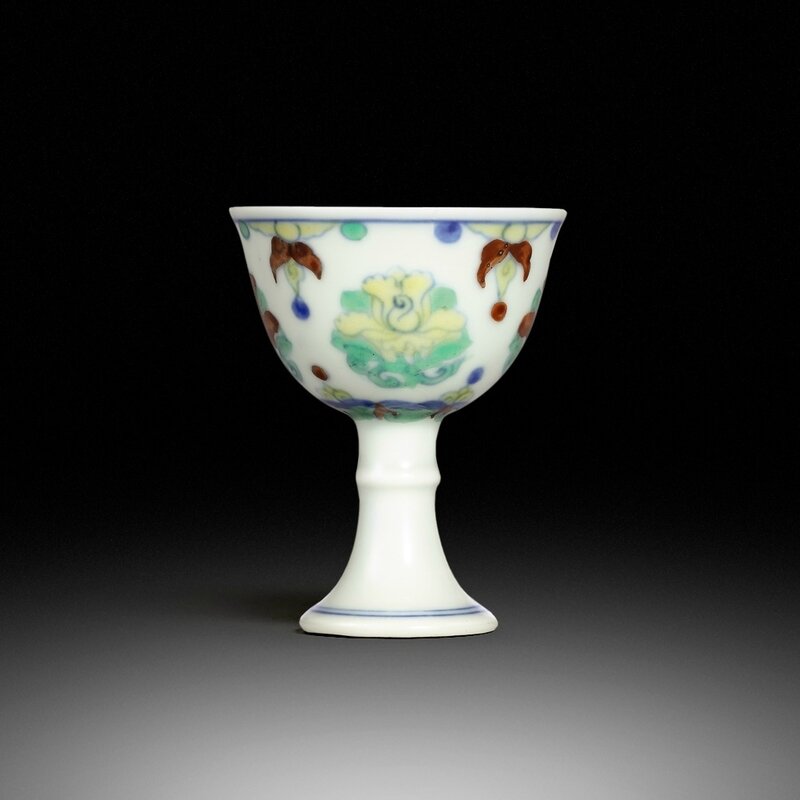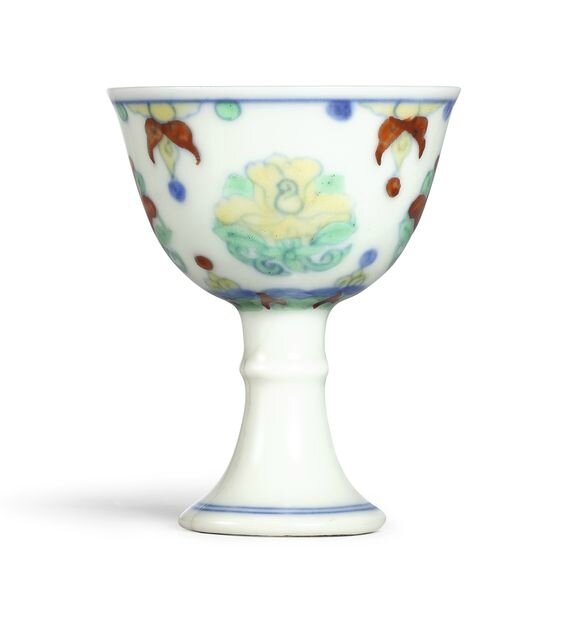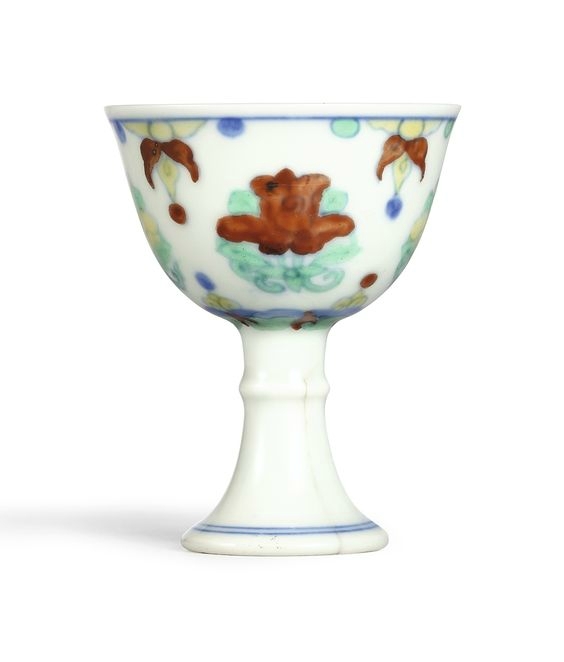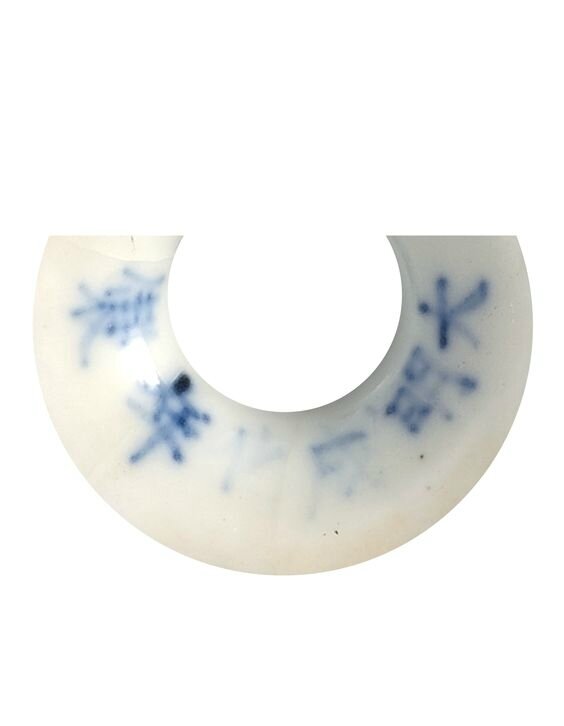 Lot 3101. An Extremely Rare Doucai Stem Cup, Mark and Period of Chenghua (1465-1487). Height 7.7 cm. Est. HK$8,000,000-12,000,000 (US$ 1.040,000-1.550,000). Lot Sold 13,300,000 HKD (1,711,577 USD). © Sotheby's.
delicately potted with a deep U-shaped cup supported on a tall splayed foot bordered with a raised fillet, the exterior of the cup delicately decorated in underglaze blue as well as red, yellow and green enamels with four evenly spaced medallions of roses wreathed by fine foliage, two of the blooms rendered in red and the other two in yellow, all between stylised floral and pearl motifs at the rim and an undulating border supporting ruyi-heads below, the underside of the stem inscribed in underglaze blue with a six-character reign mark written in a semi-circle - 7.7 cm, 3 in.
Provenance: Collection of Mr Tuckenheim, acquired at Chateau Saint Charles de Percy, Normandy, by repute.
"Of Rare Ingenuity and Extraordinary Skill"
Regina Krahl
The joyful aspect of Chenghua doucai porcelain with its gaily combined, jewel-like colours, was never surpassed or even equalled in any other period. The small, delicately potted treasures created by the imperial kilns in the doucai ('dove-tailed colours') palette for only about a decade in the late 1470s and early '80s became desirable collector's items soon after the end of the reign and are among the rarest and most sought-after Chinese porcelains today. They reflect an atmosphere of plenty at the court that was not to be of long duration.
In 1476, when the Emperor's favourite concubine, Wan Guifei (1430-87), was officially raised to the status of principal concubine, huang guifei, she became a dominant influence on the Emperor as well as the court. The following years are marked by lavish spending on luxury goods at the palace. No expenses were spared to commission sophisticated pieces from the imperial kilns executed to the highest grade of perfection. Chenghua doucai porcelains, with their fine potting and multi-coloured decoration that required several firings represented an extravagant luxury due to the labour-intensive production and high failure rate as well as their mainly pleasurable rather than utilitarian character. Ts'ai Ho-pi believes that Chenghua doucai porcelains represented the wares characterised in the records as qiji yiqiao ('of rare ingenuity and extraordinary skill') or qiji yiwu ('extraordinary objects of rare ingenuity'), whose manufacture was repeatedly denounced by officials (Cai Hebi, Chuanshi pin Chenghua ci/Everlasting Chenghua Porcelain, Taipei, 2003).
Their production, which devoured thousands of taels of silver, was eventually stopped in 1485 to ease the burden on the local population, who was responsible for the labour costs. This moratorium on the manufacture of such polychrome porcelains seems to have lasted throughout the following reigns of the Hongzhi (1488-1505) and Zhengde (1506-21) Emperors. The unique historical situation in this brief span of a decade that made the production of these wares possible, was never repeated. It contributes to the outstanding esteem that Chenghua doucai porcelains have enjoyed ever since and still enjoy today and explains their extraordinary rarity.
Some rare prototypes of this polychrome colour scheme, where underglaze blue is combined with several enamel colours, exist from the Xuande reign (1426-35) and probably the 'interregnum' period (1436-64), known mainly from sherds discovered at the Jingdezhen kiln sites, but also from two bowls of Xuande mark and period, preserved in the Sagya Monastery, Sagya county, Tibet (Zhongguo taoci quanji [Complete series on Chinese ceramics], Shanghai, 1999-2000, vol. 13, pl. 90). These bowls are painted with polychrome lotus pond motifs with mandarin ducks as well as blue-and-white borders of five-clawed dragons and Tibetan writing. The overall colour aspect is similar, although only part of the design is outlined in underglaze blue. It was only when this polychrome decoration was adapted to the style now known as doucai in the latter part of the Chenghua period that it became a classic, and as such experienced a popular revival in the Qing dynasty (1644-1911).
This small stem cup represents in every respect a totally new departure: the exceedingly tactile, characteristic, slightly smoky material; the bright colours that must have been a revelation, when they first came out of the kilns; the elegant shape in new proportions, ever so faintly flared at the rim; the concise flower medallions and pearl motifs, all outlined in blue; and the mark written in a semi-circle on the underside of the stem: nothing had been seen like this on porcelain before.
Only five, or perhaps merely four other stem cups of this design appear to have survived: one in the Freer Gallery of Art, Washington, D.C., is illustrated in Oriental Ceramics: The World's Great Collections, Tokyo, New York and San Francisco, 1980-82, vol. 9, fig. 115; and in Ming Porcelains in the Freer Gallery of Art, Washington, D.C., 1953, fig. 20; another in the Palace Museum, Beijing, from the Qing court collection, has been published in The Complete Collection of Treasures of the Palace Museum. Porcelains in Polychrome and Contrasting Colours, Hong Kong, 1999, pl. 172 right (fig. 1), together with a doucai stem cup with lotus medallions but a plain flaring stem, pl. 172 left, and one of the same shape as the present piece, but decorated with a stylised lotus scroll, pl. 173; and a third one is illustrated in A.D. Brankston, Early Ming Wares of Chingtechen, Peking, 1938, pl. 27c, where it is attributed to the David Collection; however, according to Suzanne G. Valenstein in Ming Porcelains. A Retrospective, China House Gallery, China Institute in America, New York, 1970-71, p. 54, it never belonged to Sir Percival, but is the cup from the George Eumorfopoulos Collection, sold in our London rooms, 30th May 1940, lot 295, and again 9th November 1954, lot 69, from the collection of Dr Henry de Laszlo; a fourth cup was sold in these rooms, 26th October 2003, lot 11.
fig. 1. Doucai 'rose' stem cup, mark and period of Chenghua, Qing court collection © Palace Museum, Beijing
Julian Thompson in his 'List of Patterns of Chenghua Porcelain in Collections Worldwide' in The Emperor's broken china. Reconstructing Chenghua porcelain, Sotheby's, London, 1995, pp. 116-129 records the present pattern as D40 and lists another stem cup of this design in the Musée Guimet, Paris, apparently unpublished; this may, however, be the Eumorfopoulos cup.
No piece of this design appears to be remaining in the National Palace Museum, Taipei, which owns the largest number of Chenghua doucai pieces. A deliberately destroyed stem cup of this design, reconstructed from sherds found at the Ming imperial kiln site in Jingdezhen, was included in Sotheby's 1995 exhibition The Emperor's broken china, op.cit., cat. no. 40 (fig. 2).
fig. 2. Doucai 'rose' stem cup, mark and period of Chenghua © Jingdezhen Ceramics Archaeology Institute
On the Palace Museum piece (fig. 1), the red and green enamels are severely discoloured, probably due to the palace fire of 1923. The Guimet stem cup is equally said to be fire-damaged, as is the Eumorfopoulos cup, which shows strong crazing at the stem.
In the night of 26th June 1923, a notorious fire broke out in the Jianfugong Huayuan, the gardens of the Palace of Establishing Prosperity in the Forbidden City, which said to have lasted for three days and to have burnt down 120 rooms. The Jianfugong complex, situated at the north-western tip of the Forbidden City was built by the Qianlong Emperor (r. 1736-95) in 1742. It is known to have become one of the Emperor's favourite retreats and accordingly housed a large number of works of art and antiques. After the end of the Qing dynasty, the abdicated Emperor of China, Puyi (r. 1908-11), who continued to reside in the former Imperial Palace, was alerted by his English teacher, Reginald Johnston, that palace eunuchs were selling imperial artefacts. Although he had repeatedly planned a review of the palace holdings, a disastrous fire occured before this was undertaken, where a part of the palace burnt to the ground. It was suspected to have been set by palace staff in order to disguise the fact that artefacts were missing. The clearance of the ruins was entrusted to an outside company. Since the site had contained gold statues, the task was put out to tender, with the highest bid going to a gold shop. In addition to gold, some porcelains were rescued, but apparently only the most valuable were deemed worthy of retaining inspite of their damage.
Besides some pieces of burnt Ru ware, only Chenghua doucai pieces appear to have left the palace collection because of this incident. Some fifteen Chenghua doucai vessels clearly affected by fire are recorded outside China, mostly listed by Julian Thompson, op.cit. At least five obviously fire-damaged Chenghua pieces are remaining in the Palace Museum, Beijing, see The Complete Collection of Treasures, op.cit., pls 169-172; one in the National Museum of China, Beijing, see Zhongguo Guojia Bowuguan guancang wenwu yanjiu congshu/Studies on the Collections of the National Museum of China. Ciqi juan, Mingdai [Porcelain section, Ming dynasty], Shanghai, 2007, pl. 55; and three or more in the National Palace Museum, Taipei, see Chenghua ciqi tezhan/Special Exhibition of Ch'eng-hua Porcelain Ware, 1465-1487, National Palace Museum, Taipei, 2003, probably cat. nos 128, 168, 186.
However, many more pieces may have been involved, since not all pieces recovered from that palace fire were seriously affected by it. The present stem cup was probably among those pieces rescued from that palace fire and deaccessioned from the imperial palace on account of this. This is suggested by the black-stained biscuit visible under the foot, which is equally seen on the companion piece in the Palace Museum, Beijing; but on the present cup the enamels have survived the accident intact.
For related Chenghua doucai stem cups of this shape, painted with lotus scrolls or lotus medallions, in the National Palace Museum, Taipei, see Chenghua ciqi tezhan, op.cit., cat. nos 171-176. A fire-damaged stem cup of the same shape with lotus medallions between the same supporting motifs, from the Wu Lai Hsi, Carl Kempe and Meiyintang collections, illustrated in Regina Krahl, Chinese Ceramics from the Meiyintang Collection, London, 1994-2010, vol. 2, no. 676, was sold in these rooms, 5th October 2011, lot 28, where further doucai stem cups of related shape or design are recorded.
Sotheby's. In His Majesty's Palm: Exquisite Porcelain Playthings, Hong Kong, 05 Apr 2017, 10:20 AM