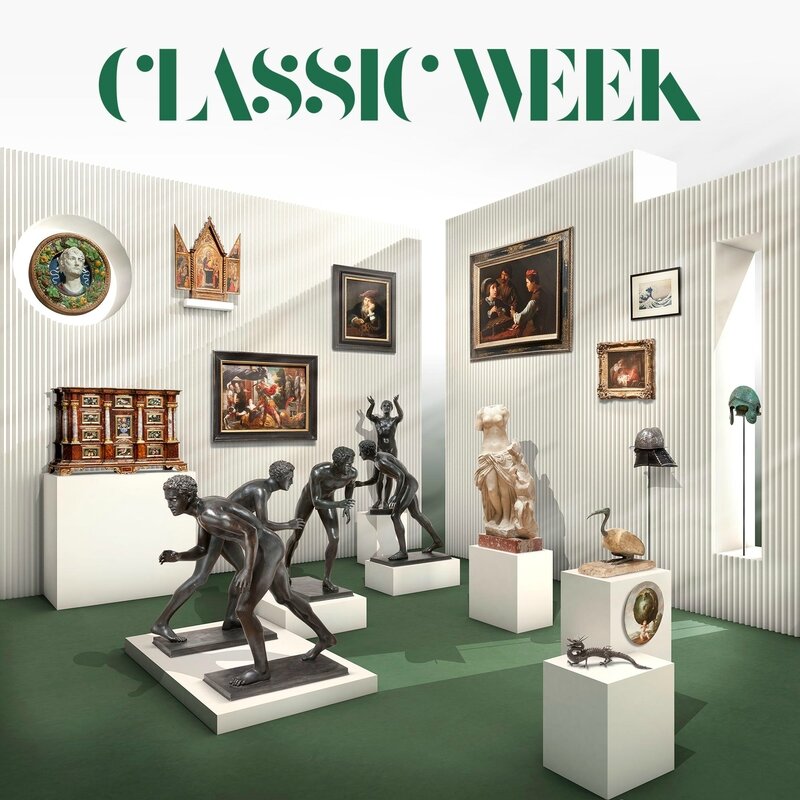 NEW YORK, NY.- Christie's announces Classic Week in New York, which brings together five auctions: Old Masters, Sculpture, Antiquities, The Exceptional Sale of decorative arts and Classical Japanese and Korean Art. Highlights include paintings by Hugo van der Goes, Govaert Flinck and Nicolas Lancret. They are accompanied by an Anatolian Marble Stargazer from The Guennol Collection, a Greek Bronze Chalcidian helmet, an iron articulated dragon, Hokusai's iconic image In the Well of the Great Wave off Kanagawa, a 17th-century pietra dura cabinet, a Chinese 'fishing boy' automaton and a rediscovered della Robbia tondo made for the King of Naples. The exhibitions at Christie's Rockefeller Center Galleries open to the public on April 21, and the auctions will take place April 25-28.
An Inquiring Mind: American Collecting of Japanese & Korean Art | April 25 at 10am
The sale is comprised of 133 lots featuring fine screens, scrolls, calligraphy, woodcut prints, ceramics, lacquer, metalwork, and armor. Highlights include a serene carved wood figure of the Bodhisattva Jizo from the 12th century late Heian period, Hokusai's iconic image In the Well of the Great Wave off Kanagawa, a monumental pair of soft-metal-inlaid shibuichi vases, a blue-and-white porcelain jar with autumn grasses, and an album of Eight Views of the Xiao and Xiang.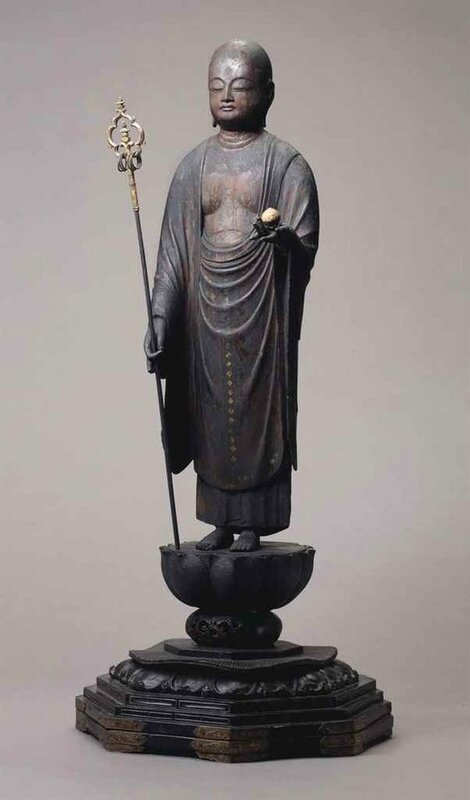 Lot 5. A carved wood figure of the Bodhisattva Jizo, Late Heian - Early Kamakura period (12th century), 28 3/8 in. (72.1 cm.) high. Estimate USD 300,000 - USD 400,000 © Christie's Images Limited 2017.
Carved from cypress wood in single-block technique (ichiboku-zukuri) as a standing Bodhisattva Jizo, decorated with polychrome lacquer and gold foil (kirikane), the right hand holding his staff and left hand extended to hold the wish-granting jewel (hoju), set on a carved-wood lotus stand
Provenance: Yamaoka Seibei, Kyoto by repute
Marion Hammer Inc., New York, 21st April 1964
Dr. and Mrs. Robert Dickes Collection, New York
Note: The Bodhisattva Jizo is a merciful figure who moves through the Six Realms of existence in his role of saving all sentient beings. These Six Realms, from human to animal, and including Hell, comprise the levels of existence through which we are driven by the forces of karmic retribution, until such time as we achieve enlightenment. Jizo seeks out sufferers to ease their pain. Among Japan's myriad deities, Jizo is arguably the most widely known, easily recognized and actively venerated even in modern times. He appears as a kindly young monk—shaven head, no adornments, dressed in the simple robe of a cleric. His exalted status as a deity is indicated by the urna on his forehead and his long earlobes. In his left hand, he holds a pearl-like jewel, called nyoishu (wisdom gem) and in his right a monk's staff with multiple rings used to beat away the demons of hell.
Judging by the style of the cut gold leaf (kirikane) decoration on the front of the robe—a style associated with workshops in Nara in the late twelfth century—this Jizo is likely to be the work of a Buddhist sculptor in a Nara atelier. Other contemporary works from the Nara atelier with similar use of kirikane design are a statue of Bishamonten in the Senjudo Hall on Mount Koya and a statue of Jizo at Daifuku-ji Temple, Kyoto (a temple originally located in Nara).
At a time when many sculptors were adopting a new naturalism and dynamism introduced from the Chinese mainland, this serene figure recalls the restrained, classical forms of the high aristocracy of the late Heian period.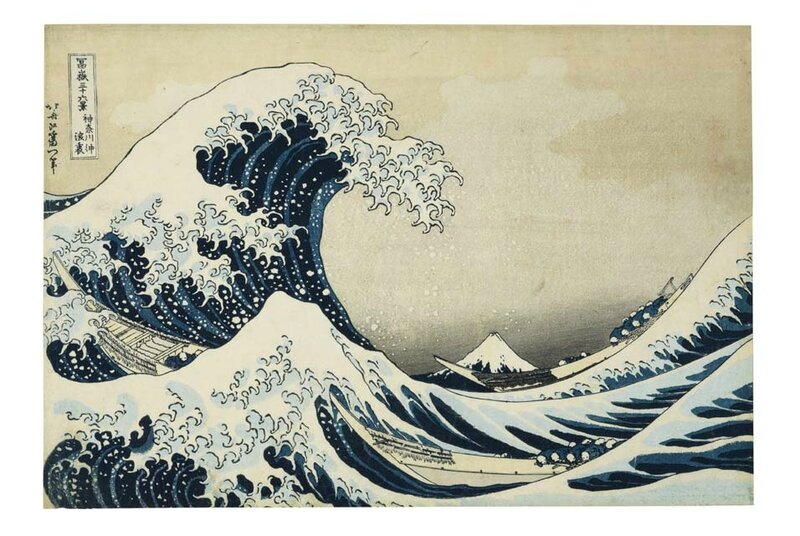 Lot 21. Katsushika Hokusai (1760-1849), Kanagawa oki nami ura (In the well of the great wave off Kanagawa), from the series Fugaku sanjurokkei (Thirty-six views of Mount Fuji). Signed Hokusai aratame Iitsu hitsu, published by Nishimuraya Yohachi (Eijudo), 25.3 x 37 cm. Estimate USD 80,000 - USD 100,000 © Christie's Images Limited 2017.
Provenance: Thomas Rosenberg Sr., New York
Property from a Private Connecticut Collection
Note: In her study of Hokusai's Great Wave, Christine Guth has written as follows:
Unlike many forms of early modern Japanese visual culture, "Under the Wave off Kanagawa" has exceptional communicative power as a graphic design because it combines a set of easily recognizable almost geometrically defined features: mountain and sea. . . , figures in boats, and a dramatic narrative open to individual interpretation but often understood to imply the contest or uneven balance between nature and humanity. Adding to its visual appeal, its flat pictorial idiom, predominantly blue palette, and adoption of elements of spatial illusionism make this marine view at once abstract and realistic, familiar and unfamiliar, to Japanese and non-Japanese viewers alike.
With the publication of "Under the Wave off Kanagawa," Hokusai created a way of seeing the power and mutability of the sea that has had an enduring impact around the world. Although he was not the first Japanese artist to create a landscape dominated by a giant wave, this subject nonetheless has come to be inextricably identified with him.
Christine M. E. Guth, Hokusai's Great Wave: Biography of a Global Icon (Honolulu: University of Hawai'i Press, 2015), p. 3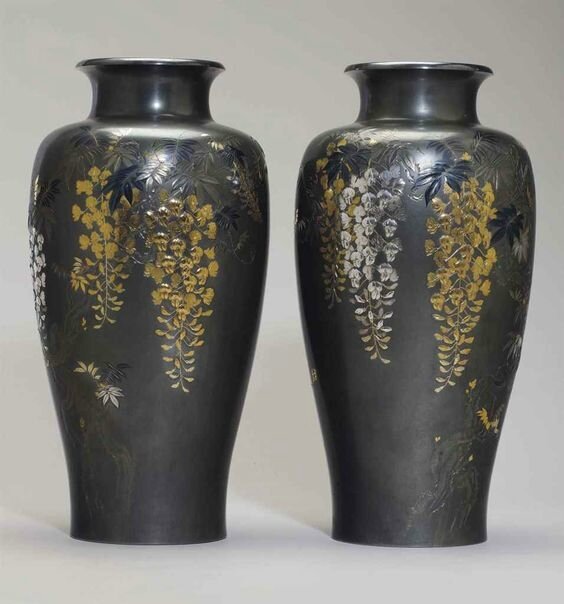 Lot 65. A monumental pair of soft-metal-inlaid shibuichi vases, Taisho period (dated 1919), signed Hojo koku (Unno Hojo; 1884-1956), 13 7/8 in. (35.2 cm.) high each. Estimate USD 280,000 - USD 320,000 © Christie's Images Limited 2017.
Each vase of tapering ovoid form with short flared neck, elaborately inlaid in various gold, silver, shakudo and shibuichiwith trailing branches of luxuriant wisteria, the trees and branches dynamically carved and chiseled, incised signature on base.
With original wood stands, and double box titled fuji hana oboro gin kabin ittsui (Pair of shibuichi vases with wisteria flower) and sealed jie xi wei chu (Cannot get rid of my bad habits) on lid and signed and dated Taisho tsuchinoto hitsuji (1919) Unno Hojo, sealed Kiyoshi no in on reverse, also with accompanying document signed and sealed by Takamura Koun as a supervisor and Unno Hojo as an artist of the work.

Note: The vases of shibuichi richly engraved, sculpted and inlaid in gold, silver, and colored metal alloys with hanging wisteria using a variety of metalworking techniques signed on the bases Hojo, an art name for Unno Kiyoshi (1884 - 1956).
Kiyoshi was the fourth son of Unno Shomin (1844 - 1915) of the Mito school of metalwork who became a lecturer in the Metal Sculpture Department of the Tokyo University of Fine Art, and was later honored as an Imperial Household Artist (Teishitsu Gigei-In). Although thus descended from a well-established line of traditional metal-workers, the young Kiyoshi chose to enter Waseda University to study Law. He did well at his studies, enjoying the several aspects of Westernization like tennis and baseball, and was expected to pursue a successful career. But something made him change his mind about his future and he left Waseda in the final year of his course to return to the family tradition and enter the School of Fine Art in 1904 when he was twenty-two.
He became skilled in the traditional metalwork techniques studying under both his father and Kano Natsuo, but rather than continue the Meiji period repertoire of decorative export works he developed his own design style inspired by the collections of the Shosoin and subjects from foreign cultures. His works are thus of a kind of hybrid nature combining the tried methods of his family with the inspirations of the Meiji Westernization which had originally moved him to study law. His first milestone success was to win second prize at the Great Taisho Exposition of 1914 with his embossed metal plaque of "The Buddha Sakyamuni Expounding the Law" when he was thirty three. This was to be followed by many prizes. A fine work in the collection of Tokyo National Museum is a cylindrical box with on the top a gilt pierced and sculpted design of parrots after the decoration on a musical instrument in the Shosoin Collection, and around the edge a pierced frieze of shakudo with sea creatures and grapes following the design on a Chinese mirror also in the Shosoin Collection. This won him a Special Selection Prize in the 9th Teiten exposition of 1928.
Kiyoshi became the most widely honored of his generation of metal artists, and in 1955 was invested as the first Living National Treasure (Intangible Cultural Asset) in the field of metal sculpture.
He visited France from two years between 1932 and 1934 where he studied at the Louvre and for a period at the British Museum in London. The experience in the Western museums were to widen his already wide vision of the world, and some of his works were directly inspired by objects he had seen in Paris and London, like the cupronickel figures of an ancient Egyptian cat (1935) and a version of the sacred ox of Menmphis (1954 at the age 70) (Ningen Kokuho Series 28 Nos.12 and 13).
Kiyoshi had been befriended by a wealthy banker named Mineshima Shig'emon in his youth, and Mineshima was to financially support the Unno family while Kiyoshi was away in France. Mineshima personally bought virtually all the works made by Kiyoshi, and further gifted pieces to Tokyo National Museum and the University of Fine Art.
Kiyoshi's elder brother Minjo had died in 1910 and his father died five years later in 1915. Kiyoshi must have felt a heavy burden of duty to continue with his father's work, and it has been suggested that his family's circumstances might have compelled him to abandon his Law studies and return to support his father and brother.
The vases took two years to make and painstaking effort by Kiyoshi has produced in them a remarkable tour-de-force of the very best established metalworking traditions. At the same time the vases show Kiyoshi's own technical excellence and creative vision in the free approach to design, perhaps best seen in the great swathe of wisteria in katakiri-bori in which the sculpted flowers glow like brush painting.
A document dated 1919 accompanying the vases tells how the greatest craftsmen of the day were involved in the work, naming Inoue Kiyomi as making the base bodies of the vases, a Hoshino who carved the wood stands, and Umeya Shimamoto who made the textile covers. The weights and compositions of the alloys used are given, and all the metalworking methods including high relief level inlay of gold and silver, high relief sculpture of inlaid metals, katakiri-bori (oblique chiselwork) inlay, and others. They were made under the supervision of the Takamura Koun (1852 - 1934), an Imperial Household Artist (Teishitsu Gigei-In) and professor of Sculpture in the university, and the document bears the signature Takamura Koun with the seal of Takamura Koun, and the signature Unno Hojo together with the seal Unno Kiyoshi saku.
The art name Hojo is composed of the character 'Ho' from 'Hoshu', Kiyoshi's father's art name, and 'Jo' from 'Minjo', his elder brother's name, and is possibly a unique example of the use of that name. Such a touching tribute to his father and brother on these vases might be thought of as showing respect of the family metalworking tradition, and to have given Kiyoshi a final release from the confines of standard Meiji metalwork thus allowing his genius free reign to continue making the small number of exquisite works in his own inimitable style that we know today.
Victor Harris, Keeper Emeritus of Japanese Antiquities, The British Museum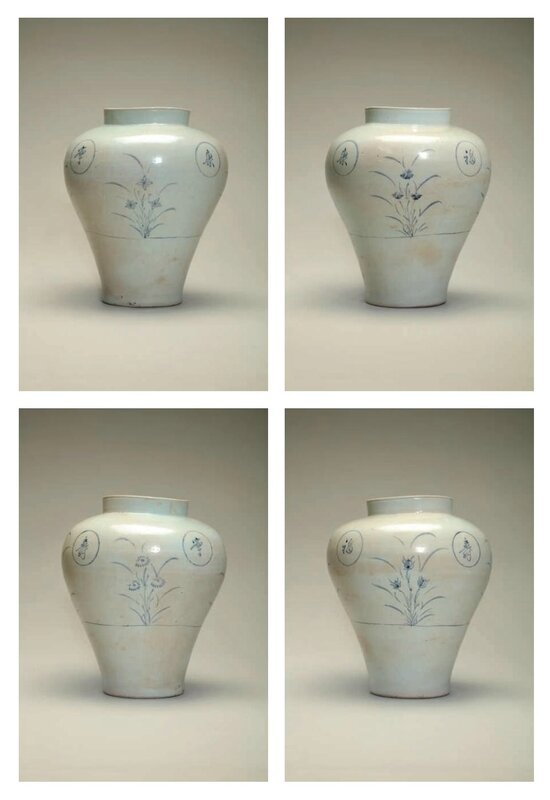 Lot 98. A blue-and-white porcelain jar with autumn grasses, Joseon dynasty (first half 18th century), 12 5/8 in. (32.1 cm.) high. Estimate USD 700,000 - USD 800,000 © Christie's Images Limited 2017.
The ovoid form, delicately painted in underglaze-blue with four autumn grasses, the shoulder with four auspicious-character roundels representing longevity (Su), good fortune (Bok), good health (Gang) and peace (Nyeong), the mouth rim with incised line, the body applied with a lustrous transparent overglaze. With double wood box.
Provenance: Private collection, West Japan, acquired in the 1960s.
Note: Used as storage vessels and occasionally as vases for monumental floral displays at banquets and ceremonies, such large, broad-shouldered, narrow-waisted jars were popular in Korea from the seventeenth through the nineteenth centuries. Some feature landscape decoration, while others boast dragons, tigers, haetae, or other favored beasts, and yet others sport floral designs or auspicious Chinese characters. Made in the eighteenth century, this jar features four blossoming plants, each growing from a continuous, if minimally indicated, ground line, the plants interspersed with roundels emblazoned with auspicious Chinese characters reading from right to left (in Korean pronunciation) su, bok, gang, and nyeong, which mean—and which offer wishes to the viewer for—longevity, good fortune, good health, and peace.
This jar's form doubtless finds distant inspiration in meiping vessels created in China during the Northern Song period (960–1127). Despite the poetic name meaning "plum vase," meiping (Korean, maebyeong) vessels were not originally used as vases for the display of cut branches of blossoming plum but were elegant storage bottles for wine and other liquids. Korean potters of the twelfth and thirteenth centuries, during the Goryeo dynasty (918–1392), gave the maebyeong form its classic interpretation, with broad shoulders, narrow waist, and lightly flaring foot.
Crafted in both porcelain and buncheong stoneware, the maebyeong form persisted into the Joseon dynasty (1392–1910), following its own evolutionary path. Dated by inscription to 1489, a monumental Korean blue-and-white porcelain jar with pine and bamboo décor in the collection of Dongguk University Museum, Seoul (National Treasure no. 176; See: In Blue and White: Porcelain of the Joseon Dynasty, Seoul: National Museum of Korea, 2015, p. 14, no. 3), reveals that by the late fifteenth-century the maebyeong vessel had evolved from slender-necked bottle into wide-mouthed jar; it further reveals that in the transformation from bottle to jar, such vessels saw both an increase in size and a change in proportions, the shoulder becoming ever broader, presumably to accommodate the wider mouth. As evinced by a porcelain jar embellished with a branch of fruiting grapevine painted in underglaze iron brown, the jar now in the collection of Ewha Women's University Museum, Seoul (National Treasure no. 107), seventeenth-century potters gave the jar form the robust interpretation that would continue through the end of the dynastic era. Unique to Korea, jars with bulging shoulders and gently curved side walls that descend to a constricted base were ubiquitous during the seventeenth, eighteenth, and nineteenth centuries. Formally termed jun in Korean, this jar shape is sometimes also called a "moon jar"—dal hangari —though that name technically should be reserved for large round jars whose globular shape recalls a full moon.
Seventeenth- and early eighteenth-century examples have a short, vertical, collar-like neck and an exaggerated profile, with massive shoulders and constricted waist; of closely related form, those from the second half of the eighteenth century display a less exaggerated profile that incorporates a gentle S-curve, and they have a slightly higher neck; that classic form continues into the first decades of the nineteenth century. Jars from later in the nineteenth century, by contrast, exhibit a more mannered profile with narrower shoulders, an attenuated body, a beveled foot, and a tall, cylindrical neck.
The Chinese characters that embellish this jar are clearly written and easily readable, but the flowers are more difficult to identify, as they are sketchily rendered and are all depicted with the same grass-like leaves. Although many authors simply identify the motif as "floral designs" or generically term all the flowers "orchids", the careful differentiation of the blossoms from plant to plant permits an attempt at more specific identification. Thus, the flower between the su and bok roundels might be identified as an orchid, the flower between the bok and gang roundels as dianthus—commonly known in English as pinks—that between the gang and nyeong roundels as narcissus, and that between the nyeong and su roundels as chrysanthemum. All cultivated in East Asia, those flowering plants frequently appear in Chinese and Korean paintings. Such jars, sparsely but delicately painted with favored plants and embellished with auspicious characters, were very much in the taste of Korean literati of the Joseon dynasty.
Korean potters began to produce blue-and-white ware —i.e., porcelain with designs painted in underglaze cobalt blue—as early as the fifteenth century, in imitation of Chinese porcelains of the early Ming period (1368–1644). Most extant Korean porcelains from the sixteenth and seventeenth centuries feature designs painted in underglaze iron brown, but blue-and-white ware appeared in quantity again in the late seventeenth century and would dominate the later Korean ceramic tradition.
The cobalt-blue of the best Chinese porcelains ranges from dark royal to navy blue, but that of the finest Korean porcelains wares typically is a pale, almost silvery, blue, as evinced by designs on this jar. The decorative schemes on Chinese wares generally are continuous, stretching all the way 'round the vessel; by contrast, the decoration on Korean porcelains often is discontinuous, with discrete design elements appearing around the vessel. The Korean wares' lack of borders—or, if used, very simple borders—stands in marked contrast to the elaborate top and bottom borders characteristic of Chinese wares. In addition, from the fifteenth century onward, the painting on the best Korean porcelains closely approximates that on paper and silk.
Two closely related jars appear in the collection of the National Museum of Korea, Seoul (don 351 and don 465). Two additional jars, both closely related, are in the collection of the Museum of Oriental Ceramics, Osaka (acc. nos. 20454 and 20601), and the collections of the Kyoto National Museum, Kyoto, and the Nezu Institute of Fine Arts, Tokyo, each include one related jar. In addition, two related jars are in the Samsung Collection at the Ho'am Museum, Yong'in, Korea. Similar in shape, all of these jars sport the same four flowering plants, the blossoms differentiated in exactly the same manner; some have a ground line from which the plants grow, others do not. Only the jar in the National Museum of Korea (don 465) also has roundels with Chinese characters reading su, bok, gang, and nyeong; the others lack those decorative elements. One jar in the Ho'am Museum has two roundels, one placed immediately above the other, with Chinese characters reading ju jun, meaning "wine jar."
Robert D. Mowry
Alan J. Dworsky Curator of Chinese Art Emeritus,
Harvard Art Museums, and
Senior Consultant, Christie's.
For examples of Korean, Joseon-period paintings of orchids, see Harvard Art Museums nos. 2000.345 and 2002.143; for Joseon paintings of pinks, see Harvard Art Museums nos. 1980.95, 1994.92, and 1994.101; for Joseon paintings of chrysanthemums, see Harvard Art Museums 1994.100, 2002.146, and 2005.111; for Chinese paintings of narcissus, see Harvard Art Museums 1985.935, and Metropolitan Museum of Art 1973.120.4.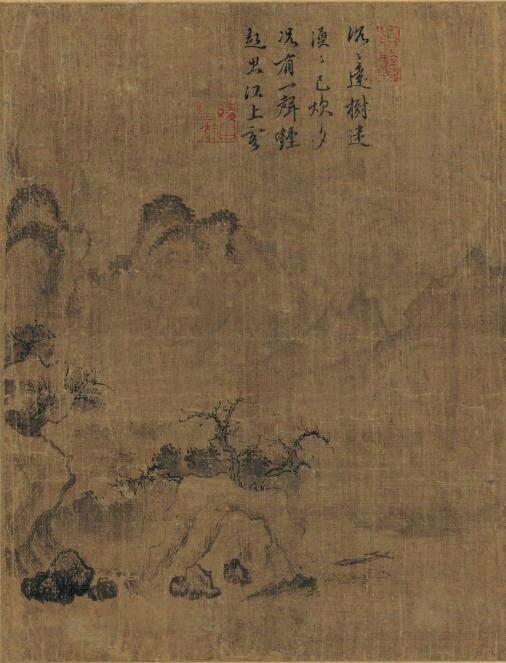 Evening bell from mist-shrouded Temple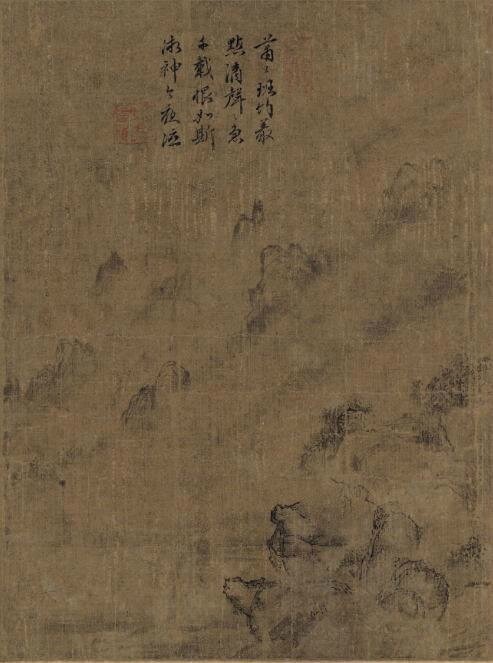 Night rain on Xiao Xiang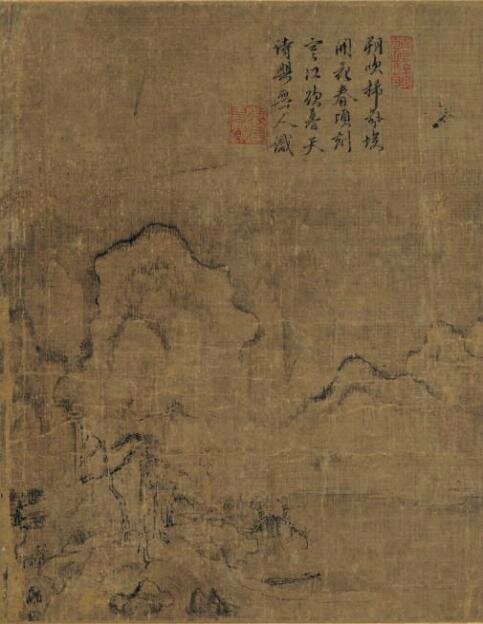 River and sky in evening snow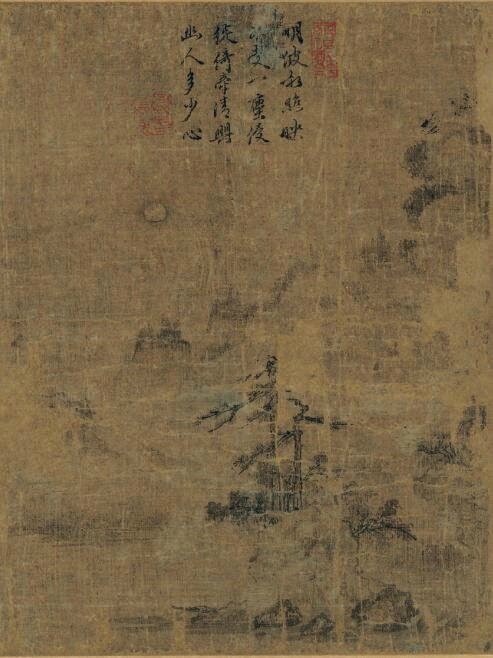 Autumn moon over Lake Dongting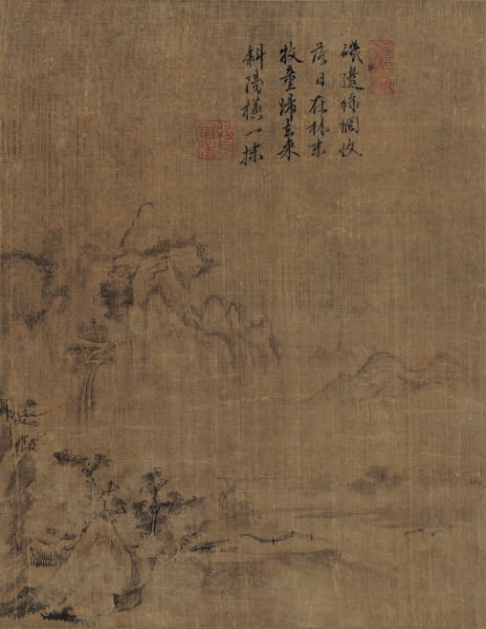 Fishing village in evening snow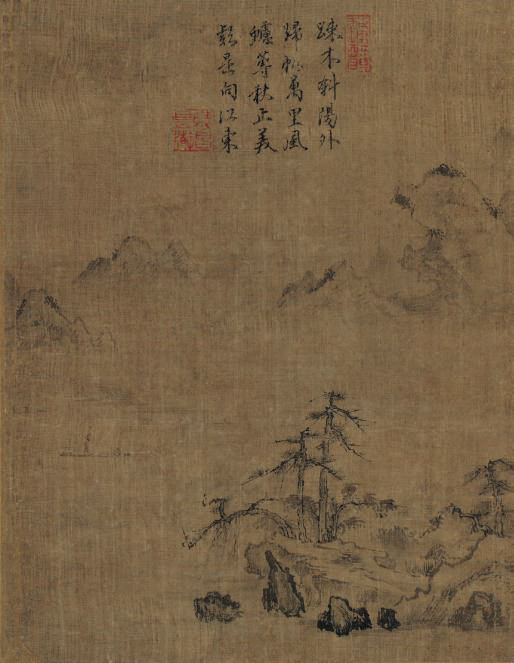 Returning sail of distant shore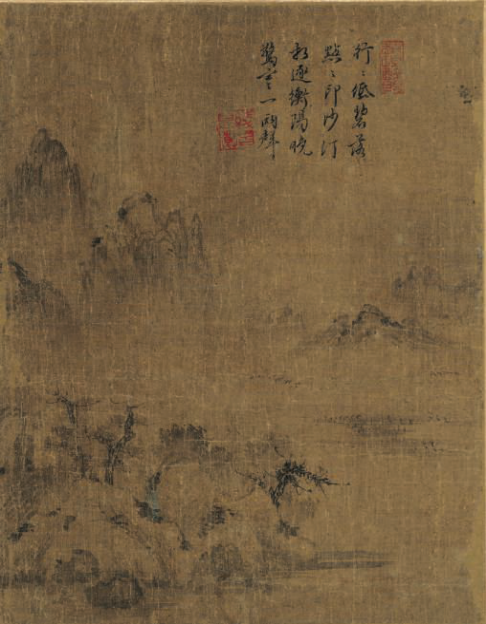 Wild geese descending to sandbar
Mountain market, clear with rising mist
Lot 122. Anonymous (16th century), Eight Views of the Xiao-Xiang. Each leaf inscribed with a poem and sealed Neungchang Gu Han (Gu Han; 1524-1558), and another seal. An album of eight leaves; ink on silk, 13 5/8 x 10 5/8 in. (34.6 x 27 cm.) approx each. With double box. Estimate USD 800,000 - USD 1,200,000 © Christie's Images Limited 2017.
Provenance: Private collection, Japan
Literature: Tochigi Prefectural Museum et al., Chosen ocho no kaiga to Nihon: Sotatsu, Taiga, Jakuchu mo mananda ringoku no bi (Paintings of Korea's Joseon Dynasty and Japan: The Art of a Neighboring Kingdom that Inspired Sotatsu, Taiga and Jakuchu), exh. cat. (Osaka: Yomiuri Shinbun Osaka Honsha, 2008), pl. 2.
Itakura Masaaki, Gukan san Shoshohakkei zu gasatsu (Album of Xiao-Xiang inscribed by Gu Han), Kokka 1394 (Dec. 2011). pl. 5.
Exhibited: "Chosen ocho no kaiga to Nihon: Sotatsu, Taiga, Jakuchu mo mananda ringoku no bi" (Paintings of Korea's Joseon Dynasty and Japan: The Art of a Neighboring Kingdom that Inspired Sotatsu, Taiga and Jakuchu) shown at the following venues:
Tochigi Prefectural Museum, 2008.11.2-12.14
Shizuoka Prefectural Museum, 2009.2.17-3.29
Sendai City Museum, 2009.4.17-5.24
Okayama Prefectural Museum, 2009.6.5-7.12
Note: The Eight Views of the Xiao and Xiang originally depicted the beautiful river scenery of Hunan province in southern China. A scholar-official Song Di (ca.1015-1080) of the Northern Song dynasty (960-1127) is recorded as the first to create a series of landscape painting on this subject. Immediately following Song's pictorial debut of the Eight Views of the Xiao and Xiang in the eleventh century, the subject became one of the most popular themes for both painting and poetry in China. This theme was transmitted to Korea by the twelfth century in Goryeo dynasty (918-1392). Then it became the most popular subject in both painting and poetry in the fifteenth and sixteenth centuries during the Joseon dynasty (1392-1912) in Korea. During the early Joseon dynasty, many Eight Views of the Xiao and Xiang paintings were produced, and quite a few of them are still extant: six complete sets of Eight Views are existing; others only have some scenes from the original set. Most of early Joseon Eight Views are in the format of hanging scroll, folding scroll, and albums where the eight scenes are depicted on individual panels. Interestingly, there are no examples of Eight Views paintings in a narrative format as a handscroll.
This album of Eight Views of the Xiao and Xiang (Sosangpalgyeongdo) was discovered and introduced to the public for the first time at an exhibition in 2008. It was newly remounted into its current album format as can be seen in the photograph (Fig. 1. Cover and label, left). Previously, it was mounted in a handscroll format with a different order of the eight scenes. When it was remounted to an album format, which is assumed to be the original format of the painting, the order of the scenes was fixed base on the number on the reverse side of each scene. The current restored order of the scenes is "Returning Sail from Distant Shore", "Fishing Village in Evening Glow", "Night Rain on the Xiao and Xiang", "Evening Bell from Mist-shrouded Temple", "Mountain Market, Clear with Rising Mist", "Wide Geese Descending to Sandbar", "Autumn Moon over Lake Dongting", and "River and Sky in Evening Snow".

Each scene has a poem on the upper side with two seals. The poetry is pentasyllabic quatrain in running script. The contents of the poems correspond well with each scene subject. The first seal stamped before the poem has four characters, of which the upper two characters are illegible while the bottom two characters are "chwian" literally meaning "drunken eyes." The seal following the end of the poem says, "Neungchang Gu Han (Fig. 2. Seal of Gu Han, right)" Based on the second seal, the poems on the painting are considered to be written by Gu Han (1524-1558), who was married to princess Sukjeong (1525-1564), a daughter of King Jungjong, and possessed the title of neungchangwi. He was known to be a member of the literati during the reigns of King Jungjong (r. 1506-1544) and Myongjong (r.1545-1567) and was good at writing poems and painting. Historical records about Gu Han are fragmentary, which may be due to his premature death in his thirties.
Among the scant records about his painting, one record is worthy of notice: "(He) reached marvelous skill of the painting." Because there is no extant work by him, we do not know anything about his painting style, but considering the fact that he was a member of the literati, he must have accepted the literati painting style of that time.
The overall mood of the Eight Views album is very evocative and sentimental. With amateurish and modest brushstrokes, the painter expresses the eight scenes like a sketch. Unlike other Eight Views paintings of the early Joseon period that expressed various typical icons in the eight scenes, this Eight Views Album only depicts minimal icons such as the moon, a boat, and some geese. Pictorial elements are uncomplicated, and negative space is more emphasized in the overall composition. Human beings appears in the scenes, but they are little and hardly noticed in the tranquil scenery. By allocating some space for the poem, the scene, poem, and calligraphy are harmonized in the overall composition. Literati taste prevail in the paintings, but the strong contrast in the use of ink tones and dramatic expression of the rainstorm shows that this painter was influenced by the Zhe school painting style like other contemporary Joseon painters.
No records on the painter remain, making the identity of the painter uncertain. The painter does not use skillful and professional brush strokes, leaving an impression of some literati taste. According to the previous owner in Japan, when the album was first found in Japan in the handscroll format, the cover of the handscroll had a paper label. According to this label, the scroll was attributed to Wen Zengming (1470-1559), a very famous literati painter of the Wu school in the Ming dynasty. Now, that old paper label is gone with a different cover, and a new paper label is attached as we can see in the photograph (fig. 1). It happened when the handscroll was remounted as an album format. It is assumed that this wrong attribution was done by a Japanese painter during the Edo period.
Sangnam Lee
Professor of Korean Painting History, Korea University
.1 Tochigi Kenritsu Bijutsukan. Cho¯sen O¯cho¯ no kaiga to Nihon: So¯tatsu, Taiga, Jakuchu¯ mo mananda ringoku no bi [Paintings of Korea's Joseon dynasty and Japan: the art of a neighboring kingdom that inspired Sotatsu, Taiga and Jakuchu Paintings of Korea's Joseon Dynasty and Japan], (Osaka: Yomiuri Shinbun O¯saka Honsha), 2008. Fig2.
.1 Ibid, p.226.
.1 Gu Han was married in 1534. By participating in the literati purge of 1545 (Eulsa Sahwa), he received the title of a meritorious subject (gongsin). In 1555, he served as a commissioner (jeso) at the Bureau of Palace Kitchen (Saongwon). He passed away in 1558 when he was only thirty five years old (Gukyeok Gukjoinmulgo [Translated Records of Study of Person] vol 6).
.1 Edited by Oh Sechang, translated by Hong Chanyu and Dongyang gojeon hakhui, Geunyeok seohwajing [Translated Biographical Evidence for Korean Calligraphers and Painters], (Seoul: Sigongsa), 1988, p.359.
Antiquities | April 25 at 2pm
The sale offers 79 works of art from across the Ancient Mediterranean. Highlights include a splendid assembly of Greek vases, featuring 30 from a Manhattan private collection. Other important antiquities from the Classical world are a Cypriot limestone head once in the collection of the Metropolitan Museum of Art, a superb Etruscan bronze youth previously owned by the sculptor Milton Elting Hebald, and a Roman marble portrait of "Pseudo-Seneca."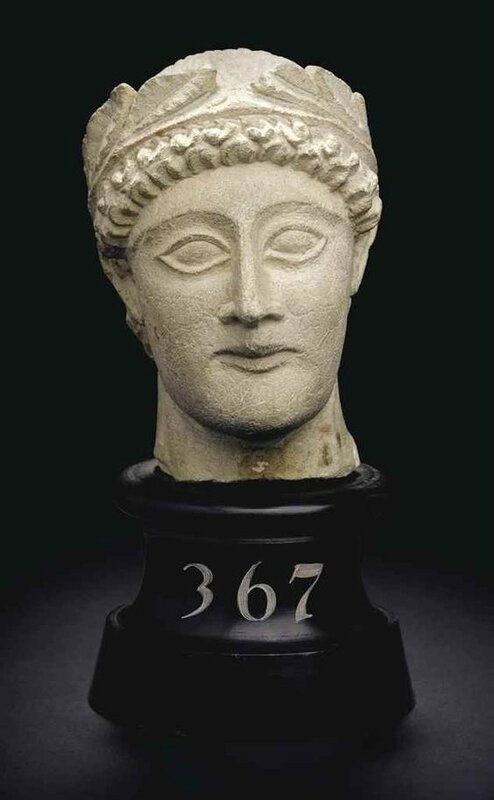 Lot 234. A Cypriot limestone head of a male votary, circa early to mid 5th century B.C., 3 ¾ in. (9.5 cm.) high. Estimate 10,000 - USD 15,000 © Christie's Images Limited 2017.
Provenance: Luigi Palma di Cesnola (1832-1904), first director of The Metropolitan Museum of Art, New York, 1868-1873.
The Metropolitan Museum of Art, New York, 1873-1928.
Cypriote & Classical Antiquities, Duplicates of the Cesnola & Other Collections, Sold by Order of the Trustees of The Metropolitan Museum of Art; The Anderson Galleries, New York, 31 March 1928, lot 719.
with Kouchakji Frères, New York, acquired from the above.
Art Market, London.
Art Market, Germany.
Acquired by the current owner from the above, 2015.
Note: The use of a foliate wreath around the head of male votary figures as seen here first appeared in Cypriot art in the second half of the sixth century B.C. and continued to be a dominant feature in Cypriot sculpture until the end of the Hellenistic period. A. Hermary and J. Mertens (p. 84, The Cesnola Collection of Cypriot Art) discuss how the appearance of the wreath at this time was both a "new way of expressing the piety of figures and their participation in cult activities" as well as "a reference to Aegean Greek models."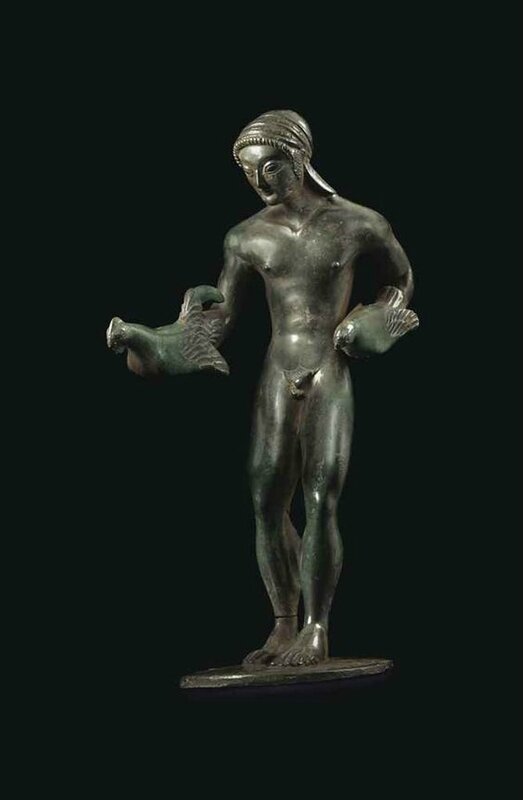 Lot 255. An Etruscan bronze nude male youth, circa mid 5th century B.C., 5 5/8 in. (14.3 cm.) high. Estimate 70,000 - USD 90,000 © Christie's Images Limited 2017.
Provenance: Milton Elting Hebald (1917-2015), New York, acquired in Rome in the 1950s or 1960s.
Acquired by the family of the current owner in 1996; thence by descent.
Note: This exceptional bronze figure of a youth possibly served either as a thymiaterion or candelabrum finial, or was positioned on the lid of a cinerary urn (for a related examples of each type see nos. 4.52a, 5.16 and 5.18 in R.D. de Puma, Etruscan Art in the Metropolitan Museum of Art). The incredible attention to the details of the hair, Ionianizing in style, indicates the strong East Greek influence which reached Etruria during this period, perhaps via the Phocaean colony of Massalia, modern Marseille.
The bird held in the youth's right hand is a cock, while it is less clear what kind is held in his left, perhaps a hen or a dove. The Etruscans offered cocks as votive gifts, as evinced by the bronze example found at Fonte Veneziana near Arezzo in 1869, now in Florence (M. Cristofani, I bronzi degli Etruschi, Novara, 1985, fig. 3.25). Etruscan bronze figures proffering a votive bird are extremely rare. For a later example of a boy holding a goose see no. 138 in S. Haynes, Etruscan Bronzes.
The American sculptor Milton Elton Hebald, who collected this piece in the middle of the last century, specialized in large-scale bronzes, and twenty-three of his works are displayed for the public in New York City, including the statues of Romeo and Juliet and The Tempest in Central Park in front of the Delacorte Theater.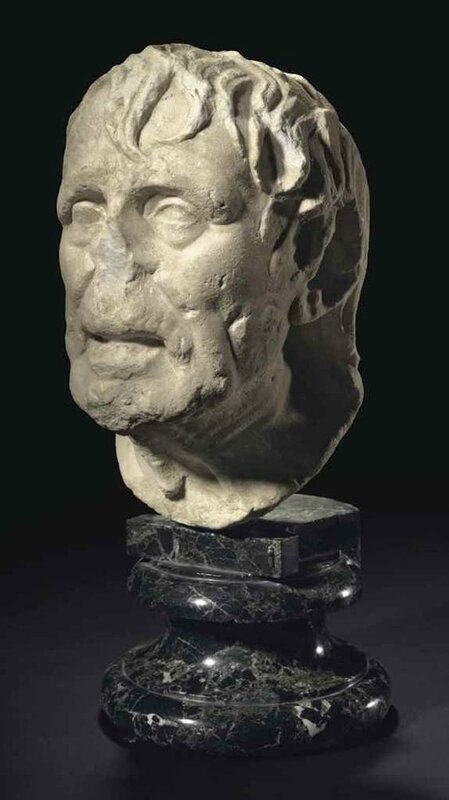 Lot 263. A Roman marble portrait of "Pseudo-Seneca", circa 1st-2nd century A.D., 11 5/8 in. (29.5 cm.) high. Estimate 60,000 - USD 90,000 © Christie's Images Limited 2017.
Provenance: Purportedly found in the Tiber River.
Julius von Eichel (1820-1905), Eisenach, Germany, acquired in Rome;
Thence gifted to his brother-in-law, Eugen Briegleb (1836-1896), Eisenach;
Thence given as a wedding gift to Konrad Briegleb (1872-1945), Gottingen, 1903-1945;
Thence by descent to his son Horst Briegleb (1904-1983), Gottingen, inherited in 1945;
Thence by descent to the current owner.
Literature: Alter in der Antike: Die Blüte des Alters aber ist die Weisheit, Rheinisches Landes Museum, Bonn, 2009, pp. 56-60, no. 19.
A. Gutsfeld and W. Schmitz, Altersbilder in der Antike, Bonn, 2009, front cover, pp. 17 and 81.
Exhibited: Bonn, Akademisches Kunstmuseum, University of Bonn, 2001-2009, 2009-2012 and 2013-2017.
Bonn, Rheinisches Landesmuseum Bonn, Alter in der Antike, 25 February-7 June 2009.
Wuppertal, Von der Heydt Museum, Rubens, Triumph, Krieg-Politik-Malerei, 17 September 2012- 20 March 2013.
Old Masters | April 27 at 10am
This sale of important Old Masters is led by a group of 16th- to 18th-century pictures from the collection of Chauncey Stillman; a masterpiece attributed to Hugo van der Goes that has been hanging in the Metropolitan Museum for decades; as well as outstanding Italian, French and Flemish examples from other private collections. Highlights include Nicolas Lancret's monumental Autumn from the Stillman collection; Govaert Flinck's An old man at a casement formerly in the collection of Catherine the Great; and important rediscoveries by the Le Nain brothers, Titian, Murillo, Watteau, and Sir Anthony van Dyck. Also included are an important Limoges enamel by the master Pierre Reymond and a rare early German tapestry.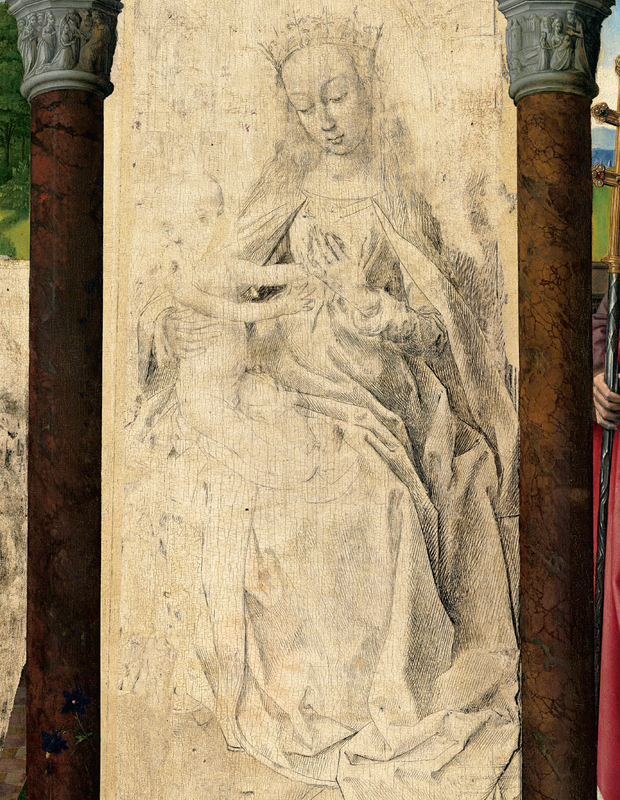 Lot 8 Attributed to Hugo van der Goes (Ghent c. 1440-1482 Rode Klooster, near Brussels), The Virgin and Child with Saints Thomas, John the Baptist, Jerome and Louis, oil on panel, 43 5/8 x 49 ¼ in. (110.8 x 125.2 cm.). Estimate 3,000,000 - USD 5,000,000 © Christie's Images Limited 2017.
Provenance: with William Sykes (c. 1659-1724), London, where acquired before 1724 for £200 by
Henrietta Louisa Fermor, Countess of Pomfret (d. 1761), Easton Neston, Northamptonshire, and by inheritance to her husband
Thomas Fermor, 2nd Baron Leominster, First Earl of Pomfret (1698-1753), Easton Neston, Northamptonshire; his sale (†), 1753, day 2, lot 53 (80 gns. to Horace Walpole).[1]
Horace Walpole, 4th Earl of Orford (1717-1797), Strawberry Hill, and by descent; his sale, George Robins, Strawberry Hill, 18 May 1842, lot 52 (170 gns. to Beven, for John Dent).
John Dent, Sudeley Castle, Gloucestershire, and by descent in the family until 1977.
with Edward Speelman Ltd, London, from whom acquired by the present owner in 1986.
Property of a Distinguished American Private Collector
Literature: H. Walpole, Anecdotes of Painting in England; With some Account of the principal Artists; And incidental Notes on other Arts; Collected by the late Mr. George Vertue; And now digested and published from his original MSS, By Mr. Horace Walpole, London, 1762, I (1st ed.), pp. 51-54.
H. Walpole, Anecdotes of Painting in England; With some Account of the principal Artists; And incidental Notes on other Arts; Collected by the late Mr. George Vertue; And now digested and published from his original MSS, By Mr. Horace Walpole, London, 1782, I, (3rd ed.), pp. 85-87.
H. Walpole, Anecdotes of Painting in England; Collected by the late Mr. George Vertue, London, 1828, I, pp. 93-95.
H. Walpole, Anecdotes of Painting in England; With some Account of the principal Artists, London, 1876, I, pp. 54-55.
C. Phillips, "La 'Tudor Exhibition' à la New Gallery: Exposition des maîtres anciens à la Royal Academy", Gazette des Beaux-Arts 32/3 (1890), p. 252, as Mabuse/Jan Gossart.
W.S. Lewis (ed.), The Yale edition of Horace Walpole's correspondence. Vol. 40: Horace Walpole's miscellaneous correspondence, New Haven, 1980, pp. 215-216, 219, 222.
C. Grimm, "A Rediscovered Work by Hugo van der Goes", Journal of the Walters Art Gallery, XLVI, 1988, pp. 77-91, as Hugo van der Goes?.
J. Sander, Hugo van der Goes: Stilentwicklung und Chronologie, Mainz, 1992, p. 28-29 note 69.
L. Campbell, "Review of Jochen Sander, Hugo van der Goes: Stilentwicklung und Chronologie, Mainz 1992", Simiolus XXII/1-2, 1993-94, p. 98.
D. de Vos, Hans Memling. Het volledige œuvre, Antwerp, 1994, pp. 397-398, 401 note 19, fig. 188, as Hugo van der Goes.
M.W. Ainsworth, "Workshop Practice in Early Netherlandish Painting: An Inside View", in M.W. Ainsworth and K. Christiansen, eds., From Van Eyck to Bruegel. Early Netherlandish Painting in the Metropolitan Museum of Art, exhibition catalogue, Metropolitan Museum of Art, New York, 1998, pp. 208, 210, fig. 79a-b.
E. Dhanens, Hugo van der Goes, Antwerp 1998, pp. 172, 175, ill, as Unknown Ghent painter.
M. Faries, "Reshaping the Field: The Contribution of Technical Studies", in M.W. Ainsworth, ed., Early Netherlandish Painting at the Crossroads. A Critical Look at Current Methodologies, New York 2001, pp. 74, 75, pl. 7, as Unknown Ghent painter.
M.W. Ainsworth, "Review: Early Netherlandish Drawings from Jan van Eyck to Hieronymus Bosch", Master Drawings XLI/3, 2003, pp. 312-313, fig. 7, as Ghent Master, Circle of Hugo van der Goes.
Exhibited: London, The New Gallery, Exhibition of the Royal House of Tudor, 1890, p. 5, no. 12 (as Jan de Mabuse)
New York, Metropolitan Museum of Art, on loan, 1998-2017, as 'Netherlandish (Ghent) Painter'.
Note: Among the most important 15th-century Flemish paintings remaining in private hands, this altarpiece has been a highlight of the Metropolitan Museum of Art's painting galleries since 1998. In its current state, it reveals one of only a few surviving Renaissance preparatory underdrawings visible to the naked eye. In the following pages, Peter van den Brink presents a compelling argument that the altarpiece is by the great Netherlandish painter, Hugo van der Goes, an attribution first proposed by Claus Grimm. Van den Brink opens by positioning the composition in its historical context, tracing its roots to the innovations of Jan van Eyck and Rogier van der Weyden and exploring its relationship to the work of Hugo van der Goes' contemporaries in Bruges such as Hans Memling. He next reviews the painting's provenance, going back to the early 18thcentury, when the Virgin and Child in the center of the composition were carefully stripped away and repainted with an architectural view of a church interior. At that time, the altarpiece's four saints were modified to become participants in a new scene representing the Marriage of Henry VII and Elizabeth of York (the figure of John the Baptist was also stripped away). Effectively disguised in this manner, the painting passed through several distinguished collections, including that of the famous writer and connoisseur, Horace Walpole, at Strawberry Hill, England. These alterations were removed when the altarpiece was conserved between 1977 and 1987, thereby revealing the artist's original composition.
Van den Brink next analyzes several paintings and drawings that other scholars have used to suggest alternative attributions for our altarpiece. He demonstrates that the overall handling of the painting and underdrawing is stylistically distinct from that of a Crucifixion in a Spanish private collection, which is by a follower of Hugo van der Goes, although an alternative attribution to Justus of Ghent has also been suggested. Comparison of the altarpiece with the work of Jean Hey, particularly the early Nativity with Cardinal Rolin in Autun, also reveals that our painting is by a more accomplished hand. The underdrawing of the altarpiece is likewise shown to be more sophisticated than the more mechanical hatching system used in a drawing of the Virgin in Dresden, again attributed to a follower of Hugo van der Goes. Van den Brink dates our picture to the first half of the 1470s, comparing it to Hugo van der Goes' Adoration of the Magi (the Monforte Altarpiece) in Berlin and to some of his unquestioned drawings. He concludes his discussion by revealing how several aspects of the painted surface, such as the modeling of the faces, the anatomical treatment of the legs and feet, the handling of the drapery, and the use of color and light, are especially close to Hugo's Portinari Altarpiece in Florence, thus cementing his attribution.
This painting is remarkable, for more reasons than one. What catches the eye immediately is the absence of paint in two parts of the composition. The central area confronts us with a drawing of the seated Virgin and Child on a throne in a church interior. On her right hand side another figure is partly painted; only his bare legs and the lower part of his cloak are left in paint. The rest of the painted figure, as with the Virgin and Child, was apparently scratched away, leaving only parts of the underdrawing visible. Unlike the Virgin and, to a somewhat lesser extent, the Christ Child, the face of this figure cannot be determined at all; hardly any underdrawing remains. Nevertheless it is very likely that the painter had presented John the Baptist here, probably holding a book. The rest of the composition was left mercifully intact and it represents a so-called Sacra Conversazione, a composition type that was especially popular in Italian painting of the Quattrocento and Cinquecento, but is known in northern painting, too, especially with Van der Goes' contemporary colleague Hans Memling and with Gerard David, a generation later. As we know, the most famous predecessor in the Netherlands is Jan van Eyck's Virgin and Child with the Canon Van der Paele in Bruges.[2] As Claus Grimm quite correctly states, both central thrones are placed upon a low stone base, but there is another important link between the two paintings. The play of hands by Mother and Son is intriguingly comparable. In Van Eyck's masterpiece the Christ Child has just grabbed a small bouquet of flowers from his mother's fingers, whereas his other hand supports a green parrot on the Virgin's lap (fig. 1). What exactly takes place in our Sacra Conversazione is less clear-cut (fig. 2). Based on the position of her left thumb and index finger the Virgin Mary seems to hold a single flower or a small bouquet as does Van Eyck's Virgin, whereas the hands of the young Child enthusiastically reach for this treasure in His mother's hand.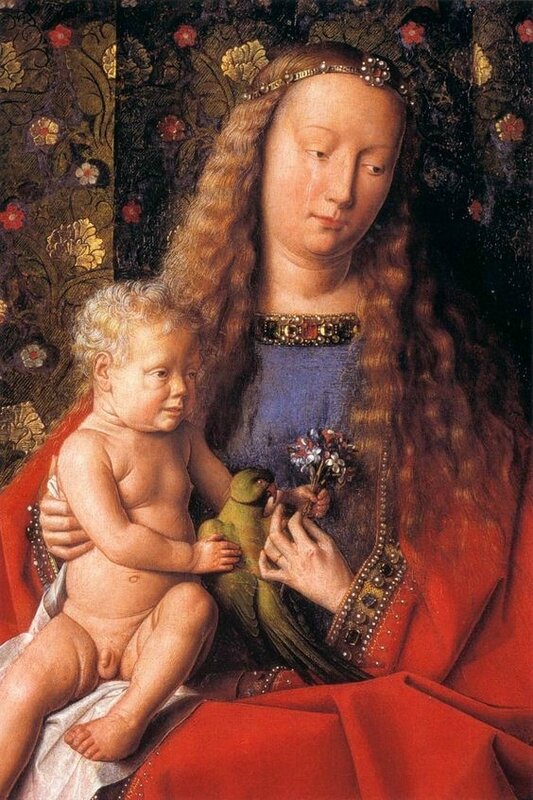 Fig. 1 Jan van Eyck, Madonna of Canon van der Paele (detail), Groeningemuseum, Bruges / ART Collection / Alamy Stock Photo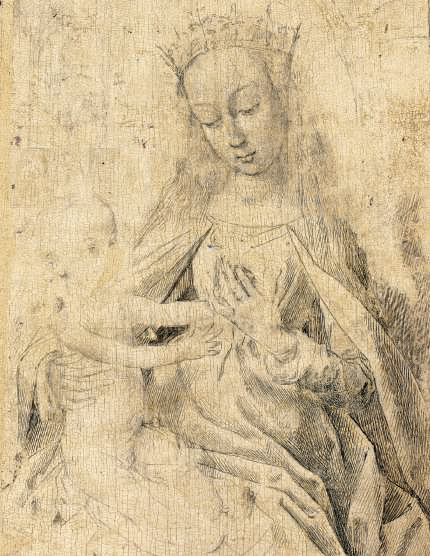 Fig. 2 The present lot (detail)
Another important model is Rogier van der Weyden's so-called Medici-Madonna in the Frankfurt Städel Museum, where the semi-circular arrangement of the four saints must have held a strong appeal for the painter of our Sacra Conversazione (fig. 3).[3] However, the closest parallels are to be found in the oeuvre of Hans Memling, and these are most certainly contemporary in time, such as the Altarpiece of the two Saint Johns in Bruges.[4] As in our painting, the four saints surrounding the Virgin enthroned - apart from the two protagonists, these are St. Catherine and St. Barbara - are placed in a loggia with a view to the outside world, a construction that was repeated by Memling in the slightly later Triptych of John Donne in London.[5]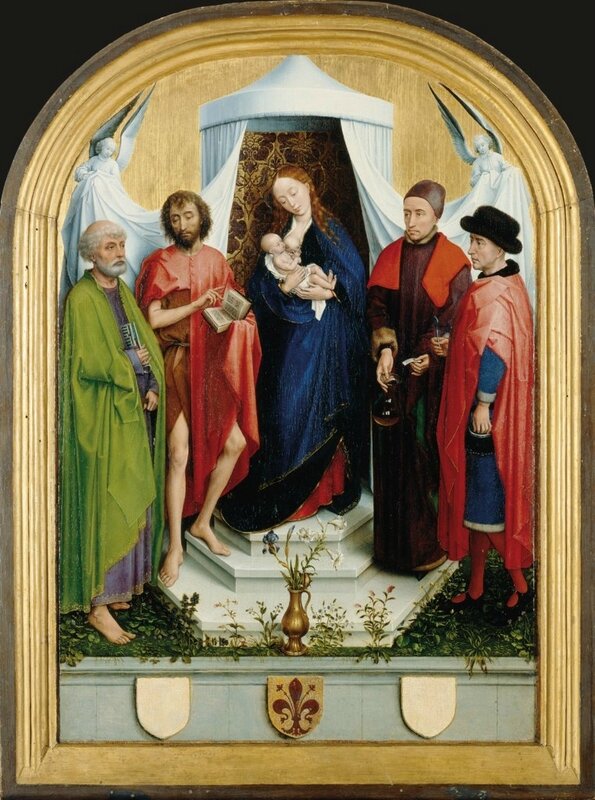 Fig. 3 Rogier van der Weyden, Medici Madonna, Städel, Frankfurt am Main / Peter Horree / Alamy Stock Photo
Apart from the scratched out John the Baptist, the other saints represented in the present altarpiece are - at left - Saint Thomas, dressed in startling green and purple and holding his attribute, a spear. At right we can make out Saint Jerome, identifiable by his cardinal's robe and hat as well as the lion. Finally, to the far right, Saint Louis is painted, easily identifiable from the fleurs-de-lis pattern on both his crown and robe. These four saints are placed around the Virgin's throne, standing on a tiled floor in an open loggia, giving way to a dream-like landscape with trees and hills, beautifully lit. They are separated from the seated Virgin and Child by two columns, while the Virgin's throne is placed on a carpet on a slightly higher platform. Moreover, the Virgin and Child are placed in an altogether different reality. Unlike the standing saints in their loggia, the divine Mother and Child are presented in a gothic church, a construction that is unique in the history of early Netherlandish painting. In Memling's Altarpiece of Jacob Floreins in the Louvre from c. 1490, all figures are united before the church interior.[6]
The Virgin Mary of the present altarpiece is wearing a crown that identifies her as the Queen of Heaven, whereas her position on a throne before a church interior - the Temple of God - points towards her position as the Mother of God. The glass vase with Columbines - the area is abraded, partly compromised by restoration - refers to Mary's Virginity and the presence of the Holy Ghost. The two capitals on the Virgin's left and right illustrate Esther before Ahasuerus and the Finding of Moses; Esther symbolizes God's grace towards the Virgin, whereas Moses as God's chosen one is the precursor of Christ. It is fascinating, as Claus Grimm already stated, that all four saints carry a book in their hands [7] - even John the Baptist, in a similar way as in Rogier's Medici Madonna (fig. 3) - marking them as witnesses to a religious event, deeply contemplating the birth of Christianity and the word of God.
The Virgin and Child with Saints Thomas, John the Baptist, Jerome and Louis has had a remarkable history as already can be judged from its present appearance. Before 1977, when the long process of cleaning and restoration by David Bull started, the painting looked wholly different (fig. 4). When the picture was acquired by the London based art dealer Edward Speelman the year before, its curious composition represented The Marriage of Henry VII with Elizabeth of York. The Virgin and Child were covered by a perspective view of a Gothic church, Saint John the Baptist had been transformed into Elisabeth of York, whereas both St. Jerome and St. Louis were adapted to play their new roles as the Archbishop of Canterbury and Lord Chancellor, Cardinal Thomas Bourchier, and King Henry VII. Nevertheless, over the course of the eighteenth- and nineteenth century, the identification of the subject matter was much debated, and so were the attribution and the odd stylistic disparities. Between 1842 and 1977 the painting remained at Sudeley Castle in Gloucestershire, in the collection of John Dent and his heirs. During that long period of ownership the painting was displayed only once at a public exhibition, in 1890, in the New Gallery in London.[8] The exhibition was entitled The Royal House of Tudor and the picture's formal identification was the reason for its presence in that show.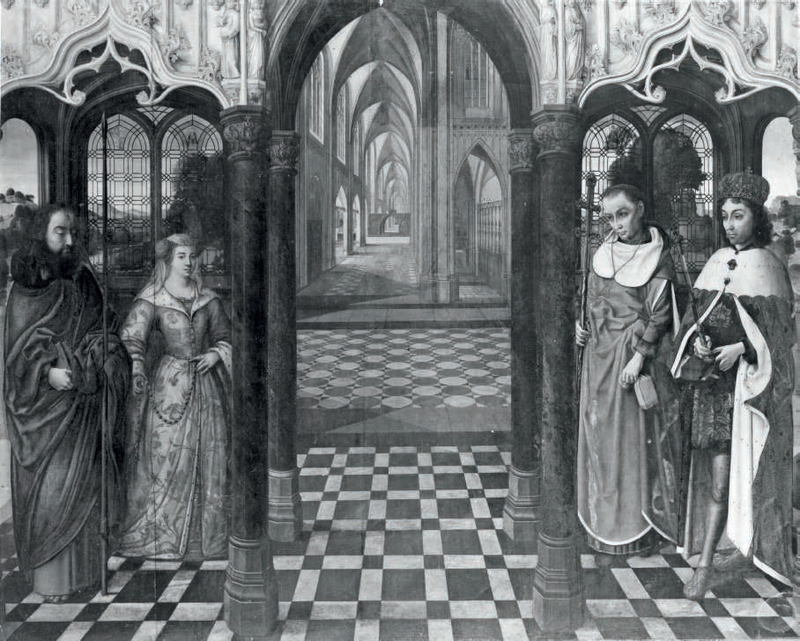 Fig. 4 Pre-1977 condition of the present lot (The Marriage of Henry VII and Elizabeth of York)
The catalogue entry is extremely informative on the provenance history of the picture, at the time attributed to Jan de Mabuse (Jan Gossart), quoting Horace Walpole (1717 - 1797) from the first volume of his 1762 Anecdotes of Painting in England (see Literature). Indeed, Walpole owned the picture and had it displayed in his collection at Strawberry Hill in Twickenham, until 1842, when it was sold with the rest of the collection. Walpole was extremely proud of the painting, calling it "[...] a celebrated picture in my possession" and stating that "the Earl of Oxford once offered £ 500 for it".[9] In addition Walpole noted that the picture was owned previously by Henrietta Louisa, Countess of Pomfret († 1761), acquired for £ 200 and "hung for some years at their seat at Easton Neston in Northamptonshire, whence it was sold after the late Earl's death".[10] As is known from Walpole's published correspondence, he was well acquainted with the collection of Thomas Fermor, the 1st Earl (1698 - 1753) and the Countess of Pomfret and he must have seen the painting during one of his visits to Easton Neston.[11] In effect, Walpole acquired the painting at the estate sale of Lord Pomfret, in 1754. The picture was offered on the second day of the auction, as lot 53, curiously attributed to Zucchero [12], as The Union of the Houses of York and Lancaster. Walpole bought it for £ 88.4.0.[13] At the immense Strawberry Hill sale in 1842 the painting fetched a much higher price. On the 21st day of the sale it was bought by Bevan, a dealer, for John Dent, for £ 178.10.0.

However, the 1890 catalogue entry does not mention how the painting became the topic of an agitated discussion between Horace Walpole and Andrew Coltée Ducarel in three letters, written on February 23, 24 and 27, 1762, shortly after the publication of Walpole's first volume of Anecdotes of Painting in England, in which, as stated before, the painting was referred to in detail.[14] The content of these letters is of the utmost importance for the history of the painting in its disguised, overpainted condition, because for the first time doubts were being expressed on its visual integrity.
Ducarel (1713 - 1785) was born in Paris from Huguenot parents from Normandy and was trained as a "civilian", a lawyer practicing civil law, but he was more interested in books and antiquities. Ducarel was regarded as a parvenu by some, including Horace Walpole, who held a very low opinion on him. Nevertheless Walpole had sent the first volume of theAnecdotes of Painting in England as a gift to Ducarel, who showed his gratitude for it in the opening sentence of his first letter, although he makes clear that he had prepared two papers, one of them containing some critical remarks concerning Walpole's important publication. One remark concerns the painting with the Marriage of Henry VII and Elizabeth of York. Ducarel calls the remark an anecdote himself, communicated to him by George Vertue on January 28, 1754. Vertue (1684 - 1756) was an English antiquary and he was famous as an engraver, who received many commissions from noble families. In addition, he was a connoisseur and member of the famous Rose and Crown Club. Walpole acquired Vertue's notebooks after the latter had passed away and these notebooks were the proper foundation for Walpole's Anecdotes of Painting in England.

As is clear from Walpole's published correspondence, he and George Vertue corresponded very often and did not always share the same opinions. In fact, Vertue's posthumous 'anecdote' on Walpole's picture was nothing less than a devastating blow to the painting's quality and integrity: "That Lord Pomfret bought this picture of one Old Sykes above 30 years ago, which Sykes dealt in pictures and was a noted tricker-that he (Sykes) gave it that name, well knowing how to give names to pictures to make them sell [...] that upon the strictest examination Vertue could never be convinced that the man was Henry VII, the face not appearing to him like any of the pictures he had seen of that king-that as to the woman, she had pomegranates upon her clothes, which certainly did not belong to her-that the church in which they are married, as represented in the picture, did not appear to be any English church, and that, upon the whole, it was suspected, at the time that Lord Pomfret bought it, that Old Sykes, who was a rogue, had caused the figures and representation of the marriage, to be added to the representation of the inside of a church, Old Sykes having before been guilty of many pranks of that sort."

Walpole reacted as if he was bitten by a snake: "I am much amazed at Vertue's blunders about my marriage of Henry VII. His account is a heap of ridiculous contradictions. He said,Sykes knowing how to give names to pictures to make them sell,called this the marriage of Henry VII and afterwards, he said, Sykes had the figures inserted in an old picture of a church. He must have known little indeed, Sir, if he had not known how to name a picture that he had painted on purpose that he might call it so! That Vertue on the strictest examination could not be convinced that the man was Henry VII not being like any of his pictures. Unluckily he is extremely like the shilling, which is much more authentic than any picture of Henry VII-but here Sykes seems to have been extremely deficient in his tricks: did he order the figure to be painted like Henry VII and yet could not get it painted like him, which was the easiest part of the task? Yet how came he to get the Queen painted like, whose representations are much scarcer than those of her husband? And how came Sykes to have pomegranates painted on her robe, only to puzzle the cause? It is not worth adding, that I should much sooner believe the church was painted to the figures than the figures to the church. They are hard and antique; the church in a better style, and at least more fresh. If Vertue had made no better criticisms than these, I would never have taken so much trouble with his MSS. Adieu! Sir."

Suffice to say that poor Ducarel, being only the messenger of bad tidings, made clear in his reply of 27 February 1762 that he wholeheartedly agreed with Walpole's view of the matter: "to the remarks contained in my last, if any of them have given you the least uneasiness, I am very sorry for it-Vertue's note about your picture of Henry VII I sent you just as Vertue gave it to me-for I was so far from laying any stress upon it, and from believing it not to be Henry VII's marriage that I went twice to Easton on purpose to see that picture, and was long since convinced that it is not only what you say, but likewise one of the finest English historical picture[s] I ever yet beheld."

Vertue's posthumous critical remark and Walpole's fascinating reaction on it provides us with a lot of new information of great importance. First and foremost, both Vertue and Walpole felt that the picture was not the result of a single creative process. Whereas Vertue thought that the figures were added to the church interior, Walpole on the contrary expressed his feeling that the gothic interior was of a younger date. Now we know that both men were right (and wrong). The second bit of information Vertue brought into play, apparently did not surprise Walpole in the least. His overly angry reaction shows that he was well aware of the doubtful role William Sykes had played in the process, but decided not to mention him in the heroic tale of his picture in the first volume of his Anecdotes of Painting in England, hence his ridicule with regard to Sykes in his letter to Ducarel.

Following Ducarel's message of Vertue's 'anecdote', the Earl and Countess of Pomfret acquired the painting directly from the painter and art dealer William Sykes (c. 1659 - 1724)[15] and therefore must have kept the picture in their possession for at least thirty years. Sykes may have had a doubtful reputation, as Vertue claims, since he was known to have committed comparable treacheries and dealt in forgeries. Vertue most certainly had personal knowledge of William Sykes' activities as a painter and a dealer, since they both held a membership of the Virtuosi of Saint Luke, a rather distinguished society of gentlemen, artists and art lovers.[16] In addition, Sykes was known as a portrait painter; a (posthumous) portrait of Mary, Queen of Scots, in Kedleston Hall, Derbyshire shows his abilities in that field.[17] That painting is a copy after the original portrait, by Federigo Zuccari, now in the collection of the Duke of Devonshire.[18] When the painted portrait is compared to the painted figure of Elizabeth of York (fig. 4), it seems highly likely that Sykes was indeed responsible for adding that figure in the painting and for adding the gothic church interior in the center of the composition, no doubt based on seventeenth-century Flemish examples, such as those from Pieter Neeffs or Hendrick van Steenwijck.[19] Moreover, the lead structure of the windows that he had painted over the landscape behind Elizabeth of York on the left and behind the transformed Saint Jerome on the right are almost identical to the pattern seen in his portrait in Kedleston Hall, and is directly based on the model of Zuccari.
In the only critical publication on the painting during its disguise as the Marriage of Henry VII with Elizabeth of York - the review of the 1890 exhibition in the Gazette des Beaux-Arts (see bibliography) - Claude Phillips criticizes the central part of the picture as " [...] une perspective d'église nue et froide, comme en peignaient les Steenwyck et les Saanredam, page curieuse dont le ton blafard et l'exécution sèche jurent cependant avec le coloris puissant et magnifique de l'oeuvre primitive". Moreover, Philips had discovered something else; he was able to make out the appearance of the Virgin and Child underneath this church interior: "Au milieu, se voyait, sans aucun doute, le groupe traditionnel la Vierge avec l'enfant".[20] It would last almost a full century, before the picture became the subject of serious research and by then its outlook had changed dramatically.
Shortly after he had acquired the painting, Edward Speelman asked David Bull to take up the task of removing all the overpaint and to restore the picture.[21] In the first stage of the process, in 1977-78, Bull removed a later board that had been added by William Sykes in the central portion of the picture and rejoined the original panel. In addition, he removed huge areas of overpaint with a scalpel under a microscope, revealing a completely different composition underneath the eighteenth-century overpaint.[22] Only the faces of Saints Thomas, Jerome and Louis, their hands and attributes, as well as the red and white cloak of Saint Jerome, the beautifully painted Gothic decoration on the upper left and right and large parts of the landscape had remained untouched by William Sykes.
Only several years later, shortly after David Bull stepped down as director of the Norton Simon Museum in Pasadena in 1981, he finished retouching the painting, leaving the unpainted parts of the picture untouched, along with the green cloak of Saint Thomas that apparently had suffered from the wrong use of solvents, as was stated by Claus Grimm in 1988.[23] After he had finished retouching, the picture returned to London, where it was bought by the present owner in April 1986. The last stage of the restoration project took place in 1986-1987 and included, among other things, the removal of the overpaint on the cloak and the crown of Saint Louis, since these were still there when the picture was acquired in 1986, as can be judged from the only known color image from the pre-1986 condition (fig. 5).[24]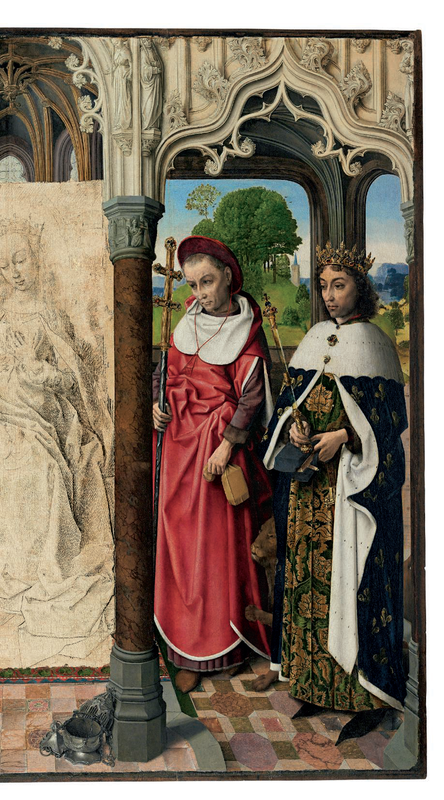 Fig. 5 Detail of the present lot, before 1986 (Saint Jerome and Saint Louis)
Two years later, in 1988, Claus Grimm was the first to publish the altarpiece in full. Grimm stated that the painting should be regarded as a work by Hugo van der Goes, placing it shortly after his earliest paintings, such as the Virgin and Child in Frankfurt, the Fall of Man in Vienna (fig. 6) and the Virgin and Child with Saint Anne in Brussels (fig. 7), but before theMonforte Altarpiece in Berlin (fig. 8). A date around 1470, as suggested by Claus Grimm, does accord with the dendrochronological analysis that was carried out by Peter Klein, establishing a terminus post quem of 1466.[25] Grimm's attribution was criticized by Jochen Sander in his 1992 monograph on Hugo van der Goes. Although Sander stated that the painting must have been made shortly after 1475, he argued that it could not be attributed to the master himself, but that it must have been painted by Jean Hey, the Master of Moulins, who must have been active in Hugo van der Goes' workshop during the second half of the 1470s. However, Sander's case for Jean Hey was severely criticized by Lorne Campbell in 1994: "Though Sander has the reputation of being a reliable connoisseur, his assertion that a Virgin and Child with saints, published in 1988 by Claus Grimm as the work of Hugo, is an early work by the Master of Moulins undermines faith in his judgment. This interesting picture, partially stripped to its underdrawing by an early eighteenth-century dealer, may be related not to Hugo or to the Master of Moulins but to aCrucifixion with saints and donors which is in a Spanish collection and which has been attributed to Justus of Ghent or, more plausibly, to a gifted follower of van der Goes."[26] Dirk de Vos re-attributed the present altarpiece to Hugo van der Goes, but contrary to Claus Grimm, regarded the painting as a late work, in which he firmly recognized influences from Hans Memling.[27] Neither Elizabeth Dhaenens nor Molly Faries would discuss the matter of attribution and Maryan Ainsworth, in her publications of 1998 and 2003, avoided the subject of attribution as well, although in her 2003 review of the exhibition of Early Netherlandish drawings in the Rubenshuis in Antwerp, she called the painter "a close follower of Van der Goes". More recently, however, Maryan Ainsworth spoke out more clearly on the topic of attribution in a lecture at Symposium XIX for the Study of Underdrawing and Technology in Painting, in Bruges, 11-13 September 2014, giving the painting to a close follower of Hugo van der Goes. Although the lecture was transformed into an article, it has not yet been published.[28]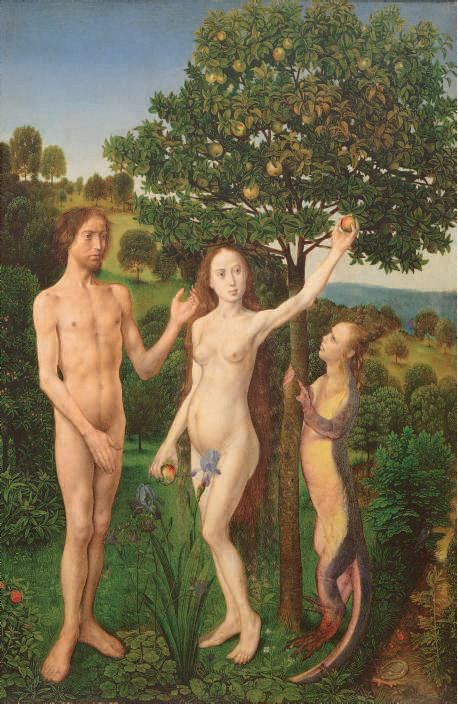 Fig. 6 Hugo van der Goes, The Fall of Man, after 1479, Kunsthistorisches Museum, Vienna / Bridgeman Images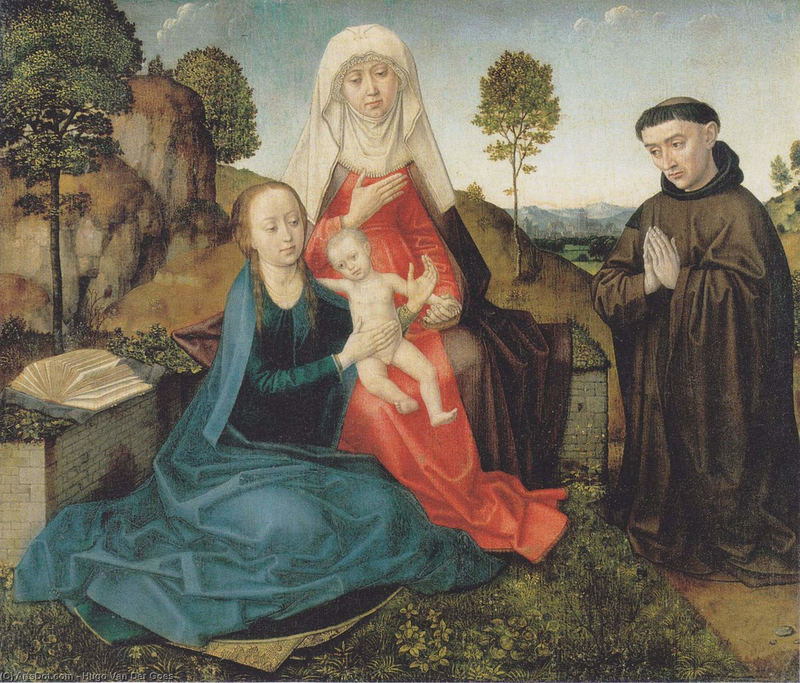 Fig. 7 Hugo van der Goes, Virgin and Child with Saint Anne and a Franciscan donor, late 15th century, Musées royaux des Beaux-Arts de Belgique, Brussels Pictures from History / Bridgeman Images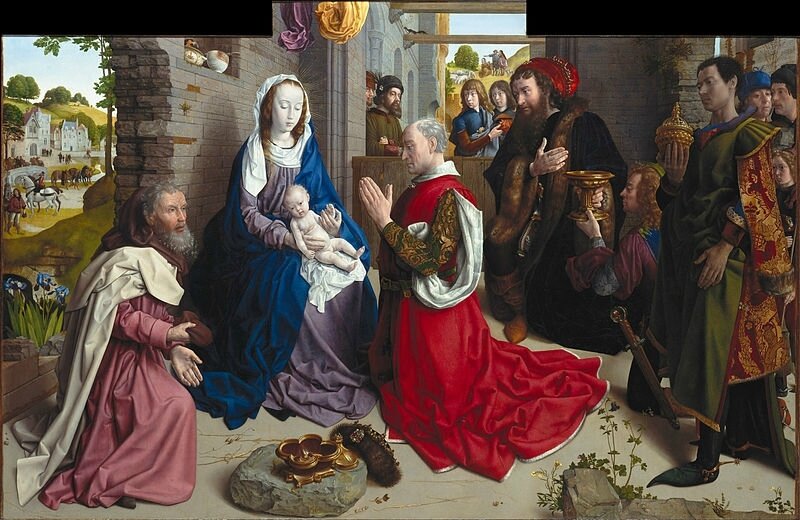 Fig 8 Hugo van der Goes, Adoration of the Magi (Monforte Altarpiece), Gemäldegalerie, Staatliche Museen zu Berlin
Although the present altarpiece has been on the wall of the Metropolitan Museum of Art since 1998 and the underdrawing of the Virgin and Child as well as Saint John the Baptist has been accessible to every visitor and scholar interested in that topic, it was only recently examined and documented with the aid of infrared reflectography (fig. 9).[29] The visible underdrawing of the Virgin and Child and Saint John the Baptist is equaled by the rest of the underdrawing. Indeed, it is a very detailed and worked-up underdrawing in pen and brush that is followed in general in the covering paint layers, indicating that the painter did not depart from the original lay-out of the composition, at least in those areas that are covered with their original paint layers. Certainly, there are various details that have ultimately been executed differently than in the first set-up. The feet of Saint Thomas and John the Baptist were somewhat smaller at first; in the final paint stage they were elongated and enlarged, whereas one of the poulaines of Saint Louis was repositioned, as can be seen in the IRR mosaic (figs. 10-11). The position of Saint Jerome's adorable lion was shifted as well, whereas the incense burner in the foreground was somewhat smaller in the first lay-out, and positioned differently. The same is true for the flower vase on the left foreground, but this area, as can be judged from both the IRR mosaic and the X-radiograph, is partly compromised and is in part the result of David Bull's reconstruction. This extremely detailed, refined and very skilled drawing seems to imply the use of a model, probably a model drawing, perhaps even a presentation drawing. The underdrawing of the landscape, however, shows a much freer set-up.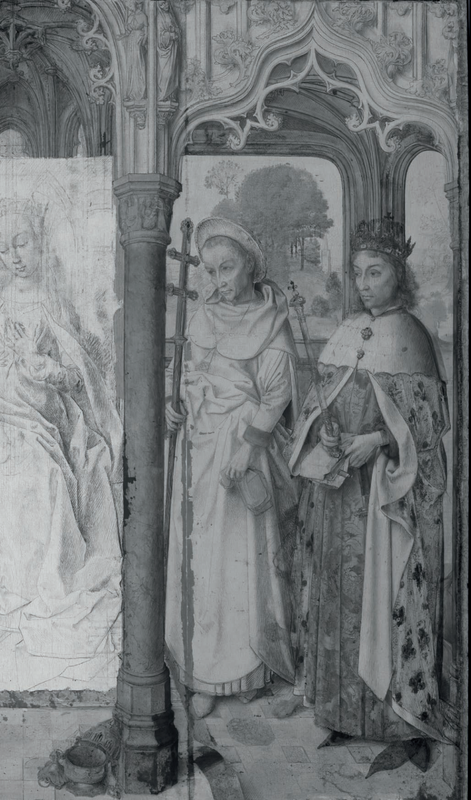 Fig. 9 Infrared refectogram mosaic of the present lot, courtesy of the Department of Paintings Conservation, The Metropolitan Museum of Art, 2014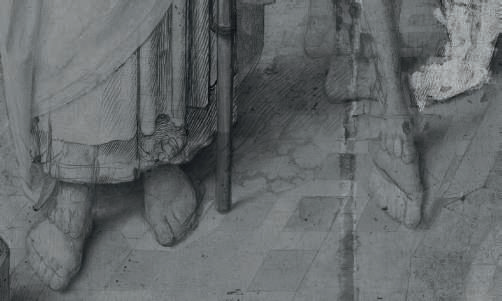 Fig. 10 Detail: the feet of Saints Thomas and John the Baptist. Infrared refectogram mosaic of the present lot courtesy of the Department of Paintings Conservation, The Metropolitan Museum of Art, 2014
Fig. 11 Detail: the poulaines of Saint Louis. Infrared refectogram mosaic of the present lot, courtesy of the Department of Paintings Conservation, The Metropolitan Museum of Art, 2014
A comparable setup can be witnessed in the Crucifixion, now in a private collection in Spain.[30] As stated before, Lorne Campbell observed a close resemblance between this painting and the present altarpiece. On the surface there are certainly similarities, such as the facial types of Saint James or the Magdalen, which do coincide with those of Saint Thomas and the Virgin in the present altarpiece. However, the execution of the painting in Spain is quite distinct from our altarpiece, not only in the subtlety of the faces, but in the brocades and decorative elements as well, such as the cross of Saint Jerome. The underdrawing of the Crucifixion is at first glance very similar to that of the present altarpiece.[31] A very detailed lay-out with carefully placed parallel- and cross-hatchings, combined with a very free underdrawing of the landscape, follows a similar path. Like the execution in paint, however, a comparison of the drawing of the Virgin's face in the present altarpiece and the underdrawn face of Saint Catherine in theCrucifixion, or any other of the faces for that matter reveals such a difference in style that it is impossible to view the Crucifixionas a youthful work of the same artist; it can only be regarded as the work of a different, yet still very talented painter. However, because of the superficial affinities with the present altarpiece, both in facial types, color of the palette and underdrawing method, I would regard the painter of the Crucifixion as a follower of the other, more accomplished artist.
Jean Hey, or the Master of Moulins, as Lorne Campbell pointed out, cannot be the painter of the present altarpiece. The earliest known painting by Jean Hey, the Nativity with Cardinal Rolinfrom c. 1475-80 in the Musée Rolin in Autun (fig. 12), diverges from the present altarpiece in its overall cool tonality, especially in the typical pale, almost wax-like, flesh colors. The brightly lit landscape of the Autun painting is reminiscent of both the present work and the Berlin Monforte Altarpiece, though. The underdrawing of this early work by Jean Hey, however, published recently by Martha Wolff [32], is characterized by carefully rendered strokes of parallel- and cross- hatching, done with the brush, applied with a lot of variation, to indicate folds or shadows. As Wolff states: "For this range of strokes and emphasis on light and shade, Hugo van der Goes' early underdrawing process as discernible in the Monforte Altarpiece may have provided a model."[33] This may be so, but the hatching system in the underdrawing underneath the figures of the Berlin Adoration of the Magi is much more powerful and complicated than that of the young Jean Hey, with hatching strokes, going in every possible direction, as can be seen in the underdrawing of Joseph's cloak, for example (fig. 13). The underdrawing of the present altarpiece, too, is not dissimilar to that of the Autun painting, especially in the softly applied, refined hatchings in the faces of the figures, or the great variety of hatching strokes to define light and shade in the clothing. They differ, however, as well. The hatching system in the underdrawing of the present altarpiece, as in the underdrawing of the Adoration of the Magi in Berlin, is much more complicated and developed, with an emphasis on islands of parallel hatching going in every possible direction, molding the various drapery folds and thereby creating a greater plasticity.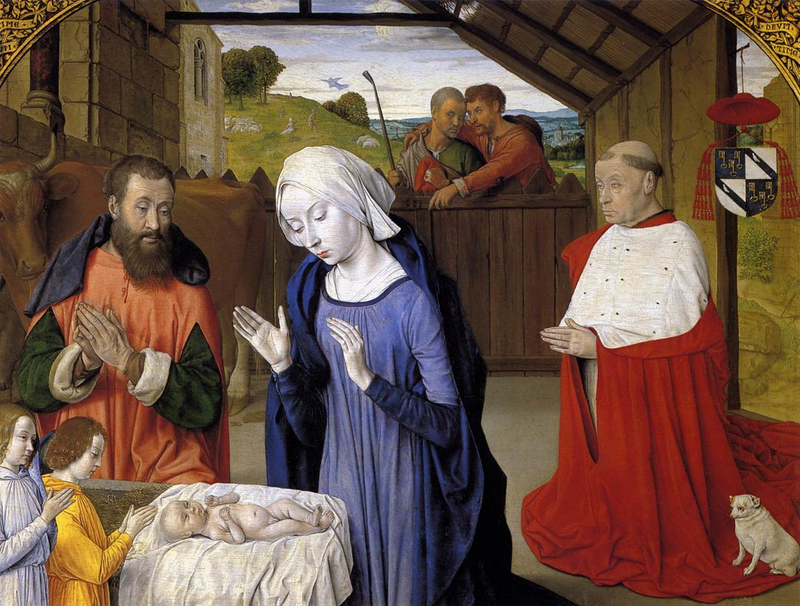 Fig. 12 Jean Hey, called the Master of Moulins, The Nativity with Cardinal Jean Rolin dressed as a donor, Musée Rolin, Autun © De Agostini Picture Library / G. Dagli Orti / Bridgeman Images.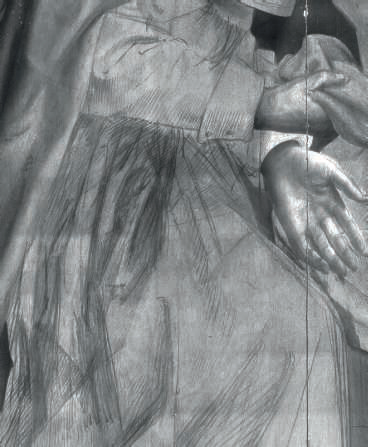 Fig. 13 Hugo van der Goes, Adoration of the Magi (Monforte Altarpiece). Detail of the IRR Mosaic: the cloak of Saint Joseph.
In her review of Fritz Koreny's exhibition Early Netherlandish Drawings from Jan van Eyck to Hieronymus Bosch in 2002 in the Rubenshuis in Antwerp, Maryan Ainsworth compared the underdrawing of the Virgin and Child of the present altarpiece with a large drawing of the Virgin and Child standing in the Dresden print room, attributed to a follower of Hugo van der Goes from c. 1490-1500 (fig. 14). Ainsworth states: "As such, it reveals an underdrawing quite similar to the Dresden drawing and a more apt link to works associated with Van der Goes than with David. This may mean that the Dresden drawing dates earlier than 1490-1500 as suggested in the catalogue."[34] At first glance, Maryan Ainsworth seems to be right here. The drawing style is remarkably close to that of the underdrawing of the present Virgin and Child, but the Dresden drawing hand is stiffer than that seen here. The subtlety of short, almost seeking, sketchy strokes that model the facial features of the latter Virgin, differs from the longer, somewhat more mechanical hauls on the face of the Dresden Virgin, whereas the hatching system in the folds of the Dresden Virgin remains very much two-dimensional, stiff and mechanical, unlike the underdrawing of the present work, where form and plastic volume were created with the use of hatching systems. I am certain that the draughtsman of the Dresden drawing must have been familiar with the drawing method of the painter of the present altarpiece, but was unable to grasp the essence of its function or reach the same level of draughtsmanship.

Fig. 14 Follower of Hugo van der Goes, Virgin and Child standing, StaatlicheKunstsammlungen, Kupferstich-Kabinett, Dresden.
The present altarpiece should be attributed to Hugo van der Goes, as has been stated before by both Claus Grimm and Dirk de Vos. A date in the first half of the 1470s seems most appropriate for the painting, slightly later, therefore, then Claus Grimm suggested in 1988. Grimm was certainly correct, however, to compare the picture to the Berlin Adoration of the Magi (the Monforte Altarpiece), but less so to the Vienna Fall of Man. Although his attribution was criticized, his arguments carry more weight than the suggestions put forward by Sander in 1992, Campbell in 1993-94 or Ainsworth in 2003. However, it is important as well to compare the superb underdrawing of the present altarpiece to some of Hugo's unquestioned drawings, such as the Christ Church Jacob and Rachel (fig. 15) or the Windsor Castle Christ on the Cross,[35] or for that matter with Hugo's underdrawings, especially with those from the same period. As Claus Grimm already stated in 1988, the chronology of Hugo's production is extremely complicated, due to an almost complete lack of documentation and the given that the production of several of his paintings must have been stretched over a longer period.[36] He therefore may have worked simultaneously on more than one painting, with or without assistants, since nothing is actually known of his studio practice.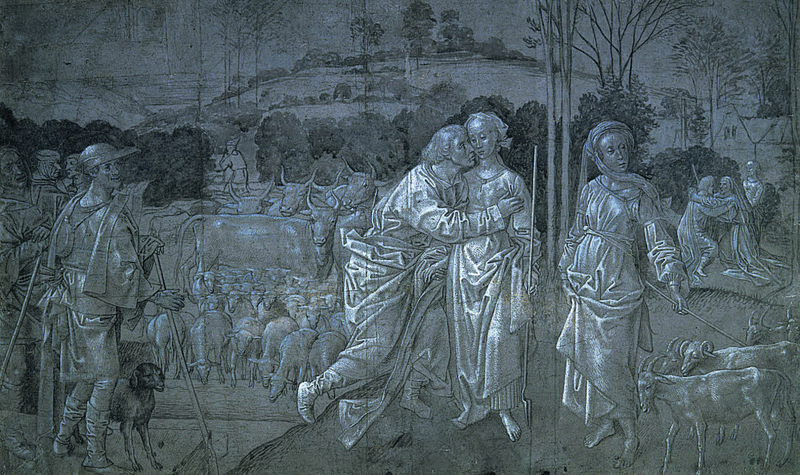 Fig. 15 Hugo van der Goes, The Meeting of Jacob and Rachel, Christ Church Picture Gallery, Oxford (JBS 1309) © By Permission of the Governing Body of Christ Church.
As I stated already before, the underdrawing of the present altarpiece is extremely refined and subtle, especially in the faces, where the artist used a web of fine and subtle, sketch-like strokes to create volume, form and plasticity, as can be judged from the Virgin's face, or Saint Louis, Saint Jerome or Saint Thomas, for that matter. An identical approach to use refined parallel strokes to shape facial features can be observed in Hugo's Jacob and Rachel in Oxford, placed by Fritz Koreny in the first half of the 1470s. Although executed in a different technique and with a different function, this large drawing shows the same draughtsman at work, not only in the subtle definition of the various faces, but in the use of parallel- and cross hatching to define volume and plasticity of the various folds in the draperies. The same holds true for the slightly later Christ on the Cross in Windsor Castle, where form and volume are shaped using sketch-like groups of parallel hatchings, softly applied to the ground.
When confronted with the underdrawing of the Berlin Adoration of the Magi, the painting that comes closest to the present altarpiece, it is hardly possible to think of a bigger difference in approach than the careful and organized lay-out of the Virgin and Child with Saints Thomas, John the Baptist, Jerome and Louis.[37] The Berlin underdrawing has been applied in different materials, black chalk and brush alike, with many corrections during the underdrawing stage. Rainald Grosshans suggested that the erratic, impulsive and powerful strokes to the left half of the composition in especially the figure of Joseph (fig. 13) might indicate "… a spontaneous change of plan …" and "… the desire to quickly record a new idea."[38] Grosshans suggested that the nature of the spontaneous underdrawing might actually point to the absence of a preparatory sketch. In fact, the underdrawing for most of the draperies is far more in keeping with the underdrawing of the present altarpiece. Executed in brush, the hatching system of the Adoration of the Magi, using short and long strokes, sometimes soft, then again much harder applied, moving in various directions, in parallel- and crossed form for the deeper shadows, is extremely close to that of the present altarpiece (figs. 16-17). The underdrawing for the drapery parts of the Edinburgh panels follows a similar path as that of the present work, as far as can be judged from the published IR photographs and IRR mosaics.[39] Especially the underdrawing of the long white robe of the organ playing angel on the right outside wing panel with the portrait of Edward Bonkil, with its precise, partly bent, partly overlapping parallel hatchings is clearly reminiscent of that of the underdrawing of our painting, whereas the linear underdrawing underneath the naked body of the figure of Christ in the Trinity panel has been applied with less care, fairly similar to the fast and free-hand underdrawing of the Lamentation panel of the Vienna diptych.[40]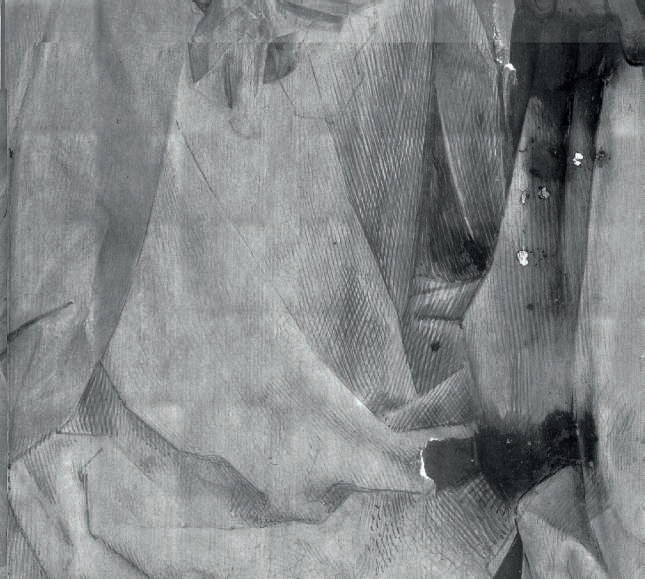 Fig. 16 Hugo van der Goes, Adoration of the Magi (Monforte Altarpiece). Detail of the IRR Mosaic: the cloak of the Virgin.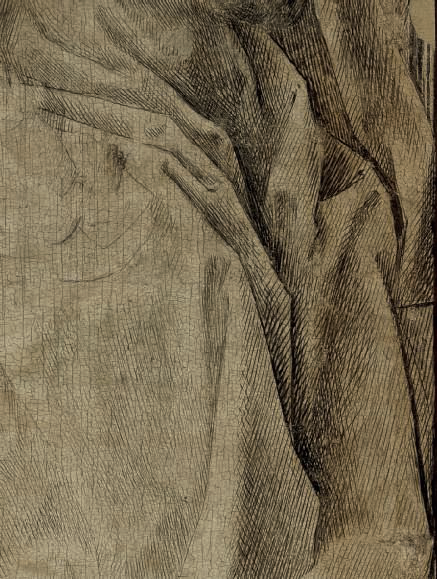 Fig. 17 detail of the present lot (The Virgin's robe).
Claus Grimm compared the Virgin and Child with Saints Thomas, John the Baptist, Jerome and Louis with paintings from Hugo van der Goes' early years, such as the Monforte Altarpiece, the Virgin and Child with Saint Anne in Brussels, the Fall of Man in Vienna and the Baltimore Donor with Saint John the Baptist, in which he carefully compared several aspects of the painted surface, such as the modeling of the faces, the anatomical treatment of legs and feet, the use of color and the treatment of details in the various landscapes and finally the drawing and treatment of light in still life elements.[41] His observations are very lucid, although one should bear in mind that the superb condition of the painted surface of the Monforte Altarpiece is not matched by that of the present work. Grimm is absolutely right that the luminosity and the color tone of the our landscape is identical with the landscapes on other paintings by Hugo, such as the Berlin Adoration of the Magi or the Fall of Man in Vienna, or even closer, the landscape on the left inner wing of the Triptych of Saint Hippolyte in the Saint Salvator Church in Bruges (figs. 18-20). Even more convincing is the similarity in anatomical accuracy, especially visible in hands, feet and legs. Interestingly, the painterly quality and anatomical precision in depicting feet and hands are especially close to Hugo's Portinari Altarpiece in Florence, as can be demonstrated when comparing Saint Thomas's right foot with that of Saint Thomas on the left inner wing in the Uffizi, which is remarkably close in its drawing, plasticity and anatomy (figs. 21-22) and the same accords for the hands of Saints Anthony Abbot and Thomas of the latter in comparison with those of Saints Jerome and Louis on the present altarpiece (figs. 24). Very close, too, are the hands of Hippolyte de Berthoz (fig. 23) on the donor wing of the Saint Hippolyte-Triptych that was painted by Van der Goes in the mid-1470s, approximately at the same time as the Portinari Altarpiece. One aspect Grimm did not touch upon is the handling of the drapery and the folds that is extremely typical for Hugo van der Goes and can best be demonstrated with the aid of the red cloak of Saint Jerome and that of Saint Louis, so majestic with its brocade and ermine. The heavy quality of the fabric, the mannerist drapery folds, the typical use of highlights are so utterly close to the various rich fabrics of the three Magi in the Berlin Monforte Altarpiece (fig. 8), or for that matter the Portinari Altarpiece, where Saint Margaret's red drapery is very similar to that of the present Saint Jerome.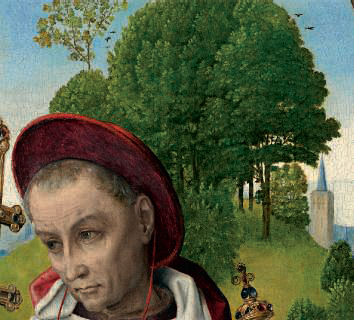 Fig. 18 The present lot. Detail: the landscape behind Saint Jerome.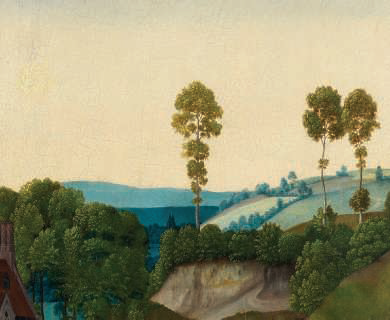 Fig. 19 Hugo van der Goes, Donor wing with Hippolyte de Berthoz and Elisabeth de Keverwyck (Triptych of Saint Hippolyte), St. Salvator, Bruges. Detail: the landscape.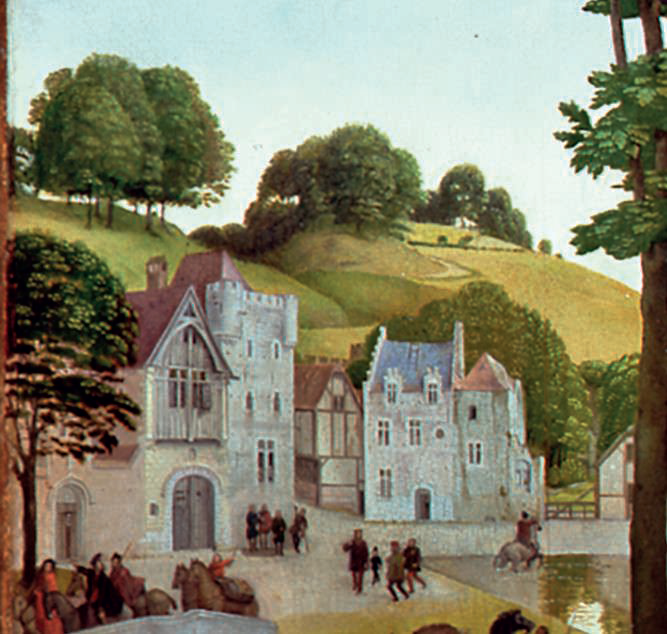 Fig. 20 Hugo van der Goes, Adoration of the Magi (Monforte Altarpiece). Detail: the landscape at left.
Fig.21 Hugo van der Goes, Portinari Altarpiece, Ufizi, Florence. Detail of the left inner wing: the right foot of Saint Thomas.
Fig.22 detail of the present lot (the right foot of Saint Thomas).
Fig. 23 Hugo van der Goes, Donor wing of the Triptych of Saint Hippolyte. Detail: Hippolyte de Berthoz.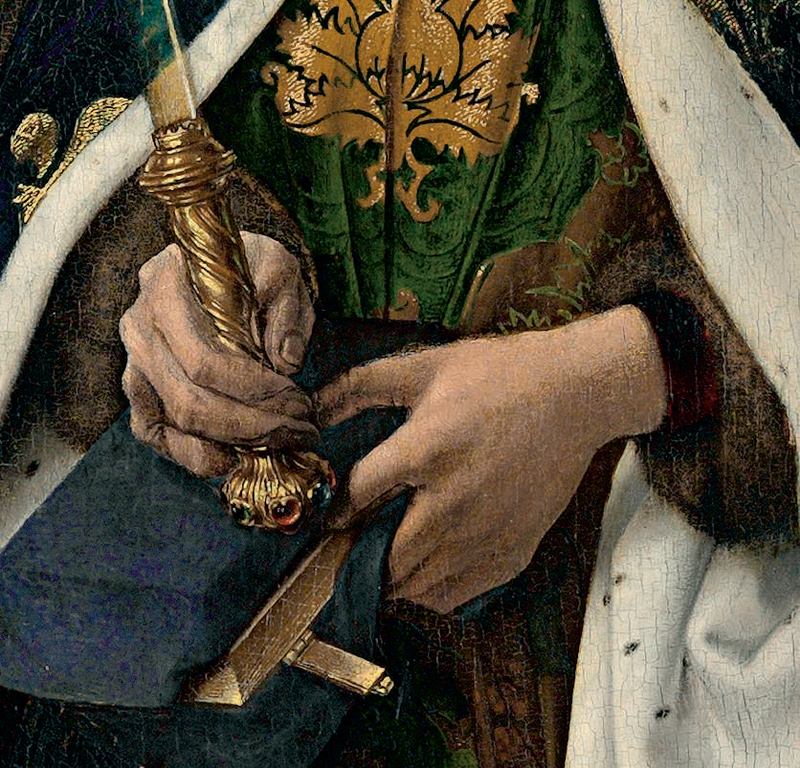 Fig. 24 detail of the present lot (Saint Louis' hands).
The Virgin and Child with Saints Thomas, John the Baptist, Jerome and Louis has been painted by Hugo van der Goes, although it should be dated slightly later as 1470, which was suggested by Claus Grimm. It is stylistically connected to the Monforte Altarpiece, the donor wing of the Triptych of Saint Hippolyte, the Edinburgh wings and the Portinari Altarpiece, placing it closer to 1475 than to 1470, in my view. Although the direct visibility of the underdrawing in the center and left part of the painting has contributed to the fame of this altarpiece in the eighteen years it could be admired on the walls of the Metropolitan Museum of Art, we cannot but wondering about the painted beauty of the Virgin's face, which was lost to us. However, we only need to look at the Virgin of the Portinari altarpiece (figs. 25 & 26) to see her mirror image.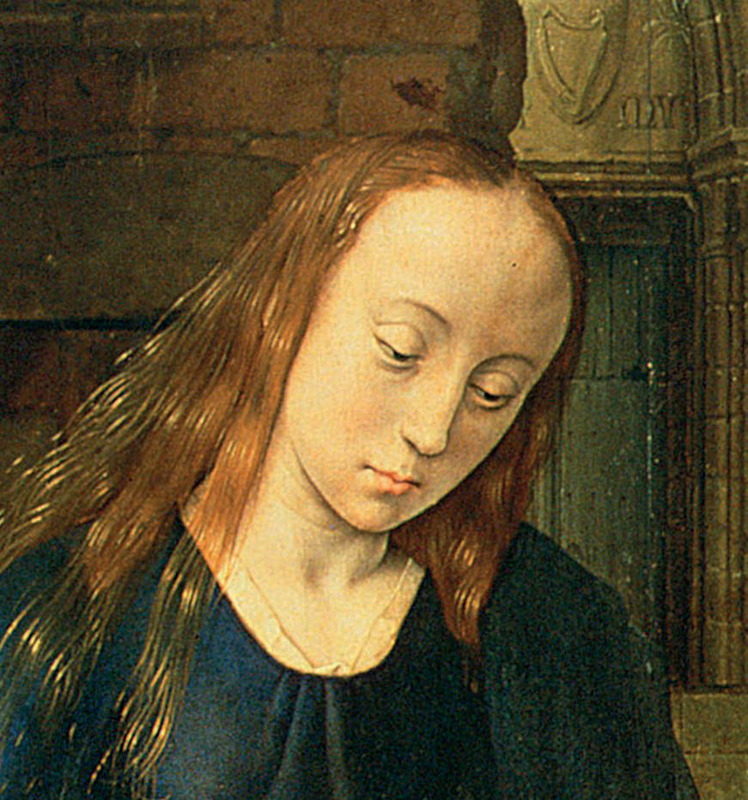 Fig. 25 Hugo van der Goes, Portinari Altarpiece. Detail of the center panel: the Virgin Mary.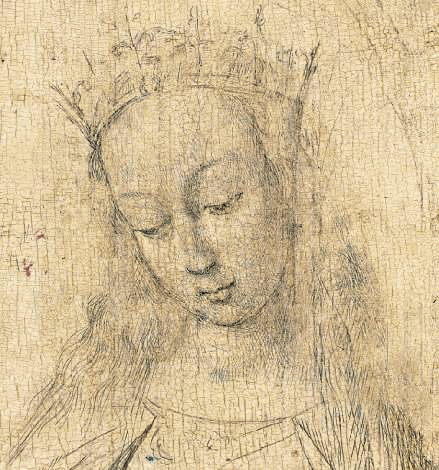 Fig. 26 detail of the present lot (The Virgin's face).
Peter van den Brink
ENDNOTES: 1 There is only one copy after the original catalogue of the sale known, in the Courtauld Institute in London. 145 paintings and 11 bronzes were auctioned, in a sale that lasted three days. Our painting was the second most expensive picture, behind Pannini's Saint Paul preaching, which fetched £ 110.5.0.

2 C. Grimm, op. cit., 1988, p. 83. Groeningemuseum, Bruges, inv. no. 0000GRO0161.I.

3 Städel Museum, Frankfurt, inv. no. 850. J. Sander, Niederländische Gemälde im Städel 1400-1550, Mainz, 1993, pp. 316-335.

4 Sint Janshospitaal, Bruges, inv. no. O.SJ175.1 ; D. De Vos, op. cit., 1994, no. 31 ; B.G. Lane, Hans Memling : Master Painter in Fifteenth-Century Bruges, London and Turnhout, 2009, pp. 264-65, no. 10.

5 National Gallery, London, inv. no. NG 6275. D. De Vos, op. cit., 1994, no. 39; L. Campbell, National Gallery Catalogues. The fifteenth century Netherlandish schools, London, 1998, pp. 374-391; B.G. Lane, op. cit., pp. 282-84, no. 34.

6 Musée du Louvre, Paris, inv. no. R.F. 215. D. De Vos, op. cit., 1994, no. 86; B.G. Lane, op. cit., pp. 302-03, no. 57 ; see also P. Lorentz in M. Comblen-Sonkes et al., Musée du Louvre, Paris, II, Les Primitifs flamands, Brussels, 1995, pp. 250-55.

7 C. Grimm, op. cit., 1988, p. 83.

8 The exhibition did not take place in the Royal Academy, as was suggested by Claus Grimm, but in the newly opened New Gallery in Regent Street.

9 H. Walpole, op. cit., 1762, p. 54.

10 Ibid.

11 Walpole had visited Easton Neston in 1736 and 1751, albeit without mentioning the painting. Lady Pomfret's literary and intellectual pretensions were frequently ridiculed by Horace Walpole. See the Yale Edition of Horace Walpole's Correspondence, esp. Vol. 14, pp. 247-248.

12 Without doubt a reference to Federico Zuccari (1540/41 - 1609), an Italian baroque painter, who was active as a portraitist after 1574 at the Tudor court under Queen Elisabeth. See note 18.

13 There is only one copy after the original catalogue of the sale known, in the Courtauld Institute in London. 145 paintings and 11 bronzes were auctioned, in a sale that lasted three days. Our painting was the second most expensive picture, after Pannini'sSaint Paul preaching, which fetched £ 110.5.0.

14 For the three letters, see the Yale Edition of Horace Walpole's Correspondence, Vol. 40, pp. 212-222.

15 Sykes lived - and probably had his business there - at the "Two Golden Balls" in Portugal Row, at Lincoln's Inn Fields in London.

16 Other members were the Dutch painters Herman Verelst and Sir Peter Lely, the architect Sir Christopher Wren and rich collectors like James Seymour, Thomas Walker or Robert Bruce. That Vertue and Sykes were well acquainted is evident from Vertue's famous notebooks, which Walpole was able to acquire after Vertue's death. In addition, see O. Millar, "Weesop: Flesh on a Skeleton", The Burlington Magazine, CXLIII, 2001, pp. 625-630, where Vertue's acquaintance with Sykes is discussed.

17 National Trust, no. 108763.

18 It can hardly be a coincidence that the Marriage of Henry VII with Elizabeth of York was attributed to the same Zuccari, when it remained at Easton Neston and was auctioned as such in 1754. It must have been Sykes himself who attributed the painting to Zuccari after its metamorphosis. Sykes must have been familiar with the original portrait in the Devonshire collection, since he was well acquainted with its owner. In 1722 Sykes sold a painting to William, the second Duke of Devonshire (1672 - 1729), as a Jan van Eyck, wearing a fake signature and the date 1421. Whether Sykes was in fact responsible for the fake signature, cannot be proven, though. The novelist Noah Charney erroneously claims in his book, Stealing the Mystic Lamb: The true story of the world's most coveted masterpiecefrom 2010, p. 104, that Walpole had suggested that Sykes had conned the Duke of Devonshire into buying a painting by forging an inscription on the back that suggested that the picture was by Jan van Eyck. This painting, the Enthronement of St. Romold as Bishop of Dublin, by an unknown painter, probably from Mechelen, is nowadays in the National Gallery of Ireland; see C. Vogelaar, Netherlandish fifteenth and sixteenth century paintings in the National Gallery of Ireland. A complete catalogue, Dublin, 1987, pp. 53-59, no. 1380. According to Martyn (T. Martyn, "Devonshire House List", The English Connoisseur, Vol. 1 (1766), p. 50) William Sykes had bought the painting from the Steward of Henry Duke of Norfolk before he sold it to the Duke of Devonshire.

19 Sykes had a large collection of paintings. The sale of his collection, shortly after his death, between March 2 and 6, 1724, contains no less than 301 paintings. A large part of this collection consisted of Dutch and Flemish paintings from the seventeenth century, among them church interiors by Pieter Neeffs (lot 275) and others (lots 9, 68, 193).

20 As David Bull wrote to me on August 1st, 2015, "On one of several visits to see the painting, I was able to distinguish some drawing of a female head close to the central addition".

21 David Bull informed me on the time line of the restoration, in an e-mail, dated August 1st, 2015. This time line differs from what is stated by Claus Grimm. Bull worked on the painting in 1977-1978 in London, in 1981-1983 in Los Angeles and in 1986-1987 in Washington DC.

22 Unfortunately, all visual documentation of the conservation and restoration processes has disappeared.

23 C. Grimm, op. cit., 1988, p. 80.

24 I am very grateful to Claus Grimm in supplying me with this color transparency as well as with the black and white photograph of the pre-1977 condition.

25 A report by Peter Klein to the present owner, dated October 6, 1994, as well as the letter to Claus Grimm, dated January 22, 1987, gives a terminus post quem of 1474, based upon the assumption of 10 years of seasoning, as usual in the 14th and 15thCentury. A revision of this earlier report, from July 26, 2015, send to the present owner, has reversed this terminus post quem to 1466, based on the assumption of two years of seasoning, instead of ten.

26 L. Campbell, op. cit., 1993/94, p. 98.

27 D. De Vos, op. cit., 1994, p. 401 note 19.

28 I am grateful to Maryan Ainsworth for sending me an early draft of her article, which will be included in the forthcoming publication: A. Dubois (ed.), Symposium XIX for the Study of Underdrawing and Technology in Painting, in Bruges, 11-13 September 2014 (to be published 2017-2018).

29 Infrared Reflectography was carried out by Christine Seidel and Sophie Scully, on July 23-24, 2014, in the Sherman Fairchild Center for Paintings Conservation in the Metropolitan Museum of Art. The equipment used was a Merlin Indigo InGaAs near-infrared camera with a StingRay macro lens customized for the wavelengths covered by the camera, 0.9 to 1.7 microns. The infrared reflectograms were assembled with Photoshop CS3. I would like to thank Dr. Maryan Ainsworth and Sophie Scully from the Metropolitan Museum of Art in New York for their outstanding help in supplying me with all the information and documents. X-Radiography was carried out by Sophie Scully as well. Use was made of the MMA equipment, a Philips Industrial Radiography Equipment with a MCN-165 Tube. The X-radiograph was digitized and put together in a mosaic with Nip2.

30 I was able to study the painting in Spain, together with Till-Holger Borchert, in November 2015. For an image of this painting, please contact the Old Masters Department.

31 The painting was examined and documented in the Museo del Prado in Madrid and I am grateful to José Juan Pérez Preciado and Alejandro Vergara for access to the excellent IRR mosaic that was produced.

32 M. Wolff, "Observations on Underdrawings in Paintings by the Master of Moulins", in Julien Chapuis (ed.), Invention. Northern Renaissance Studies in Honor of Molly Faries, Turnhout, 2008, pp. 136-151, esp. pp. 137-138 and 141-142, figs. 2, 9.

33 Ibid., p. 141.

34 M. Ainsworth, op. cit., 2003, p. 313.

35 For those two drawings, see F. Koreny, in Meestertekeningen van Jan van Eyck tot Hiëronymus Bosch, exhibition catalogue, Rubenshuis, Antwerp, 2002, pp. 130-139, nos. 30-31.

36 C. Grimm, op. cit., 1988, pp. 84-86.

37 The results of the IRR research on the two larger panels in the Berlin Gemäldegalerie were published by Rainald Grosshans, "IRR-Investigation of the panel paintings by Hugo van der Goes in the Berlin Gemäldegalerie", in R. van Schoute, H. Verougstraete (red.), Jérôme Bosch et son entourage et autres etudes. Le dessin sous-jacent dans la peinture. Colloque 14, 13-15 September 2001, Louvain/Paris/Dudley MA, 2003, pp. 235-249.

38 Ibid., p. 242.

39 See J. Sander, 1992, p. 70, fig. 18, or the website of the Royal Collection where several recently documented IRR mosaics can be found.

40 The IRR mosaic was published by Sander 1992, p. 68, fig. 17.

41 C. Grimm, op. cit., 1988, p. 84.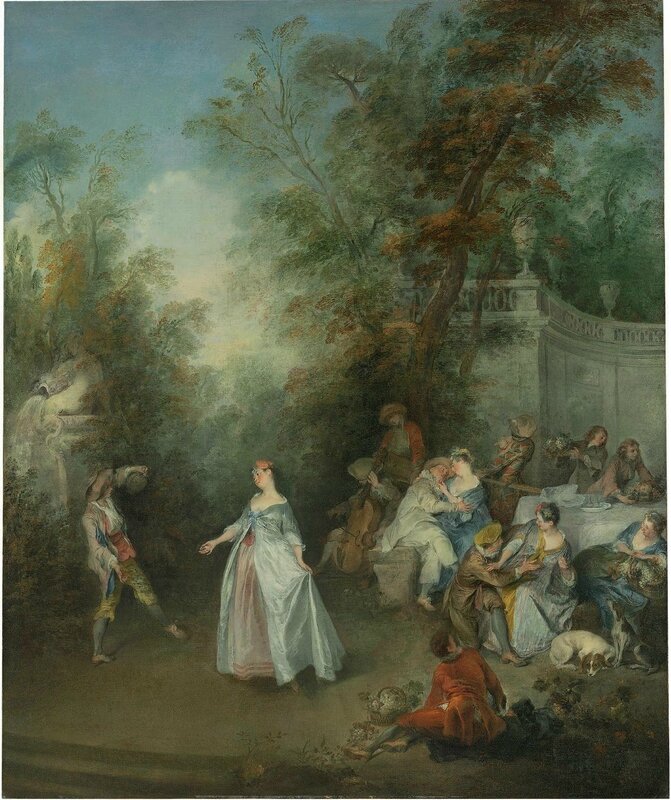 Lot 28. Nicolas Lancret (Paris 1690-1743), Autumn, oil on canvas, 44 5/8 x 36 ¾ in. (113.3 x 93.4 cm.). Estimate USD 2,000,000 - USD 4,000,000. © Christie's Images Limited 2017.
Provenance: Commissioned around 1720 by Jean-François Leriget de la Faye (1764-1731), Paris, mentioned in inventory upon his death 26 September 1731, no. 87, and by descent to his nephew
Jean-François II Leriget de La Faye, Paris; 1753, where acquired by
Pierre Vigné de Vigny (1690-1772), Paris; his sale (†), Paris, 1 August 1773, lot 100 (1785 livres), where acquired by
Louis-François Mettra (1738-1804).
Baron Edmond de Rothschild, Paris, by 1924 and by descent to
Baroness Alexandrine de Rothschild; her sale, Sotheby's, London, 30 June 1971, lot 15, where acquired by the following.
with Edward Speelman, London.
with Rosenberg & Stiebel, New York, from at least 1974, where acquired by
Chauncey Devereux Stillman (1907-1989), New York.
Property from the Collection of Chauncey D. Stillman sold to benefit the Wethersfield Foundation
Literature: Le Mercure de France, June 1730, p. 1184.
S. Ballot de Sovot, Eloge de Lancret, peintre du Roi, Paris, 1743 (ed. Guiffrey, Paris, 1874), p. 19-20.
Affiches, annonces, avis divers, Paris, 1753, p. 92, described as for sale.
A.-J. Dézallier d'Argenville, Abrégé de la vie des plus fameux peintres, Paris, 1752, III, p. 290.
É. Bocher, Les Gravures françaises du XVIIIe siècle, Paris, 1875-77, IV, nos. 13, 31, 40, 64.
E. Dacier, 'A propos du portrait de la Camargo, par Lancret, au Musée de Nantes,' Musées de France, III, 1911, p. 44, note 2.
S. Reinach, Apollo: An Illustrated Manual of The History of Art Throughout The Ages, New York and London, 1919, pp. 286, 290, fig. 510.
G. Wildenstein, Lancret, Paris, 1924, pp. 12, 49, 70-71, no. 9.
M. Tavener Holmes, Nicolas Lancret and Genre Themes of the Eighteenth Century, unpublished PhD dissertation, New York University, 1986, pp. 13-15, 17, 18, no. 2.
M. Grasselli, 'Elevenn New Drawings by Nicolas Lancret,' Master Drawings, Vol. XXIII-XXIV, No. 3, Autumn 1986, p. 380.
A. Wintermute, "One of the Great Sponges: The Art of Nicolas Lancret," Apollo, March 1992, pp. 190-191, fig. 1.
C. Riopelle, "Forth Worth, Kimbell Art Museum: Nicholas Lancret," Burlington Magazine, v. 134, no. 1070, May 1992, p. 330.
M. Tavener Holmes, Nicolas Lancret: Dance Before the Fountain, J. Paul Getty Museum, Los Angeles, 2006, pp. 72, 86, 90, fig. 5.
R. Ziskin, Sheltering Art: Collecting and Social Identity in Early Eighteenth Century Paris, University Park (Penn.), 2012, pp. 101-102, pl. 14.
Exhibited: New York, The Metropolitan Museum of Art, The Grand Gallery at the Metropolitan Museum of Art, 19 October 1974-5 January 1975, no. 26.
New York, The Frick Collection; Forth Worth, Kimbell Art Museum, Nicolas Lancret 1690-1743, 19 November 1991-12 January 1992 and 15 February-12 April 1992, no. 6.
Note: Nicolas Lancret's Autumn has long been recognized as one of the artist's seminal achievements and one of the greatest early 18th-century French paintings still in private hands. A remarkably well-documented picture, the story of its commission, its private display, and its rapidly spreading fame and influence, tells us much about the development of the Rococo style and its wide dissemination in the early decades of the 18th century.
Lancret began his career consciously emulating the style and subject matter of the paintings of Antoine Watteau (1684-1721). According to his friend and biographer, Silvain Ballot de Sovot, Lancret ensured his success as a genre painter 'by drawing from the same waters whence Watteau himself had drawn.' It is not certain when Lancret met Watteau, six years his senior, but both painters trained in the studio of Claude Gillot. Ballot stated that Watteau's role in Lancret's developing career was that of advisor and mentor, not teacher and pupil. In any event, Watteau took an interest in the younger painter, advising him to sketch landscapes on the outskirts of Paris and then create paintings by combining figures in them according to his imagination. Lancret made two paintings that so pleased Watteau that he embraced Lancret when he saw them; the young painter was given preliminary acceptance into the Académie on the basis of their success. On 24 March 1719, Lancret was received as a full member of the Académie with the Conversation Galante (Wallace Collection, London), only the second artist – after Watteau, of course – to be admitted into the august institution as a painter of Fêtes galantes.
The perils of mere imitation – regardless of how skillfully achieved -- were soon brought home to Lancret when, at the Exposition de La Jeunesse, he exhibited two widely acclaimed paintings which people mistook for the work of Watteau himself, and on which several of Watteau's friends complimented the older artist. Infuriated, the moody and irascible Watteau broke relations with his disciple on the spot and their relationship never recovered.
When Lancet received his first major paintings commission shortly thereafter, he seems to have consciously decided to use the opportunity to expand and deepen his pictorial language and develop a manner less dependent on his mentor and more distinctively his own. Following the advice of his friend Ballot, who had previously warned him of the risks of becoming Watteau's ape, Lancret determined to make a major public success and remove himself from the shadow of his mentor. The career-making commission for four large-scale decorative canvases emblematizing the 'Four Seasons' came from one of the most enlightened and distinguished patrons of the arts in Régence Paris, Leriget de la Faye.
Jean-François Leriget de la Faye (1674-1731), was a diplomat, military man and connoisseur of art, music, ballet and theater, who was an amateur poet with enough merit to claim a seat in the Académie Française. The philosophe D'Alembert described him as "a man of true taste" and no less an eminence than Voltaire would remember Leriget as a man who had received "two gifts from the gods, the most charming they can bestow: one was the talent to please; the other, the secret of being happy." A friend of the banker Pierre Crozat and a member of the immediate circle of the Comtesse de Verrue -- both patrons of Watteau and the 'new' painting -- Leriget shared with those celebrated tastemakers a commitment to 'modern' art. When he died in 1731, the Mercure de France eulogized him as a great supporter of the Fine Arts; indeed, the journal noted, he was the Arts'…amateur and Benefactor. He spared nothing for their advance…Price would not discourage him at all when he found a work true, beautiful, and, above all gracieux. Distinctions of time, country, and the great or weak reputation of a name, made no impression on him; so that, with exquisite selectivity and without a bias for the great Masters of Italy, he made a considerable collection of excellent Paintings, the majority of medium size, Flemish, French, etc., anciens and modernes…".
Leriget's father had been receiver-general of finance for Dauphiné. Turning his back on the world of finance, Leriget first pursued a military career, then diplomatic service, attending the peace negotiations in Utrecht in 1712 and travelling to London for much of the following year. He was named envoyé extrordinaire to Genoa in 1715, although the mission was cancelled after the death of Louis XIV. He travelled to Rome in 1724 where he stayed with the collector and amateur, François Berger, François Lemoyne's great patron, and may have acquired works by the celebrated painter while in the Eternal City.
In 1717, Leriget purchased a house in the rue de Sèvres with the idea of renovating it to display his growing collection, which by then included paintings as well as books, bronzes, sculpted gems, marble bas-reliefs, prints, and quantities of French, German and Chinese porcelain and Japanese and Chinese lacquer. In October 1719, flush with profits from John Law's banking scheme, he purchased a second house, entered from the rue Cherche-Midi; then, four months later, he bought a third house, adjacent to the first along the rue de Sèvres. Leriget connected the buildings to create a large hôtel particulier with a new gallery stretching along the garden. As Rochelle Ziskin has shown (loc. cit.), the most important rooms faced the garden, with the gallery near the end of a ceremonial route. Opening off the end of the gallery was a large salon with three windows providing ample natural light, the effects of which were to be enhanced by mirrored panels; it was in the salon that Lancret's 'Four Seasons' were installed. According to his earliest biographer, Ballot de Savot (1743), "M. de La Faye commanda quatre tableaux à M. Lancret. Ce sont les mêmes que l'on a vû long-temps dans son sallon."
It is not known when Leriget and Lancret first met, but it was likely through Crozat or the Comtesse de Verrue, who were patrons of Watteau and the leading collectors of the modern French School. Nor is it known exactly when Leriget proffered the commission to Lancret, but it seems logical to suppose it would have been quite soon after an architectural plan had been established to link and renovate the three houses; presumably at the end of 1720 or the following year. By 1721, Watteau was dead and Lancret would have emerged as his undisputed successor as master of the fête galante. The commission would be the most important of Lancret's early career – indeed, one of the most important he would ever receive -- coming as he was first establishing himself as an independent artist.
It is likely that Leriget developed the program for Lancret's paintings. The collector already owned one of Watteau's early masterpieces, La mariée du village ('The Village Bride') (c. 1710; Stiftung Preussische Schlosser und Garten Berlin-Brandenburg), and he would have been familiar with the suite of large oval paintings of 'The Four Seasons' painted by Watteau in 1717 for Pierre Crozat's dining room on the rue de Richelieu. Watteau's paintings – they are known from engravings, only the original of Summer survives (National Gallery of Art, Washington, DC) – were allegories of the Seasons rendered in the traditional guise of heroic, mythological figures, with Flora and Zephyr representing Spring, Bacchus representing Autumn, and so on. Beautiful though Watteau's paintings were, the so-called Crozat 'Seasons' were essentially old-fashioned in their conception; Leriget may have intended his commission for a new set of 'Seasons' in the 'modern' style as a challenge to Crozat, and as a means of establishing himself in the vanguard of the new, anti-academic taste.
Certainly, Lancret's four paintings are wholly modern. With each canvas measuring four feet high and enlivened with a dozen or more figures, the artist represented each season of the year in lively scenes of contemporary city or country life, cloaked in fashionable dress and surroundings. The paintings are sparkling in execution, bright and richly colored, and filled with carefully observed and often witty vignettes of men and women enjoying the pleasures of leisure time. As Mary Tavener Holmes, the most perceptive modern student of Lancret's works, has observed, the artist "exemplified each season by its effect on human pleasure and merrymaking, showing the different forms of entertainment they offered: savoring grapes and wine in Autumn, birdcatching in Spring (fig. 1), bathing in Summer (fig. 2), and playing cards by a cozy fire in Winter." When reproductive engravings after the series were announced in 1730, the Mercure remarked that they embodied Lancret's "new and highly pleasing style." It is interesting to note, however, that despite the painting's modern pastoral setting, the inscription beneath the engraving after Autumn refers directly to the story of Bacchus and Pomona, suggesting that the anonymous author of the verse felt that mythological associations were still required to explicate or legitimize the image.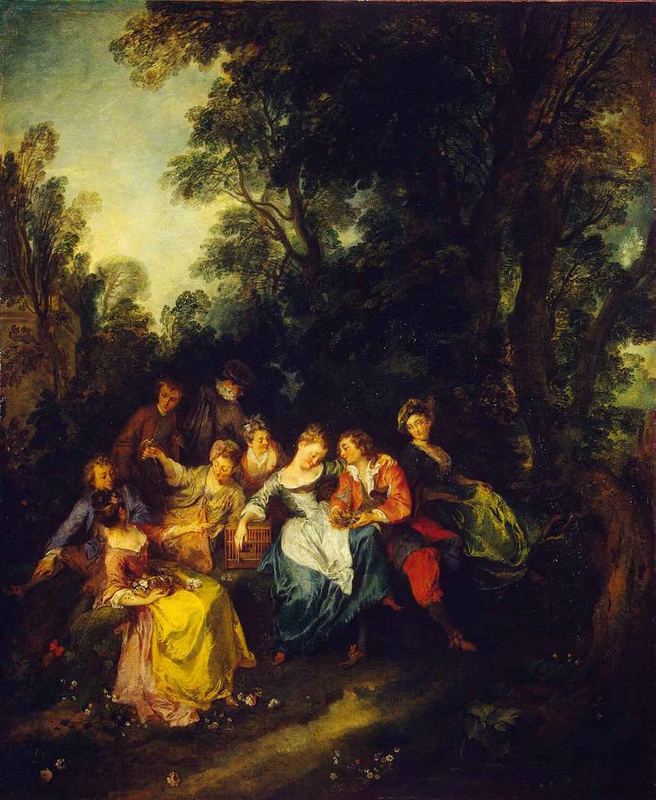 Fig. 1 Nicolas Lancret, Spring, Hermitage Museum, Saint Petersburg, HIP / Art Resource, NY
Fig. 2 Nicolas Lancret, Summer, Hermitage Museum, Saint Petersburg, HIP / Art Resource, NY
The present lot
In Autumn, Lancret is working firmly in the genre that Watteau had invented – the fête galante, in which men and women, including characters from the commedia dell'arte, dance and flirt and make music in a beautiful garden setting – but with a scale and ambition that was rarely found in Watteau's works. Inspired by Watteau's recent canvas, Fêtes Vénitiennes (c. 1718/1719; National Gallery of Scotland, Edinburgh), Lancret expanded Watteau's small composition into a monumental celebration of the joys of the season, amid all the (slightly drunken) pleasures of youth and love and wine, and rendered in a golden palette of reds, yellows and roseate pinks.
Lancret would have turned to chalk studies for each of the figures in the four canvases, some made specifically in preparation for the series, others kept around his studio to be employed (or reemployed) in other paintings. A number of these sheets survive, but only a single study known today seems to have been made exclusively in preparation for Autumn (fig. 3). This beautiful, atmospheric drawing in black and white chalks of the central couple seated on a park bench is in a private collection (formerly Patrick Perrin, Paris). We know from their costumes that they are dressed as characters from the commedia dell'arte: he, the gormless clown, Gilles; she, his wife, Columbine, whom he awkwardly tries to embrace. On the same sheet, Lancret sketched a detail study of Gilles's head, emphasizing his bewildered expression, and warming his cheeks and lips with touches of red chalk. Other drawings associated with Autumn, but probably not executed for it specifically, include a black and white chalk sketch of the pointing Harlequin (Waddesdon Manor), and a study of the male dancer (Musée des Beaux-Arts, Lille), but showing his inside arm lowered, rather than raised as in the painting. The dark, russet palette of Autumn, enlivened by highlights of silvery-blue drapery, it's very free and brushy handling, and the occasional awkwardness in its drawing all reveal it to be very close in date to the Conversation Galante (Wallace Collection, London), Lancret's reception piece for admission to the Acadèmie in 1719; however, the greater sophistication and complexity of the compositions of the 'Seasons' accord well with a view that they were executed slightly later, almost certainly in the early 1720s (see Grasselli 1986 and Wintermute 1992).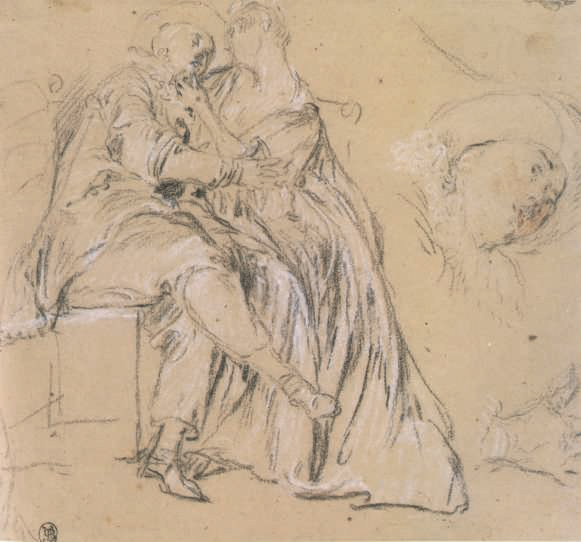 Fig. 3 Nicolas Lancret, Gilles Embracing Columbine, with Studies of His Head and Hand, formerly Patrick Perrin, Paris.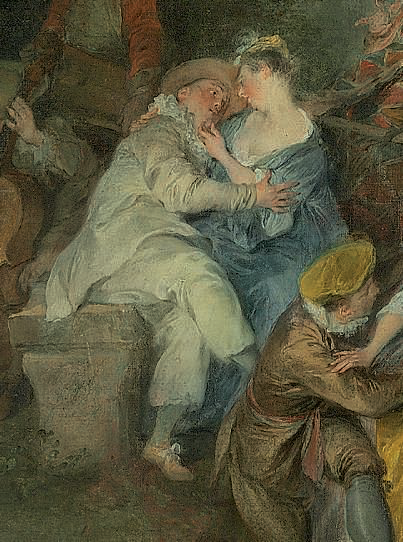 detail of the present lot.
Lancret's paintings of the 'Four Seasons' were an immediate success and delighted their patron. Leriget was so impressed by the first two of the Seasons that when he was shown them for his approval, he promptly cancelled the terms of his contract with Lancret and immediately doubled the price he had agreed to pay the artist. "Would a Medici have done better?" Ballot asked. Later, Leriget commissioned or purchased several other paintings from Lancret, notably the famous portrait of Mademoiselle de Camargo Dancing (c. 1729; National Gallery of Art, Washington, DC). Engravings of the Seasons were announced in the Mercure de France in June 1730. Each Season was engraved by a different printmaker: Spring by Audran; Summer by Scotin; Winter by Le Bas (fig. 4); and Autumn by Nicolas Tardieu (fig. 5), and Audran's engraving of Spring specifies "les 4 sugest du Cabinet de M. de La Faye." Permission to make the engravings was obtained 6 August of that year, the same day that permission was granted to reproduce Leriget's painting of Mlle. Camargo, making clear the patron's participation in the process. The prints proved very popular and were widely distributed, playing a significant role in advancing Lancret's fame and reputation throughout Europe.
Fig. 4 Jacques Philippe Le Bas after Nicolas Lancret, Winter, etching .Photo: Michel Urtado / RMN-Grand Palais / Art Resource, NY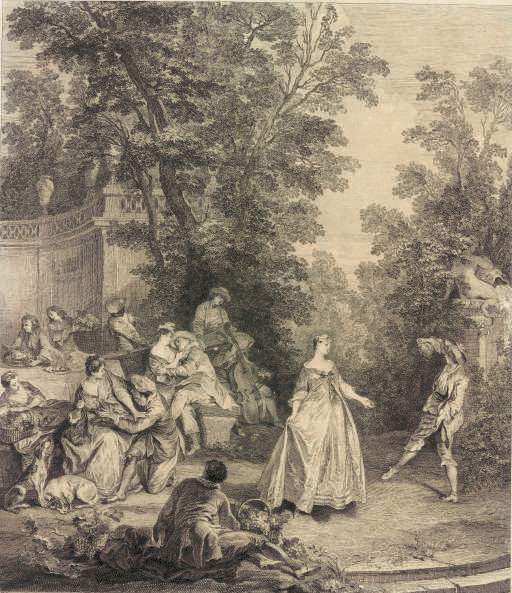 Fig. 5 Nicolas-Henri Tardieu after Nicolas Lancret, Autumn, etching. Photo: Michel Urtado / RMN-Grand Palais / Art Resource, NY
After Leriget's death the following year, the set of Seasons and their boiserie frames are recorded, without the artist being identified, in Leriget's estate inventory, drawn up by Ferdinand-Joseph Godefroid and Joseph van Bredael on 26 September 1731 ("Item, no. 87. Quatre tableaux, représentant les quatre saisons, dans leur bordure de bois sculpté doré, prisé 800#"). As Leriget died a bachelor with no legitimate heirs, he seems to have left the Seasons (along with other parts of his collections) in a bequest to his nephew, Jean-François II Leriget de La Faye, who subsequently sold them in 1753 in an uncatalogued Paris auction. Fortunately, the sale was announced with considerable specificity in Affiches, announces et avis divers, where it was cited as containing six paintings by Lancret from the collection of M. de La Faye, including the Four Seasons: Autumn is described as "le troisième, l'auteur a peint une Colation champêtre. Quelques figures théâtrales, tels que Pierrot, le Mezzetin, etc., rendent ce tableau très riant et captivent l'attention du spectateur par des attitudes de caractère extrêmement gracieuses…."
It was in this 1753 sale that the suite of paintings was purchased by the distinguished architect Pierre Vigny (1690-1772), called Vigné de Vigny (fig. 6), who is remembered for the monumental Paris townhouse he designed for Antoine Crozat, Pierre Crozat's brother. At Vigny's estate sale on 1 April 1773, the set was sold for 1785 livres to Louis-François Mettra (1738-1804), art dealer and agent for the King of Prussia, and subsequently split up. Spring and Summer were acquired on behalf of the Empress Catherine the Great of Russia and remain today in the Russian State collections in the Hermitage Museum in St. Petersburg; Winter belonged to Eugène Secrétan until his death in 1899, and is today in a private collection in France.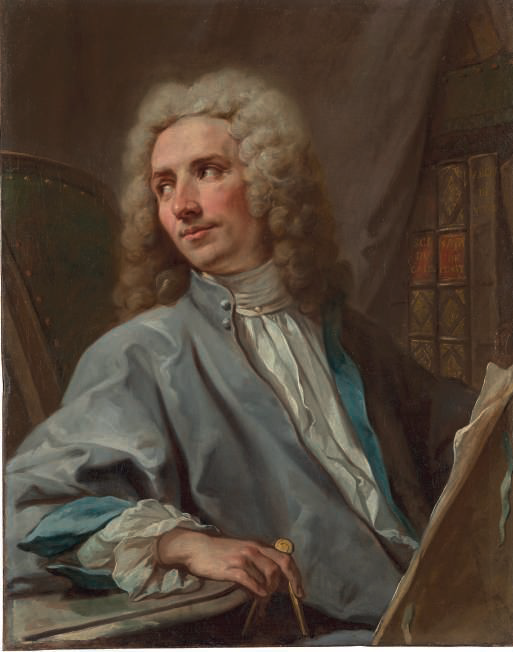 Fig. 6 Jean Restout II, Portrait of Pierre Vigné, called Vigné de Vigny, private collection.
The location of the present painting is uncertain for much of the 19th century, but it reemerged in the celebrated collection of Baron Edmond James de Rothschild (1845-1934) and remained with him, passing by descent to his daughter Baroness Alexandrine de Rothschild (1884-1965), in whose sale it appeared in 1971. It was acquired in 1977 by Chauncey Stillman from the New York dealers, Rosenberg & Stiebel.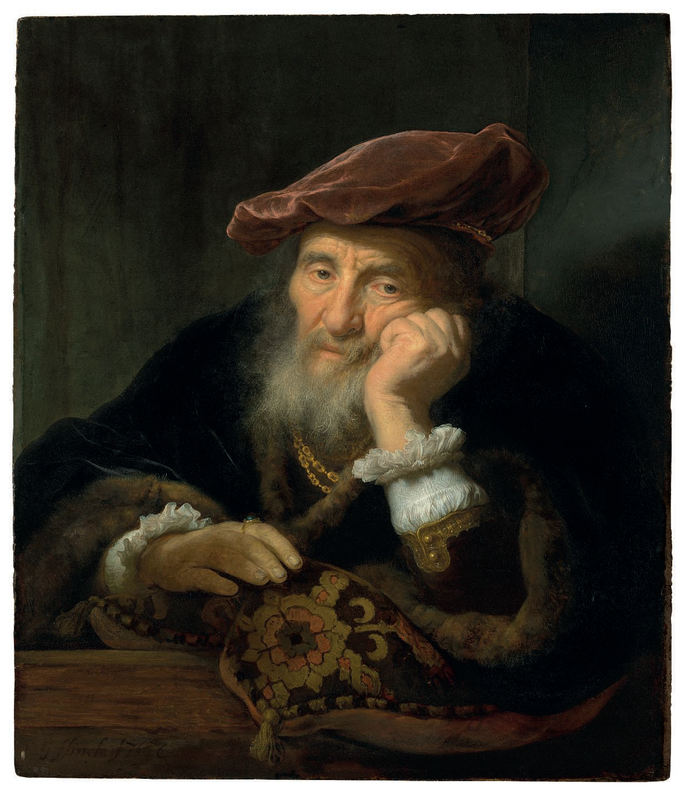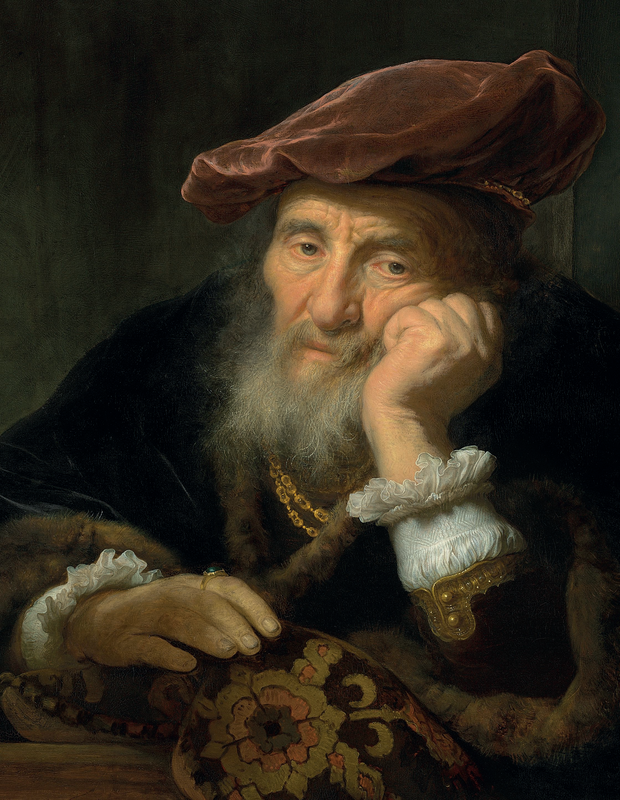 Lot 42. Govaert Flinck (Cleve 1615-1660 Amsterdam), An old man at a casement, signed and dated 'G. flinck f. 1646' (lower left), oil on panel, 27 5/8 x 24 in. (70.2 x 61 cm.), with several red wax seals bearing the monogram 'XJ' or the Cyrillic letters 'ГХ', of a design probably dating from c. 1860-1870 (on the reverse). Estimate USD 2,000,000 - USD 3,000,000 © Christie's Images Limited 2017.
Provenance: Johann Ernst Gotzkowsky (1710-1775), merchant, financier, art dealer and collecting advisor to Frederick the Great, Berlin, by 1764, when recorded as 'Rembrand', '1. alter Mann, der mit dem Kopf auf der linken hand ruht. Extra fein gemahlt', (28 x 23 inches), priced at 600 Reichstaler; by whom sold in 1764 en bloc with 316 other paintings to
Catherine II the Great, Empress of Russia (1729-1796), founder of the Hermitage, Saint Petersburg, as Rembrandt, recorded in an inventory made after her death, in 1797, no. 3654, and by descent to her grandson,
Nicholas I, Emperor of Russia (1796-1855), The Imperial Collection at the Winter Palace, Saint Petersburg, possibly sold in 1854 (Prevot, Saint Petersburg, 6 June 1854 and following days, lot 636, as 'Флинкъ. Голова старика' ('Flinck. Head of an old man.'), the dimensions incorrectly given as 6.3 x 5 vershki) or by descent to his son,
Alexander II, Emperor of Russia (1818-1881), by whom sent to Moscow in 1862 with 200 other pictures from The Hermitage, for the picture gallery of the newly-established Moscow Public and Rumyantsev Museums.
Acquired by Wilhelm Friedrich Mertens (c. 1870-1957) or by his son,
Wilhelm Mertens (1899-1938), both Saint Petersburg until 1917-1918, and subsequently Leipzig, certainly by 1932, and by descent to the following
Private collection, Europe; Christie's, London, 6 December 2011, lot 13.
with Jean-Luc Baroni, London, 2014, where acquired by the present owner.
Literature: J.E. Gotzkowsky, 'Specification meiner allerbesten und schönsten Original Gemählden bestehen in 317 Stück nebst den allergenauesten Preißen', circa 1764, MS, Berlin, Geheimes Staatsarchiv Preussischer Kulturbesitz, I. HA., Rep. 11, no. 171-175 Russland D, Interzessionalia 1751-1765, fol. 253 recto, no. 18, as 'Rembrand', '1. alter Mann, der mit dem Kopf auf der linken hand ruht Extra fein gemahlt', 2 feet 4 inches by 1 foot 11 inches, 600 'Rthlr'.
J. von Stählin, 'Vornehmste Stücke aus dem an Ihren Kays. Maj. Verkauften Gotzkowsky Cabinet aus Berlin', circa 1764, MS, Saint Petersburg Branch of the Archive of the Russian Federation Academy of Sciences, Fund 170, opis' 1, delo 68, ff. 1a-4, reprinted in A.I. Uspensky, Императорские Дворцы ['The Imperial Palaces'], Записки императорского московского археологического Института имени императора Николая II [Notes of the Imperial Nicholas II Moscow Archoeological Institute], XXIII, 1913, part 2, p. lii, and in K. Malinovsky, ed., Записки Якова Штелина об изъящных искусствах в России [The Writings of Jacob Stählin on the Fine Arts in Russia], Moscow, 1990, II, p. 99, as 'Rembrandt. An old man, whose head is resting on his left hand', 2 feet 4 inches by 1 foot 11 inches, 600 Thalers.
Count J.E. Münnich, Catalogue raisonné des tableaux qui se trouvent dans les Galeries, Salons et Cabinets du Palais Iméprial de S.Pétersbourg, commencé en 1773 et continue jusqu'en 1785, 1773-1785, MS, Saint Petersburg, Hermitage Archives, Fund I, opis' VI-A, delo 85.
(Possibly) Count J.E. Münnich, Catalogue des tableaux qui se trouvent dans les Galleries et dans les Cabinets du Palais Impérial de Saint Pétersbourg, Saint Petersburg, 1774 (reprinted P. Lacroix, 'Musée du Palais de l'Ermitage sous le règne de Catherine II', in Revue universelle des arts, XIII, pp. 164-179, 244-258, XIV, 212-225, XV, 47-53, 107-123), as one of nos. 57, 'Rembrand. Le Portrait d'un vieillard', 88, 'Rembrand. La Tête d'un vieillard', 914, 'Rembrand. Portrait d'un vieillard', 1882, 'Rembrand. Portrait d'un vieillard' or 1887, 'Govaert Flinck. Portrait d'homme'.
F.I. Labynsky et al., Каталог картинам, хранящимся в Императорской галерее Эрмитажа, в Таврическом и Мрамарном дворцах... [Catalogue of the Paintings Kept in the Imperial Hermitage Gallery, the Tauride and Marble Palaces...], 1797, MS, Saint Petersburg, Hermitage Archives, Fund 1, opis' VI-A, delo 87, no. 3645, the dimensions given as 15.34 x 13.12 vershki (68.2 x 58.3 cm.).
(Probably) Notice sur les principaux tableaux du Musée Impérial de l'Ermitage à Saint-Pétersbourg, Saint Petersburg and Berlin, 1828, pp. 56 and 136, in room no. 11, the 'Salle de Rembrandt', as Rembrandt, 'un rabbin juif qui se résigne à payer'.
(Possibly) Livret de la Galerie Impériale de l'Ermitage de Saint-Pétersbourg : contenant l'explication des tableaux qui la composent, avec de courtes notices sur les autres objets d'art ou de curiosité qui y sont exposés, Saint Petersburg, 1838, p. 127, in 'Salle XI', as Rembrandt.
(Possibly) Baron N.E. Wrangel, 'L'Empereur Nicolas I et les arts', Старые годы [Starye gody], VI, September-November 1913, p. 124, no. 636 under the 1854 sale, 'Флинкъ. Голова старика' ('Flinck. Head of an old man.'), the dimensions incorrectly given as 6.3 x 5 vershki and the inventory number incorrectly given as 3121, or as one of the other 1,217 lots.
C. Frank, 'Die Gemäldesammlungen Gotzkowsky, Eimbke und Stein: Zur Berliner Sammlungsgeschichte während des Siebenjährigen Krieges', in M. North, ed., Kunstsammeln und Geschmack im 18. Jahrhundert, Berlin, 2002, pp. 189-190, note 221, as 'Ehem. Ermitage, 1862 nach Moskau abgegeben'.
T. Ketelsen and T. von Stockhausen, The Provenance Index of the Getty Research Institute: Verzeichnis der verkauften Gemälde in deutschsprachigen Raum vor 1800, Munich, II, p. 1305, under 1764/00/00.
N. Schepkowski, Johann Ernst Gotzkowsky: Kunstagent und Gemäldesammler im friderizianischen Berlin, Berlin, 2009, pp. 462 and 577, 'Laut Prof. Gotzkowsky wurde das "Bildnis eines alten Mannes" 1862 nach Moskau verkauft'.
To be included in T. van der Molen's forthcoming catalogue raisonné of the paintings of Govaert Flinck.
Exhibited: Berlin, Galerie Dr. Schäffer, Hundert Seltene Holländer, April-May 1932, no. 39, 'Flinck, Govaert - Bildnis eines alten Mannes - Bez. und datiert 1646'.
Note: When this arresting portrait was presented to the art market at Christie's in 2011, it was recognized among the most significant and powerful paintings in the oeuvre of Govaert Flinck, one of Rembrandt's most faithful and accomplished followers. Subsequent to its recent sale, the picture's dark, yellowed varnish — which had obscured its surface for generations — was removed, revealing a luminous setting, rich palette, and masterful handling of paint. Today, Christie's is delighted to re-present the painting once more in a state in which its quality can be fully appreciated.
Acquired by Catherine the Great as part of her first and perhaps most sensational en bloc art purchase, An old man at a casement was first documented in 1764 as by Rembrandt ('extra fein gemahlt'), and may have remained under this attribution in the Russian Imperial collection well into the 19th century. It was not until 1928, in a certificate made in Berlin by the scholar Wilhelm von Bode, that the painting was formally recognized for the first time as by Flinck. Notwithstanding this, and the painting's subsequent appearance in an exhibition in Berlin in 1932, the composition appears to have been known to a wider circle of scholars only by virtue of several copies, so that neither Joachim von Moltke nor Werner Sumowski were aware of the present work at the time of their respective publications on Flinck, in 1965 and 1983. However, Von Moltke did later get to see the painting in person and described it in a letter to the late owner (14 February 1973) as: 'ganz ungewöhnlich gut and sehr charakteristisch' ('extraordinarily good and very characteristic'). Recently, the attribution has been confirmed on the basis of photographs by Tom van der Molen, who will include An old man at a casement in his forthcoming catalogue raisonné of Flinck's paintings. He has also pointed out that the present work compares well to a painting by Flinck datable to the early 1640s, now in the National Gallery of Ireland, in which the sitter's features are similar to those in the present work (fig. 1).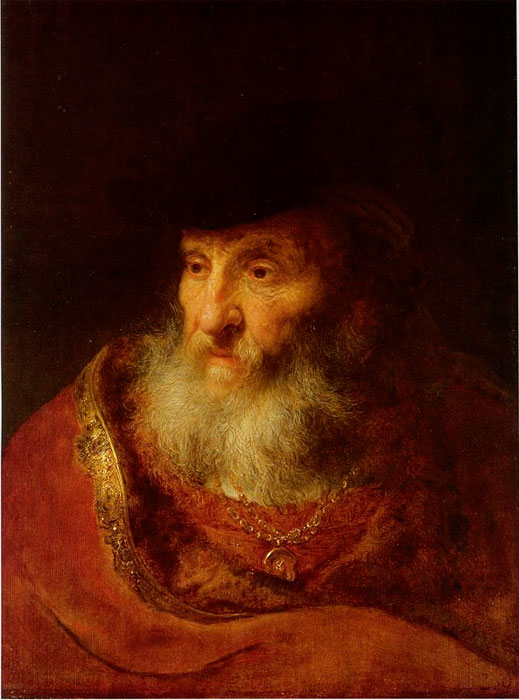 Fig. 1 Govaert Flinck, Head of an old man, National Gallery of Ireland, Dublin © National Gallery of Ireland, Merrion Square West, Dublin 2, Ireland.
Govaert Flinck was one of Rembrandt's most talented pupils. His biographer Arnold Houbraken records that he worked in Rembrandt's Amsterdam studio for just a year — probably 1635-1636 — and in this short time became so adept at painting in Rembrandt's manner that several of his pictures were sold as works by Rembrandt's own hand (A. Houbraken, De Groote Schouburgh de Nederlantsche konstschilders en schilderessen..., II, Amsterdam, 1718-1721, p. 18). By the mid 1640s Flinck had built up a flourishing career in his own right, to the extent that he had become one of Rembrandt's chief rivals in Amsterdam, both as a history painter and as a fashionable portraitist. He had also by this time become independently wealthy by virtue of his marriage in 1645 to Ingeltje Thoveling (1619-1655), the daughter of a director of the East India Company. In May 1644 he paid 10,000 guilders to acquire two adjoining houses on the Lauriersgracht (now numbers 76 and 78) and converted the top two floors into a studio and gallery. Houbraken describes a visit to the studio in which he found a Rembrandt-like array of items including exotic textiles, costumes, jewellery, armour and sculptures, for use in paintings of exactly this kind.
Rembrandt's tronies — imaginary portraits based on live models — which he had been painting regularly since the 1630s, were clearly influential on Flinck's own work in this area. These frequently featured old, bearded men in antique costume, referred to generically as philosophers or prophets, with emphasis given to their perceived wisdom in old age. Flinck's sitter here wears a red velvet cap, a gold chain, a black fur-trimmed coat, and a lace shirt with elaborately frilled cufs, and is depicted leaning on a richly embroidered cushion. Like Rembrandt, Flinck uses this style of costume in a deliberate efort to transplant his subject into a timeless past, redolent with Biblical, classical and medieval associations. Similar attire and probably the same model were used by Flinck a year earlier for the Bearded man in a velvet cap (New York, Metropolitan Museum; see fig. 2). However, while the sitter for the New York picture is evenly lit and observed bust-length in much the same manner that Flinck might employ for a standard portrait, in the present work the lighting is far more dramatic (and distinctly Rembrandtesque) and the pose much more spontaneous and expressive. The man is seen leaning forward, resting his head on his clenched left hand in an everyday gesture that suggests contemplation and perhaps a degree of world-weary resignation. The pictorial origins of this gesture may be traced back to Albrecht Dürer's Melancholia engraving (fig. 3; 1514, Bartsch 74), in which Melancholy is personifed by a winged woman, seated with her head in her hand, surrounded by instruments of learning yet paralysed by idleness. Although Rembrandt seems never to have committed this particular pose to paint, he did experiment with it in a number of drawings executed around the time that Flick was operating in his studio. These include the sheet in the Museum Boymans van Beuningen, Rotterdam, showing Saskia at a window in which she supports her head with her left hand (see fig. 4).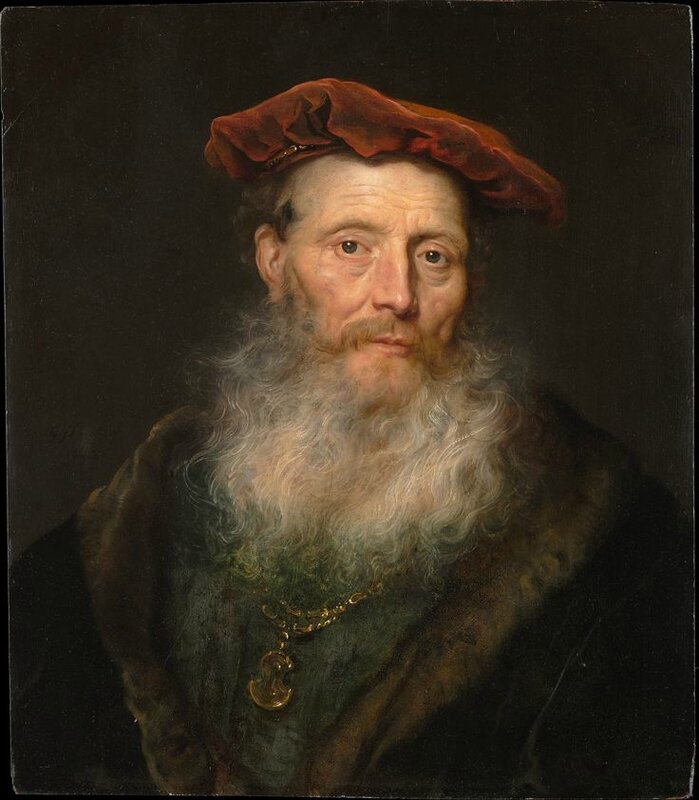 Fig. 2 Govaert Flinck, Bearded man in a velvet cap, The Metropolitan Museum of Art, New York
Fig. 3 Albrecht Durer, Melancholia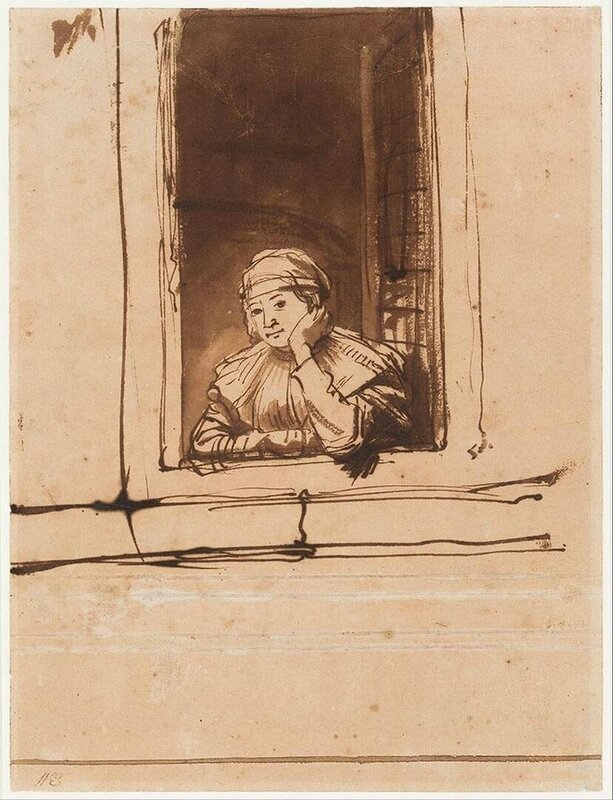 Fig. 4 Rembrandt Harmensz. Van Rijn, Saskia at the Window © Museum Boijmans Van Beuningen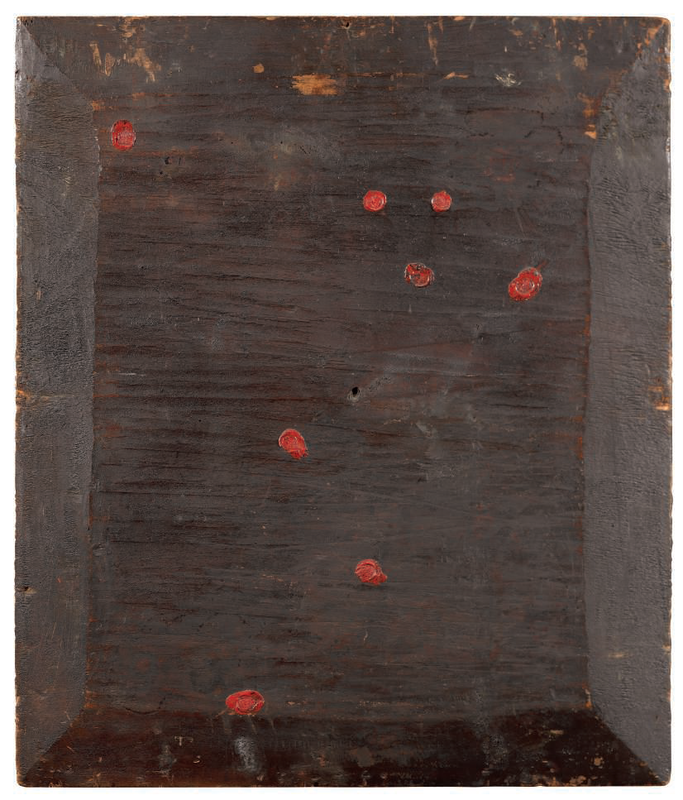 Fig. 5 reverse of the present lot
CATHERINE THE GREAT AND THE HERMITAGE PROVENANCE
The foundation of the Imperial Hermitage and of its successor, the State Hermitage Museum, Saint Petersburg, is traditionally traced to 1764, the year in which Catherine the Great (fig. 6), crowned Empress of All the Russias less than two years earlier, made her frst purchase of pictures. This founding acquisition was to unleash a passion for collecting which saw, over ensuing decades, the purchase en bloc of some of Europe's greatest private collections, including those of Sir Robert Walpole at Houghton Hall, Crozat de Thiers in Paris, Tronchin in Geneva and Count Heinrich Brühl in Dresden, and was to leave Saint Petersburg with a picture gallery rivaled by few others to this day. Alongside works by Rembrandt, Frans Hals, Gerrit van Honthorst, Hans von Aachen, Bartholomeus van der Helst and Hendrick Goltzius, the group with which Catherine began collecting included Govaert Flinck's An old man at a casement, which is documented in the Imperial Collection at the Winter Palace from its very origins and into the nineteenth-century.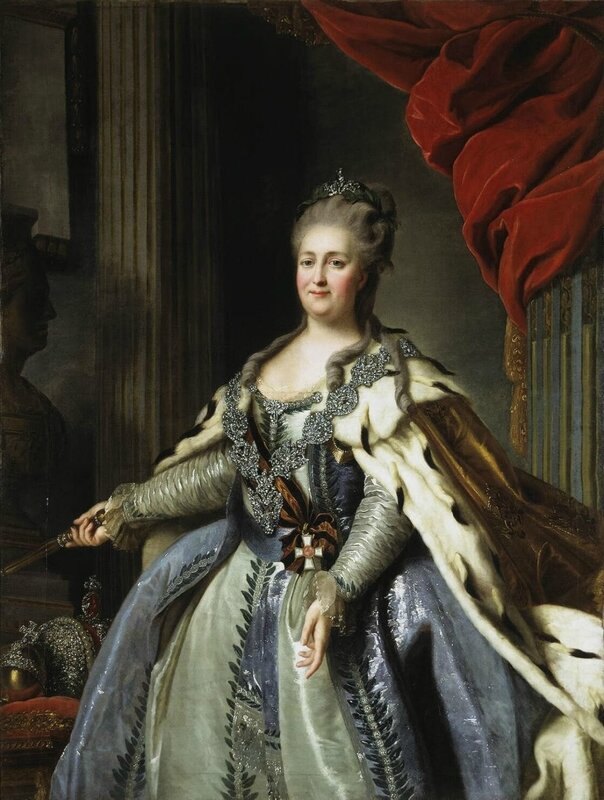 Fig. 6 Fyodor Rokotov, Portrait of Catherine II © The State Hermitage Museum / photo by Vladimir Terebenin, Leonardo Kheifets, Yuri Molodkovets
The collection which Catherine acquired in 1764 was formed by a fascinating fgure from Berlin, the entrepreneur and investor Johann Ernst Gotzkowsky. In 1755, Frederick the Great of Russia, who had decided to build a gallery of Old Masters for Sanssouci, his summer palace at Potsdam, commissioned Gotzkowsky to act as his agent and advisor in the purchase of suitable pictures. Gotzkowsky seems to have thrown himself into this new challenge with a passion, and by 1756 Frederick had received the frst group of paintings. Gotzkowsky continued buying for the King; however, the Seven Years' War, which pitted Frederick's armies against those of the Russian Empire, placed a strain on Prussian state fnances. Catherine, acting through her diplomats V.S. Dolgoruky and M.I. Vorontsov, moved to purchase the pictures assembled for Frederick the Great — which allowed her demonstrate to her Prussian counterpart that even in the aftermath of the Seven Years' War, Russia had the fnancial resources which Prussia then lacked. In 1764, Gotzkowsky handed over to Dolgoruky 317 pictures, valued at 171,900 Reichstaler.
By August 1764 the pictures were in Saint Petersburg in the care of the civil servant Betsky, and it was probably at this time that a list was composed by Jacob von Stählin (1709-1785). His list of Gotzkowsky's pictures, which remains in the Archive of the Russian Academy of Sciences (op. cit.), closely matches that which was probably composed on Gotzkowsky's instruction before the collection left Berlin (Specifcation, Staatsarchiv, Berlin, op. cit.). In both manuscripts Flinck's An old man at a casement can be identifed with an entry for one of the thirteen works listed as by Rembrandt, '1. alter Mann, der mit dem Kopf auf der linken hand ruht Extra fein gemahlt', with matching dimensions. The picture is listed under the non-sequential number 18, which may be Gotzkowsky's own inventory number. The qualifcation 'Extra fein gemahlt' ('extra fein gemahlt' ('extra fnely painted') is refected in the valuation of 600 Thalers, more than the twice the amount stipulated for each of a pair of portraits by Rembrandt of larger size (Specifcation, op. cit., no. 565).
We are grateful to Svetlana Borisovna Adaksina, Head Curator of the State Hermitage Museum, and her ofice, for confrming verbally that in the manuscript catalogue of the Imperial Collection compiled in 1797, the year after Catherine's death, An old man at a casement is listed under the inventory number 3654, with the dimensions recorded as 15.34 x 13.12 vershki, 68.2 x 58.3 cm. This inventory number is clearly visible in an old photograph of the picture, which carries the Bode certifcate of 1928 on its verso. In the succinct, printed Notice sur les principaux tableaux du Musée Impérial de l'Ermitage à Saint-Pétersbourg of 1828, the picture may feature again in the list of works by Rembrandt in room no. 11, described as 'un rabbin juif qui se résigne à payer' (loc. cit.). Room 11, one of the more spacious rooms in early-19th-century plans of the Winter Palace, was hung entirely with 39 works by (or thought to be by) Rembrandt, and was also Catherine's billiard room, containing a table for the game, another for a 'jeu de fortune' and an impressive, mechanised writing desk by Catherine's legendary ébéniste, Heinrich Gambs (Notice, op. cit., p. 54). As well as Flinck's An old man at a casement, these 39 works include: Rembrandt's The Return of the Prodigal Son; the Flora of 1634; the Portrait of an Old Woman of 1654; Haman recognizing his fate; Danae (all still Saint Petersburg; State Hermitage Museum); The Incredulity of Thomas; Ahasuerus and Haman at the feast of Esther (both now Moscow, State Pushkin Museum of Fine Arts); A Man in Oriental Costume; and Joseph Accused by Potiphar's Wife (the latter now doubted as being by Rembreandt; both in Washington, D.C., National Gallery of Art). At least four of these (The Incredulity, The feast of Esther, Man in Oriental Costume and Joseph and Potiphar's Wife), in addition to the present work and various portraits, had come from Gotzkowski. The room soon came to be called the 'Salle de Rembrandt', and by dint of Catherine's astute and well-advised purchases, presented the richest concentration of the work of Rembrandt and his school anywhere in the world in its day.
Given that for many decades (indeed, often well into the 20th century), the best works of Rembrandt's pupils were regularly catalogued as being by their master, it is no surprise that the present work by Govaert Flinck was counted amongst the more than ffty works in the Imperial Collection given to Rembrandt in its frst decades. It seems highly likely, given the cataloguing of the present work as Rembrandt, 'Extra fein gemahlt', in Gotzkowsky's list, that the signature and date were obscured by discoloured or degraded varnish or overpainting, which may also explain why the 1797 inventory number, brushed in red paint in the lower left-hand corner, was placed so close to the then-hidden location of the signature. The absence of any reference to the signature in Bode's 1928 certifcate - where he describes the picture as an early work, in ignorance of the exact date indicated in the signature - suggests that the signature was not revealed until after 1928, but by the time of the 1932 exhibition. Interestingly, one other picture sold by Gotzkowsky to Catherine, the Man in Oriental Costume in Washington, is now hypothetically attributed to Flinck, or may represent a collaboration between Flinck and Rembrandt, pupil and teacher. For Gotzkowsky to have deliberately presented his Flincks as Rembrandts seems unlikely, as he had known to correctly attribute a large subject picture by Flinck, The Repudiation of Hagar, which was not amongst those that went to Russia (Staatliche Museen Berlin, Gemäldegalerie, inv. no. GG 815). It seems that he too formed his opinion on the basis of the present work's excellent, virtuosic execution and the apparent absence of a signature in attributing it to Rembrandt.
Where Gotzkowsky sourced his pictures is not always clear. An old man at a casement does not appear in either of the frst catalogues of Gotzkowsky's collection written by Matthias Oesterreich (1757 and 1759, respectively), and so must have been acquired by him in the period 1759-1763, probably at auction. Freiherr Bernhard von Köhne, the Hermitage Curator of Paintings who frst rediscovered the story of the Gotzkowsky acquisition in the 1870s, was to write that upon receiving Frederick's commission to collect pictures in 1755, Gotzkowsky entered into an exchange of letters with 'fast ganz Europa', seeking out pictures in Italy, France and The Netherlands to purchase (Köhne, 'Berlin, Moskau, St. Petersburg, 1649 bis 1763. Ein Beitrag zur Geschichte der freundschaftlichen Beziehungen zwischen Brandenburg-Preußen und Rußland', Schriften des Vereins für die Geschichte der Stadt Berlin, Berlin, XX, 1882, p. 145, echoing Gotzkowsky's own words in his autobiographical Geschichte, op. cit., I, p. 20).
The exact way in which An old man at a casement left the Hermitage is dificult to establish. It may have been amongst the works sold by Catherine's grandson (Alexander II's father), Emperor Nicholas I, in an auction of Hermitage pictures on 6 June 1854. We are grateful to Victor Mikhailovich Faybisovich and Mikhail Olegovich Didinkin of the State Hermitage Museum for suggesting that it may have been lot 636 in that sale, as 'Flinck. Head of an old man', albeit catalogued with incorrect dimensions and citing the wrong number from the 1797 catalogue (3121). No copies of the auction catalogue are documented, but a Russian-language transcription (perhaps translated from French) was published by a later Curator of Paintings, Baron N.W. Wrangell, in 1913 (op. cit.). The vast sale, 1,218 lots in length, seems to have been catalogued very hastily, and inaccuracies of attribution and description abound. In his commentary to the transcription, Wrangell vociferously laments the sale, through which some signifcant masterpieces left the Hermitage collections. These included Lucas van Leyden's supremely rare Shield-Bearers (subsequently reacquired for the Hermitage at great expense, in 1885), Pieter Lastman's The Flight of Abraham, Natoire's Cupid and one of Catherine's most beloved paintings, Chardin's Still Life with Attributes of the Arts. All of these pictures remained in Russia and were purchased or otherwise returned to the Hermitage either before or after the Revolution.
The 1854 auction seems to have been brought about by a variety of factors, including lack of space for proper storage of the enormous collections; the dank condition of some of the existing Hermitage stores, which posed a risk to the safe conservation of the vast numbers of paintings accumulated by Catherine; pressures to raise money in the years of Russia's entanglement in the Crimean War (1853-1856); the personal interest taken by Nicholas I in the maintenance of the collection; and the example of similar deaccessional auctions held by museums in Continental Europe, such as that organized by the Pinakothek in Munich only two years earlier, in 1852. The style of the monogrammed seal on the panel reverse, however, applied multiple times as though in an assertive, proud show of ownership, suggests that the picture may already have entered a private collection by c. 1860-1870. The monogram, which can be read either as the Latin initials 'XJ' or the Cyrillic initials 'ГХ' ['G. Kh.'], has not been conclusively identifed.
It is possible that already by the time of the Russian Revolution the present picture had been acquired by the ancestors of the present owner. Wilhelm Friedrich Mertens, of Saint Petersburg, is known to have been a passionate collector of Dutch Old Master drawings and pictures, and the present picture may have been amongst his purchases. The Mertens family, of German origins, were established the Russian fur trade by Friedrich Ludwig Mertens (1812-1877/87); the business had a headquarters in Saint Petersburg, and branch ofices in Nizhny Novgorod, Riga, Paris, London, Brussels, Leipzig and Berlin. In Saint Petersburg their ofices were on the Nevsky Prospect, with a shop at no. 50 in the 1850s, and subsequently with a grander building, the F.L. Mertens Trade House, at no. 21, raised to four stories by A. Roben and subsequently completely rebuilt by the architect M.S. Lyalevich in 1911-1912. Lyalevich also built a family house on Kamenny Island (1, Zapadnaya Alley) in 1911 (fig. 7). Wilhelm Friedrich left Saint Petersburg with his family in 1917-1918 and settled back to Germany.
Fig. 7 The Mertens family house, Saint Petersburg, Kamenny Island
The present work has been requested by Tom van der Molen for inclusion in an upcoming exhibition devoted to Flinck and another of Rembrandt's students, Ferdinand Bol, being organized by the Amsterdam Museum and the Rembrandthuis and scheduled to open in October 2017.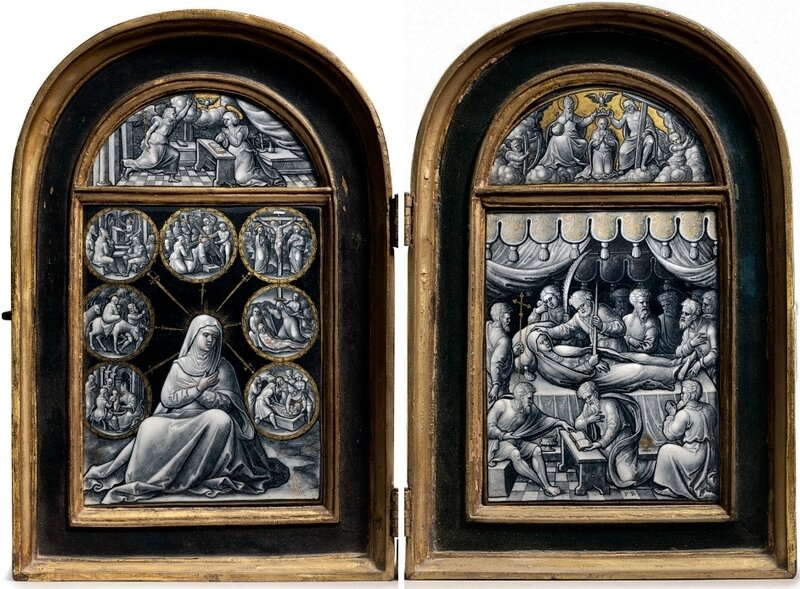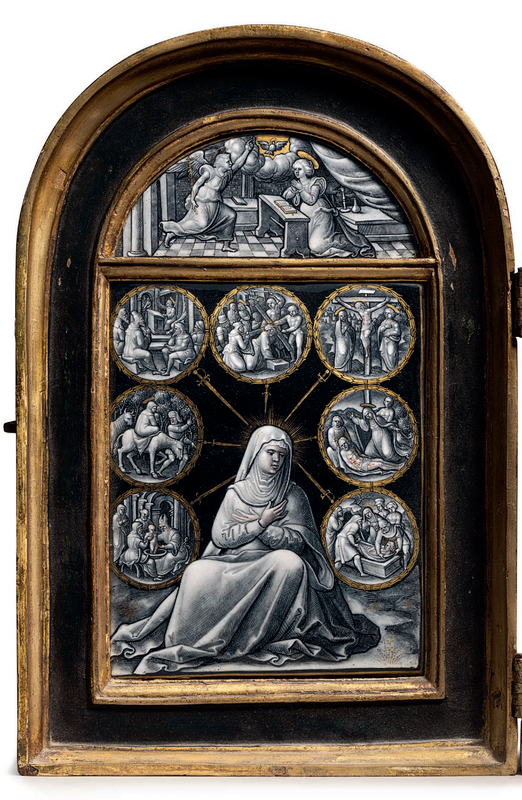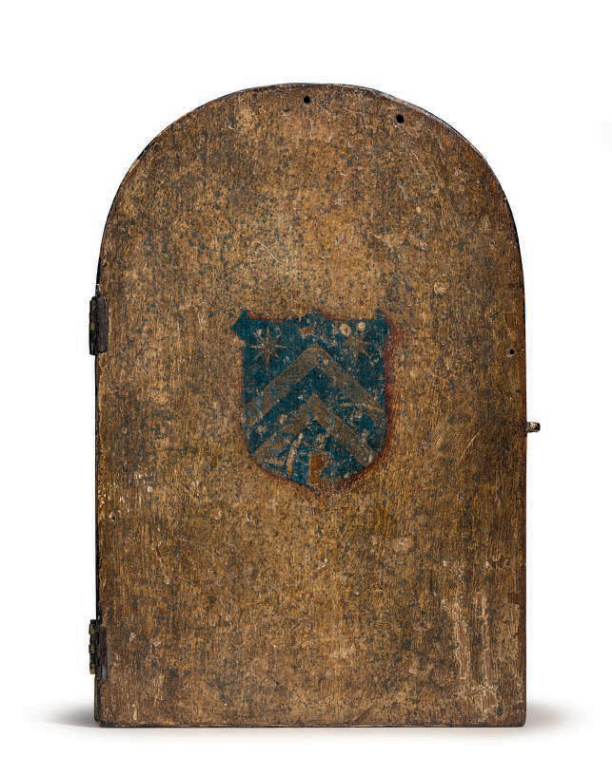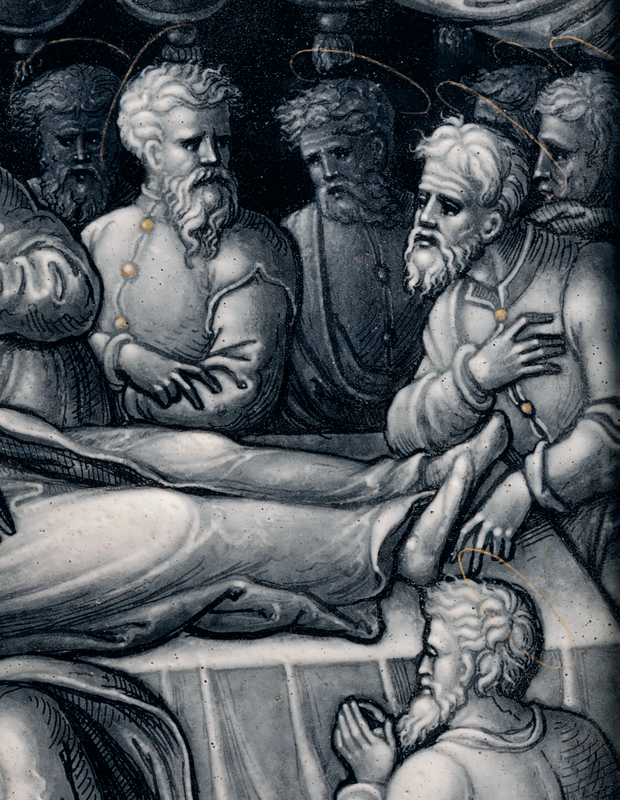 Lot 9. A parcel-gilt grisaille enamel diptych of the Seven Sorrows of The Virgin and The Death of The Virgin by Pierre Reymond (c. 1513-after 1584), Limoges, circa 1540's, the case possibly 16th or 17th century. Signed P.R and the case possibly bearing the arms of the de Sarrazin, du Rousset or de Varisque families, 11 ¼ in. (27.9 cm.) high, 15 in. (38.1 cm.) wide, 1 1/8 in. (2.5 cm.) deep, overall open. Estimate USD 200,000 - USD 300,000 © Christie's Images Limited 2017.
Provenance: [Possibly] the de Sarrazin, du Rousset or de Varisque families
With Blumka, New York, 1965, and bought by the present Private Collector.
Note: The battered case of the present lot gives no indication of its dazzling interior. And this is exactly as was intended. This enamel diptych was one of the most sophisticated purchases possible at the time of its creation in the 1540's – yet it was intended as a private object for personal use. What sort of patron could afford – both in terms of expense but also in terms of confidence – to have such an object by a celebrated master hidden from public view? The case also had the additional benefit of protecting the enamels within. More than 450 years after they were made, the gilding and jewel-like tones of the enamels are in breathtakingly good condition.
In the long history of enamel production in Limoges, the painted enamels of the 16th century are among the high points, and Pierre Reymond is among the most celebrated proponents of this art form. His client list remains tantalizingly discreet, but he was patronized by the wealthiest collectors of 16th century Europe, the Queen of France, Catherine de' Medici and Anne de Montmorency, Marshall and Constable of France, among others. And the present lot combines four spectacular panels by the hand of the master Reymond himself and done at the height of his long career.
THE BEST OF THE BEST
As with so many of Reymond's works, a number of his scenes have been taken from print sources. While there does not appear to be a direct source for the present enamels, many of the Limoges enamels of the period, and those of Reymond, in particular, appear to have been strongly influenced by the prints of Albrecht Dürer. One comparison being The Last Judgement in the Wallace Collection (S. Higgott, The Wallace Collection: Catalogue of Glass and Limoges Painted Enamels, London 2011, no. 67). These two grisaille enamels, almost certainly from the 1540's, are hyper-sophisticated examples of Reymond's painterly abilities with both subtle and intriguing compositions that recede into the background, but still retain their lush and precise details. Probably the closest comparable to the present enamel is a single panel of the Seven Sorrows of the Virgin, attributed to Pierre Reymond's workshops and now in the Frick Collection (I. Wardropper and J. Day, Limoges Enamels at the Frick Collection, London, 2015, no. 22). There are considerable differences between the Frick and the present version but the delicate laurel leaf frames of the circular 'sorrows' are identical. Dated 1533, the Frick version is one of Reymond's earliest works and while of marvelous quality and with gorgeous deep colors, the larger figures are considerably less sophisticated than in the present enamel. The present enamel was clearly a rare, and, except for the Frick version, possibly unique composition for Reymond, and the present example, a far more complex set of enamel panels when compared to the Frick version, illustrates the progress of the master's technical abilities in a little over ten years.
Religious imagery is rarer in Reymond's works than in the enamels of many of his contemporaries. As Higgott notes, most of the surviving Reymond enamels with Christian themes date from the 1530's and 1540's. Though Reymond did continue to produce grisaille enamels into the 1560's and 1570's with the flesh tones and gilding being the only color highlights (Op. cit., pp. 238-239). But the present enamel was clearly done when the artist was operating at the height of his technical abilities. As is evident from the quality of the enamels produced during the 1540's – the highest-quality of his long career -- these were the years that Reymond was most intensely involved in the production and management of his workshop. And Caroselli confirms that the quality began to fluctuate and eventually decline during the 1550's and 1560's as Reymond was less involved in the actual production of the enamels (S. Caroselli, The Painted Enamels of Limoges: A Catalogue of the Collection of the Los Angeles County Museum of Art, New York, 1993, pp. 80-81). Thus the present enamel is an outstanding example from the years when Reymond was personally producing his highest quality enamels.
THE MYSTERY OF THE COAT-OF-ARMS
The front of the case is decorated with a coat-of arms with an azure ground with two gold chevrons between three stars, or mullets, with eight straight-sided rays which are either gold or silver. There are three nearly identical coats-of-arms that may link the enamel to these French families. Both the de Sarrazin family, seigneur de Saint-Martin, in Franche-Comté since the 14th century and the de Varisque family, seigneur de Beauregard, in Champagne, and ennobled in 1527, have the exact coat-of-arms and coloration represented on the present case. However, the de Varisque coat-of-arms has stars with five points, unlike the present coat-of-arms with eight points. It is unclear how many points the stars in the de Sarrazin coat-of-arms have. So that remains a possibility. As does the du Rousset family, seigneurs de Morfontaine and Burzé in Franche-Comté and the Ile-de-France, where the number of points on the stars is also not identified (R. de Warren, Grand Armorial de France. Catalogue général des armoiries des familles nobles de France, vol. VI, pp. 170, 405 and 83, respectively). While it is possible the case and its painted surfaces are later, samples tested from the coat-of-arms show the blue of the background of the coat-of-arms is painted directly on the chalk gesso layer and is made of blue verditer – an artificial copper carbonate rarely used after c. 1700 – and so this is strong evidence of a 16th or 17th provenance for the coat-of-arms and case.
Whatever the early provenance of the present enamel, it was certainly made for a hyper-cultivated and discerning private patron and remains, miraculously, as beautiful as when it was first commissioned.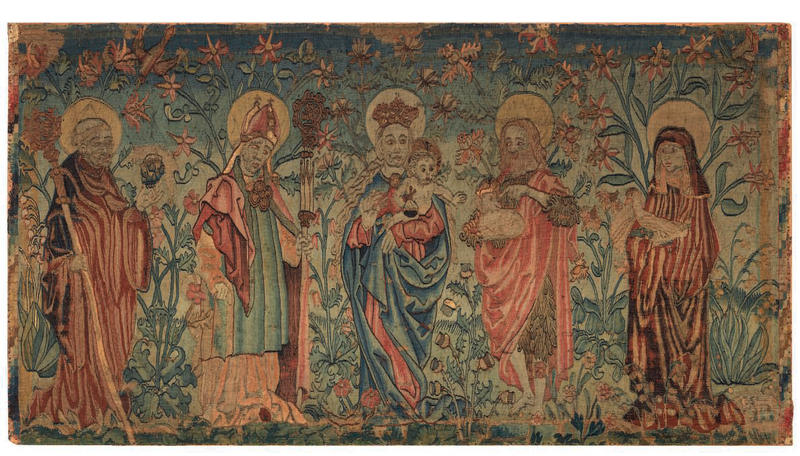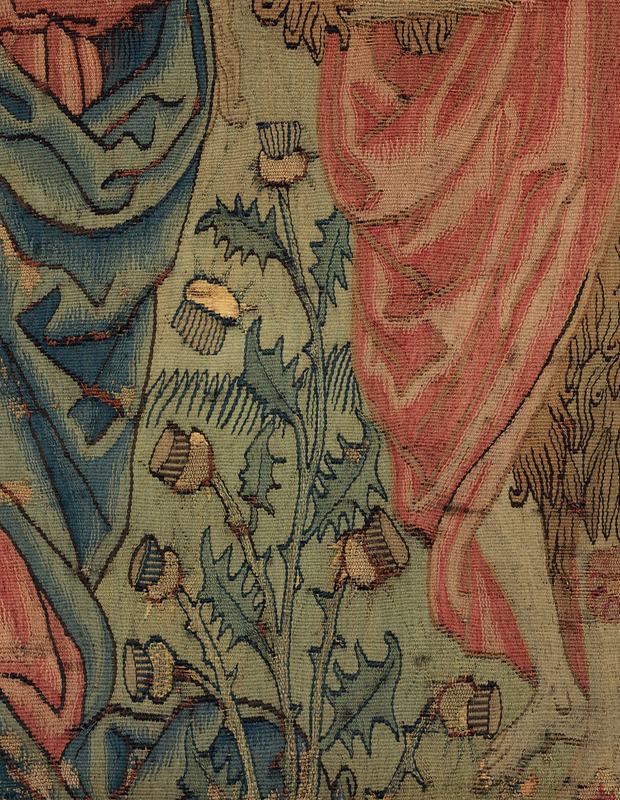 Lot 17. A German biblical tapestry, possibly Swabia, circa 1500, 69 in. (175.2 cm.) x 37 in. (94 cm.). Estimate USD 50,000 - USD 100,000. © Christie's Images Limited 2017.
Depicting the Virgin, crowned, in the center holding the child, at her proper left is St. John the Baptist holding the lamb and St. Scholastica the first Benedictine nun clasping a dove to her breast. On the Virgin's proper right is a Bishop Saint, probably St. Boniface and next to him St. Benedict as an Abbot. The background is decorated with delicate flowers such as lilies of the valley, thistle, a campanula, some botanical creations and ends in a graduating shade of blue.
Provenance: With Arnold Seligmann, Paris.
Purchased from the above circa 1926 by Isaac T. Starr (1867-1930), Laverock Hill, Pennsylvania.
Thence by descent.
Exhibited: Exhibited at the Loan Exhibition of Gothic Tapestries at the Arts Club of Chicago, December 1926, cat.no. 20.
Note: Made to adorn a Benedictine altar this rare antependium is closely related to an example in the MAK Museum in Vienna depicting Virgin and Saints. The example in Vienna is dated 1502 and attributed to the workshops of Swabia. Both tapestries are closely related in design and in coloring and are likely to have been woven in the same workshop as was suggested in the Arts Club of Chicago catalogue of 1926. The charm and naïveté of this tapestry is typical of German production. The colors, although bearing the traces of time are still remarkably vivid.

The Virgin with Six Franciscan Saints, Swabia, 1502, Vienna, MAK Museum.
The tapestry was acquired by Isaac T. Starr (1867-1930) who ran his family's brokerage firm Starr & Co. with offices in Philadelphia.

Perhaps it is the delicate flora that appealed to Isaac T. Starr when he bought the tapestry for his residence, Laverock Hill, renowned for its outstanding garden. Indeed, the property was remodeled by Charles A. Platt and Ellen Shipman, the celebrated architect and landscape designer, and the gardens were featured in Portraits of the Philadelphia Gardens in 1929.
Old Master Paintings and Sculpture | April 27 at 2pm
Featuring a wide and accessible range of property, this sale of both paintings and sculpture includes the private collection of New York art dealer Margot Gordon, as well as numerous stylish and decorative works. Highlights include paintings by Jacopo Ligozzi, Ubaldo Gandolfi, Louis de Caullery, Sébastien Bourdon, and Jean-Honoré Fragonard, as well as sculptures including a late 17th century set of four white marble figures representing the seasons, and an Italian over-lifesize bronze group of Laocoon and his sons, cast by Fonderia Chiurazzi.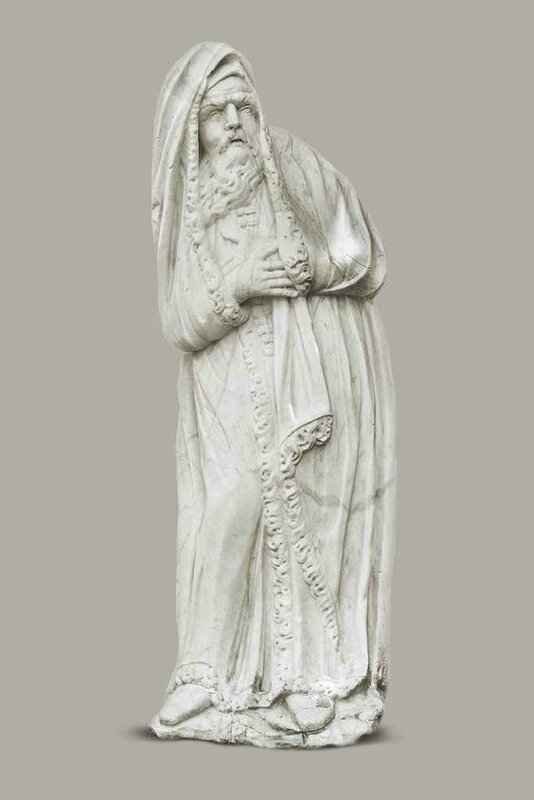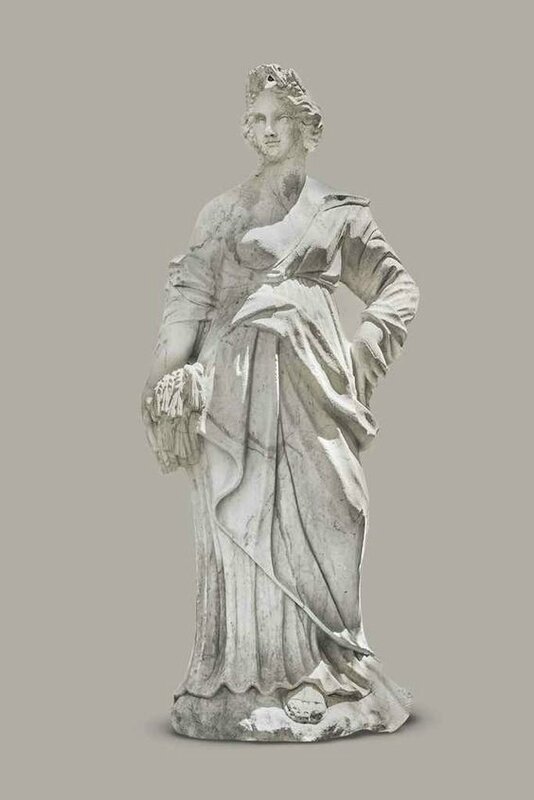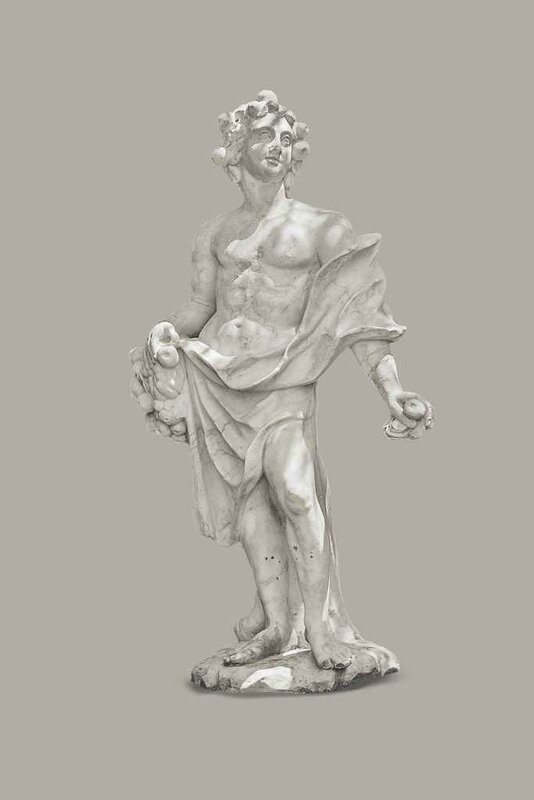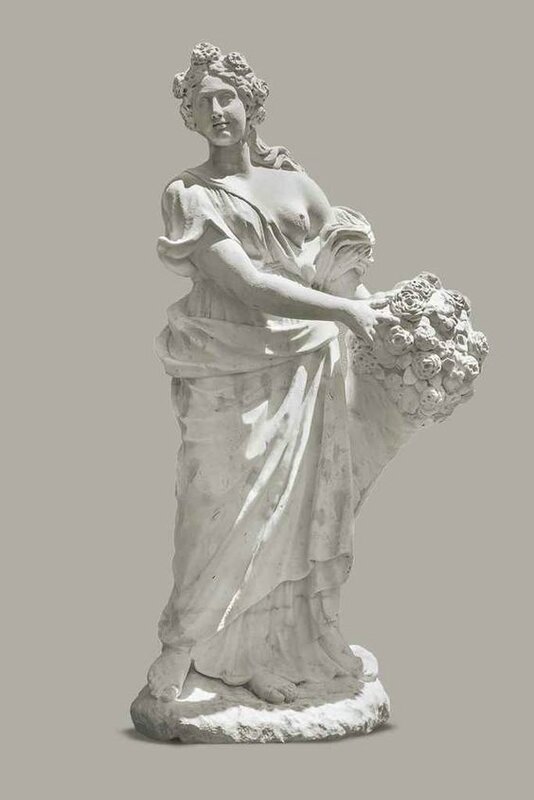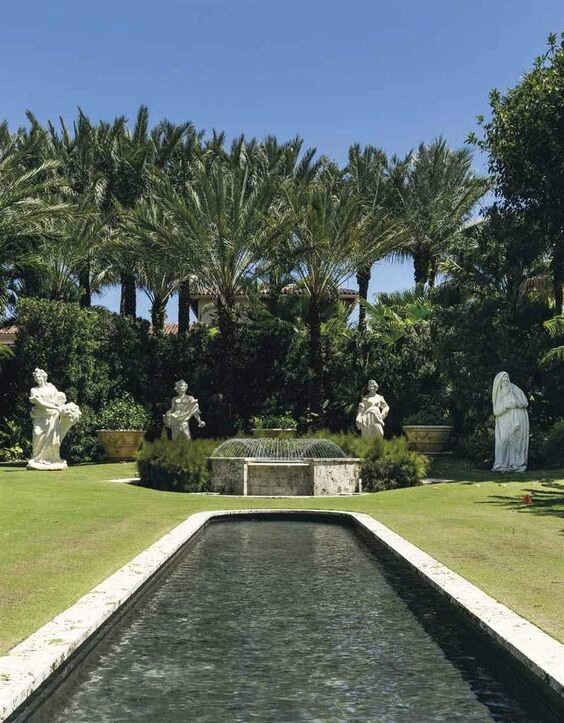 Lot 211. A set of four white marble figures representing the seasons, Flemish, late 17th century. Approximately 91 in. (231.1 cm.) high, each. Estimate USD 150,000 - USD 250,000 © Christie's Images Limited 2017.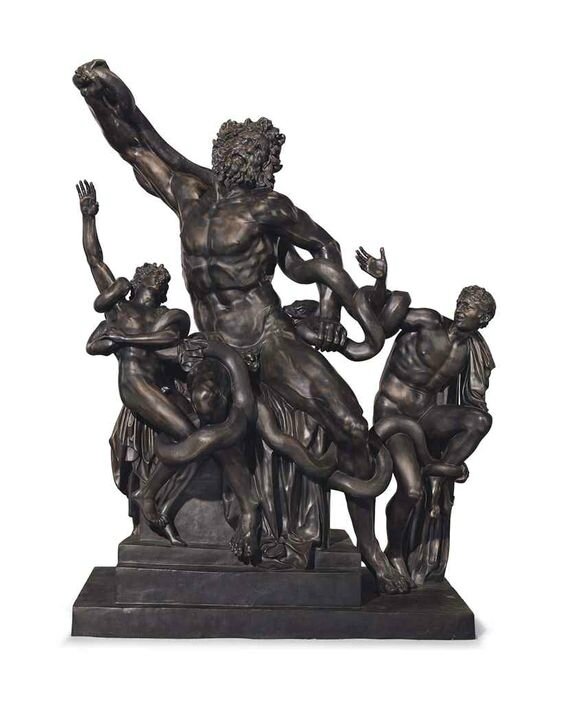 Lot 224. An Italian over-lifesize bronze group of Laocoon and his sons, cast by Fonderia Chiurazzi, Naples 20th century. Stamped FONDERIA CHIURAZZI NAPOLI, 86 ½ in. (219.6 cm.) high, 61 ½ in. (156.2 cm.) wide, 37 3/8 in. (95 cm.) deep. Estimate USD 60,000 - USD 90,000 © Christie's Images Limited 2017.
Property From a Private West Coast Collection
The Exceptional Sale | April 28 at 10am
The Exceptional Sale offers a stunning array of works of art with historic and artistic significance. The 28-lot sale is highlighted by rare antiquities such as an Anatolian Marble Stargazer from The Guennol Collection, spanning through to the 20th century with the Nobel Peace Prize awarded to Alfonso Garcia Robles. Furniture highlights include a spectacular late Louis XVI ormolu-mounted commode after a design by Charles Percier, once in Mentmore, the fabled Rothschild palace, a late Louis XVI ormolu-mounted jewel casket originally commissioned by William Beckford from the silversmith Henri Auguste, and a George II bureau-cabinet deaccessioned from the Metropolitan Museum of Art, previously in the collection of Percival Griffiths. A newly discovered terracotta bust of a Laureate by Andrea Della Robbia and a 17th century Augsburg pietra dura cabinet round out the selection.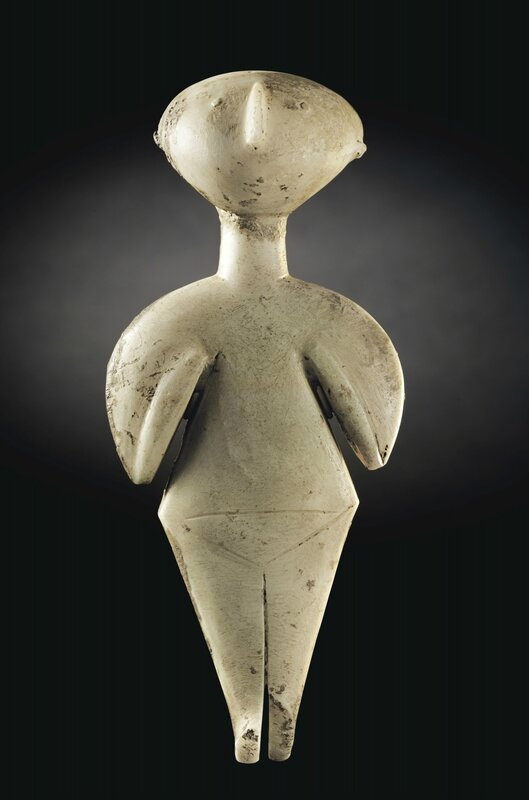 Lot 12. The Guennol Stargazer. An Anatolian marble female idol of Kiliya type, Chalcolithic period, circa 3000-2200 B.C. Estimate on request © Christie's Images Limited 2017.
(Cf. my post: The Guennol Stargazer to be offered at Christie's Exceptional Sale)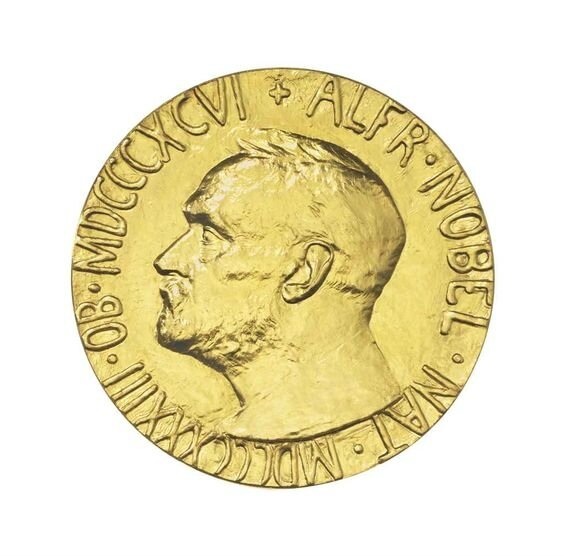 Lot 28. A Nobel Peace Prize awarded to Alfonso Garcia Robles (1911-1919) for his achievements in nuclear disarmament, 18 carat gold, 2.5 inches (66 mm.) diameter. Estimate USD 400,000 - USD 600,000 © Christie's Images Limited 2017.
The medal displaying the profile portrait head of Alfred Nobel facing left on obverse, encircled by the legend 'ALFR. NOBEL' and his birth and death dates in Roman numerals, the reverse with an allegorical group of three standing male figures, their arms linked, and the encircling legend 'PRO PACE ET FRATERNITATE GENTIUM' ('for the peace and brotherhood of nations'), all in low relief on the polished surface, the edge inscribed 'ALFONSO GARCIA ROBLES/PRIX NOBEL DE LA PAIX/1982'; with accompanying fitted blue morocco case bearing the gilt legend 'NOBELS FREDSPRIS 1982' (NOBEL PEACE PRIZE 1982 in Swedish).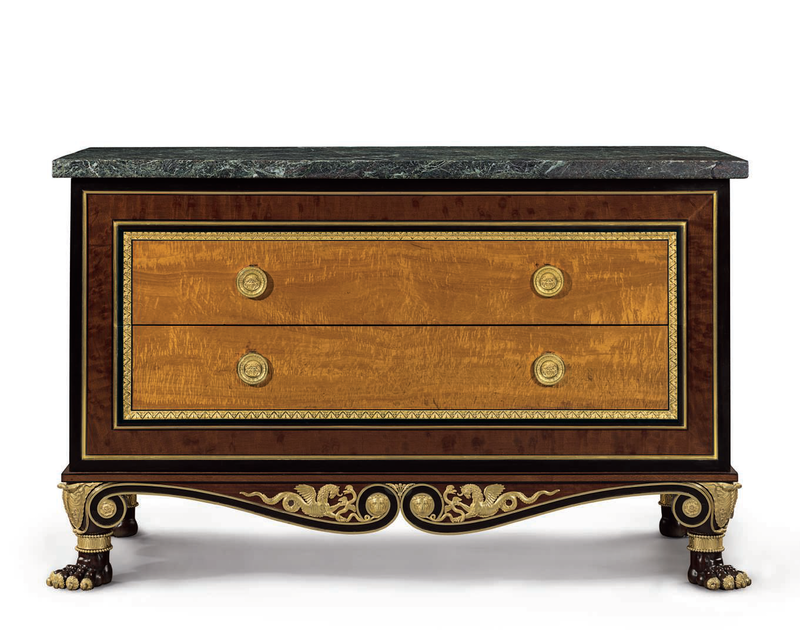 Lot 19. A late Louis XVI ormolu-mounted bois citronnier, mahogany and ebony commode, after a design by Charles Percier, the cabinet-work attributed to Adam Weisweiler. The gilt bronzes possibly designed by Jean-Guillaume Moitte and executed by Henri Auguste, circa 1795; 37 ¼ in. (94.5 cm.) high, 61 in. (155 cm.) wide, 29 in. (73.5 cm.) deep; once in Mentmore, the fabled Rothschild palace. Estimate USD 400,000 - USD 600,000 © Christie's Images Limited 2017.
Provenance: Almost certainly acquired by Mayer Amschel de Rothschild for Mentmore Towers, Buckinghamshire.
Thence by descent through his daughter Hannah, later Countess of Rosebery, to the 6th Earl of Rosebery, sold Sotheby's House sale, Mentmore, 20 May 1977, lot 826 (described as 'possibly Russian').
Anonymous sale; Sotheby's, Monaco, 11 December 1999, lot 131.
A Distinguished Collector; Christie's, New York, 26 October 2001, lot 405.
Note: This spectacular commode is remarkable both through the powerful originality of its à l'antique design and also through the superb quality of its craftsmanship, with a lavish use of luxurious timbers and beautifully chased gilt bronzes. It was created in that fascinating period in the 1790s when the final flowering of the styles of the ancien régime started to look forward to the more rigorous styles of the Directoire and Empire periods, when pieces of remarkable richness and originality were created, often for foreign patrons such as the courts of Russia and Spain or connoisseur collectors such as William Beckford.
THE DESIGN
Its distinctive form, with a severe rectilinear body supported by a shallow base with massive, angled lion's paw feet joined by a scrolling apron, is derived from a design by the influential architect Charles Percier (illustrated here and in H. Lefuel, François-Honoré-Georges-Jacob-Desmalter, Paris, 1925, plate IV).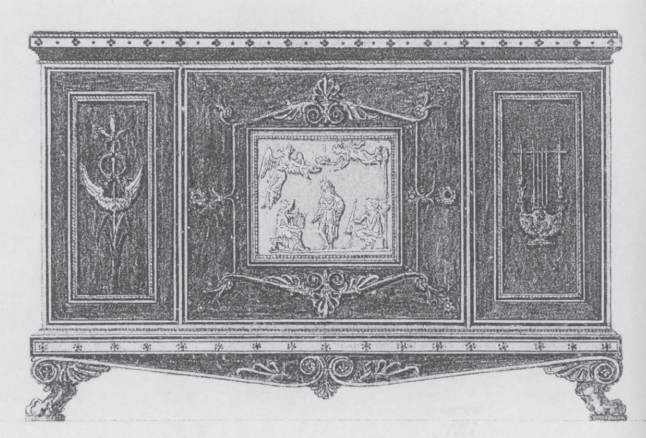 The design for a related commode by Charles Percier (1764-1838)
It forms part of series of commodes and secretaires sharing many of the same characteristics, executed around 1796-1798, almost all for the Russian and Spanish courts. Two commodes of this form, veneered in thuyawood and with Wedgwood plaques, were purchased in 1799 by Tsar Paul I for his palaces in St. Petersburg, while a further lacquer commode and matching secretaire were acquired for Gatchina Palace (all of these are now in the Hermitage State Museum, St. Petersburg). Although none of these examples are signed, a further commode is documented as having been made by the little known cabinet-maker Duboiset Rabut and bought by Paul I in 1799 from the Liegois marchand Guillaume Culot. The group also includes the secretaire inset with marble panels supplied to the Spanish court for the Royal Palace at Aranjuez (illustrated, L. Feduchi, Las Colecciones Reales de España, Madrid, 1965, p. 274, fig. 174).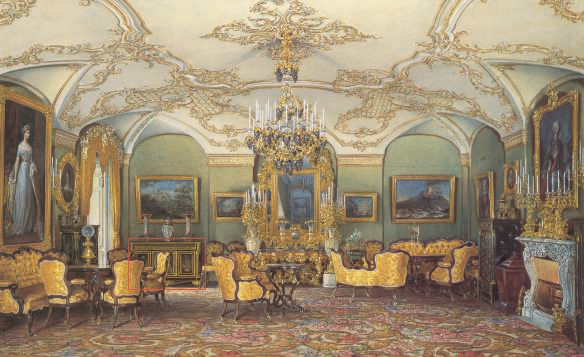 View of the drawing room of Empress Alexandra Feodorovna in Gatchina Palace in 1876, showing the related lacquer commode.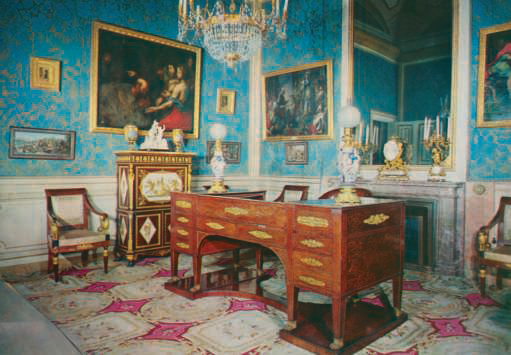 Ofice of the King, Palacio de Aranjuez, Madrid, showing the related marble-inset secretaire.
All of these pieces share a luxurious use of timbers, superb quality cabinet-making and a stylistic unity to the gilt-bronzes. Despite the severity of the case, the base on this example is perhaps the richest of the group, with the remarkable feature of solid mahogany lion's paw feet with gilt-bronze claws. While the aprons of the other pieces in the group follow faithfully the Percier design, with anthemia flanking confronting scrolls, this example goes one step further by adding exotic beasts in the form of hippocamps grasping dragons, with stylized lion's masks forming the center of the scrolls.
POSSIBLE ATTRIBUTIONS: THE CABINET-WORK
The sober neo-classical designs, the use of exotic timbers such as citronnier and thuya and the superb quality of the construction of the pieces in this group would suggest a possible attribution to the ébéniste Adam Weisweiler, who throughout the 1780s and 1790s worked almost exclusively for marchand-merciers such as Dominique Daguerre and his partner Martin-Eloy Lignereux, who took over the business after the former's death in 1796. The stylistic unity of the group, together with the fact that so many were supplied to foreign clients, would certainly point to the possibility of a marchand-mercier's involvement in their creation. Stamped pieces by Weisweiler with similar lion's paw feet include a lacquer commode and matching secretaire, acquired by the Duke of Hamilton prior to 1825 and sold in the legendary Hamilton Palace sale, 29 June 1882, lots 176-177 (see P. Lemonnier, Weisweiler, Paris, 1983, pp. 60-1, and for a discussion of the commodes delivered to Paul I, p. 176, cat. 31 and 32) .
THE BRONZES
The originality of design and remarkable, almost goldsmith-like quality of the gilt-bronzes on this group suggest a possible link to the sculptor and designer Jean-Guillaume Moitte (1746-1810). Moitte was at the center of the most avant garde luxury objets d'art being produced in Paris in the 1790s, and collaborated closely with the goldsmith Henri Auguste (1759-1816), for whom he produced a number of designs for both silver and furniture in the most fashionable 'antique' style of the period. A number of details of the gilt bronzes on this commode relate closely to Moitte's designs, for instance the remarkably life-like anthemia to the aprons of the sides, the Medusa mask handles, or the hippocamps of the main apron which feature on a design prepared for Auguste by Moitte of 1804 for a seau à verres (illustrated here).
The celebrated collector and patron of the arts William Beckford (1760-1844) commissioned not only silver but also furniture from Moitte and Auguste in the 1790s, and the famous sales of his collection at Fonthill in 1822 and 1823 included a 'superb cabinet of gold japan...made by Auguste'. This last cabinet is probably the same as that sold in the legendary Hamilton Palace sale in 1882 (the Duke of Hamilton was Beckford's son-in-law and inherited much of his collection through his wife) as lot 293 (now in the Boston Museum of Fine Arts), which along with a pair of lacquer cabinets lots 172 and 173 (now at Elton Hall, Cambridgeshire) were described as having 'richly chased metal-gilt mounts by Auguste...' The avant garde nature of Moitte-Auguste's mounts on these cabinets certainly relate them to the commode offered here, along with the superb jewelry casket based on a design by Moitte dedicated to Beckford, lot 24 in this sale.
THE MENTMORE SALE
Baron Mayer Amschel de Rothschild (1818-1874) built Mentmore between 1852 and 1854, as he needed a house near London and in close proximity to other Rothschild homes at Tring, Ascot, Aston Clinton and later Waddesdon and Halton House. The plans for the mansion imitated Wollaton Hall in Nottinghamshire and were drawn up by the gardener turned architect Joseph Paxton, celebrated for his Crystal Palace, completed the year earlier. Sumptuously furnished with extraordinary works of art in every field, Mentmore was filled with treasures typical of the goût Rothschild, ranging from a chimney piece reputedly from Rubens's house in Antwerp to giltwood throne chairs from the Palazzo Ducale in Venice and a magnificent collection of French eighteenth century works of art. The house and a fortune of some £2,000,000 was bequeathed to Baron Mayer's daughter, Hannah de Rothschild in 1874. Four years later Hannah married Archibald Philip, 5th Earl of Rosebery, who added considerably to the collections assembled by his father-in-law. The collection remained intact until the dispersal of the contents in 1977 in one of the most celebrated sales of the 20th century. Interestingly this commode, which was placed in the palatial entrance hall at Mentmore, was described as possibly Russian in the catalogue, appropriate given how many of the other examples in the group of related pieces were acquired for the Russian Imperial collections.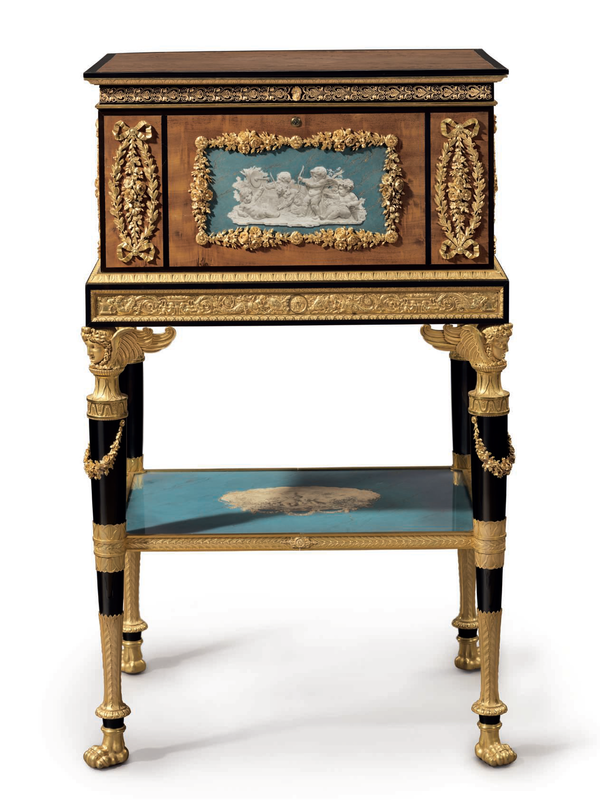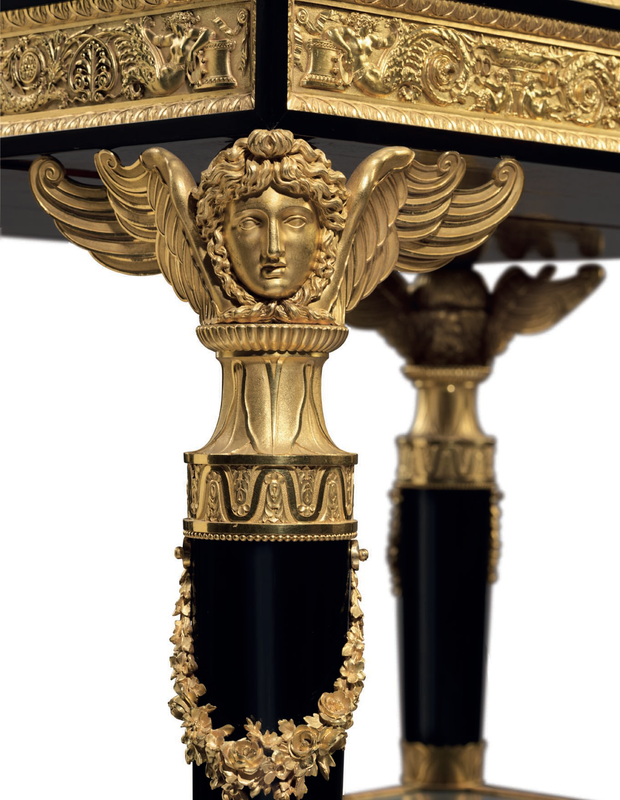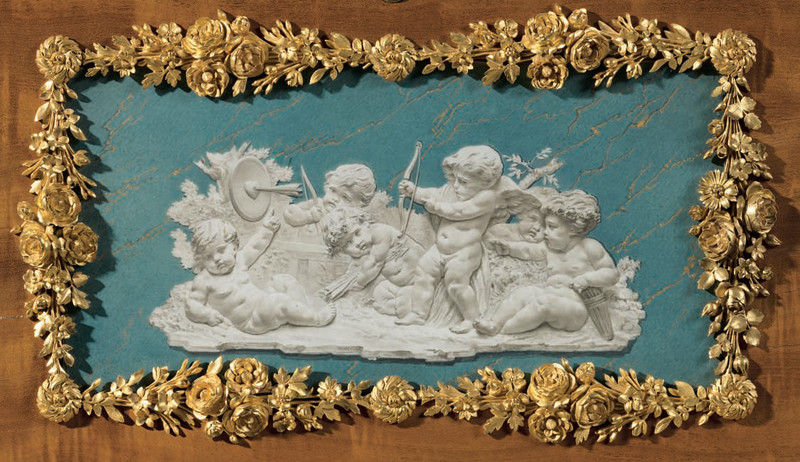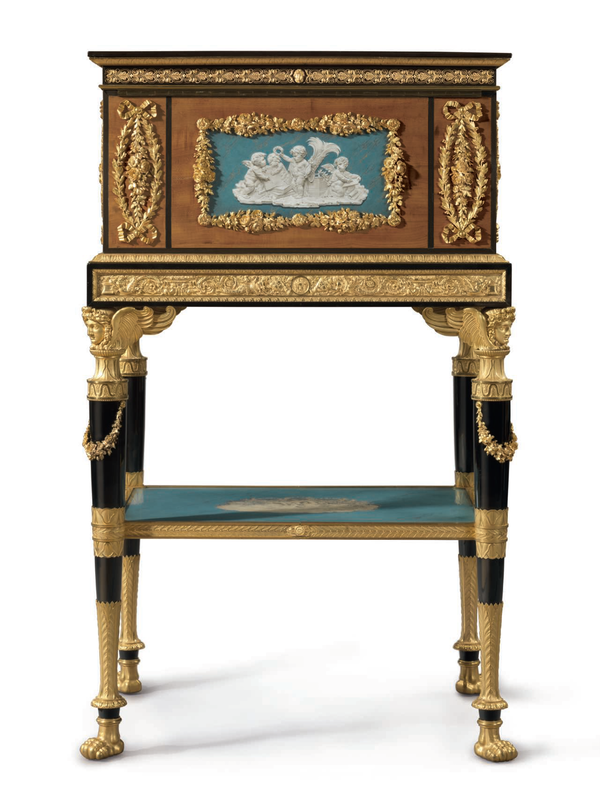 Lot 24. A late Louis XVI ormolu-mounted bois citronnier and ebony jewel casket-on-stand inset with grisaille painted panels, originally commissioned by William Beckford, made circa 1792-1801 under the direction of Henri Auguste after designs by Jean-Guillaume Moitte, the cabinet-work attributed to Adam Weisweiler, the painted panels by Sauvage, the floral mounts attributed to Francois Remond, 45 in. (114.5 cm.) high, 28 in. (71 cm.) wide, 22 in. (56 cm.) deep. Estimate USD 600,000 - USD 1,000,000 © Christie's Images Limited 2017.
Each side mounted with grisaille-painted panels on a blue ground of playful putti with various scenes including la poésie lyrique and l'amour et l'oiseau à la cage within ormolu frames of roses and marguerites, bordered by ribbon-tied pendants, and with a frieze of classical maidens and ewers below, the hinged lid enclosing a blue silk interior, on turned ebonized legs headed by winged masks of Apollo and joined by a stretcher inside with a grisaille-painted panel, on paw feet, two vertical sections of the ormolu floral frames with differing colour to the gilding, probably as a result of a cleaning.
Provenance: Almost certainly commissioned by William Beckford, but ultimately probably executed for a different client
with changes to the original design.
Edouard Chappey ; Galerie Georges Petit, Paris, 21 May 1907, lot 1506.
Edouard Larcade; Paris, 25 May 1951, lot 90, pl. XX.
Private Belgian collection.
Anonymous sale; Sotheby's Monaco, 14 June 1997, lot 137.
With Partridge, London, from whom acquired by the current owner.
Literature: A. Pradère, French Furniture Makers, Paris, 1989, pp. 40-42.
Partridge, Recent Acquisitions, 1998; no. 59, pp. 140-144.
D. Ostergard ed., William Beckford, 1760-1844: An Eye for the Magnificent, exh. cat., New York, 2001, pp. 182-3, p. 197, note 87; and p. 418, note 3.
Note: This magnificent jewel casket displays extraordinarily rich mounts which rise above the level of mere ornamental gilt bronzes and reflect the involvement of the celebrated orfèvre Henri Auguste (1759-1816). The luxurious use of materials, the exquisite workmanship and the refined à l'antique design place it in that fascinating stylistic moment in the 1790s when the luxury makers of Paris looked abroad to new foreign clients such as the Russians and the English. The pieces produced in this period marked the transition from the taste of the last years of the ancien régime to the new styles of the Directoire and Empire periods, and were interestingly often designed and executed by silversmiths.
THE COMMISSION

The history of the casket is equally fascinating, as it is was originally commissioned for the celebrated connoisseur and patron of the arts William Beckford (1760-1844). Beckford's fame as a collector rests not only on the extraordinary treasures which he assembled, but also on the remarkable amount of pieces which he directly commissioned from the finest craftsmen of the day in the latest fashion. The casket is based on a drawing for a piece with an identical stand and frieze, but with variations to the ornament of the sides of the casket, by the Parisian designer Jean Guillaume Moitte (1746-1810), and which is inscribed 'diamantaire de Lord Becford [sic]' and 'h. auguste' (illustrated here). This drawing came from the archive of Odiot, who in 1810 had acquired all of Auguste's designs following the latter's bankruptcy.
Moitte was an innovative designer in the fashionable 'antique' style of the 1780s and 1790s and worked extensively for Auguste, supplying designs not only for silver but also for furniture. Lebreton wrote in a biographical note on Moitte in 1812
'…[Moitte] dessina à la plume plusieurs grands frises d'un beau style et qui firent sensation parmi les artistes…M. Auguste orfèvre du Roi se l'attacha pour en avoir des dessins qui servaient de modèles à ses plus beaux ouvrages…' (see exhibition catalogue Le Néoclassicisme Français des Musées de Province, Paris, 1974, p. 101).
Two further designs by Moitte are illustrated here, one for a frieze and one for a table base (dated an trois for 1795), both closely related to the offered casket.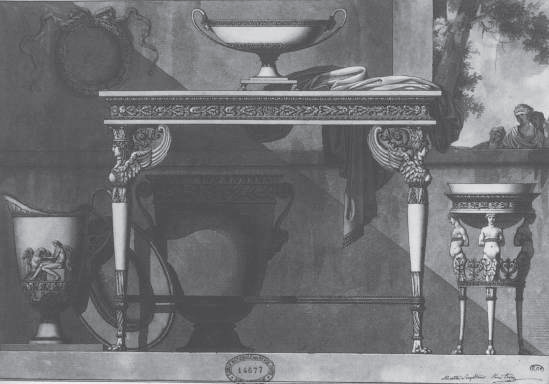 Jean-Guillaume Moitte (1746-1810), Projet de meubles de goût antique, signed and dated 1795. © École des Beaux-Arts, Paris/ Art Resource, NY.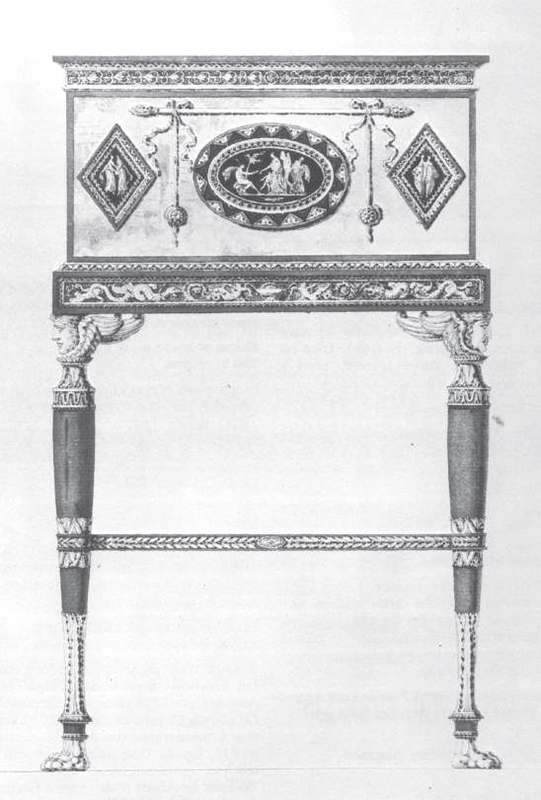 The design by Jean-Guillaume Moitte (1746-1810) for a "diamantaire pour Lord Becford [sic]"
BECKFORD AND AUGUSTE

Beckford's admiration for the work of Moitte and Auguste was established as early as 1787 when, on a visit to Madrid, he saw the toilet service supplied by Auguste to Madame d'Arauda, which Beckford admiringly described in his journal as 'designed by Moitte the sculptor and executed by Auguste, by far the most exquisite chef d'oeuvre of the kind I ever saw'. Between 1788 and 1793 and 1801-1803 Beckford visited Paris several times and commissioned a number of pieces of both silver and furniture by Auguste after designs by Moitte, inspiring him to write to William Hamilton in 1792.
'Si le Roi de Naples est desireux d'avoir de beaux ouvrages d'or ou de bronze, c'est à Auguste qu'il doit s'addresser…Vous serez enthousiaste devant les meubles que je fais faire sous sa direction dans le pur esprit de Corinthe et d'Athènes'.
The famous sales of his collection at Fonthill in 1822 and 1823 included a number of pieces by Moitte and Auguste, including lot 1139 in 1823 a Japan bowl '...on an ormolu pedestal after the antique by Moitte and Auguste of Paris' and lot 96 in the 1822 sale a 'superb cabinet of gold japan...made by Auguste'. This last cabinet is probably the same as that sold in the legendary Hamilton Palace sale in 1882 (the Duke of Hamilton was Beckford's son-in-law and inherited much of his collection through his wife) as lot 293 (now in the Boston Museum of Fine Arts) , which along with a pair of lacquer cabinets lots 172 and 173 (now at Elton Hall, Cambridgeshire) were described as having 'richly chased metal-gilt mounts by Auguste…'
A CHANGE IN HEART?
The Moitte Auguste design, with its diagonal and oval 'Etruscan' medallions and rather restrained classical mounts, evidently shows variations with the casket as actually executed, which features blue and grisaille panels (attributed to the painter Sauvage) surrounded by floral garlands of extraordinary richness and startling naturalism. These recall the mounts on the finest pieces made by Riesener in the 1780s which have been suggested were executed by the bronzier François Rémond (for instance on the celebrated lacquer commode and secretaire delivered to Marie-Antoinette in 1783, now in the Metropolitan Museum of Art). The floral mounts on the casket were evidently executed by a different hand from the mounts of the frieze and the stand, which display an extraordinary precision of detail and precision of execution typical of the work of the finest silversmiths. Given that the mounts on the frieze and stand also feature in Moitte's design, it is therefore probable that they were executed by Auguste. It is important to note however that both sets of bronzes display the same sumptuous matte gilding, showing that the final treatment of all the gilt bronzes was completed at the same time.
Jean-Guillaume Moitte (1746-1810) Projet d'entablement avec une frise arabesque.
The casket does not appear in any of Beckford's inventories or the extensive sales of his collection and those of his son-in-law the Duke of Hamilton. It has been suggested therefore that the casket was indeed originally commissioned by Beckford but not ultimately delivered to him and was perhaps then completed for another as yet unknown client. This could be further explained by the fact that Beckford was unable to visit Paris between 1793 and 1801 when the peace of Amiens led to a temporary cessation of hostilities between England and France - perhaps having ordered it circa 1792 he changed his mind when seeing it in the workshop on his return in 1801. This hypothesis is supported by other precedents in Beckford's collecting patterns at this time, for instance a silver-gilt ewer and basin by Auguste which is hall marked for 1787-8 but which was not actually delivered to Beckford until 1802 (see Hewat-Jaboor op. cit., pp. 333-4).
With this in mind it is instructive to note two documents describing a 'meuble de boudoir pour servir de secrétaire' made by Sauvage for Beckford. The first document is dated to October/November 1793 and records Beckford's order from Sauvage. The dimensions are almost exactly the same as the offered casket ('2 pieds de large [65cm] 3 pieds et demi de haut [114 cm]) but it is also described as being ornamented with '56 morceaux de peintures en camee et autre', which is evidently a still different design from either the Moitte drawing or the casket offered here. Sauvage goes on to list payments to the 'doreur sizelleur [sic]' citoyen Raymond' (presumably Francois Rémond) and to the cabinet-maker Weisweiler.
In 1801 Sauvage placed an announcement in the Journal de Paris describing how he had recently completed 'un secrétaire pour M. Beckfort [sic]' but went on to describe how it was 'plus précieux en marbres, agathes et crystaux', which seems to reflect a still further variation of design. In a further announcement later that year he again credited Rémond for the bronzes and Weisweiler for the cabinet work, although added the name of the architect 'Raymond' for the design.
If these documents do indeed refer to our casket, it is curious that there is no mention of either Moitte or Auguste being involved in either the design or the manufacture of the piece. Either these announcements refer to an altogether different piece (or pieces) made for Beckford by Sauvage, or they could indicate that he took over an existing project of Auguste's and wished to claim the credit himself as the creator. What is certainly instructive in these documents is the indication of the close involvement of both Weisweiler and Rémond in the creation of these jewel-like pieces. That Sauvage was involved in the creation of works of art of the highest quality is further evidenced by a table in the Spanish Royal collection with a porcelain top by Dihl and Guérhard dated 1804, including a series of grisaille panels signed by Sauvage, depicting playful putti of similar inspiration to those on this casket, which was reputedly a gift from Napoleon to Charles IV of Spain, whose wife Marie Louise was the niece of Louis XV (illustrated R. De Plinval de Guillebon, Faïence et Porcelaine de Paris, Dijon, 1995, p. 294, fig. 276).
Whatever its ultimate destination, this casket is a superb example of the remarkable works of art being produced in this fascinating period, when innovative designs and the finest craftsmanship reigned supreme.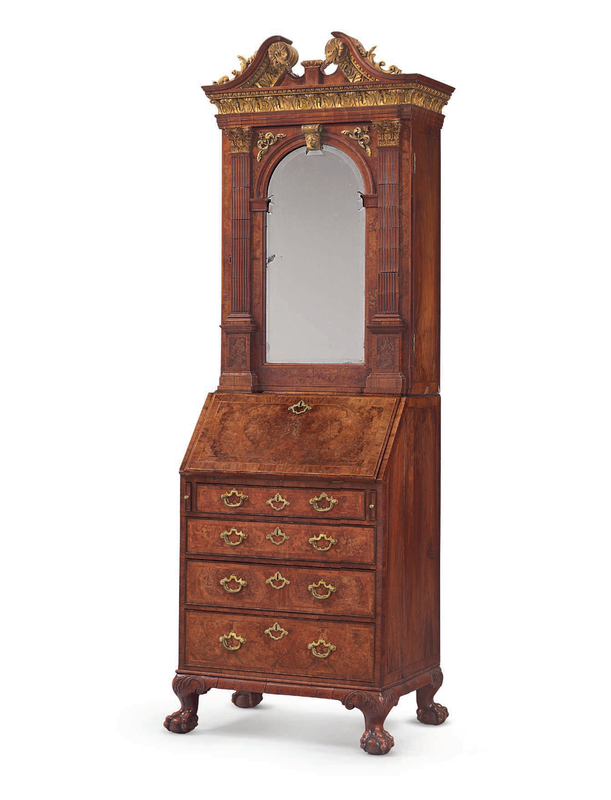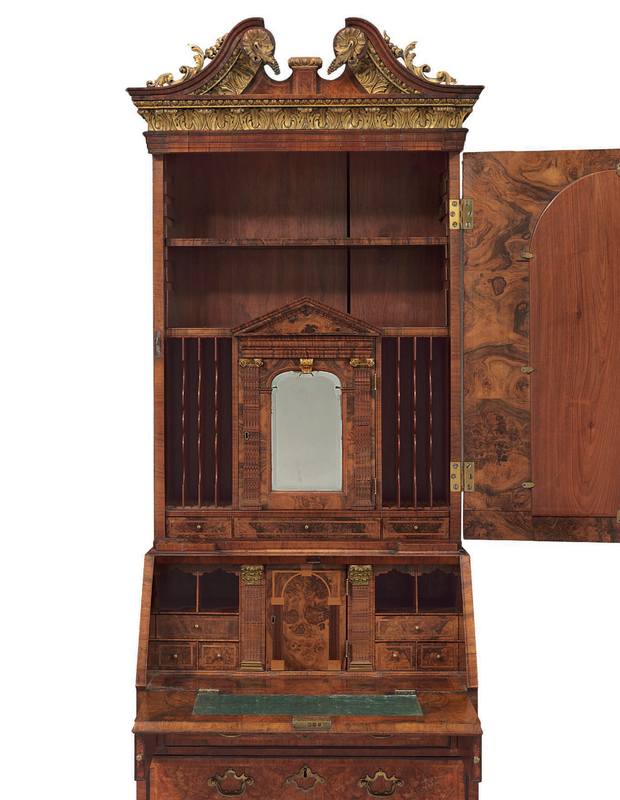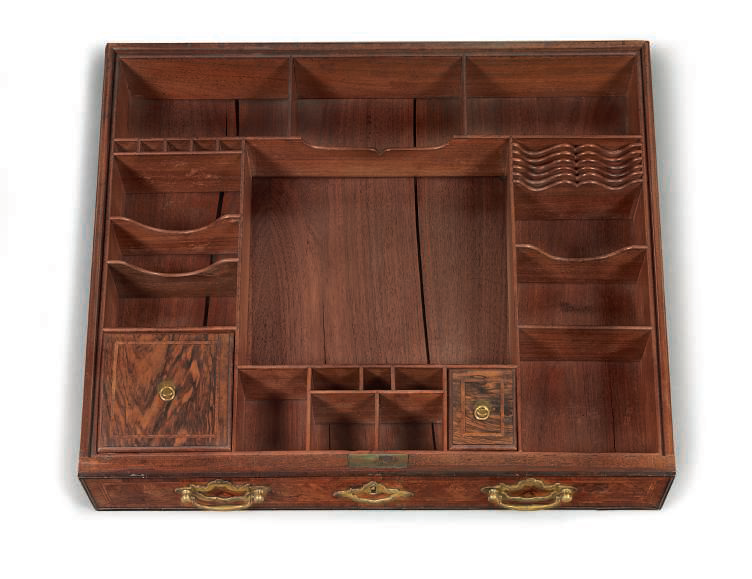 Lot 27. A George II parcel-gilt figured and burr-walnut bureau-cabinet, circa 1730, 83 ¾ in. (213 cm.) high; 28 3/4 in. (73 cm.) wide; 20 ¾ in. (53 cm.) deep, deaccessioned from the Metropolitan Museum of Art, previously in the collection of Percival Griffiths. Estimate USD 300,000 - USD 500,000. © Christie's Images Limited 2017.
The swan's neck cornice with fruited finials above a foliate frieze and door with arched beveled mirror plate headed by a masked scroll and flanked by fluted Corinthian pilasters, the interior centered by a mirrored prospect door with pediment and enclosing pigeonholes and three ranges of small drawers, flanked by folio compartments, all above three small drawers, the sloping flap enclosing a keystone-inlaid prospect door, flanked by gilt-lacquered brass pilasters hiding a secret pullout compartment on the left (lacking compartment on the right), further flanked by pigeonholes and six drawers, and with green velvet writing surface, the front of the case fitted with four long drawers, the uppermost with removable compartmentalized tray, on foliate-carved claw-and-ball feet, two interior drawers replaced, probably by the Langhorne brothers of Kew under the direction of R. W. Symonds for Percival Griffiths (one of these is to the upper section behind the prospect door, middle row, left drawer; the other is inside the slant lid, the long drawer to the left of the prospect door) , formerly with central finial, the mirror plate, and gilt-lacquered brasses original, the oil gilding also apparently original (as per the gilding analysis, see footnote below)
Provenance: Captain W. F. Dickinson (by 1923).
Percival D. Griffiths, Esq., Sandridgebury, St. Albans, Hertfordshire.
Sold by Robert W. Symonds on behalf of Griffiths to Partridge, London in 1938 for £4,000. Partridge purchased the piece acting as agent for Judge Irwin Untermyer, New York.
Gift of Irwin Untermyer to the Metropolitan Museum of Art, New York, 1964.
Literature: R. W. Symonds, Old English Walnut and Lacquer Furniture, 1923, pp. 126-128, 130, pl. XXV-XXVI (Captain W. F. Dickinson).
P. Macquoid and R. Edwards, The Dictionary of English Furniture, London, 1924, vol. I, pp. 132-133, figs. 30-31 (Griffiths).
R. W. Symonds, English Furniture from Charles II to George II, London, 1929, pp. 109, 111, 114-115, figs. 64-67, diagrams 6-7.
R. W. Symonds, 'Advice to Collectors of Antique Furniture', The Connoisseur, October 1932, p. 237, fig VI.
R. W. Symonds, 'Percival Griffiths F.S.A., A Memoire on a Great Collector of English Furniture', The Antique Collector, November/December 1943, p. 163, fig. 1.
R. W. Symonds, 'Portrait of a collector', Country Life, 13 June 1952, pp. 1810-1812, fig. 2.
R. Edwards, The Dictionary of English Furniture, rev. edn., Suffolk, 1954, vol. II, p. 186, fig. 6.
D. Cooper, ed., Great Private Collections, New York, 1963, p. 139, illustrated.
R. Edwards, The Shorter Dictionary of English Furniture, London, 1964, p. 79, fig. 22.
Y. Hackenbroch, English Furniture with some furniture from other countries in the Irwin Untermyer Collection, Cambridge, Massachusetts, 1958, pl. 232-235, figs. 271-274.
The Metropolitan Museum of Art: Notable Acquisitions 1965-1975, New York, 1975, p. 252.
Highlights of the Untermyer Collection of English and Continental Decorative Arts, New York, 1977, pp. 76-77, no. 132.
Exhibited: New York, Parke-Bernet Galleries, Art Treasures Exhibition, 16-30 June 1955, no. 225 (loaned by Untermyer).
The English Galleries, The Metropolitan Museum of Art, New York, until 1 July 1993.
Note: This magnificent bureau-cabinet has long been considered one of the masterpieces of English furniture. It was the highlight of two of the most important collections assembled in the 20th Century on either side of the Atlantic, those of Percival Griffiths and Judge Irwin Untermeyer. It was included in all the seminal and most influential reference books which have guided and influenced generations of aspiring collectors. The founding father of furniture history R.W. Symonds extols 'this piece is of outstanding quality in all respects' and further singled it out with multiple scaled line drawings to demonstrate that it followed the golden mean. (R.W. Symonds, English Furniture from Charles II to George II, London, 1929, p.109, 112 and 113).
PERCIVAL DAVIS GRIFFITHS (1862-1938): THE STORY OF A LEGENDARY COLLECTOR

'He was known to a wide circle of clients and friends as a delightful personality. …His chief interest in life was his famous collection of antique furniture'
Sir Russell Kettle, Deloitte & Co. 1845-1956, privately printed, Deloitte, Plender Griffiths & Co., 1958. p. 124).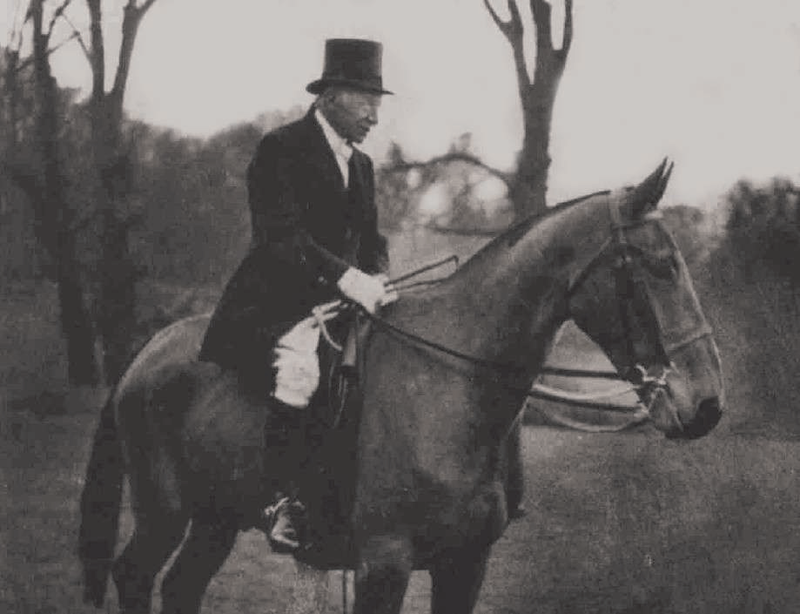 Sir Percival D. Grifiths, The London Illustrated News, 1937
R.W.Symonds, the ground-breaking furniture historian and advisor, wrote that 'Griffiths became interested in the subject when he found himself about the year 1900 admiring a mahogany bureau-bookcase in the sitting room of a Monmouthshire Inn. The innkeeper sold it to him'. Symonds recalls Griffiths telling him 'Little did I think that, at the time I bought it, that this passing extravagance would inextricably involve me in the absorbing pursuit of collecting antique furniture.' (R.W. Symonds, "Portrait of a Collector," Country Life, 13 June 1952. pp.1810-1812). Griffiths did nothing by half-measures and within a few years he had formed a substantial collection of old furniture – most of which was heavily carved 'Chippendale' of a type collected by wealthy people at the turn of the 20th century.
The setting for what would become one of the most legendary collections of English furniture was Sandridgebury, Griffiths' home in Hertfordshire. In 1901, two years after returning from New York with his American bride, Griffiths assumed a 99-year lease on from Earl Spencer. He employed a large staff including a butler, cook, servants, chauffeur and gardeners. A passionate horseman, his mounting block still stood at the front entrance as recently as 1999. The house is described in an article in The Daily Mirror, 9 September 1924 as '…. a low creeper-covered house, off the road that passes through the little village of Sandridge.' As Symonds aptly noted, 'Griffiths loved not only 18th century furniture but also the 18th century way of life. He had enlarged and converted the house from an old farmhouse. But not modernized it: it was illuminated by oil-lamp and candles and the only heating was from open wood fires. The bathrooms had japanned baths dating from Victorian times. His bed was a four-poster with yellow curtains for summer time and red for winter.' (R. W. Symonds, Connoisseur, 13 June 1952).
The Drawing Room, Sandridgebury, the home of the great collection of Sir Percival D. Grifiths. Courtesy of The Magazine Antiques, Vol 19, March 1931.
Griffiths began collecting what was then called 'old furniture" but a great deal of it was not what it seemed. His story of discovering a table in the window of a shop in one of London's back streets is legendary and is the greatest fear of every collector. Griffith enquired the price – because the table was identical to the one he had recently purchased - and discovered that it was £ 100 less than he had paid. Remarking to the shopkeeper that this quality of craftsmanship was lost today, the shopkeeper remarked: 'It's not all that lost. Let me tell you, sir, that I made this table. And what's more I've made, in the last few years, a large number of such pieces of Chippendale for an old buffer who lives at St. Albans!' (S. House, "Intuitively Collected," Country Life, 12 December 1990, p. 45). In due course, these were all packed and returned to the antiques dealer who had sold them to Griffiths.
After that experience, Griffiths sought the advice of a bright young man named Robert W. Symonds, a 22-year-old budding architect with a passion for old furniture. From 1911 until Griffiths's untimely death 26 years later, they were inseparable and constant partners in a quest to form a great collection of early English furniture. Griffiths became passionately fond of veneered walnut furniture, and this, over time, was to form the core of his collection. Their high standards for the collection--good design, fine quality with respect to material and craftsmanship, pristine condition with original polish and patina-- are all met by this superb walnut bureau bookcase.
Griffiths had intended on leaving it to the Victoria and Albert Museum as part of a bequest of many of the best pieces in his collection. However, owing to very large financial losses in America after the Stock Market Crash in 1929, he was compelled to revisit his intention and changed his will accordingly. Upon his death, everything was to be sold and Symonds was engaged to dispose of the collection, a large part of which was sold at Christie's in 1938. This bureau-cabinet was sold to Partridge, acting for Judge Irwin Untermyer of New York, for £4,000. It was the only piece which went to America – much of the rest sold to many of Symonds' regular advisees such as Geoffrey Blackwell, Frederick Poke, Geoffrey Hart, Joseph S. Sykes, and other collectors known to English furniture enthusiasts today. Even then, Symonds's influence, and the stellar collection he assembled with Percival Griffiths, was regarded as a benchmark to which collectors aspired.
Interior of the bureau-cabinet, photographed in the collection of Sir Percival D. Grifiths
Christian Jussel and William DeGregorio.
Authors of the forthcoming book on Percival Griffiths and Robert Symonds
JUDGE IRWIN UNTERMYER (1886-1973): BENEVOLENT AMERICAN COLLECTOR

The spectacular collection of British decorative arts at the Metropolitan Museum of Art is in large part due to the generosity of a single benefactor, Judge Irwin Untermyer, who served on the Museum's board for some 20 years. By the time of his death in 1973, he had left a magnanimous gift of over two thousand works of art from an impressive collection that was refined and augmented over the course of his life. His collection was broad in scope and included English furniture, silver, needlepoint and porcelain but, as he said, he had 'always regarded the English furniture as the outstanding part' of his collection. When the cabinet was offered to him in 1938, Judge Untermyer, both astute and knowledgeable, recognized its importance. He purchased it for the equivalent of $20,000, a price which would have been considered stratospheric when the average cost of an American home was $3900.
As part of the plan to renovate the Annie Laurie Aitken and Heathcote Galleries, the Metropolitan Museum of Art has been carefully reviewing its holdings of English decorative arts. The sale of objects such as this bureau cabinet will make it possible to acquire works in categories that are less well-represented so when the Galleries are scheduled to reopen in 2018 they will more accurately reflect the stylistic development of British furniture from the 16th century up to around 1900, creating an engaging narrative of the artistry, industry and lifestyles of the British, from the grandest to the 'middling classes'.
THE BUREAU-CABINET'S DESIGN AND CONSTRUCTION

While the cabinet's lovely delicate scale recalls early 18th century furniture produced during the reign of Queen Anne, its architectural details and ornamentation suggest a date some 20-30 years later. Its design, refinement, and well-chosen timbers places it in the company of the best walnut furniture produced in its time. As a so-called transition piece, it still retains earlier construction features, such as the claw feet that are affixed into the bottom board by way of a rounded dowel in the manner of a Queen Anne bun foot.
While the maker of this exemplary piece cannot be identified, the exacting details of its construction can be found among the best work of makers such as Peter Miller. These include the mitred sides and rebated bottom of the drawers, and fully enclosed dust boards. A signed cabinet bearing the date 1724 exhibits such refinements and is embellished with similar carved scroll ornamentation (A. Bowett, English Furniture 1715-1740, Woodbridge 2002, p. 67, pl. 2:31). Miller is possibly responsible for the pair of gilt-gesso bureau-cabinets, probably for export to Portugal, whose veneered interiors are centered by a similar keystone-arched prospect door one of which was sold at Christie's, London, 4 July 2002, lot 100.
Lot 9. A circular polychrome-glazed terracotta relief bust of a Laureate in a frame of fruit and pine cones by Andrea Della Robbia. (1435-1525), Florence, circa 1487.-1495. The frame, Della Robbia Workshops and associated, 16 in. (41 cm.) diameter the bust relief, 24 ½ in. (62 cm.) diameter of terracotta frame, 27 1/3 (69.5 cm.) diameter of giltwood frame. Estimate: $200,000–400,000. © Christie's Images Limited 2017.
Provenance: [Almost certainly] Alfonso of Aragon (1448-1495), Duke of Calabria and later King Alfonso II of Naples and Jerusalem (1494-1495), Villa Poggioreale, Naples, circa, 1487-1494.
Signor Stefano Bardini (1836-1922), Florence, offered Christie's, London, 27 May, 1902, lot 511, withdrawn from the sale (with a molded frame).
Signor Stefano Bardini, Florence, sold American Art Galleries, New York, 23-27 April, 1918, lot 367 (with the present frame).
Jean-German-Léon, Baron Cassel van Doorn (1882-1952), New York, NY and Englewood, NJ until circa 1952.
With Blumka, New York, c. 1952-1955, from whom acquired by the present Private Collector circa 1962.
Literature: A. Marquand, Andrea della Robbia and his Atelier, vol. I, Princeton, NJ, 1922, reprinted New York, 1972, no. 16, pp. 29-30.
J.-R. Gaborit and M. Bormand, Les Della Robbia: Sculptures en terre cuite émaillée de la Renaissance italienne, exh. cat., Paris, 2002, p. 47.
R. Pane, Il Rinascimento nell'Italia meridionale, Milano, 1977, vol. II, p. 43, fig. 26.
COMPARATIVE LITERATURE: G. Gentilini, I della Robbia: La scultura invetriata nel Rinascimento, Florence, 1992, vol. I pp. 215-217.
Note: '…Pozo Reale… the most delicate and pleasant place in the world that could be called paradise on earth'
A letter from Girolamo Stanga to Francesco Gonzaga, 10 April 1494 (Archivio di Stato di Mantova, Fondo Gonzaga, b. 807)
From a storied pleasure palace on the Mediterranean, sacked by a rampaging northern army, its treasures smashed or stolen, somehow, five centuries later, something as precious and fragile as a della Robbia portrait reappears in the New World. It sounds like a fairy tale or a movie script. Like a long-lost treasure, The Laureate, has been 'found.'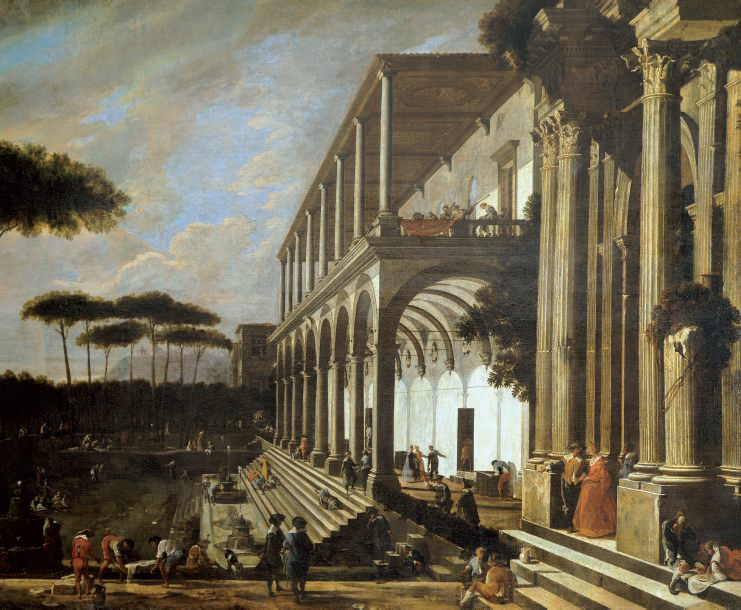 Feast in the Villa of Poggioreale, by Viviano Codazzi (circa 1604-1670. De Agostini Picture Library / A. Dagli Orti / Bridgeman Images.
THE VILLA ON THE POGGIO REALE
In the late 1480's, Crown Prince Alfonso of Aragon, still Duke of Calabria, bought land in the countryside outside Naples to build his summer retreat that became known as the Poggio Reale. Construction began in 1487, with the arrival of Giuliano da Maiano from Florence. Da Maiano was one of Renaissance Florence's most celebrated architects, responsible for dozens of iconic ecclesiastical and domestic projects for such patrons as the Pazzi, Strozzi and Antinori families and, above all, for Lorenzo de' Medici. His talents are illustrated in both huge-scale projects such as the intarsia of the New Sacristy of the Florentine Duomo as well as the dazzlingly detailed and intellectually-complex Gubbio studiolo, now re-installed in the Metropolitan Museum of Art. Poggioreale was perhaps da Maiano's greatest achievement. And, as da Maiano died in Naples in 1490, still working on Alfonso's Villa, it was also his final project. Poggioreale was such an important commission, that as Pane notes, da Maiano's principal patron, Lorenzo de' Medici, Il Magnifico himself, actively participated in the design of the palace (Pane, op. cit., p. 38). The surviving documents suggest a palazzo-fortezza with a central colonnaded courtyard but probably not as perfectly symmetrical as Serlio's re-creation of Poggioreale in his Treatise of Architecture, Book III, published in Venice in 1540, fifty years after da Maiano's death and with most of Poggioreale already in ruins. But the direct link to Ancient Roman architecture was a deliberate reference – as were the contributions by the della Robbia workshop to Poggioreale.
ANDREA DELLA ROBBIA AT THE VILLA POGGIOREALE
Poggioreale was certainly a symbol of Lorenzo de' Medici's ambitions to assert the glory of Florentine art outside of the city's walls. Indeed, the Villa not only had Giuliano da Maiano as an ambassador it was also the object of an exceptional commission for the acclaimed della Robbia workshop. Andrea della Robbia, one of Florence's most famous artists, who was dazzling Kings and courts throughout Europe with his family's glazed terracottas, was selected to provide tiles for the floors as well as a series of portraits celebrating the venerable Aragon ancestors and linking them, aesthetically at least, to Antiquity. 'Fra le volte degli archi e su le porte delle scale vi erano molti tondi ornati di alcuni festoni e dentro molti ritratti di mezzo rilievo degli Eroi della casa di Aragone, di creta cotta invetriata…' ('Between the arches and on the doors of the stairs were numerous tondi decorated with festoons and inside numerous low-relief portraits of the heroes of the Aragon house, of glazed clay', Gentilini, op. cit., p. 216, citing C. Celano, Notizie del bello, dell'antico et del curiozo della citta di Napoli, Naples, ed. 1856-1860, vol. 2, p. 41). Although attributed to Luca della Robbia by Celano in the mid-19th century, these can now all be attributed to Andrea as they were commissioned well after Luca's death in 1482. Further documentation in the Neapolitan archives record the arrival of the della Robbias in Naples 'Quattro casse de teste invitriate con le rote venute da Fiorenza' ('Four crates of glazed heads with circular frames came from Florence', Gentilini, op. cit., p. 216 citing N. Barone, Le cedole di Tesoreria dell'Archivio di Stato di Napoli dall'anno 1460 al 1504, in archivio Storico per le Province Napoletane, X, p. 12). Based on the architectural reconstructions of the Villa, Pane suggests that eighteen busts were commissioned, two for each small space between the three small arches and five for each of the spaces in-between each of the six larger arches and then four above the doors of the stairs (Pane, op. cit., p. 42). The surviving fragments illustrate how unique and individual della Robbia's work for Alfonso was. The Laureate is not just high-relief but projects so forcefully from the wall it becomes three-dimensional sculpture and, as Pane notes, the chiaroscuro, especially the deep hollows around the eyes, was exceptionally innovative for the period (Ibid., p. 43).
There are only two other surviving della Robbia Laureates, one in the Capodimonte Museum and another in the Louvre. By great fortune, the Capodimonte Laureate retains its original frame of laurel leaves. The Louvre Laureate has no frame at all. So the survival of the Capodimonte frame illustrates what surely would have been the original frame for The Laureate. Outside of the present example, and the Capodimonte and Louvre Laureates, there is also a della Robbia bust of the emperor Antoninus Pius, the closest comparison to these Laureates and part of the relatively small group of Andrea della Robbia's secular commissions. This tondo, surrounded by a wreath of pine cones, is also on an identical blue background with scrolling ribbons – but is actually inscribed with the emperor's name – and was originally probably supplied to Castelvecchio and is now in the Palazzo Madama, Turin (Gentilini, op. cit., p. 217).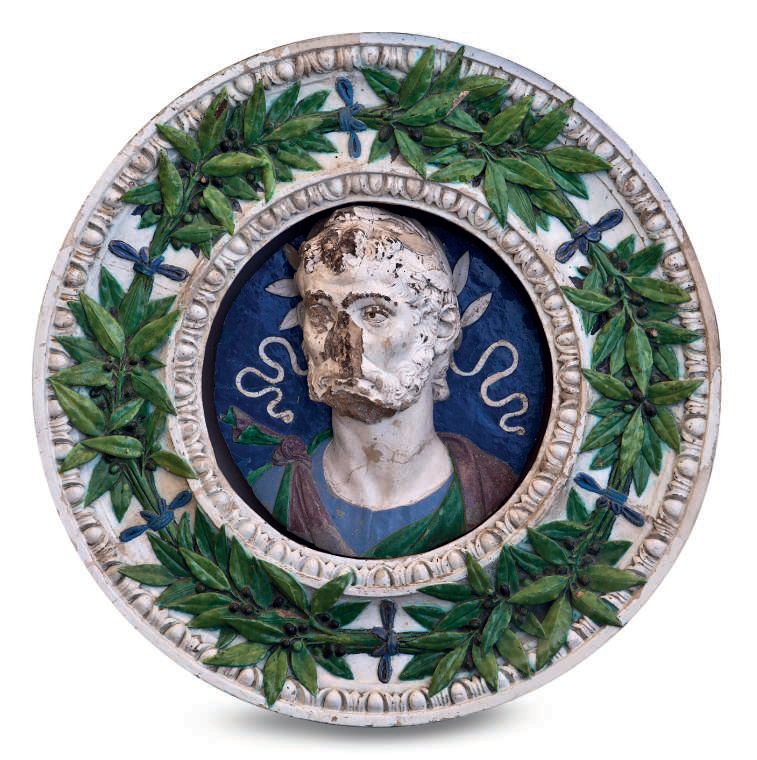 Andrea Della Robbia, bust of a Laureate, Capodimonte. Courtesy of the Ministero dei beni e delle attività culturali e del turismo - Polo Museale della Campania.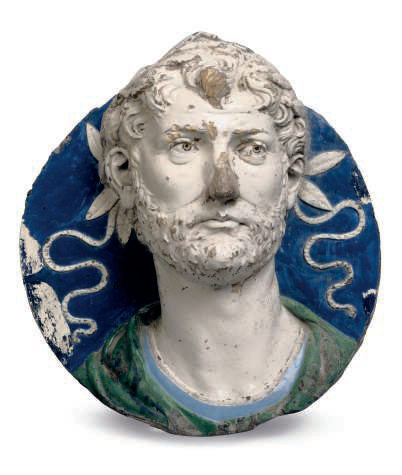 Andrea Della Robbia, bust of a Laureate, Louvre. © RMN-Grand Palais / Art Resource, NY
The Laureate appears to be in almost miraculously good condition, especially considering its age, the fragility of the material and the very short-lived protection the Villa Poggioreale probably offered The Laureate. In comparison, both the Capodimonte and Louvre Laureates are considerably damaged. Furthermore, and present condition aside, Marquand refers to the Louvre Laureate as either 'an inferior copy or replica' and both Pane and Gentilini also consider the Louvre Laureate of lesser quality than the present example. (Marquand, op. cit., p. 29, Pane, op. cit., p. 43-44 and Gentilini, op. cit., p. 216). Although the original frame for The Laureate is lost, it is not unusual to to find della Robbias with associated frames, and we can thank Signor Bardini for this sensitive and successful marriage of The Laureate with its present magnificent frame.
THE COLLAPSE OF NAPLES AND LEGEND OF POGGIOREALE
'O Italian delights how your discord caused your extinction'
Such was Sebastiano Serlio's lament on the destruction and disappearance of Poggioreale in his Il terzo libro (…) nel quale si figurano, e descrivono le antiquita di Roma, e le altre che sono in Italia (printed in Venice by Francesco Marcolino da Forli, 1540, p. CL). Over the centuries Poggioreale, and what we know of it, has shifted from memory to myth. It's decline began only four years after it was finished. Alfonso's rule was short, lasting less than a year, as when Charles VIII of France invaded the Italian peninsula in the autumn of 1494 and swept towards Naples, Alfonso fled for sanctuary in Sicily. Even though Poggioreale so impressed Charles that he persuaded the designers of the gardens to return with him to France, the Villa was sacked and emptied of its treasures. Worse was to come. As if cursed, the destruction of the local aqueduct made the area uninhabitable and the Villa and its gardens had the poor luck to be battlefields again soon afterwards in the first half of the 16th century and then even in the 20th century, with the three-year Allied bombardment and German occupation of Naples. So there are strong parallels between the fortunes of Naples and Poggioreale. With Charles VIII's arrival, and the sack of the city, the Kingdom of Naples largely ceded its position in European military and political affairs. And, while far from being over, artistic patronage suffered and declined as well. The glory of Poggioreale's architecture and the gardens can be gleaned from contemporary descriptions, but its treasures have been scattered to the winds. It is a miracle anything has survived at all. But Pane discovered the only other della Robbia remnant from Poggioreale – the Laureate now in Capodimonte – embedded above a staircase of a modest Neapolitan courtyard, number 32 via S. Maria la Nova (Pane, op. cit., p. 43). The present lot comes from a private North American collection. Who knows what else remains to be discovered?
THE RENAISSANCE REVIVAL IN GILDED AGE NEW YORK
The Laureate has a rich and complex 20th century history as well. After having been 'lost' – almost since it was first commissioned – The Laureate surfaced in the collections of Stefano Bardini of Florence. Bardini, a legendary collector and dealer, supplied the new generations of merchant princes of New York – who imitated the collecting tastes of the princes of the Renaissance – and Bardini is directly responsible for many of the best Renaissance paintings, sculpture and architectural elements now in American museums and private collections. Bardini offered The Laureate at a London sale in 1902 – it is illustrated in the sale catalogue with a simple molded frame – and was withdrawn. The Laureate was then offered in Bardini's final sale, this time in New York in 1918, and it was then illustrated with its present frame. It then entered the collection of the Belgian banker Baron Cassel van Doorn. Baron Cassel, who had fled the Nazi occupation in Europe, had hidden his enormous collections in various warehouses and châteaux around the French countryside and the Nazis spent several years looking for his treasures. Eventually, in 1944, they were found and shipped off to Berlin and other various Nazi depositories. And while much of the collections were recovered after the war, Baron Cassel, who had emigrated to New York in 1941, had already begun to rebuild his collections in the New World, and the present della Robbia was included. The Laureate was purchased from Blumka by the present distinguished private collector and it has been very rarely seen since and never in public.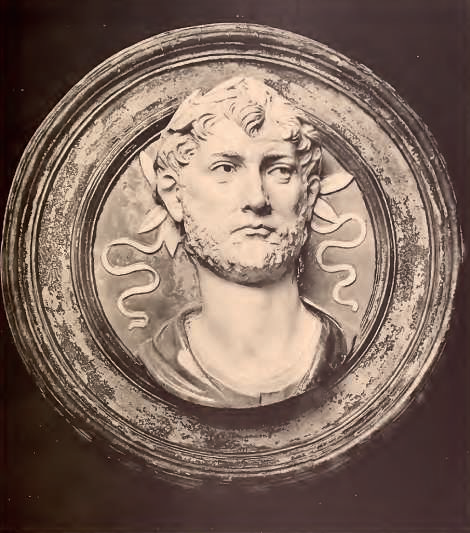 Andrea Della Robbia, bust of a Laureate. The Bardini Sale, Christie's, London, 27 May 1902, lot 511.
Andrea Della Robbia, bust of a Laureate. The Bardini Sale, American Art Galleries, New York, 23-27 April 1918, lot 367. © Christie's Images
Please note the present lot is accompanied by a thermoluminescence test from Oxford Authentication dated 3 March 2017 stating the relief and the frame were fired between 300 and 600 years ago.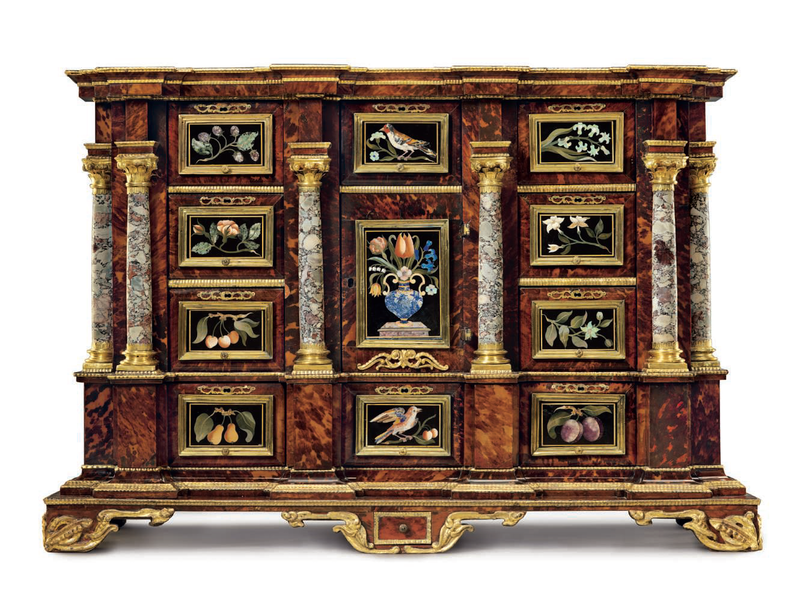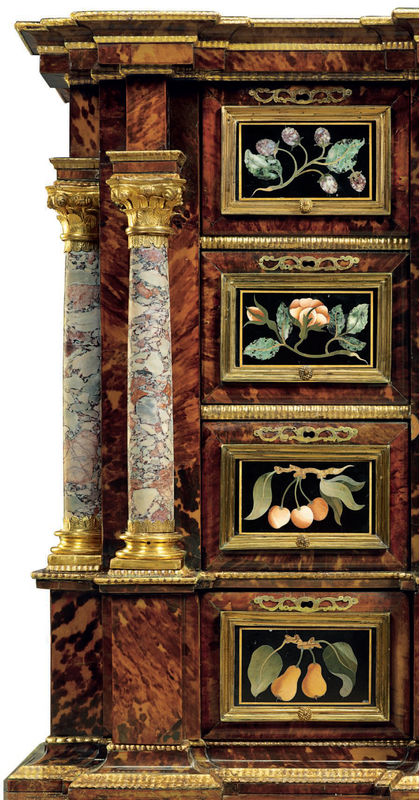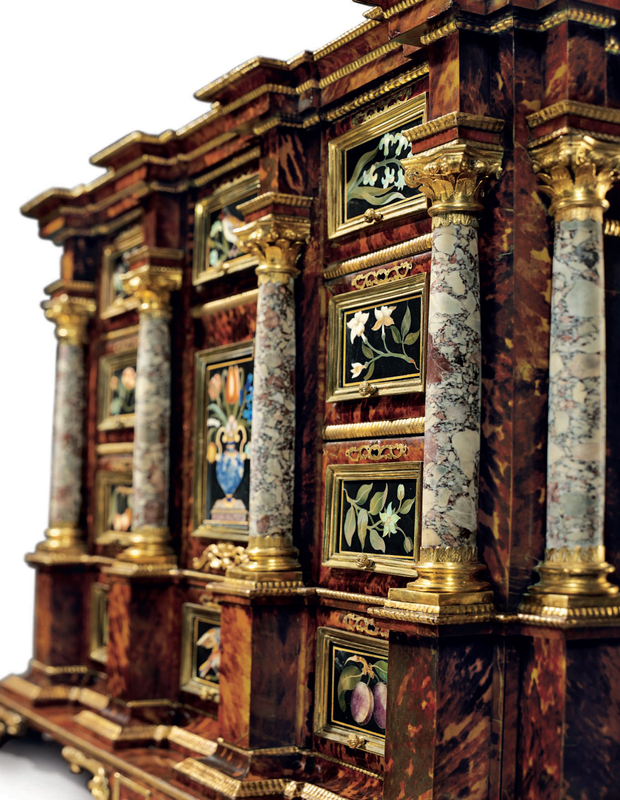 Lot 11. A South German gilt-bronze and pietra dura-mounted tortoiseshell, marquetry and parcel-gilt cabinet, Augsburg, circa 1650-1680, the pietra dura plaques attributed to the Grand Ducal Workshops, 29 in. (73.5 cm.) high, 42 ¼ in. (107.5 cm.) wide, 18 ¾ in. (47.5 cm.) deep. Estimate USD 200,000 - USD 400,000. © Christie's Images Limited 2017.
Of architectural form, the central cupboard door mounted with a large plaque depicting a flower-filled baluster vase, opening to reveal a sliding compartment concealing eighteen secret drawers with a short drawer above and below, flanked by columns of breccia corallina giallastra and two rows of four short drawers decorated with pietra dura plaques inlaid with birds, fruit and flowers, the sides with further floral panels and a central cartouche panel of brocatello di spagna and verde antico, the back veneered and inlaid with stylised star motifs, raised on shaped bracket supports with naturalistic giltwood scrolls
Provenance: Private European Collection; Sotheby's, London, 3 July 2007, lot 18.
Note: This rare and precious Augsburg cabinet, with its splendid, rich combination of materials and colors, is an excellent example of the collectors' cabinets which were among the most astounding achievements of Augsburg artisans in the 17th century.
Not simply intended as convenient storage articles, these pieces were used by rulers and aristocrats as collector's cabinets or Kunstschrank and displayed in the Kunstkammer or Wunderkammer – the cabinet of curiosities. Many such cabinets contained a precious collection of both naturalia (a variety of natural curiosities such as corals, shells and gemstones) and arteficia (including works of art and mechanical instruments). Besides the display of wealth and luxury, these cabinets had a deeper symbolic significance. In the form of a miniature Kunstkammer, they were also intended to represent the microcosm and reflect on its relationship with the universe, to stimulate intellectual curiosity and broaden scientific knowledge (R. Baarsen, 17th Century Cabinets, Zwolle, 2000, p. 12).They were a powerful tool by which a Prince or King could be seen to encourage new scientific discoveries, thus bestowing on a particular dynasty the reputation of enlightened patronage.
Key to the dominance of Augsburg's role in the production of such items was Philipp Hainhofer (1578-1647), a scholar, diplomat, connoisseur, collector and art dealer from Augsburg. Hainhofer conceived and commissioned cabinets by the very best craftsmen of Augsburg. Hainhofer's international connections helped spread the taste for these cabinets across Europe. In 1610 he wrote: 'Here [in Augsburg] very beautiful Schreibtische are made of ebony, ivory and other woods, with secrets [compartments] or without, which are bought as far afield as Prague, France, Italy and Spain'. Indeed, the Royal and princely inventories of Europe testify that these cabinets were widely valued. See Giusti, W. Koeppe and A. Giusti, Art of the Royal Court: Treasures in Pietre Dure from the Palaces of Europe, New York, 2008, p. 62. His international connections, also contributed to the construction of such pieces. His brother, for example, was based in Florence and is recorded as having supplied pietra dura plaques to Hainhofer.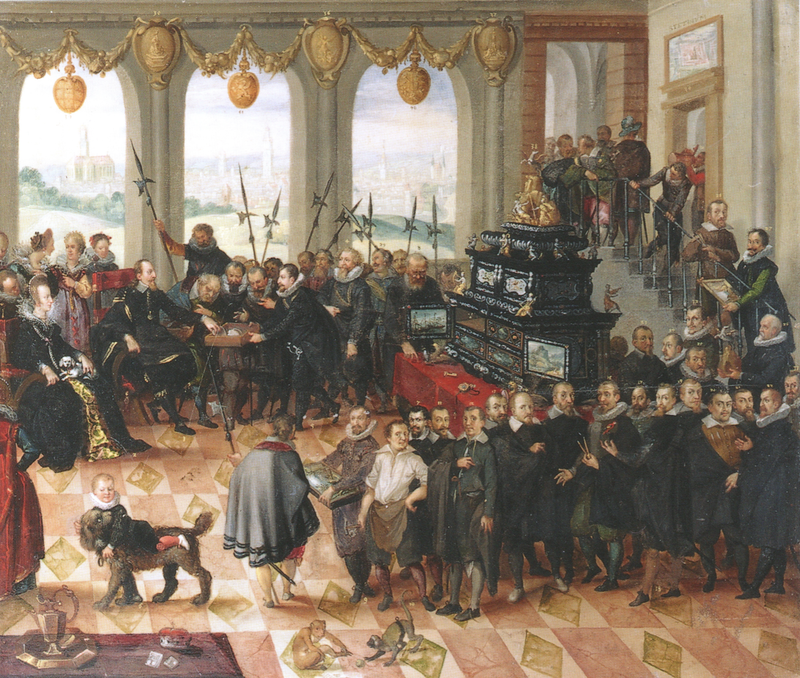 Anton Mozart (1573-1625), Delivery of the Collector's Cabinet by Philipp Hainhofer to Duke Philipp II von Pommern-Stettin at Schloss Stettin, 1617. © Foto: Kunstgewerbemuseum der Staatlichen Museen zu Berlin - Preußischer Kulturbesitz
A small oil painting on copper at the Kunstgewerbemuseum, Berlin by Anton Mozart (see figure above) depicts the presentation of a now lost cabinet to the Duke of Pomerania at Schloss Stettin in 1617. In the painting, the cabinet sits prominently at the center of the composition, Hainhofer and the cabinet maker Ulrich Baumgartner (1580-1652) offer and explain a drawer of the cabinet containing curiosities, to the seated Duke and Duchess. The twenty-seven craftsmen and artists involved in the production of the cabinet stand in the foreground, some holding tools of their trade, as they wait to be presented to their patron. The present lot contains eighteen secret drawers. Such secret drawers were a popular feature of collector's cabinets. They were included so as to astonish the viewer on seeing the craftsmen's ingenuity and virtuosity, hence the need to have a demonstration of the cabinet's particular features when it was acquired.
Three celebrated Kunstkammern commissioned by Hainhofer were executed in the renowned workshop of Ulrich Baumgartner (1580-1652) and his son Melchior (1621-1696). These are the Pommerische Kunstschrank, delivered in 1617 to Duke Philip of Pomerania (now destroyed), the Stipo d'Alemagna, presented in 1628 by Archduke Leopold of Austria to Grand Duke Ferdinand II of Tuscany, now in the Pitti Palace, and a cabinet given to King Gustavus Adolphus of Sweden by the City of Augsburg in 1632, now in Uppsala University (D. Alfter, Die Geschichte des Augsburger Kabinettschranks, Augsburg, 1985, pp. 42-57, figs. 33-42).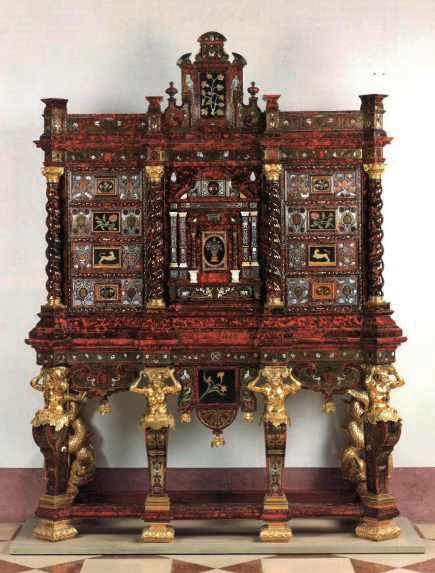 A related tortoiseshell and pietra dura cabinet of circa 1680-1685 by Johann Georg Esser in the Residenz, Munich. © Bayerische Schlösserverwaltung, L. Weiss, München
Many cabinets of this period were veneered in ebony and ivory. The use of a tortoiseshell veneer, seen on the present lot, is much more unusual. For another example of an Augsburg cabinet veneered in tortoiseshell see figure above, a cabinet by Johann Georg Esser (1652-1727) and Wolfbauer, circa 1680-1685 at the Residenz Munich (discussed in G. Hojer and H. Ottomeyer, Die Möbel der Residenz München, Vol. II, Munich, 1996, pp. 82-89, no. 9). The Munich cabinet is conceived in a similar manner to the present lot, of architectural form with an inverted breakfront, and featuring banks of four drawers flanking a central panel depicting a vase of flowers, all interposed by columns.
The bracket feet of the present cabinet bare similarities to those on an ivory and lapis lazuli table cabinet by Melchior Baumgartner commissioned by Maria Anna, wife of Maximilian I, Prince Elector of Bavaria c. 1682 (Bayerisches Nationalmuseum Inv.-Nr. R 2139) and another, also of ivory and lapis lazuli and commissioned by the Bavarian court, c. 1646 at the Bayerisches Nationalmuseum (See M. Riccardi-Cubitt, The Art of the Cabinet, London, 1992, p. 53). A further, related ivory cabinet mounted with columns and pietra dura plaques, attributed to Melchior Baumgartner, was sold The Property of a Private European Collection; Christie's, New York, 14 December 2000, lot 30 (£597,750).
THE PIETRA DURA PLAQUES
The spectacular plaques of this cabinet comprise two distinct types:

Fifteen panels of birds, flowers and fruit
These pietra dura panels were undoubtedly made at the Grand Ducal workshop in Florence, the Opificio delle Pietre Dure. The central panel depicts a lapis lazuli urn of flowers - a favored motif, with plaques of birds on fruiting and flowering branches above and below. These plaques are undoubtedly based on zoological and botanical drawings executed by Jacopo Ligozzi (1547-1627). Ligozzi worked for the Medici court and supplied patterns to the craftsmen at the Florentine Grand Ducal workshop. In the early 1600s Ligozzi's loving observation of nature introduced a dramatic change in the production of pietra dura panels, the influence of which was felt for many subsequent decades. A related design of birds of paradise perched in a fruit tree, part of a series of ornithological and botanical studies by Ligozzi in the Gabinetto dei Disegni e Stampe at the Uffizi, Florence, is illustrated in Giusti, W. Koeppe and A. Giusti, Art of the Royal Court: Treasures in Pietre Dure from the Palaces of Europe, Metropolitan Museum of Art, New York, 2008, p. 170, fig. 116.

Two panels of abstract architectural outline
These panels, situated to the center of each side of the cabinet, relate to a series of panels designed by Ligozzi for the Church of Ognissanti, Florence. The arches around the chapel's altar are set with panels of hardstone inlay which imitate the flounces and embroidery of altar cloths and appear of abstract architectural outline.