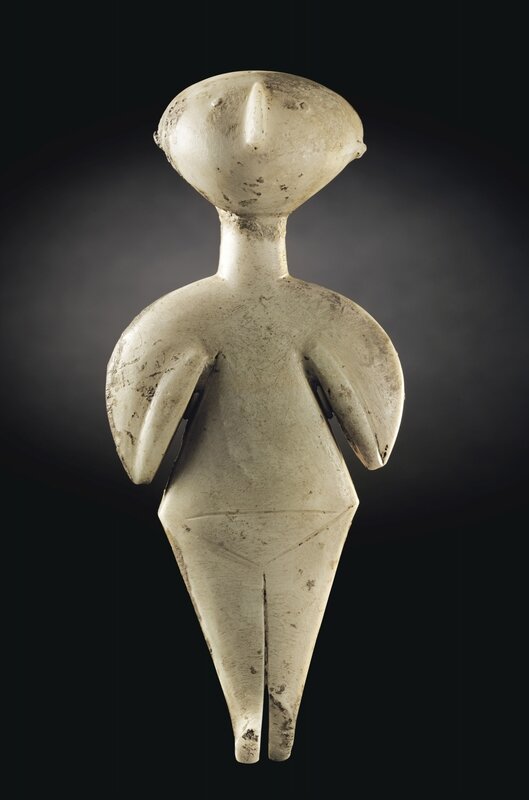 The Guennol Stargazer. An Anatolian marble female idol of Kiliya type, Chalcolithic period, circa 3000-2200 B.C. Estimate on request © Christie's Images Limited 2017.
NEW YORK, NY.- Christie's announces that The Guennol Stargazer, one of the finest and largest preserved Anatolian marble female idols of Kiliya type, is the top lot of the Exceptional Sale on April 28 (estimate on request). The Guennol Stargazer is from the Chalcolithic Period, circa 3000-2200 B.C., and it is considered to be one of the most impressive of its type known in existence. The Guennol Stargazer is further distinguished by its exhibition history, having been on loan at The Metropolitan Museum of Art at various periods from 1966 to 2007.

"The Antiquities department is thrilled to be offering the Guennol Stargazer in the Exceptional Sale, an iconic work of art and one universally recognized as the finest Kiliya idol in existence. This extremely rare work, though dating to the 3rd millennium B.C., is widely appreciated across collecting categories, and was a source of inspiration for 20th century masters for its sleek and modern appeal," comments G. Max Bernheimer, International Head of Antiquities.

"Stargazer" is the colloquial title derived from the slightly tilted-back angle at which the large head rests on the thin neck, thus creating the whimsical impression of a celestial stare. There are only about 15 nearly complete idols that survive, although fragmentary examples, particularly heads, abound. Most of the complete examples have been broken across the neck, as the present figure, suggesting that the sculptures were ritually "killed" at the time of burial.

The Guennol Stargazer maintains an impressive provenance. It was a part of the Guennol collection, which was formed by prominent art collectors Alastair Bradly Martin and his wife, Edith. The title "Guennol" is the Welsh word for "Martin," the last name of the first modern owners. The choice of Welsh is an allusion to the place where they spent their honeymoon. The Stargazer was then passed by descent and acquired by the current owner, a New York private collector, in August 1993 from the Merrin Gallery.

The last marble example of Kiliya type that appeared at auction was The Schuster Stargazer, which sold at Christie's New York on June 5, 2005 for $1,808,000.
The Schuster Stargazer, marble female idol, Anatolian, Chalcolithic Period, circa 3300-2500 B.C., 7 7/8 inches high. Sold for $1,808,000 at Christie's New York, 8 june 2005. © Christie's Images Limited 2005
Stargazer idols have strong appeal to collectors of all types of art, from Ancient to Contemporary, predominantly due to their similarities with modern art. The sleek and abstract form of Kiliya idols resonates with 20th century masters such as Brancusi, Modigliani and Moore.

The exceptional nature of the objects included in the Guennol Collection is legendary – in December 2007, the Guennol Lioness, a Mesopotamian limestone sculpture, fetched $57.1 million, setting a record price at auction for an ancient work of art.

The Exceptional Sale is during Christie's Classic Week, a marquee week of sales in April, which includes Antiquities, Old Masters, European Sculpture and Japanese and Korean Art.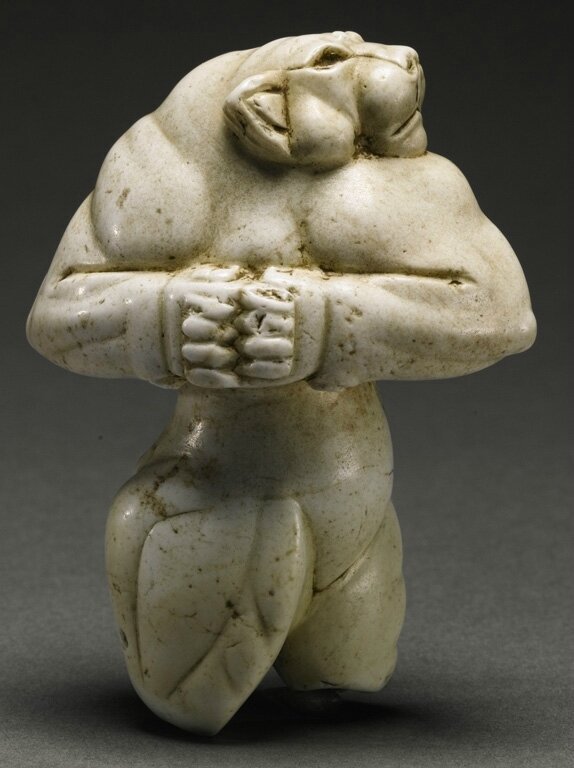 The Guennol Lioness. A Magnesite or Crystalline Limestone Figure of a Lioness, Elam, circa 3000-2800 B.C. Sold 57,161,000 USD at Sotheby's New York, 5 December 2007, lot 30. Photo: Sotheby's.
of powerful form and monumental conception, striding with the left leg advanced, the broad-shouldered upper body turned fully to the right with the paws clasped to the abdomen, the head with finely incised detail, and wide-set eyes with circular pupils, four holes on the back for insertion of a tail, two holes on the crown of the head perhaps for suspension, the lower legs possibly once completed in a different material. Height 3 1/4 in. 8.26 cm.
Provenance: said to have been found at a site near Baghdad
E.S. David, Baghdad and New York
Joseph Brummer, New York, 1931
Alastair Bradley and Edith Martin, New York, 1948
Exhibited: The Brooklyn Museum of Art, since 1948
"Ancient Art in American Private Collections," Fogg Art Museum, Cambridge, Mass., December 28, 1954-February 15, 1955
"Thou shalt Have No Other Gods before Me," The Jewish Museum, New York, May-September 1964
"The Guennol Collection," The Metropolitan Museum of Art, New York, 1969
"In Celebration: Works of Art from the Collections of Princeton Alumni and Friends of the Art Museum, Princeton University, "The Art Museum, Princeton University, 1997
"Art of the First Cities: The Third Millennium B.C. from the Mediterranean to the Indus," The Metropolitan Museum of Art, New York, May 8-August 17, 2003
Literature: Albert Gallatin, The Pursuit of Happiness, New York, 1950, p. 140
Edith Porada, "A Leonine Figure of the Protoliterate Period of Mesopotamia," Journal of the American Oriental Society, vol. 70, 1950, pp. 223-226
Henri Frankfort, The Art and Architecture of the Ancient Orient, Baltimore, 1950, pp. 223-226; 5th ed., New Haven and London, 1996, pp. 32-33, figs. 22-23
George M.A. Hanfmann, "Ancient Art in American Collections," Notes on Special Exhibitions, The Art Quarterly, Spring 1955, p. 63
Ancient Art in American Private Collections. A Loan exhibition at the Fogg Art Museum of Harvard University, December 28, 1954 - February 15, 1955, Cambridge, Mass., 1954, no. 58, pl. XVIII
The Illustrated London News, April 9th, 1955, p. 652, fig. 1
Encyclopedia of World Art, vol. I, London, 1959, p. 860
André Parrot, Sumer, Paris, 1960, pp. 78-79, fig. 97 (photograph reversed)
Pierre Amiet, La glyptique mésopotamienne archaïque, Paris, 1961, fig. 579
Enciclopedia dell'arte antica, vol. IV, Rome, 1961, p. 1054
Seton Lloyd, The Art of the Ancient Near East, London, 1961, pp. 40-41, fig. 19
Edith Porada, Alt-Iran. Die Kunst in vorislamischer Zeit, Baden-Baden, 1962, p. 27
B.L. Goff, Symbols of Prehistoric Mesopotamia, New Haven-London, 1963
J.G. MacGowan, Babylon, New York, 1964, p. 69, fig. 4A (drawing)
Ann E. Farkas, Thou shalt Have No Other Gods before Me, New York, 1964, no. 90, illus.
W. Nägel, in Berliner Beiträge zur Vor- und Frühgeschichte, vol. 8, 1964, pp. 51-52
M.E.L. Mallowan, Early Mesopotamia and Iran, New York, 1965, p. 50, fig. 42
Edith Porada, The Art of Ancient Iran: Pre-Islamic Cultures, New York 1965, p. 35, color pl. 6
Pierre Amiet, Elam, Auvers-sur-Oise, 1966, pp. 93-94, figs. 60A, B
Donald Hansen, Kate C. Lefferts, and S. M. Alexander, "A Proto-Elamite Silver Figurine in The Metropolitan Museum of Art," Metropolitan Museum Journal, vol. 3, 1970, p. 11, figs. 10-11
Henriette Antonia Groenewegen-Frankfort and Bernard Ashmole, Art of the Ancient World: Painting, Pottery, Sculpture, Architecture from Egypt, Mesopotamia, Crete, Greece, and Rome, New York, 1971(?), pp. 90-91, fig. 95
R. Garbini, in Annali dell'Istituto Orientale di Napoli, vol. 33, 1973, pp. 368-372
Ida Ely Rubin, The Guennol Collection, vol. I, New York, 1975, pp. 57-62, illus.
Winfried Orthmann, Der alte Orient (Propyläen-Kunstgeschichte, vol. 14), Berlin, 1975, pp. 376-377, pl. XXXIa
Pierre Amiet, The Art of the Ancient Near East, New York, 1977, no. 246
Othmar Keel, Die Welt der altorientalischen Bildsymbolik und das Alte Testament. Am Beispiel der Psalmen, 2nd ed., Zurich, Einsiedeln, and Cologne, 1977, p. 74, fig. 98
Manfred Robert Behm-Blancke, Das Tierbild in der altmesopotamischen Rundplastik: Eine Untersuchung zum Stilwandel des frühsumerichen Rundplastik (Baghdader Forschungen, vol. 1), Mainz am Rhein, 1979, K43, pp. 29-31, pl. 22, 107
Agnès Spycket, La statuaire du Proche-Orient ancien, Leiden and Cologne, 1981, p. 45 and n. 91, pl. 35
Edith Porada, review of Behm-Blancke, op. cit., 1979, in American Journal of Archaeology, vol. 85, 1981, p. 499
Prudence O. Harper, Joan Aruz, and Francoise Tallon, The Royal City of Susa. Ancient Near Eastern Treasures in the Louvre, New York, 1992, p. 69, fig. 30
Lloyd and Jennifer Laing, Ancient Art. The Challenge to Modern Thought, Dublin, 1993, p. 135, fig. 195
In Celebration: Works of Art from the Collections of Princeton Alumni and Friends of the Art Museum, Princeton University, Princeton, New Jersey, 1997, p. 5, no. 1
Holly Pittman in Art of the First Cities: The Third Millennium B.C. from the Mediterranean to the Indus, Joan Aruz, ed., New York, 2003, pp. 44-45, no. 14, illus.
John Boardman, The World of Ancient Art, London, 2006, p. 116, fig. 162
Note: The Guennol Lioness is from the renowned and highly personal Guennol Collection formed over several decades by Edith and Alastair Bradley Martin. They named the collection Guennol after the Welsh name for martin, and it was in Wales that they spent part of their honeymoon.
The Guennol Lioness is prominently featured in Near Eastern and ancient art surveys, together with the Warka head and other highly recognizable objects, as one of the oldest and most important works of ancient sculpture from the Near East in particular and the ancient world in general (e.g. Frankfort 1950 and 1996, Lloyd 1961, Groenewegen and Ashmole 1971, Spycket 1981, Laing 1993, Boardman 2006).
In its uniqueness and sheer aesthetic appeal the Lioness is acknowledged to transcend stylistically related examples of sculpture from the same area and time period. Despite its relatively small size it conveys an unmistakable impression of monumentality, an effect which the sculptor was able to achieve by combining bold modeling, powerful proportions, and a physically impossible posture generating multiple viewpoints.
CULTURAL ORIGIN
The closest comparable examples of a striding upright beast or lion with paws locked on the chest can be found on a relatively small group of Proto-Elamite seal impressions (Figs. 1-3: Amiet 1966, fig. 61A-B; Amiet, Glyptique susienne, vol. 2, Paris, 1972, pl. 109, fig. 1012); there, as with the Lioness, the torso of each animal is shown frontally while the legs and head appear in profile, a convention normally confined to two-dimensional figural representations. These similarities have led scholars to suggest that the sculptor drew his inspiration directly from these seal impressions. Because of its strong links to this particular group of seals, therefore, the Lioness is thought to originate in the proto-literate culture of the land of Elam, the southwestern region of modern Iran.
Based on various technical and stylistic similarities with a stone composite figure of a bull discovered at Uruk in Mesopotamia, the suggestion was first made that the sculptor of the Lioness, although working in Elam and making use of Proto-Elamite iconography, might have been of Mesopotamian origin (Porada 1950, 224). The current consensus, however, is that the artist was a native of Elam working in a local artistic tradition well attested there, especially in a group of objects called "Dépôt archaïque," which was found in the early 20th Century near the western wall of the acropolis at Susa (Behm-Blancke 1979, 31; Porada 1981, 499); a composite figure of a griffin-lion in particular shows stylistic connections to the Lioness (Amiet 1966, no. 63).
FUNCTION AND IDENTIFICATION
The connected holes on the head of the lioness are unlikely to have been made for the addition of a mane (Porada 1950); instead they could have been meant for insertion of a cord, indicating that the object may have been worn, "probably [suspended] from the neck of a powerful leader" (Pittman 2003, 14). The ferocious aspect of the beast and the power it emanates could provide clues to the apotropaic nature of the object, which was probably meant to repel misfortune and keep malevolent forces at bay (Frankfort 1950, 13). The lion figures on the Proto-Elamite seal impressions are sometimes shown supporting mountains and trees (Fig. 3); their enormous size " could indicate that they had great power over the mountainous country through which they stride" (Figs. 1-2) (Porada 1950, 225).
The identity of the Guennol Lioness, its role within the system of beliefs, mythology, and the rituals of the culture that produced it, will probably remain forever a matter of speculation, as there existed no written records in this period that would allow for a positive identification. Scholars are left, therefore, with the task of interpreting an enigmatic and complex iconography in the light of later and better understood traditions from the Near East.
PLACE OF DISCOVERY
Joseph Brummer's information that the Lioness came "from a site near Baghdad" (Porada 1950, 224, n. 6) does not contradict the object's accepted Proto-Elamite origin. The closest parallel in Proto-Elamite sculpture in the round does not come from an Iranian site but from the Shara temple at Tell Agrab, a few dozen kilometers east of Baghdad in the Diyala valley, as part of a group of related amulets which could have easily traveled there on the trade routes linking the two regions. One of these amulets, a magnesite-like leaping lioness with voluted shoulders (Fig. 4: Behm-Blancke 1979, 79, no. 102, figs. 29a and b), bears such a striking resemblance to the Lioness that the scholar who first published it suggested that both objects were imports from the same native Proto-Elamite workshop, and that the Guennol Lioness itself was likely to have been found at Tell Agrab as well: "Die enge Zusammengehörigkeit beider Stücke erlaubt es auch, als wahrscheinlichen Fundort der Brooklyn-Löwin Tell-Agreb, genauer noch, den Bereich des Sara-Tempels anzunehmen" (Behm-Blancke 1979, p. 30).
Archaeologists from the Oriental Institute of the University of Chicago conducted a single campaign of excavations at Tell Agrab, starting in the first weeks of January 1936 and ending early in January 1937. In the Summer of 1935 members of the staff had surveyed the Tell, led there by "certain archaeological material which found its way into the hands of Baghdad dealers, and purported to come from a mound which could be identified as Tell Agrab" (Seton Lloyd, "The Shara Temple at Tell Agrab," Oriental Institute Publications, vol. 58, 1942, p. 218). The material excavated by the Institute at Tell Agrab and the relevant archaeological records are currently being made available to the public in great detail as part of the web-based Diyala Project, which is funded by the National Endowment for the Humanities. (http://oi.uchicago.edu/research/projects/diy/).
EPILOGUE
In 1966 the Metropolitan Museum of Art acquired another rare example of a Proto-Elamite animal figure in a human posture, this one made from several sheets of hammered silver and representing a kneeling bull holding a vessel (Fig. 5: Art of the First Cities, New York, 2003, no. 13). The bull figure appears on contemporary seal impressions in conjunction with the Lioness (Fig. 3: Amiet, Glyptique susienne, pl. 109, fig. 1012). The only general statement that can be safely made about these two creatures is that they both played a prominent role in the iconography, and presumably in the religion and mythology as well, of the people who created them.