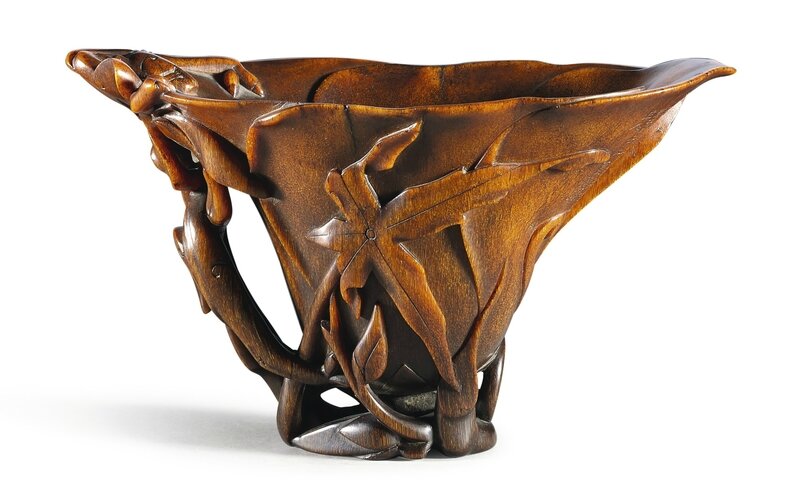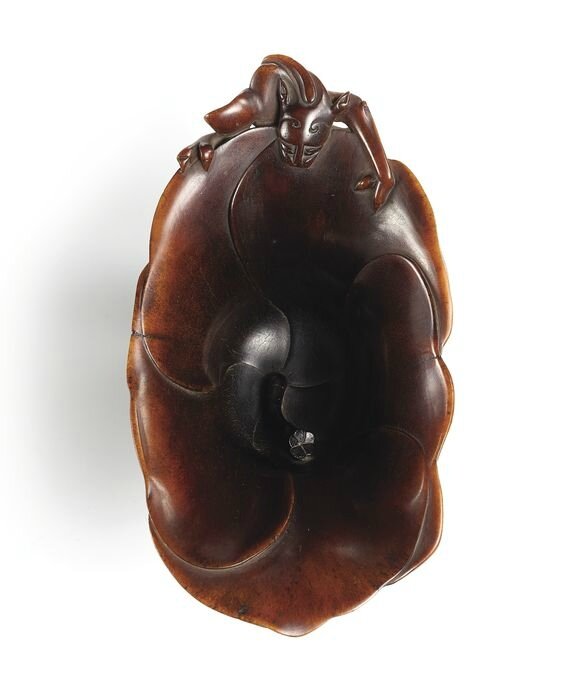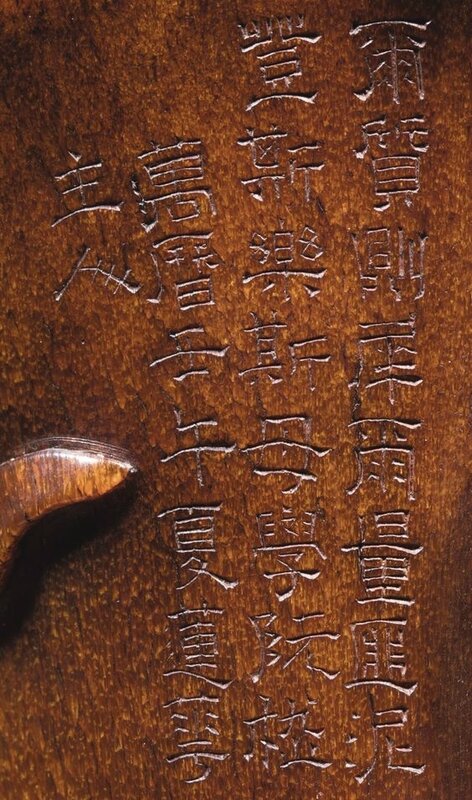 Lot 3643. A rare, superbly carved and inscribed rhinoceros horn 'chilong' libation cup, Ming dynasty, dated renwu year of the Wanli period (in accordance with 1582), 19.4 cm, 7 5/8 in. Estimate 1,800,000 — 2,800,000 HKD. Lot sold 3,220,000 HKD (389,658 EUR) (414,382 USD). Photo: Sotheby's 2017
exquisitely carved in the form of a deep musk mallow bloom, one side decorated in openwork with a chilong clambering on the interior of the rim and forming the handle of the cup, the mythical beast rendered with a slender sinuous body terminating in an elongated curling tail extending across the vessel, all supported on a base rendered as the curling stem bearing the floral bloom and enveloping the vessel with attendant leaves and a floral bud, incised in clerical script on one side with a poetic inscription warning against inebriation and dated to the summer of the renwu year of the Wanli period (in accordance with 1582), the surface with an attractive and smooth patina, wood stand.
Provenance: A French private collection.
Christie's Paris, 10th June 2009, lot 262.
Eskenazi Ltd, London.
Exhibited: Early Chinese Metalwork in Gold and Silver: Works of Art of the Ming and Qing Dynasties, Eskenazi Ltd, London, 2011, cat. no. 17.
Note: This finely carved vessel is particularly rare for its inclusion of a cyclical date, which identifies it as an example carved in the Wanli period. The carving of the present piece has skilfully utilised the natural shape of the rhinoceros horn to render it as an open musk mallow flower, complete with a stamen in the well. The softness of the petals is captured in the smoothly finished surface and delicate lobed rim. A further sense of naturalism and liveliness is captured in the sinuous rendering of the chilong handle and the expertly fashioned foot in the form of a twisting stalk that extends upwards.
A slightly smaller rhinoceros horn cup decorated with similar serrated leaves on the exterior and a chilong handle is illustrated in Maria Kiang, Objects for the Scholar's Desk, Hong Kong, 2008, pl. 31; one was sold in our New York rooms, 27th February 1981, lot 323; another was sold in our London rooms, 28th October 1988, lot 208; and two were sold at Christie's London, the first, 15th May 2007, lot 49, and the second, 8th November 2011, lot 5. Another similar cup but lacking the chilong handle, in the Palace Museum, Beijing, is illustrated in Classics of the Forbidden City. Rhinoceros Horn in the Collection of the Palace Museum, Beijing, 2012, pl. 13, together with one also carved with bamboo on the body, pl. 12; and a further example in the Chester Beatty Library, Dublin, published in Jan Chapman, The Art of Rhinoceros Horn Carving in China, London, 1999, pl. 206.
Sotheby's. Important Chinese Art, Hong Kong, 05 Apr 2017