Designed by G. Paulding Farnham for Tiffany & Co., Renaissance revival neck ornament, 1900–04. Platinum, gold, enamel, diamond, ruby, emerald, cat's eye, chrysoberyl, sapphire, and pearl. Gift of Susan B. Kaplan. © 2017 Museum of Fine Arts, Boston.
BOSTON —Exploring more than 4,000 years of jewelry history, a new exhibition organized by the Museum of Fine Arts, Boston (MFA), traces the long-standing tradition of drawing design inspiration from the past—whether by directly copying earlier styles or reinterpreting ancient motifs. Past Is Present: Revival Jewelry includes 80 objects by jewelers such as Castellani, Tiffany & Co., Cartier and Bulgari, ranging from antiquity to today and showing that the revivalist narrative did not end in the early 20th century. In nearly every instance, the design of the ornament highlights the tension between progress and the desire to engage with the past, in both traditional and unexpected ways. Drawn largely from the Museum's collection and featuring 17 stunning loans from private collections, Past Is Present: Revival Jewelry opens on Valentine's Day, February 14, 2017 and is on view through August 19, 2018 in the Rita J. and Stanley H. Kaplan Family Foundation Gallery. MFA members are the first to see the exhibition during Member Preview days, Saturday, February 11 through Monday, February 13. Sponsored by Cartier. Presented with support from the Rita J. and Stanley H. Kaplan Family Foundation Inc. / Susan B. Kaplan and Jean S. and Frederic A. Sharf.
"History fuels the creative imagination. The dazzling jewels in this exhibition were made by designers who found inspiration from the past—reviving and reinterpreting antique styles for a new age," said Emily Stoehrer, Rita J. Kaplan and Susan B. Kaplan Curator of Jewelry. "Today, as technology continues to advance and life's pace continues to accelerate the traditions of the past, from ancient Egypt to the Renaissance, continue to provoke and inspire."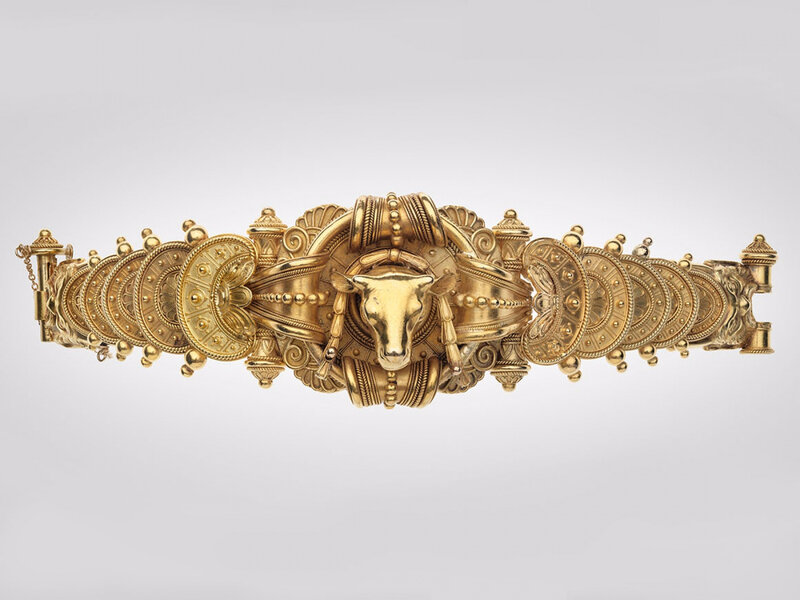 Ernesto Pierret, Etruscan Revival Bracelet, Italian, about 1860. Gold. Museum purchase with funds donated by the Rita J. and Stanley H. Kaplan Family Foundation, Jean S. and Frederic A. Sharf, and Monica S. Sadler. © 2017 Museum of Fine Arts, Boston.
Revival jewelry became fashionable in the 19th century, as opportunities for travel increased; archaeological digs unearthed ancient treasures and newly founded museums (including the MFA) and international expositions showcased discoveries from antiquity. Surrounded by this history, jewelers were among the many artists who found inspiration in the myriad of freshly available visual resources, incorporating them into their work. While jewelry from the 19th and early 20th centuries explored many revival styles, the exhibition largely focuses on four: archaeological (inspired by newly excavated art and artifacts), as well as Renaissance, Egyptian and Classical. Additionally, contemporary pieces demonstrate how the revival jewelry tradition continues today as artists are once again drawn back in time, focusing on hands-on craftsmanship and the exploration of timeless themes that first presented themselves hundreds, or, in some cases, thousands of years ago.
Four loans from the Cartier Collection are a highlight of the exhibition. After the discovery of King Tutankhamen's tomb in 1922, Louis Cartier, like many other jewelers at the time, bolstered his collection of ancient artifacts and incorporated them into his work. A 1924 Scarab Brooch, which can be converted into a belt buckle, is paired with a Winged Scarab (740–660 BC) from the MFA's collection. The 20th-century brooch features gold, platinum and diamonds in addition to ancient faience (glazed ceramic) fragments; and the holes, meant to secure the Egyptian ornament to linen mummy wrappings, have been hidden behind emeralds. A Bracelet (1928) created for composer Cole Porter's wife Linda integrates a replica of an ancient Eye of Horus—a protective amulet thought to have healing properties—offering another example of Cartier's celebrated Egyptian revival designs. The Head of Medusa Pendant (1906) and Chimera Bracelet (1929) set with diamonds, meanwhile, draw inspiration from ancient mythology.
Bulgari, Necklace with coins of Heracles, Italian, 1980s. Gold and silver. William Francis Warden Fund and Morris and Louise Rosenthal Fund. © 2017 Museum of Fine Arts, Boston.
Connections among travel, politics and nostalgia in 19th-century jewelry are explored through examples of pieces that would have been bought as mementos on the Grand Tour. Regarded as a rite of passage and a critical component of classical education, a trip across Europe was a luxury that could be drawn out for years. As travelers collected souvenirs along the way, cities became known for particular types of jewelry. A Coral Suite (1850s) from Naples comprises a necklace, earrings and brooch, featuring carved depictions of Bacchus—the ancient Roman god of wine—rams and female figures, surrounded by delicate gold leaves and grapes. Referencing classical life, imagery of jovial gods and goddesses appeared often in ornaments acquired in Italy, which was seen as the birthplace of modern civilization and the essential stop on the Grand Tour.
As 19th-century archaeologists unearthed ancient treasures from the Mediterranean world, nationalism was also sweeping through Europe. Both long-established and newly independent countries—and their jewelers—sought a national vernacular that evoked the glorious past. In England, designers like Charlotte Newman (known as Mrs. Philip Newman) explored Renaissance themes, as seen in her Cameo Necklace of Elizabeth I (about 1890). Carved by Georges Bissinger, the pendant shows a profile image of the 16th-century monarch, whose reign was often compared at the time with that of Queen Victoria.
Possibly by Castellani, Necklace, brooch, and earrings in the archaeological revival style, Italian, about 1880. Gold and amber. Bequest of William Arnold Buffum. © 2017 Museum of Fine Arts, Boston.
In Italy, amidst advocacy for unification, Castellani—the most famous jeweler in Rome at the time—established itself as the premier retailer of revival jewelry. The shop, founded in 1814 by Fortunato Pio Castellani, sold high-style imported jewelry from Paris until around 1850, when Castellani's sons Alessandro and Augusto, who were outspoken in their desire for Italian unification, resolved to specialize in archaeological revival jewelry that celebrated the early gold work that was being excavated just outside Rome. One example is the gold Castellani Brooch (about 1858) that copies the design of an Etruscan original, excavated in 1836 from a tomb in Cerveteri, Italy and now part of the Campana Collection at the Louvre.
A selection of paintings in the exhibition, including Dante Gabriel Rossetti's Bocca Baciata (Lips That Have Been Kissed) (1859) and the recent acquisition Belcolore (1863), additionally illustrate fashions that were popular in 19th-century jewelry. Typical of the artist's work of this period, they present close-up views of beautiful women adorned with ornaments. The necklace of gold rosettes in Bocca Baciata was inspired by ancient jewelry, exemplifying the archaeological impulse that was popular at the time.
Dante Gabriel Rossetti, Bocca Baciata (Lips That Have Been Kissed), 1859. Oil on panel. Gift of James Lawrence. © 2017 Museum of Fine Arts, Boston.
Revival jewelry can also be classified by technique—including cameo carving, polychrome enamel, granulation and micromosaic. These methods, which have fascinated artists since antiquity, were heavily revived in the 19th century and continue to be employed by jewelers today.
Traditionally carved from shells or hard stones, cameos have been prized since their development in ancient Greece and Rome, when they were worn as symbols of wealth. A mass-produced cameo by Josiah Wedgwood seen in the "Slave-in-Chains" Medallion (1786–87) became a highly visible indicator of one's support for the abolitionist movement in the 18th century. Designed for the British Society for the Abolition of the Slave Trade and worn as women's jewelry or set into men's accessories, the cameo shows a manacled slave on bended knee below the words "Am I Not a Man and a Brother?" Other examples of revivalist cameos include a Cameo Bracelet (about 1840) by William Morris Hunt, featuring portraits of the Boston painter and his three brothers, and the Peace Brooch (2011) by Japanese jeweler Shinji Nakaba, a recent acquisition made from helmet shell, gold and stainless steel that shows a crying or sleeping face and decorative carving inspired by ancient Greek art.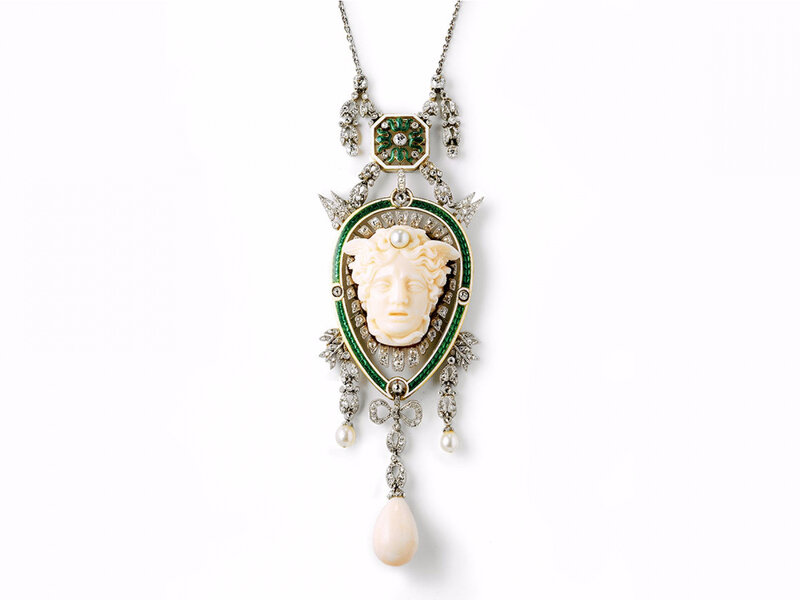 Cartier, Head of Medusa pendant, 1906. Platinum, gold, enamel, diamond, pearl, and coral. Photo: Nick Welsh, Cartier Collection. © Cartier.
Jewelers working with enamel used a variety of techniques to achieve different results. The red-and-blue enamel background of Fuset y Grau's Girl Blowing Bubbles Pendant (about 1910) simulates a stained glass window using an elaborate plique-à-jour technique, which forgoes backing to allow light to shine through. Later jewelers were also seduced by the challenge of borrowing older techniques—in the 1950s, Margret Craver began to research and perfect émail en résille. The American jeweler's Pendant (about 1981) demonstrates the complicated technique, in which designs are etched into glass and colored foils and gold leafs are heated above, falling into the partially melted surface.
Sophisticated metalwork by ancient Etruscans included granulation—a delicate process in which tiny balls of pure gold are fused to a gold surface. During the second half of the 19th century, the technique was mastered by Alessandro Castellani, who produced highly praised examples that were sold at the family's shops in Rome, Paris and Naples—such as the Pair of Earrings (about 1870–80) composed of rosettes and amphora-shaped pendants. Another Pair of Earrings and an accompanying Brooch from the same time period show finely crafted cupids riding doves with silken cords. They were likely made by Castellani's star pupil Giacinto Melillo, who managed the family's Naples workshop after 1870. More recent examples of the granulation technique include the Polyp Colony Necklace (1995) by John Paul Miller and the Chort Pendant (2002) by Andrea Cagnetti, known as Akelo. While Castellani revived the long-forgotten technique, he wrote very little about the process, leaving contemporary jewelers to experiment in recreating his methods.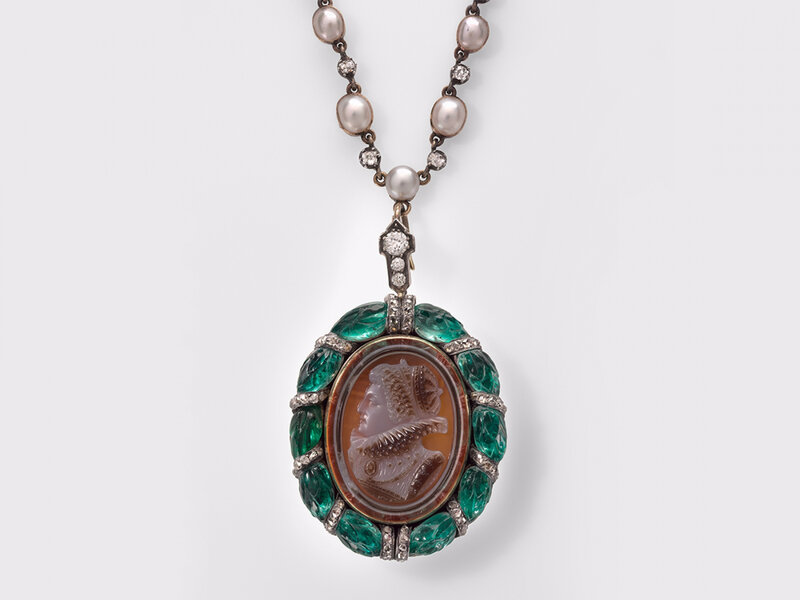 Mrs. Philip Newman and Georges Bissinger, Necklace with a cameo of Elizabeth I, about 1890. Gold, silver, diamond, emerald, pearl, agate, and glass. Museum purchase with funds donated by Susan B. Kaplan. © 2017 Museum of Fine Arts, Boston.
Castellani also played a central role in igniting 19th-century taste for micromosaic jewelry, which incorporated miniature examples of mosaics that were abundant in ancient art. While much of the firm's work focused on Etruscan styles, an Egyptian Revival Necklace and Brooch (before 1888) features 15 ancient scarabs and a palette of colors that were popular in Egyptian art—red represented the desert, green evoked the fertile lands of the Nile Valley, blue symbolized the sky and water, and yellow signified the sun. The necklace and brooch's micromosaic elements were likely completed by the mosaicist Luigi Podio, who joined the Castellani workshop in 1851.
The symbolic nature of jewelry can be observed through popularity of themes that were seen repeatedly in designs from the 19th to the 21st centuries, such as currency. Coins have been fashioned into jewelry since antiquity—acting as commemorative or artistic ornaments, they served as emblems of wealth and power. In the 19th century, jewelers like Ernesto Pierret and Castellani began incorporating ancient coins—both real and replicas—into their designs. At Castellani, while Alessandro excelled at mastering the granulation technique, his brother Augusto is credited for the firm's coin jewelry—such as the Pendant with Coin of Corinth (about 1870–80). A collector and expert numismatist, he reportedly treated the coins with sulfur to create a uniform grey finish. A more recent gold Necklace with Coins of Heracles (1980s) by Bulgari features a coin design that dates to 350–300 BC, struck in the name of Alexander III. The obverse shows an image of Heracles, while Zeus, enthroned and holding an eagle and scepter, appears on the reverse. While such jewelry celebrates ancient life, the contemporary jeweler Kathy Buskiewicz questions materialism and value in her work. Her Savior Bracelet (1996) uses shredded currency obtained from the US Department of Treasury.
Necklace and brooches, French, about 1840. Shell, gold. Gift of the Misses Cornelia and Susan Dehon in memory of Mrs. Sidney Brooks. © 2017 Museum of Fine Arts, Boston.
Animals have also long been viewed as symbols of power, incorporated into jewelry as a way for the wearer to appropriate the creatures' qualities. One motif that spans centuries and continents features "confronted animals"—two animals of the same species facing each other in a symmetrical pose. Confronted lions can be seen in the Anatolian Bracelet with Lion Head Finials (about 2400 BC), while a traditional Indian Bracelet with Confronting Makaras (19th century) and the Cartier Collection's Chimera Bracelet (1929) feature mythical beasts. Beginning in the 1960s, American designer David Webb borrowed the style and created a menagerie of bracelets featuring confronted animals, including the Aztec Serpent Bracelet (1969), based on the double-headed design of an Aztec pectoral at the British Museum.
Snakes have been an especially popular animal motif in jewelry—considered at once wise and deceitful, prudent and cunning, their incorporation into ancient ornaments signified power and protection. Popular with the firm's celebrity clients, a version of Bulgari's gold, diamond and enamel Serpenti Bracelet-Watch (before 1978) slithered around Elizabeth Taylor's wrist on the set of her 1962 film Cleopatra. More recently, contemporary jeweler David Bielander borrowed the ancient form for his nine-foot Python Necklace (2011). Taking a fresh approach by employing an unexpected—and startlingly lifelike—scale, Bieldander's piece is among the selections in the exhibition that invite visitors to reconsider historical revivalism through a 21st-century lens.
February 14, 2017 – August 19, 2018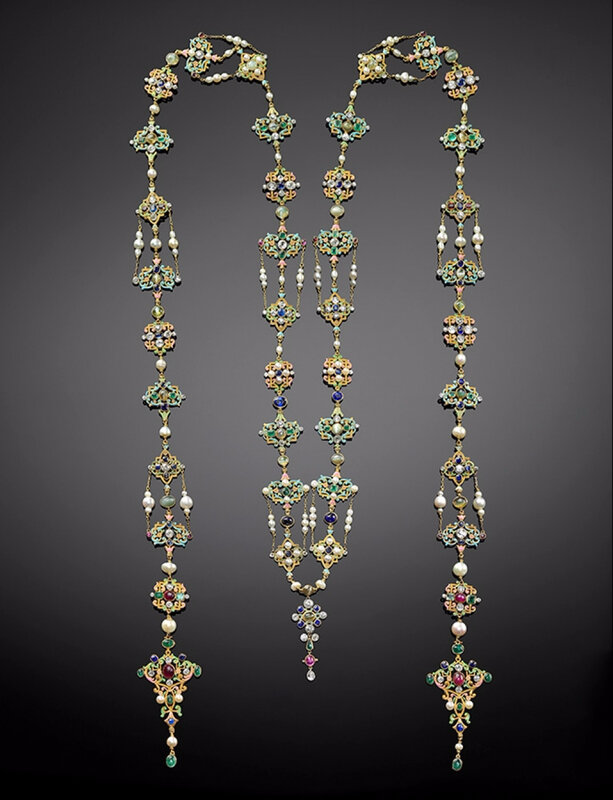 Designed by G. Paulding Farnham for Tiffany & Co., Renaissance revival neck ornament, 1900–04. Platinum, gold, enamel, diamond, ruby, emerald, cat's eye, chrysoberyl, sapphire, and pearl. Gift of Susan B. Kaplan. © 2017 Museum of Fine Arts, Boston.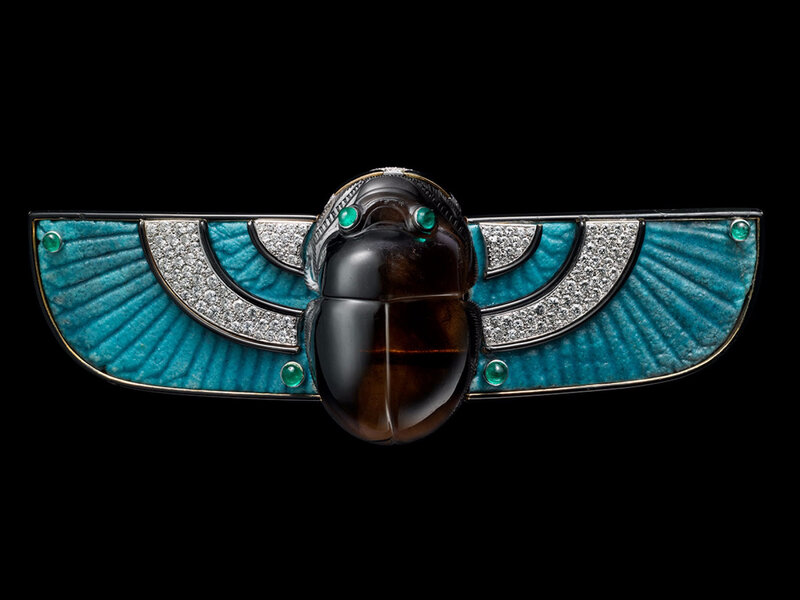 Cartier, Brooch, 1924. Faience, diamond (round old-cut), emerald, smoky quartz, and enamel. Vincent Wulveryck, Cartier collection. © Cartier.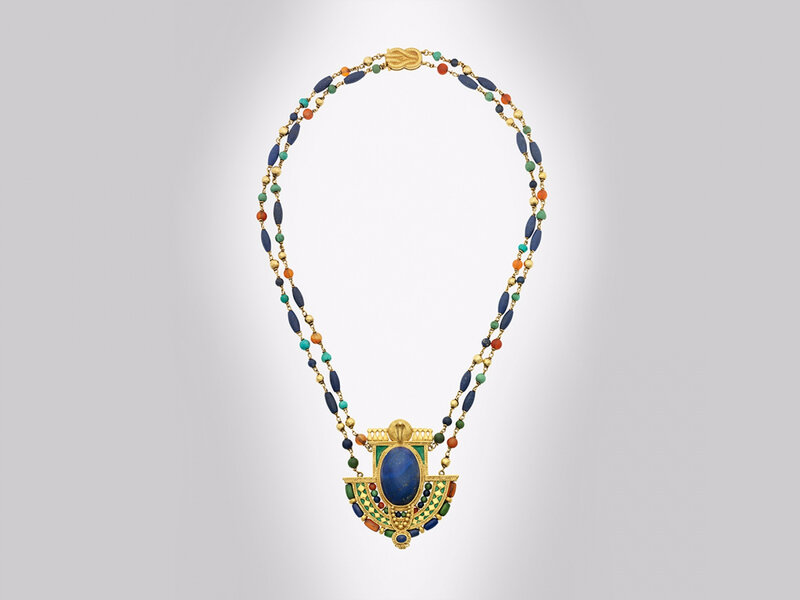 Louis Comfort Tiffany, Egyptian revival necklace, about 1913. Gold, lapis lazuli, amber, and turquoise. Private Collection. © 2017 Museum of Fine Arts, Boston.