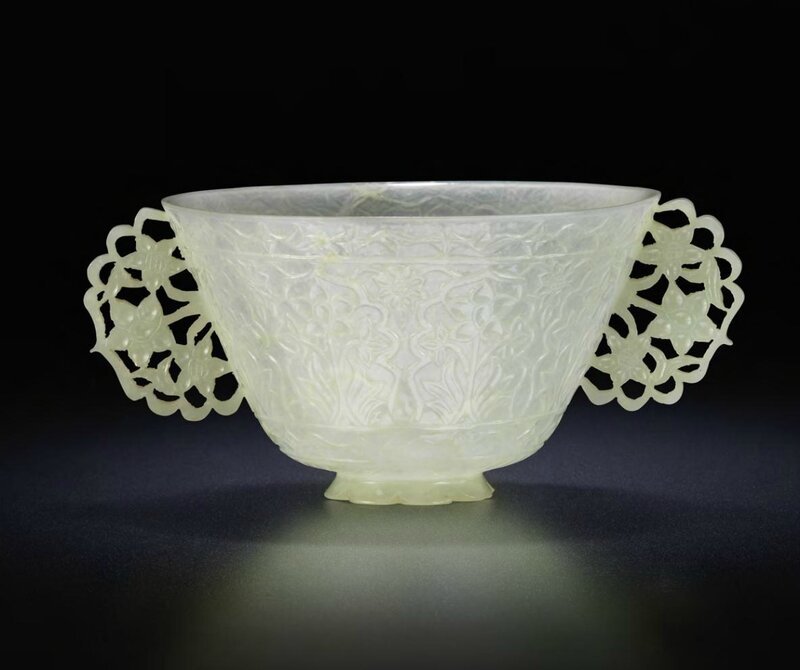 Lot 116. A rare pale green jade two-handled bowl, Probably Ottoman, 18th century; 18cm (7 1/8in) wide. Estimate HK$150,000 - 200,000 (US$19,000 - 26,000). Sold for HK$ 200,000 (€22,949). Photo: Bonhams.
Exquisitely carved with thin translucent deep flaring sides, rising from a short spreading foot elaborately carved as a flowering blossom, the exterior decorated in low relief with shaped panels containing flowers, all between two borders of scrolling foliage, flanked by a pair of pierced elaborate flower handles, the stone of translucent white tone with milky-white inclusions.
Provenance: Sir John William Buchanan-Jardine (1900-1969), 3rd Baronet of Castle Milk, according to Spink invoice
The Oriental Art Gallery Ltd., London
An English private collection, acquired from the above circa 1994
Spink & Son Ltd., London
An English private collection, acquired from the above on 12 July 1999
invoice
Note: Sir John William Buchanan-Jardine was a scion of Sir William Jardine, the founder of Jardine, Matheson & Co. Established in Canton in 1832, this great shipping company rose to dominate the lucrative China trade and was instrumental in the early development of Hong Kong. The Jardine family played an influential role as proponents of punitive action against the Manchu court, leading to the infamous Opium Wars. From their privileged position in the Far East, the family was in a strong position to secure important pieces from the Chinese Imperial collections after the looting of the Summer Palace, Peking, and the subsequent periods of instability.
When the Qianlong emperor was presented in 1768 with the first pair of jade plates decorated with carved flowers and leaf designs, he wrote a composition judging them to be from 'Hindustan' (north India). He did not realise that many of the so-called 'Hindustan' jade carvings originated from further afield, including the Ottoman Empire which due to its political power and Islamic religion had trade relations as far the Mughal Empire. Twenty-two of the jade wares in the collection of the National Palace Museum, Taipei, are indeed attributed to the Ottoman Empire; see Teng Shu-p'ing, Treasures from Across the Kunlun Mountains: Islamic Jades in the National Palace Museum Collection, Taipei, 2015, pp.159-160.
One of the most significant characteristics of Ottoman jades is their thin bodies. This is consistent with the Qianlong emperor's admiring remarks in his poems when he says that they were 'lustrous and paper-thin', that one could 'see the flowers and leaves though them/ but could not feel and trace', and that "the shadow of your hand outside can be seen from the inside/ The flowers lift and the leaves curl back on themselves' and 'in one's hand, it seems immaterial/ and one must fix the gaze on it to know it has form"; the physical traits described by the Qianlong emperor above are applicable to the present lot. Compare also two Ottoman jade bowls, illustrated by Teng Shu-p'ing, ibid., p.160, pls.163-164.
The present lot is remarkable not only for the elegant form and translucent thin walls, but also for the elaborate handles, each comprising three flowers, complemented by the similarly shaped foot, attesting to the masterful craftsmanship.
Compare a white jade Mughal cup, incised Qianlong mark and period, but of smaller size and without handles, which was sold at Sotheby's Hong Kong, 4 April 2012, lot 3069.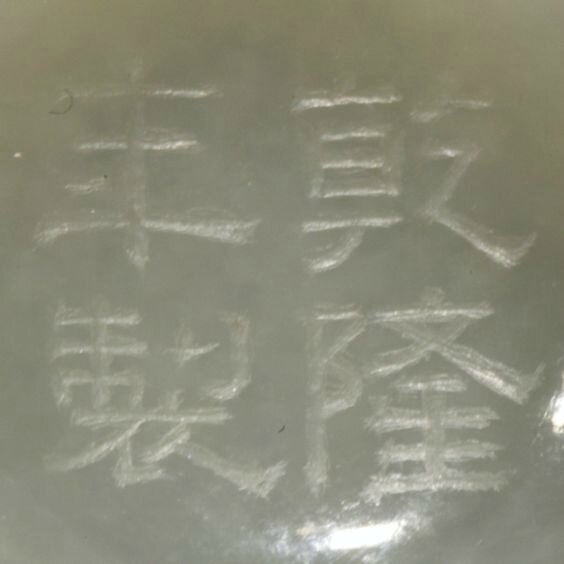 A white jade Mughal cup, incised Qianlong mark and period. Sold 200,000 HKD at Sotheby's Hong Kong, 4 April 2012, lot 3069. Photo Sotheby's.
Bonhams. FINE CHINESE CERAMICS AND WORKS OF ART, 30 May 2017, 15:00 HKT - HONG KONG, ADMIRALTY