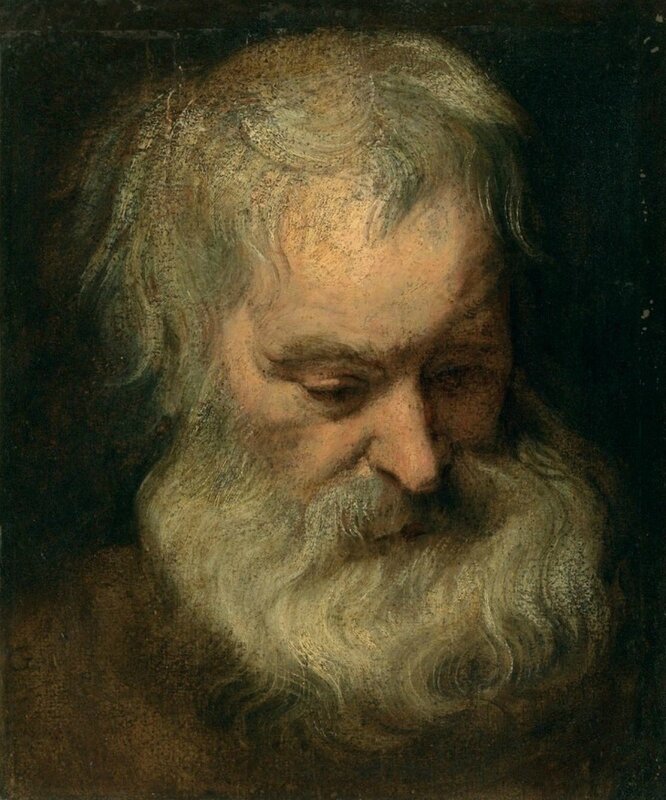 Lot 1. Sir Anthony van Dyck (Antwerp 1599-1641 London), Head study of a bearded man, oil on paper, laid down on panel, 14 x 11 ½ in. (35.7 x 29.3 cm). Estimate GBP 60,000 - GBP. 100,000. Price realised GBP 118,750. © Christie's Images Ltd 2017
Provenance: The Earls of Warwick, Warwick Castle (according to a label on the reverse).
with Agnew's, London.
Property of a Private Collector
Note: This striking head study appears to have been used as the model for the figure at the rear centre of van Dyck's celebrated Christ crowned with Thorns, formerly in the Kaiser-Friedrich Museum, Berlin, and destroyed in World War II (fig. 1). Two other oil studies of heads that relate to the Berlin picture are known: a study, also executed on paper and later laid down on panel, for the headscarved man kneeling before Christ (Sotheby's, New York, 21 May 1998, lot 149a); and a sketch for the figure on the left with a raised hand, formerly in the Minneapolis Institute of Art (Christie's, New York, 10 October 1990, lot 52a), although the attributions for both have recently been questioned by Nora de Poorter (see S.J. Barnes et al, Van Dyck - A Complete Catalogue of the Paintings, New Haven and London, 2004, p. 38, under no. I.22). The author further points to the relationship between the bearded man and the Thomas in the Apostle Series (ibid., p. 75, no. I.63), which employs the same head but in reverse.
The remarkably bold handling of this head study is characteristic of van Dyck's style from this early phase in his career when the artist was in Rubens's studio. The apparently rapid application of paint, executed with a loaded brush, is entirely consistent with other head studies on paper by van Dyck from this period, including the Study of a young woman (Mary Magdalene) now in the Kunsthistorisches Museum, Vienna, and the Young woman resting her head on her hand, probably a Penitent Mary Magdalene, dated to circa 1617-18 (see the exhibition catalogue, The Young Van Dyck, eds. A. Vergara and F. Lammertse, London, 2013, p. 116, no. 8), which was sold at Sotheby's, New York, 22 April 2015, lot 35, for $298,000.
We are grateful to Dr. Christopher Brown for confirming the attribution after inspection of the original.
Christie's. Old Masters Evening Sale, 6 July 2017, London, King Street