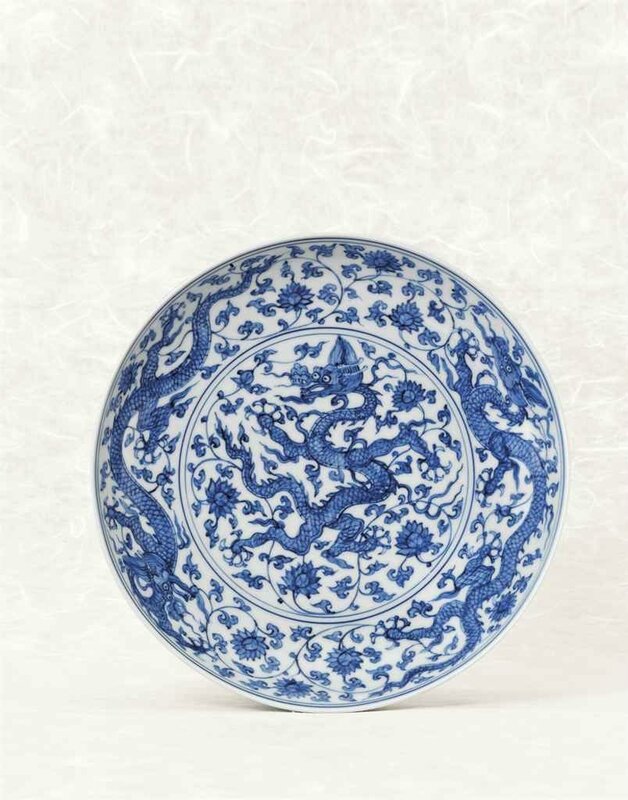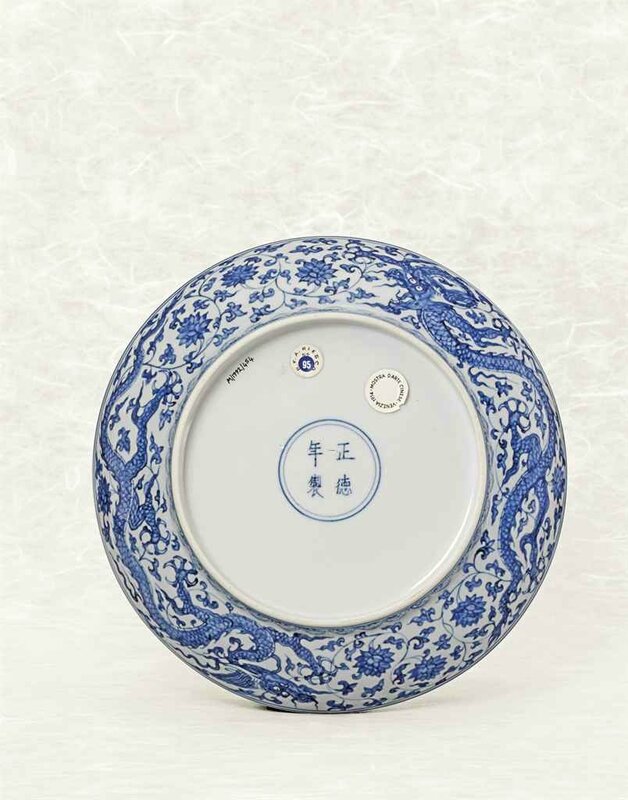 Lot 3116. A rare blue and white 'Dragon' bowl, Zhengde four-character mark within double circles and of the period (1506-1521), 9 1/2 in. (24 cm.) diam. Estimate HKD 6,000,000 - HKD 9,000,000. Price realised HKD 7,840,000. © Christie's Images Ltd 2013
The dish with shallow rounded sides is finely painted in vibrant inky-blue tones in the centre with a rampant leaping dragon amongst a dense lotus meander, the well with two further striding dragons amidst lotus scrolls. The underside is painted with the same decoration above a band of ruyi heads. The base is covered with a transparent glaze and inscribed with the reign mark.
Provenance: Major Lindsay Fitzgerald Hay (1891-1946)
Sold at Sotheby's London, 25 June 1946, lot 48
Bluett & Sons, London, 1946, purchased for 85 pounds
Raymond F.A. Riesco Collection, no. 214c
Literature: E.E. Bluett, The Riesco Collection of Old Chinese Pottery and Porcelain, London, circa 1951, p. 13, fig. 14
Sir Harry Garner, 'Blue and white of the middle Ming period', Transactions of the Oriental Ceramic Society, London, 1951-1953, pl. 20a
Sir Harry Garner, Oriental Blue and White, London, 1954, pl. 46A
London Borough of Croydon, Riesco Collection of Chinese Ceramics Handlist, Croydon, 1987, p. 11, no. 95
Exhibited: Oriental Ceramic Society, Loan Exhibition of Chinese Blue and White Porcelain 14th to 19th Centuries, London, 16 December 1953 - 23 January 1954, Catalogue no. 128
Palazzo Ducale, Arte Cinese, Venice, 1954, Catalogue, no. 663
Note: The design of five-clawed dragons amidst dense lotus scrolls is one of the most prevalent motifs seen on Zhengde porcelain. Its imperial provenance is further substantiated by the inclusion of a dish of this design on the sixth scroll of the imperial collection of the Yongzheng Emperor, the Guwan Tu, Scroll of Antiquities, dated to the sixth year of his reign (1728), from the Percival David Collection and now housed in the British Museum.
A Zhengde dish of similar design but slightly smaller in size in the Palace Museum, Beijing is illustrated in Blue and White Porcelain with Underglazed Red (II), The Complete Collection of Treasures of the Palace Museum, Hong Kong, 2000, p. 68, pl. 63. Other similar Zhengde-marked dishes include one in the Shanghai Museum, published in Wang Qingzheng, Underglaze Blue and Red, Hong Kong, 1993, pl. 116; one in the Tianminlou Collection, illustrated in Blue & White Porcelain from the Collection of Tianminlou Foundation, Shanghai, 1996, no. 56; one illustrated in Mayuyama, Seventy Years, vol. 1, Tokyo, 1976, no. 807; and one in the British Museum, illustrated by Jessica Harrison-Hall in Ming Ceramics in the British Museum, London, 2001, no. 8:15.
Blue and white Dragon dish, Ming dynasty, Zhengde mark and period (1506-1521). Height: 23.8 cm, Diameter: 4 cm. Donated by Sir Augustus Wollaston Franks, Franks.303.+ © 2017 Trustees of the British Museum
It appears that there are at least two variations to this design on this group of Zhengde dishes. The first type, like the current example, is depicted on the cavetto with two dragons on the left and right sides of the central leaping dragon; the second type is slightly varied with either dragon on top and below the dragon in the centre, such as the example bequeathed by Sir John Addis to the British Museum and illustrated ibid., no. 8:16.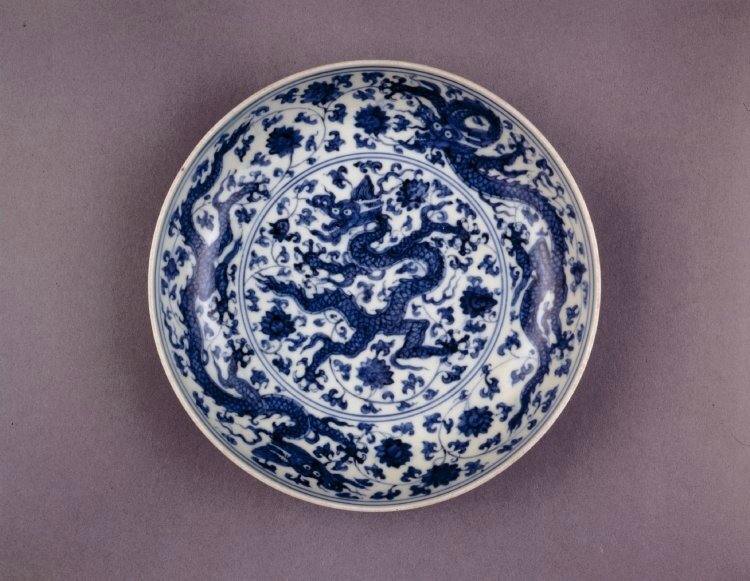 Dish with dragons amid lotus scrolls, Ming dynasty, Zhengde mark and period, AD 1506–21, Jingdezhen, Jiangxi province. Porcelain with underglaze cobalt-blue decoration. Height: 41 mm, Diameter: 194 mm. Sir Percival David Foundation of Art, PDF A651 © 2017 Trustees of the British Museum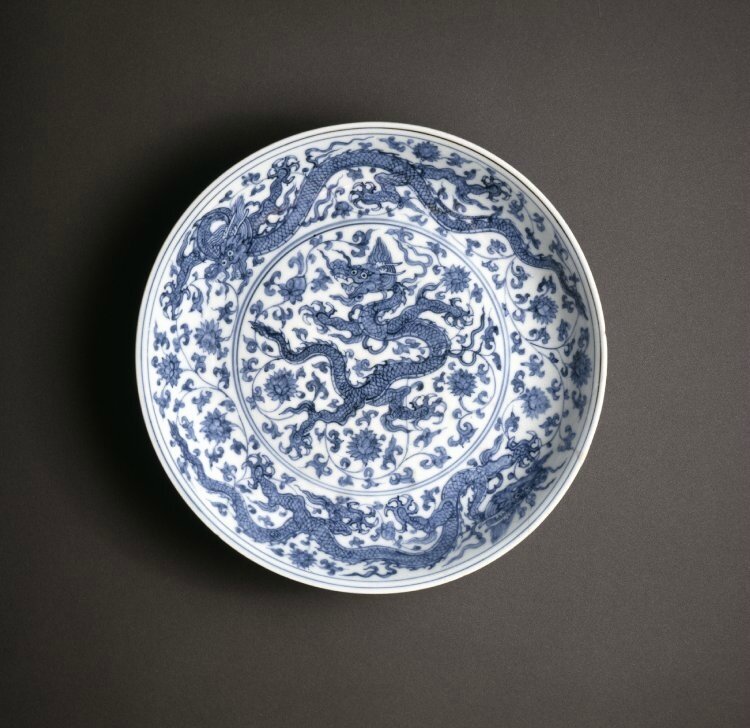 Blue and white 'Dragon' dish, Ming dynasty, Zhengde mark and period (1506-1521). Height: 24.8 cm, Diameter: 4.5 cm. Bequeathed by Sir John M Addis, 1984,0202.8 © 2017 Trustees of the British Museum
Christie's. The R.F.A Riesco Collection of Important Chinese Ceramics, 27 November 2013, Hong Kong