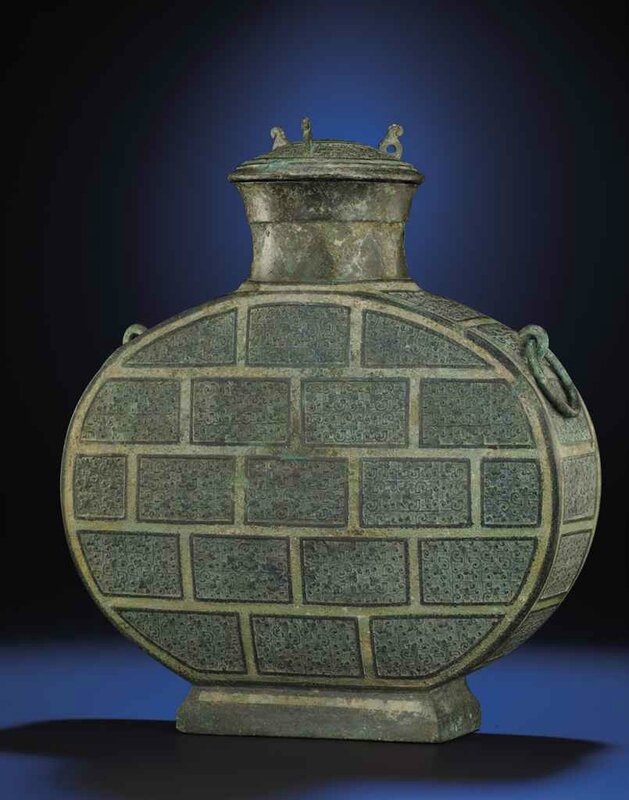 Lot 4136. An archaic copper-inlaid bronze wine vessel and cover, bianhu, Warring States period (475-221 BC), 14 1/2 in. (37 cm.) high. Estimate HKD 1,200,000 - HKD 1,800,000. Price realised HKD 2,060,000. © Christie's Images Ltd 2012
The flattened, oval body is raised on a low rectangular foot, and is decorated with bordered panels of tight abstract scroll pattern arranged in five registers and separated by bands of copper inlay. Each narrow side is applied on the shoulder with a taotie mask that suspends a loose ring handle. The cylindrical neck is inlaid in copper with a band of upright blades, and is surmounted by a similarly decorated convex cover that is applied with three stylised dragon-form loops, box.
Provenance: G. Croes, Belgium, 1987
Frank Arts Collection, Belgium
Literature: Hong Kong, The Frank Arts Collection, Christian Deydier, 2011
Note: This type of wine vessel first appeared in the Warring States period (457-221 BC) as beverage containers and its production continued into the Han dynasty (206 BC-AD 220).
It is rare to find existing matching bronze lids on vessels of this type. An example with its lid is in the Compton Verney House Trust, included in the exhibition, China: The Three Emperors 1662-1795, Royal Academy of Arts, London, 2005-6, and illustrated in the Catalogue p. 287, no. 203. A number of comparable bianhu have been published without their lids which may suggest that some of these covers may have been made from degradable or fragile materials such as wood or pottery. The first is dated to the Warring States period excavated in 1975 at Sanmenxia Shangcunling, Henan province, now in the Henan Provincial Museum, illustrated in Zhongguo Wenwu Jinghua Dacidian, Qingtong juan, Shanghai cishu chubanshe, 1995, p. 241, no. 864. An example from the Mount Trust, dated to the 4th century BC, is illustrated by W. Watson, Ancient Chinese Bronzes, Faber and Faber, London, 1962, pl. 67b; and a bianhu in the Shanghai Museum dated to the late Warring States period, 3rd century BC, and included in the exhibition, Zhongguo Qingtong Qi, Wuzhou quanbo chubanshe, 2004, p. 118. Another example was included in the exhibition, Beauty and the Selfless Mind, The 15th Anniversary Catalogue, Idemitsu Museum of Arts, 1981, and illustrated in the Catalogue, p. 249, no. 1075.
Christie's. Important Chinese Ceramics and Works of Art, 30 May 2012, Hong Kong, HKCEC Grand Hall