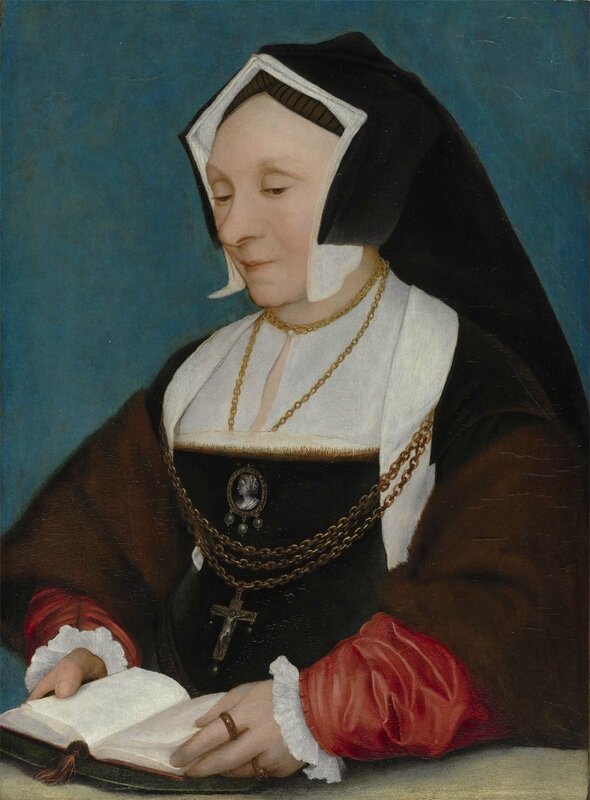 Studio of Hans Holbein the Younger (c.1497/98 - 1543), Lady Alice More (c.1474 - c.1551). Oil on panel: 14 ½ x 10 ½ in. (36.9 x 26.7 cm). Painted circa 1530 © The Weiss Gallery
This intimate portrait is the only surviving independent and contemporary likeness of Alice, the second wife of Sir Thomas More. Sir Thomas was one of Hans Holbein's greatest and most famous patrons and this portrait, which was once considered to be by Holbein himself, was most likely produced under his supervision by his studio in Basel. Intriguingly, infrared examination shows it to have been painted over an unfinished portrait of the Dutch-born scholar and Humanist philosopher, Desiderius Erasmus, Sir Thomas More's great intellectual rival and friend, and the person responsible for Holbein's introduction to More in 1526.
To mark their friendship, as a gift for Erasmus, More commissioned from Holbein a life-size group portrait of his family. Erasmus wrote of his delight at receiving it in a letter of 1529 to More's eldest daughter, Margaret Roper - 'I cannot find words to express the delight I felt when Holbein's picture showed me your whole family almost as faithfully as if I had been among you... The gifted hand of the painter has given me no small portion of my wish. I recognise you all... Convey my respectful salutations to the honoured Lady Alice...since I cannot kiss her, I kiss her portrait'.
Holbein, as was custom, prepared for this monumental painting by making individual, ad vivumportrait studies in crayon. Of the eleven figures to be included in the composition, the drawings of seven survive today in the Royal Collection at Windsor. These drawings are all of a similar scale, varying from approximately 35 - 40 cm. in height by 26 - 30 cm. in width, dimensions that are comparable to our panel portrait of Alice. These drawings provided the source for subsequent portraits in oil by Holbein, as in the drawing of Thomas More, whose outlines were pricked for transfer, and whose head is on the same scale as his oil portrait in the Frick Collection, New York. The crayon study of Alice More no longer survives, but our portrait is likely to have derived from it, transferred by the same method.
Although Holbein's famous group portrait of the More family was destroyed by fire in the eighteenth century, its preparatory drawing, which is now in the Kunstmuseum in Basel, provides us with further insight into the artist's methods and his relationship with More as patron. The drawing, executed in pen and brush with black ink over chalk, has additional inscriptions and motifs in brown ink that document the changes More wished Holbein to incorporate. They show for example that Sir Thomas preferred for Alice, on the far right of the group, to sit reading a book rather than kneeling in prayer, with her pet monkey scrabbling at her skirt.
Given that our portrait is painted over an unfinished Erasmus, and from a pattern type that is dateable to c.1530 when Holbein was in Basel, and that it is painted on a linden panel (a distinctive European native hardwood), rather than on Baltic oak which was predominantly used in England, it seems certain that our portrait was painted in Basel. Holbein's return to London in 1532 therefore gives us a terminus ante quem for the portrait. It is also worth noting the double layer of azurite, a highly expensive blue pigment used for the background. Often found in Holbein's portraits and those of his contemporaries, its cost meant that it was only used for significant commissions, whereas in copies or lesser works, it invariably was replaced with cheaper, less stable alternatives.
Alice More (née Harpur) was the wealthy widow of a prominent Mercer, John Middleton, at the time of her marriage to Sir Thomas More in the summer of 1511. Sir Thomas's first wife, Jane Colt, had been dead and buried but three weeks. There is no explanation for the speed with which they married, but this did not compromise what proved to be a very successful union that lasted nearly twenty-five years until More's execution in 1535. Alice became surrogate mother to More's four children (as well as her own by her first marriage), mistress of the house, and his most faithful companion. Erasmus noted Sir Thomas's devotion to her, describing how 'He lives on such sweet and pleasant terms with her, as if she was as young and lovely as anyone can desire, and scarcely anyone obtains from his wife by masterfulness and severity, what More does from his blandishments and jests'. For her part, her determination to please her husband and win his respect is revealed in another observation by Erasmus, who was impressed that More convinced Alice to take up music despite her middle age, 'It was a striking achievment... to persuade a woman, middle-aged and set in her ways, and much occupied with her home, to learn and sing to the cithern and lute, the monochord, or the recorder, and to do a daily exercise set by her husband'.
It can be no coincidence that it was during their marriage that Sir Thomas More achieved greatness, and within a few years of it he wrote his theological masterpiece, Utopia (1516). In his own words and personal utopia - 'I come home, and commune with my wife, chat with my children and talk with my servants. All these things I reckon and account as business, for as much as they must be done, and done must they need be, unless a man will be a stranger in his own house. And every man must do his utmost to be civil and obliging to those whom nature had provided to be companions of his life, or chance, or choice...'.
As his career advanced, More frequently left Alice alone to supervise the household; his only extant letter to her concerns their barn that burned down in 1529. Around the end of 1534, although she did not understand the reasons for his imprisonment, she petitioned the government for his release. After his execution the crown voided the trust he had belatedly established for her but granted her an annuity of £20 in 1537. She became entangled in lawsuits, one of them initiated by William Roper, her stepson-in-law, who depicted her as an interfering busybody in his account of Thomas's life. She died on or before 25 April 1551 and was probably buried at Chelsea.
Provenance: Frederick, 2nd Baron Methuen (1818-1891), Corsham Court, Wiltshire;
Thence by descent to Paul, 4th Baron Methuen (1886–1974).
Sold August 1958 to Dr Hans Schaeffer, Schaeffer Gallery, New York for £27,000.
Acquired (via Paul Herzogenrath) by Rudolf August Oetker (1916-2007), Bielefeld, Germany.
Exhibition: Royal Academy, Burlington House, 1877 (no. 146). Royal Academy, Burlington House, 1910 (no. 106). Royal Academy, Burlington House 'Holbein and other masters of the 16th and 17th Centuries', 1950, no. 11. Palais des Beaux-Arts, Brussels, 'L'Europe Humaniste', 1954/5, no. 39, pl. 25.
The Weiss Gallery. 59 Jermyn Street, London SW1Y 6LX, United Kingdom