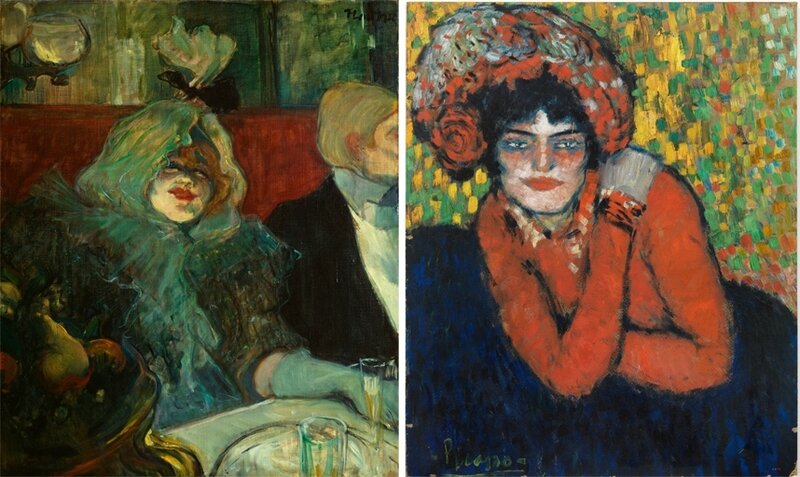 MADRID.- The Museo Nacional Thyssen-Bornemisza presents Picasso/Lautrec, the first monographic exhibition devoted to comparing these two great masters of modern art. Although their artistic link has been repeatedly established by literature and contemporary critics, this is the first time their works have been displayed alongside each other in an exhibition. The show also examines this fascinating relationship from new viewpoints, as it does not merely explore the cliché of the young Picasso as an admirer of Lautrec in Barcelona and his early years in Paris, but traces the latter's lingering influence throughout the Spanish artist's lengthy career, including his final period.

Curated by Professor Francisco Calvo Serraller, professor of the department of Art History at the Universidad Complutense in Madrid, and Paloma Alarcó, chief curator of Modern Painting at the Museo Nacional Thyssen-Bornemisza, Picasso/Lautrec brings together more than a hundred works from some sixty public and private collections from all over the world, grouped around the themes that interested both artists: caricature portraits; nightlife in cafés, cabarets and theatres; the harsh reality of marginal individuals; the spectacle of the circus; and the erotic universe of brothels.

Henri de Toulouse-Lautrec (Albi, 1864‒Château Malromé, Saint-André-du-Bois, 1901) and Pablo Picasso (Málaga, 1881‒Mougins, 1973) never met. By the time Picasso visited Paris for the first time in October 1900, Lautrec was seriously ill and died prematurely the following year. Even so, Lautrec's radical oeuvre and his conception of modernity made a very powerful impact on the young Picasso. Through him, Picasso discovered the many facets of modern society, which influenced his approach to art.

Lautrec's artistic career lasted barely fifteen years, whereas Picasso's spanned more than seven decades. Both were brilliant artists from childhood, were attracted by Paris during their youth and rejected the academic teachings imposed on them, and both borrowed successively from very similar historical sources, such as the French artists Ingres and Degas as well as El Greco. But above all, their mastery of drawing was one of the key factors that gave meaning to both artists' oeuvre. Both Lautrec and Picasso drew compulsively throughout their lives, had a special fondness for line and caricature, and filled hundreds of notebooks with extraordinarily skilled drawings from a very early age. It can be said that both men thought and expressed themselves in drawing and that any new work was preceded by endless testing and experimentation on paper.

Divided into five sections based on the themes that linked the two artists' worlds symbolically and formally – Bohemians, Underworld, Wanderers, Elles and Hidden Eros – Picasso/Lautrec also provides an insight into the evolution of contemporary art.
BOHEMIANS
Lautrec soon became aware of the extraordinary ability of caricature to probe his sitters' personality. He made many caricatures of himself and exploited his unusual appearance. In 1893, he portrayed himself on the reverse of the poster Jane Avril on the Japanese Divan, drawing – or reading the newspapers according to some interpretations – with his characteristic hat.

Picasso also used caricature to experiment with his own image in Picasso in a Top Hat (1901), where the prostitutes in the background emulate the nocturnal settings of Lautrec's works. The same is true of the portrait painted that year of the writer Gustave Coquiot caricaturised as a libertine watching a cabaret performance; and of the female portraits he showed in his first exhibition held in Paris in 1901 – Woman with a Plumed Hat, Woman with a Cape and Bust of a Smiling Woman – painted in the same characteristic style and pointillist technique used by the French artist in works such as Jane Avril (c. 1891‒92).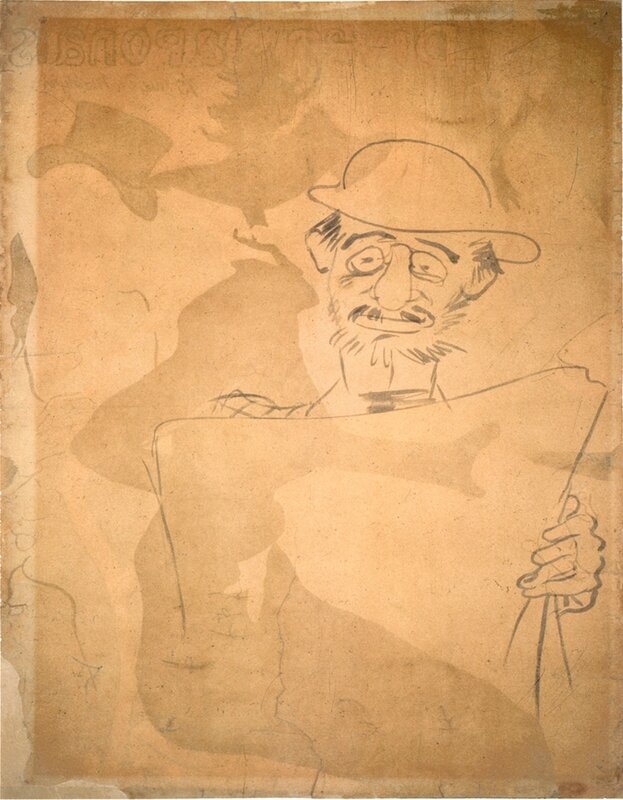 Henri de Toulouse-Lautrec, Self Portrait, 1893 (Autoportrait). Wash drawing on the verso of the poster Divan Japonais, 80 x 61.5 cm, Collection Fondation Pierre Gianadda, Martigny.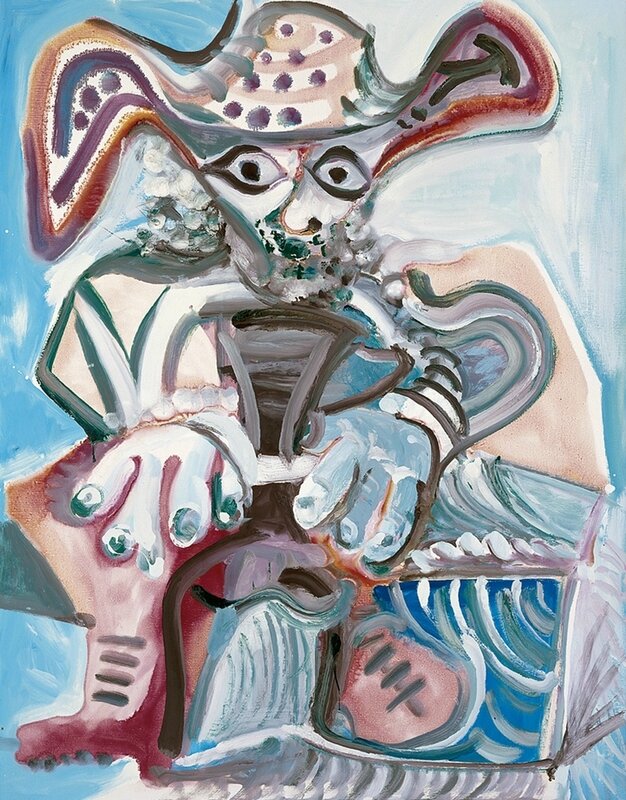 Pablo Picasso, Seated Man with a Hat, 1972 (Homme au chapeau assis). Oil on canvas, 145.5 x 114 cm, Museum Frieder Burda, Baden-Baden © Sucesión Pablo Picasso. VEGAP, Madrid, 2017.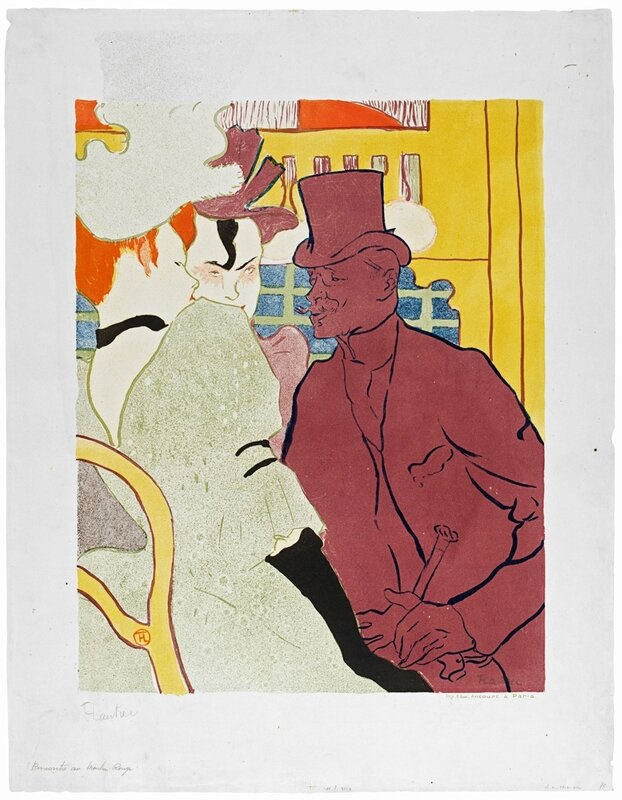 Henri de Toulouse-Lautrec, El inglés en el Moulin Rouge, 1892 (L'Anglais au Moulin Rouge). Litografía en color, 62,4 x 48,4 cm, Szépművészeti Múzeum, Budapest.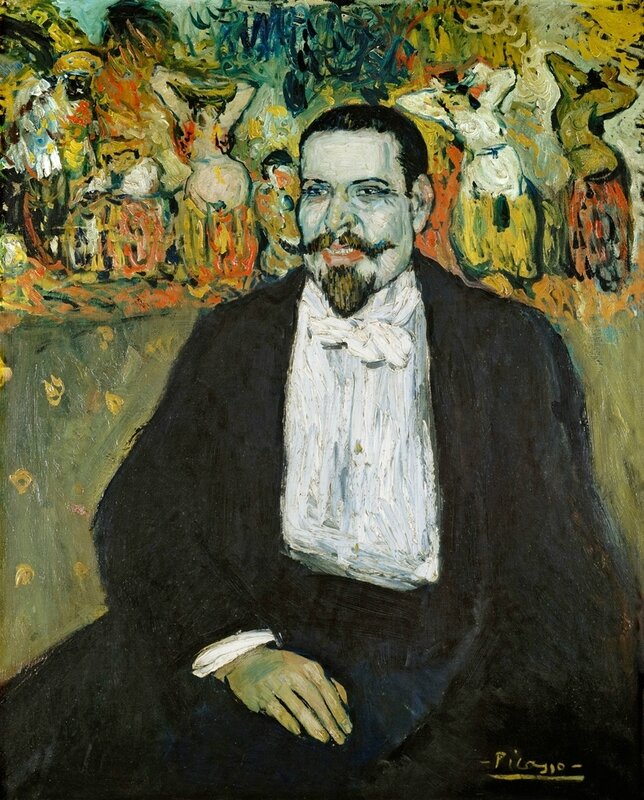 Pablo Picasso, Gustave Coquiot, Paris, 1901. Óleo sobre lienzo, 100 x 81 cm, Musée national Picasso, París. Depósito del Centre Pompidou, París, Musée national d'art moderne/Centre de création industrielle. Adquisición de los Musées nationaux en 1933. Photograph: Centre Pompidou, Paris. Musée national d'art moderne © Succession Picasso/DACS, London 2016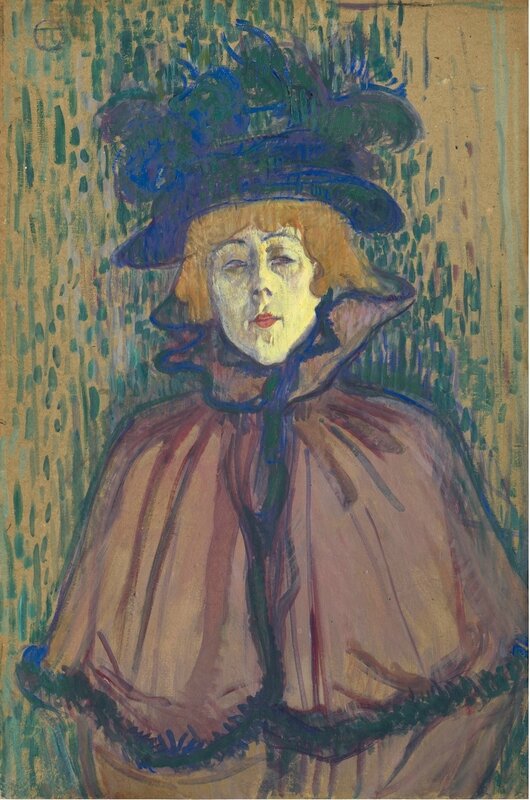 Henri de Toulouse-Lautrec, Jane Avril, c. 1891-1892. Óleo sobre cartón montado sobre tabla, 63,2 x 42,2 cm, Sterling and Francine Clark Art Institute, Williamstown, Massachusetts.
Pablo Picasso, Busto de mujer sonriente, 1901 (Buste de femme souriante). Óleo sobre cartón montado sobre tabla, 60,5 x 83,5 cm, Museo Nacional Centro de Arte Reina Sofía, Madrid. Depósito temporal de una colección privada europea, 2004. © Sucesión Pablo Picasso. VEGAP, Madrid, 2017
UNDERWORLD
Lautrec was one of the first artists to break away from the old hierarchies and blaze a trail towards a new artistic language that incorporated aspects of mass culture. The prolific French artist left an unrivalled repertoire of images of a marginal and bohemian environment in his paintings and colourful commercial posters. Woman in a Café (1886) is a moving example of his masterful depictions of solitary women in cafés; others such as At the Café: The Customer and the Anaemic Cashier (1898) and In a Private Dining Room (at the Rat Mort) (c. 1899) are caustic portrayals of bar scenes of Montmartre. Lautrec also painted the famous stars of the night shows, the singers Aristide Bruant and Yvette Guilbert, and the cabaret artists La Goulue and Jane Avril; the latter was a great friend of Lautrec's, whose image became firmly established thanks to the painter's posters.

Like Lautrec, Picasso developed an insatiable curiosity for the excesses of Parisian nightlife. In The Moulin Rouge (1901), he exaggerates the silhouettes, heightening the figures' caricature-like appearance and his satirical vision of sexual relations in the private rooms in cafés. He takes a similar approach in The Wait (Margot), a depiction of a courtesan or pierreuse sitting in a café executed with loose, expressive brushstrokes and bright colours that exaggerate her makeup, and The Diners, both dated 1901.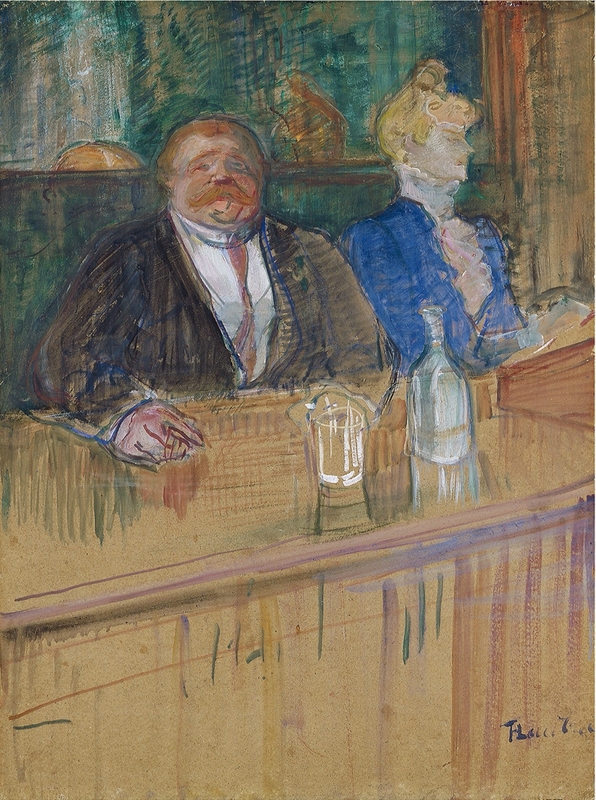 Henri de Toulouse-Lautrec, At the Café: The Customer and The Anaemic Cashier, 1898 (Au Café: Le Consommateur et la caissière chlorotique). Gouache on cardboard, 81.5 x 60 cm, Kunsthaus Zürich.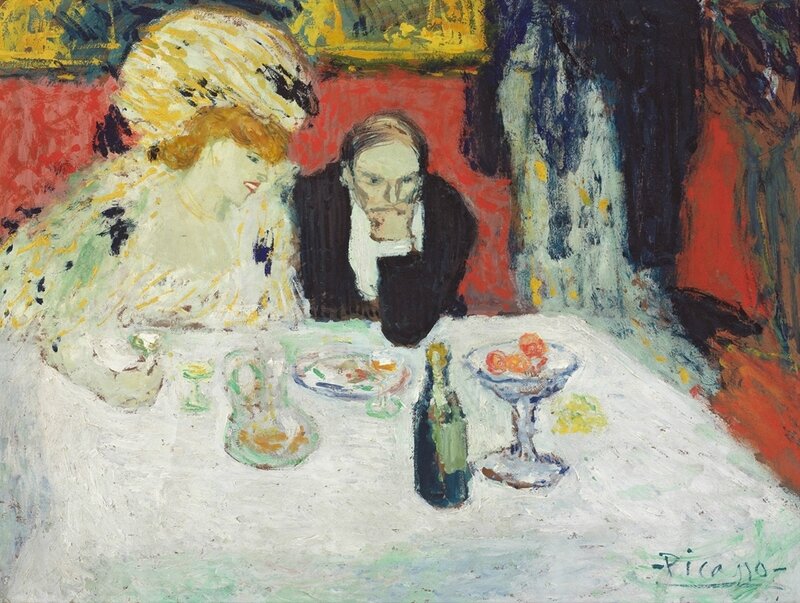 Pablo Picasso, The Diners, Paris, 1901 (Les Soupeurs). Oil on cardboard, 47.3 x 62.4 cm, Museum of Art, Rhode Island School of Design, Providence. Bequest of George Pierce Metcalf. © Sucesión Pablo Picasso. VEGAP, Madrid, 2017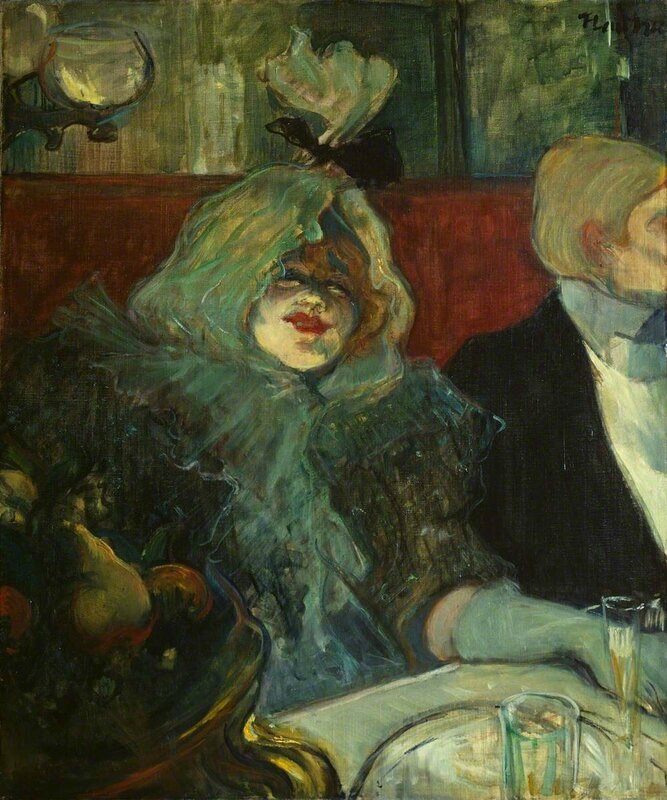 Henri de Toulouse-Lautrec, In a Private Dining Room (At the Rat Mort), ca. 1899. Oil on canvas, 55.1 x 46 cm, The Samuel Courtauld Trust. The Courtauld Gallery, London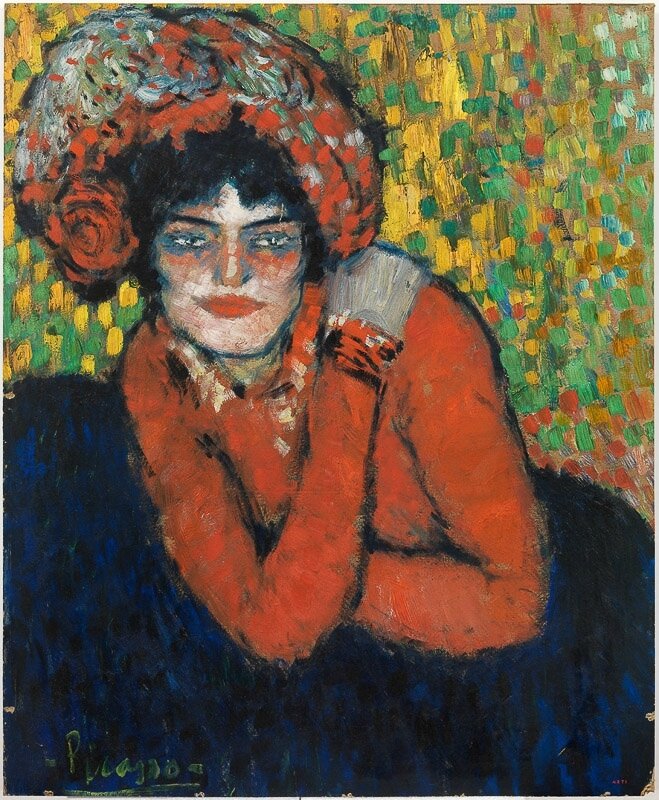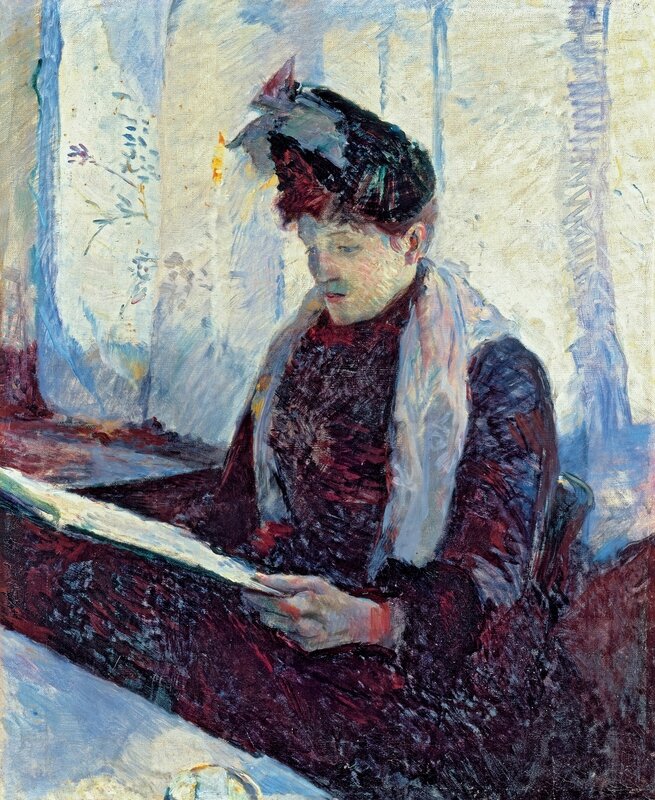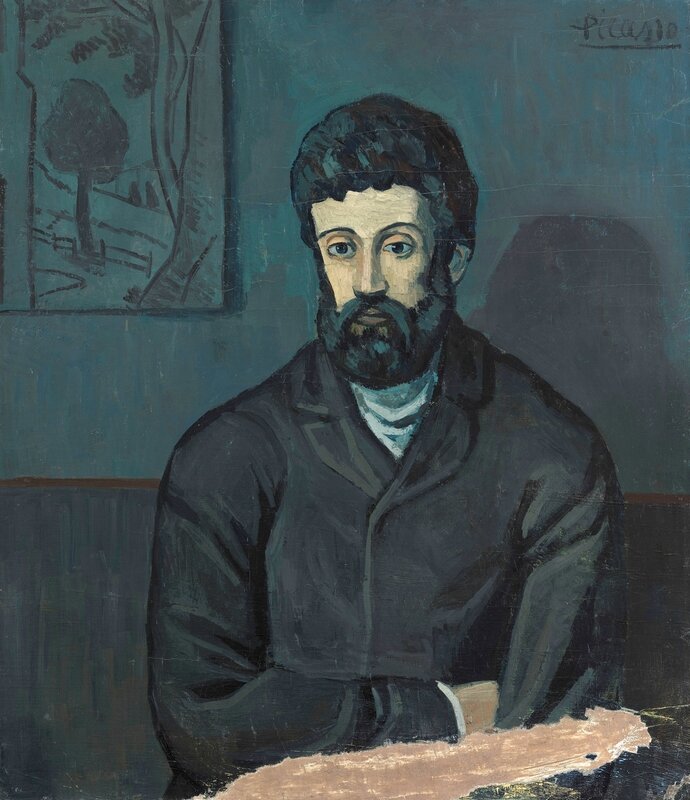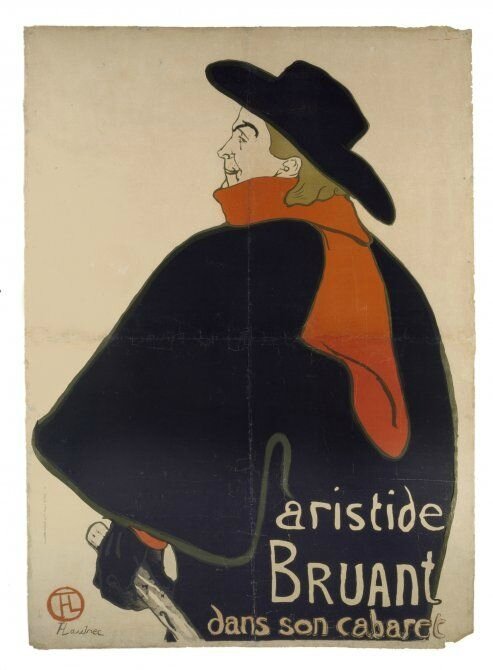 Henri de Toulouse-Lautrec, Aristide Bruant dans son cabaret, 1893. Colour lithograph, 138.3 x 100 cm, Victoria and Albert Museum, Londres. Presented by Mrs. J. T. Clarke.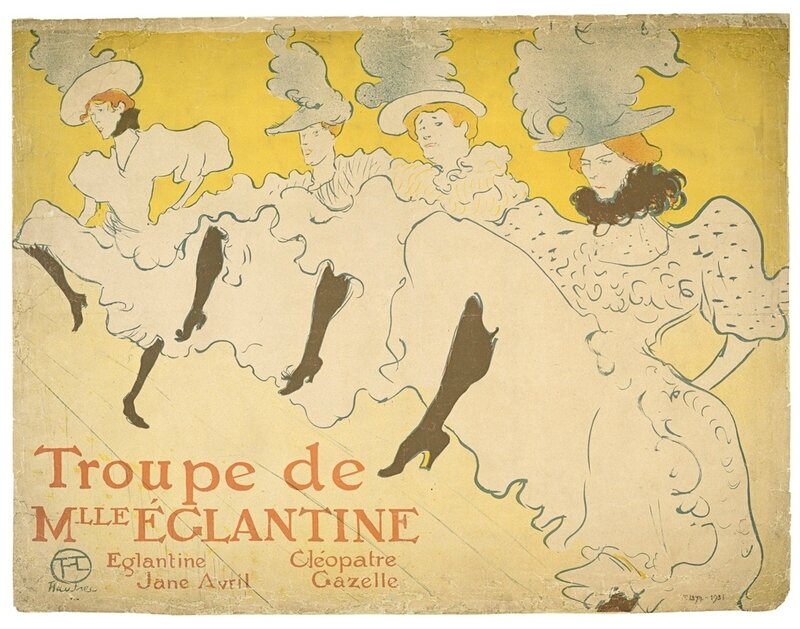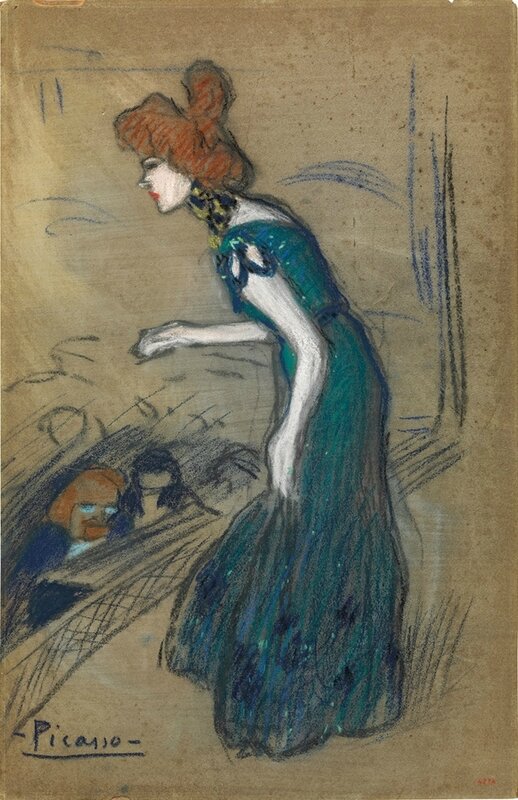 Henri de Toulouse-Lautrec, En el circo: entrada en la pista, 1899 (Au Cirque: Entrèe en piste). Tiza negra y de color sobre papel, 31 x 20 cm, The J. Paul Getty Museum, Los Ángeles.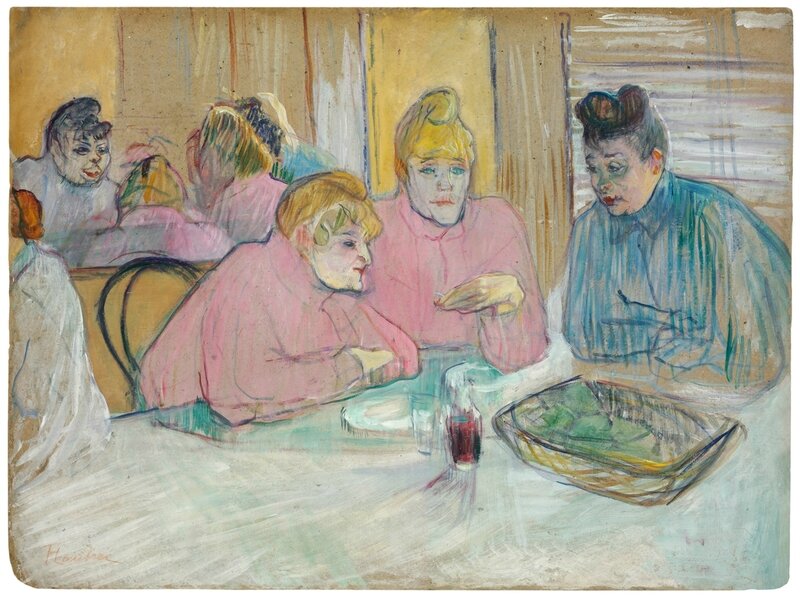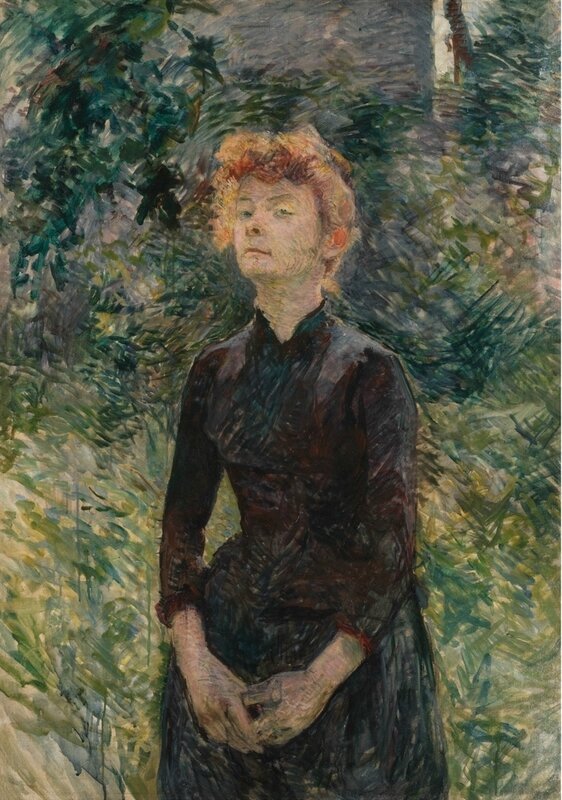 Henri de Toulouse-Lautrec, La Rousse in a White Blouse, 1889. Oil on canvas. 60.5 x 50.3 cm, © Museo Thyssen-Bornemisza, Madrid