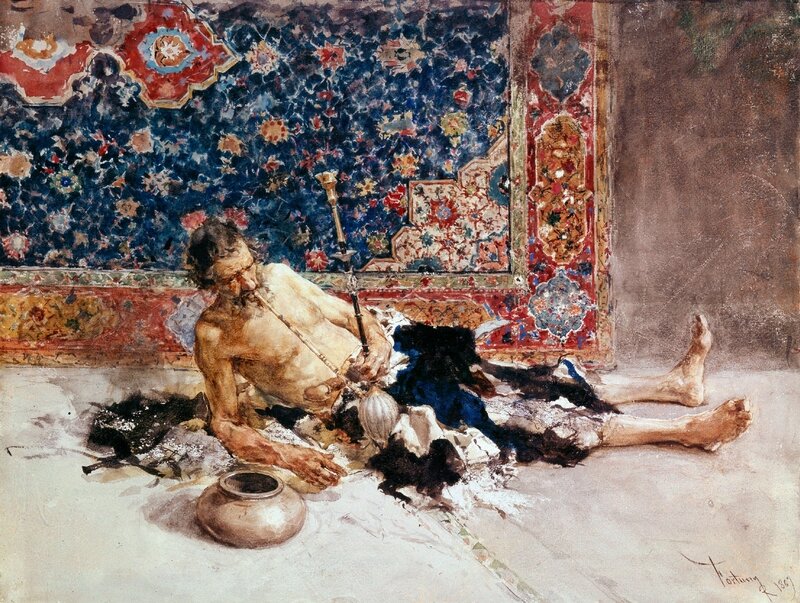 Mariano Fortuny y Marsal, Opium Smoker, 1869. Watercolour on paper, 384 x 498 mm. Saint Petersburg, The State Hermitage Museum, 2017.
MADRID.- Continuing the Museo del Prado's strategy, launched some years ago, of reassessing the great masters of 19th-century Spanish painting, the Museum is now presenting the major exhibition Fortuny (1838-1874), sponsored by Fundación AXA and with the special collaboration of the Museo Fortuny in Venice and the Museu Nacional d'Art de Catalunya. Devoted to one of the 19th-century Spanish artists who has enjoyed the most sustained reputation and greatest international fame, and a notable figure within Spanish art of all periods, the exhibition is on display in Rooms A and B of the Jerónimos Building from 21 November 2017 to 18 March 2018.

While Mariano Fortuny has long been celebrated in the specialist literature and through the numerous exhibitions and different initiatives of varying quality and importance that have been devoted to him in recent decades, his stature as an artist and his profound roots in the most authentic tradition of the great Spanish School justify a focus on the part of the Prado of the same level of ambition and importance as those which the Museum has dedicated to the most important artists represented in its collection.

Curated by Javier Barón, Chief Curator of 19th-century Painting, the exhibition is structured as a chronological survey of Fortuny's contributions as a painter, watercolourist, draughtsman and printmaker. In addition, visitors can appreciate works from the artist's remarkable collection of antiques that he had in his atelier. These precious objects, some of them now housed in the world's leading archaeology museums, reveal Fortuny's interest in careful observation and explain his extremely refined ability to capture texture, colour and light in his own creations as well as the remarkable virtuosity of his work, which rapidly extended his fame among Europe and America's leading collectors.
The first section of the exhibition is devoted to Fortuny's formative years in Rome and includes works that reveal his precocious maturity, evident in his pencil, chalk and charcoal life studies, his watercolours (Il contino) and his oils (Odalisque). Although he went to North Africa to paint episodes from the Spanish-Moroccan war (The Battle of Wad-Ras), what most interested him were the different local peoples and their customs (Arab Fantasia), an inspiration that reappeared throughout the rest of his career and made his contribution to European orientalism a particularly unique one.
Between 1863 and 1868 Fortuny focused on portraiture (Mirope Savati, never previously exhibited in Europe), on large-scale decorative painting (Queen María Cristina and her Daughter, Queen Isabella, reviewing the Artillery Batteries defending Madrid, now shown in its original position), and on copies of the great masters in the Prado (El Greco, Ribera, Velázquez and Goya), the latter helping to giving his art greater depth and complexity. He achieved new success in the 1860s with his oils and watercolours on 18th-century subjects (The Print Lover and The Spanish Wedding) and Arab ones (Arab Chief, A Moroccan, The Tapestry Seller, A Street in Tangiers, and Opium Smoker). Fortuny particularly developed the latter interest during the time he spent in Granada between 1870 and 1872 and that city also inspired genre scenes in composite architectural frames (Noblemen's Pastimes, Luncheon at the Alhambra and Old City Hall in Granada). Most innovative of all, however, were the artist's first-hand depictions of objects, figures (Nude old Man in the Sun), gardens and landscapes in the form of oils, watercolours, ink and pencil. Works such as The Carrera del Darro, Granada, never previously seen outside the British Museum, reveal his ability to capture atmosphere through a new and fresh type of colouring.
Having returned to Rome, in 1873 Fortuny focused on Arab themes using a more synthetic technique (Arab leaning against a Tapestry and Arab Fantasia outside the Gate of Tangiers), looked at the reality of daily life (Carnival on the Corso, Rome), and completed various genre paintings he had started some years before, such as The Choice of a Model. A period spent that year in Portici near Naples offered him a direct contact with nature which brought a new awareness of local colour and coloured shadows to his paintings of nude children on the beach (including a group of four, two never previously exhibited), and to his landscapes such as Street in Granatello, Portici and Neapolitan Landscape, recently acquired by the Prado. Fortuny's watercolours are seen at their best in two examples of Landscape at Portici from this period (one exhibited for the first time), and in his portraits of Cecilia de Madrazo and Emma Zaragoza.
The participation of major institutions around the world has ensured the outstanding quality of this exhibition. The special collaboration with the Museo Fortuny in Venice and the Museu Nacional d'Art de Catalunya has been particularly important due to the large number of loans from those museums.
Years of training in Rome (1858-61)
The son and grandson of craftsmen, orphaned at a very young age, Fortuny developed exceptional technical skills during his initial training. Following his early studies in painting at the municipal school in Reus, in 1853 he embarked on an academic training at the School of Fine Arts in Barcelona. From 1858 a period in Rome as a grant student of the Provincial Council of Barcelona introduced him to the great works of the Renaissance and Baroque. He also attended the Accademia Gigi in Rome where he produced life studies of nudes that reveal his skilled ability to depict bodies combined with a notable expressivity arising from his mastery of both pen and pencil. Fortuny's abilities as a watercolourist are already evident in Il contino, a work in which the depiction of a young man in 18th-century dress in a monumental garden (the Villa Borghese in Rome) anticipates his subsequent genre compositions. Odalisque reflects the artist's mastery of the nude of a particularly sensual type, depicted with a degree of freedom and realism greater than that seen in his works produced in Barcelona.
Mariano Fortuny y Marsal, Desnudo masculino en pie, de frente, con la mano izquierda apoyada sobre un sillar, Ca. 1861. White chalk on paper, 425 x 307 mm. Madrid, Museo Nacional del Prado.
Africa and the discovery of painting (1860 and 1862)
The Provincial Council of Barcelona sent Fortuny to Morocco to compile graphic information for subsequent paintings on the most notable achievements in the Spanish-Moroccan War, in which Catalan volunteer troops were fighting. In Morocco from February 1860, Fortuny followed the campaign, witnessing and subsequently painting The Battle of Wad-Ras. At the same time he was also notably attracted by local customs and peoples. He returned in 1862 and made numerous sketches in preparation for The Battle of Tétouan, again for the Provincial Council, a large-format work that remained unfinished.

Mariano Fortuny y Marsal, The Battle of Wad-Rass, Ca. 1860 - 1861. Oil on paper attached to cardboard, 54 x 185 cm. Museo Nacional del Prado.
The discovery of North Africa's bare, sweeping spaces, its intense light and dazzling colour produced a radical change in Fortuny's painting. This is evident in both his works painted from life and those subsequently executed in the studio from sketches, his memory and his imagination. In the latter type he offered original depictions of aspects of Arab life that had appealed to him for their picturesque or enigmatic nature.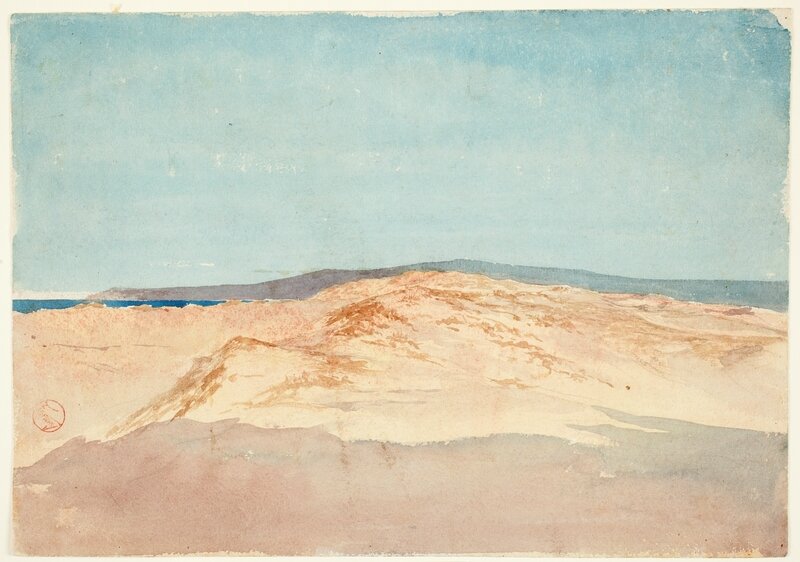 Mariano Fortuny y Marsal, Sand with Mountain Line. Morocco, Ca. 1862-1864. Watercolour on paper, 262 x 373 mm. Museo Nacional del Prado.
Mariano Fortuny y Marsal, Camels Reposing, Tangiers, 1838-1874. Brush and watercolor over black graphite underdrawing. On off-white paper, 21.0 x 37.5 cm. Metropolitan Museum of Art, Catharine Lorillard Wolfe Collection, Bequest of Catharine Lorillard Wolfe, 1887, 87.15.76.
Between Spain and Italy (1863-68)
After spending some months in Barcelona, Fortuny returned to Rome where he continued to work on Arab themes and also painted oils and watercolours of the local people from the countryside around the city. These works make use of a realist style inspired by the work of some of the artists of the Neapolitan School which he had seen at the First Italian National Exhibition in Florence in 1861 and in the exhibitions he visited in 1863. Fortuny occasionally painted portraits, notable for their interest in subtle nuances of colour. He was also commissioned to paint one of the ceilings in the Parisian residence of Queen María Cristina de Borbón, for which he devised an original solution. That work is displayed here for the first time in its original position as a ceiling painting, allowing for its complete visual comprehension. During one of Fortuny's periods in Madrid, where in 1867 he married Federico de Madrazo's daughter Cecilia de Madrazo, he painted one of his most interesting works of this period, Fantasy on Faust. This is an outstanding example of the vivid imagination and vibrant brushstroke which the artist employed to execute his studies in just a few hours, their fresh, skilful technique also evident in other oil paintings in this section.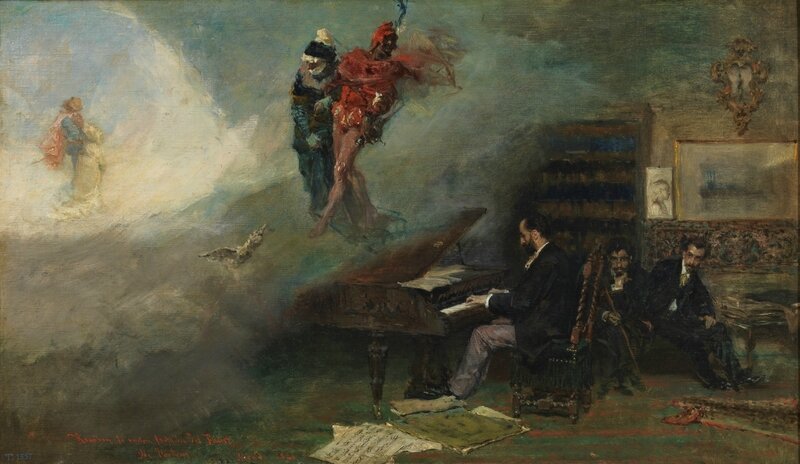 Mariano Fortuny y Marsal, Fantasy on Faust, 1866. Oil on canvas, 40 x 69 cm. Museo Nacional del Prado.
Printmaking
Fortuny was exceptionally skilled in printmaking techniques. Following his initial use of lithography in 1857, in the 1860s he produced a remarkable series of etchings that can be considered one of his finest achievements. They depict Arab subjects, genre scenes and others of classical inspiration, all characterised by an expressive intensity that made full use of this technique's different resources, which he had studied in the work of Ribera, Rembrandt and Goya. Following his first trip to North Africa, Fortuny realised that etching was particularly suited to conveying its mysterious atmosphere. This group of prints offers the finest and most true to life vision of orientalism to be found in European art. The Anchorite, one of the artist's masterpieces, conveys the sense of both death and the desolation of nature. The complexity of this work is fully evident in the exhibition with the presence of the original copper plate, two proof states and an impression of the final state printed by Fortuny's son.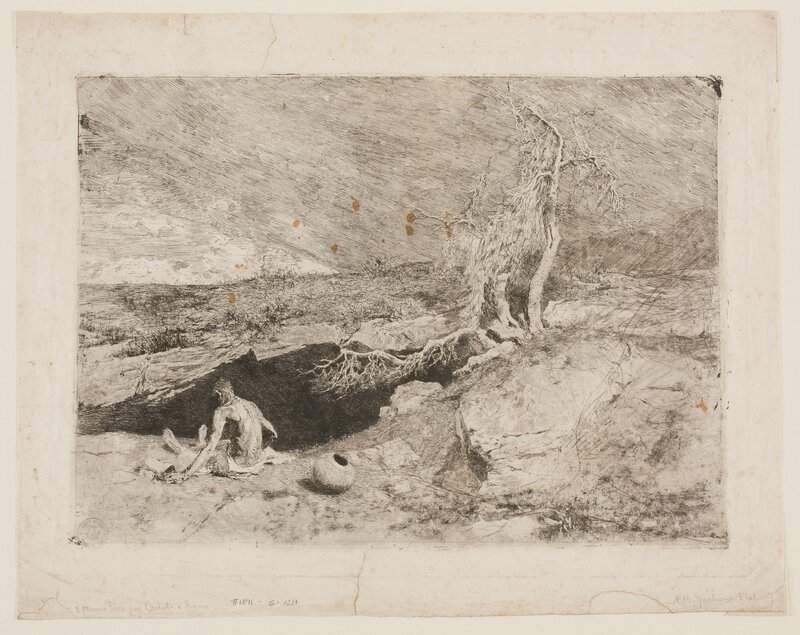 Mariano Fortuny y Marsal, Anchorite. Fourth state, 1869. Etching and aquatint, 377 x 500 mm. Museo Nacional del Prado.
Old Masters and the Prado (1866-68)
While Fortuny embarked on a rigorous study of Old Master painting in Italy, where he copied works by various Renaissance and Baroque painters including Velázquez, it was in the Museo del Prado that he focused on them in a more sustained manner through his numerous copies. Fortuny particularly appreciated the Venetian and Flemish painters as well as the great masters of the Spanish School, whose colour and free brushstroke he admired. Among the latter he was interested in El Greco, a little appreciated artist at the time, even acquiring one of his paintings. Ribera and Velázquez were also the subject of various copies in oil and watercolour, works that reveal Fortuny's mastery of anatomy, tactile qualities and colour. The artist he most appreciated was Goya, making numerous copies of his paintings. The penetration and quality of these interpretations is unique among painters of this time. Fortuny kept these copies in his studio as references for use in his own paintings and some of them achieved high prices at his posthumous sale.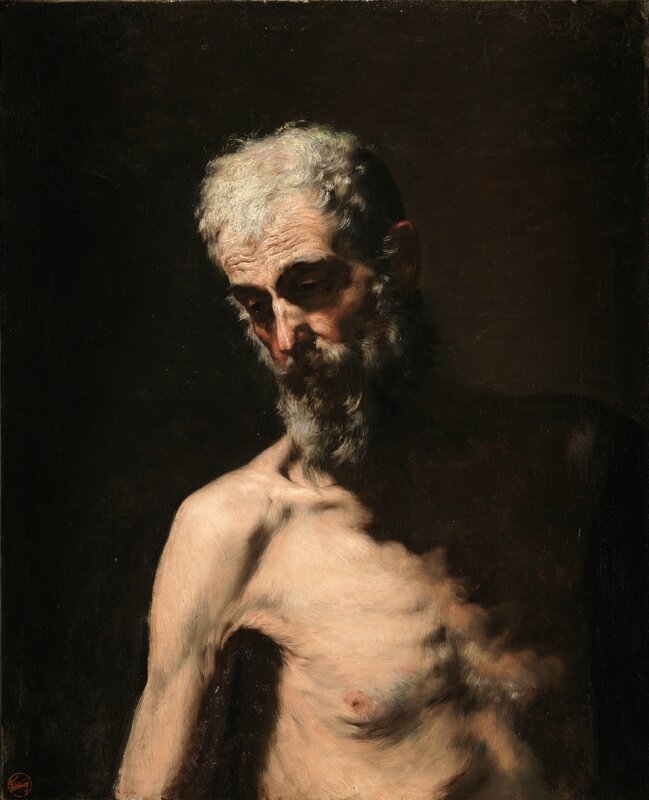 Mariano Fortuny y Marsal, Saint Andrew (copy after José de Ribera), Ca. 1867. Oil on canvas, 80.5 x 65.5 cm. Museo Nacional del Prado.
International success (1868-70)
Through his relationship with the art dealer Adolphe Goupil, Fortuny achieved a level of international success that reached its peak with The Spanish Wedding, a genre scene set in the time of Goya. In addition to that work he produced a large series of genre paintings of which the most elaborate, The Choice of Model (1868-74), was painted for his principal collector, William H. Stewart. In scenes of this type Fortuny evoked a world of beauty set in architecturally ornate interiors in which painting was evoked through homages to other artists. In parallel to the painstaking detail of these works, the artist continued to paint watercolours that enjoyed increasing success, making use of a range of technical resources with enormous freedom and refined colour and as a result completely transforming the prevailing approach to this medium. Finally, Fortuny's dedicated practice of drawing sketches from life in his notebooks provided him with extremely useful material for use in his subsequent paintings and watercolours.
Mariano Fortuny y Marsal, The Spanish Wedding, 1870. Oil on wood, 60.5 x 94.5 cm. Museu Nacional d´Art de Catalunya.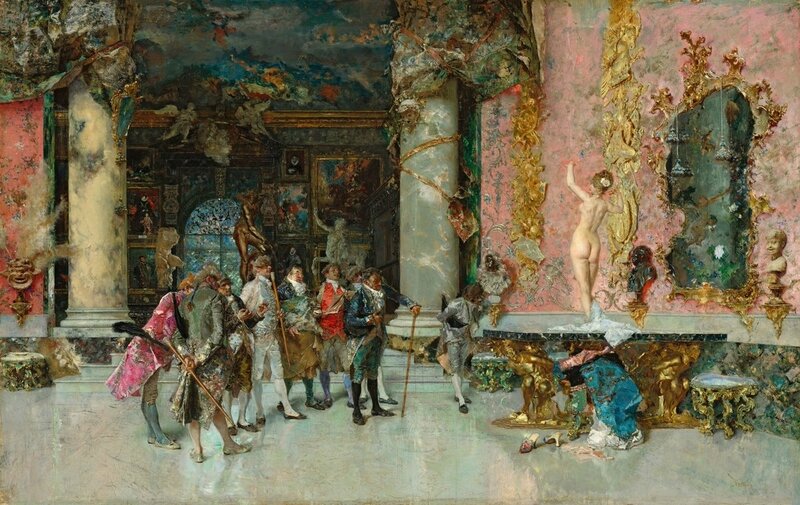 Mariano Fortuny y Marsal, The Choice of Model, Ca. 1867. Oil on panel, 50 x 80 cm, 50 x 80 cm. Washington, National Gallery of Art, Washington, Corcoran Collection (William A. Clark Collection), 2015.
Granada (1870-72)
Having started in a relatively modest manner, Fortuny's collecting activities expanded in the 1860s, particularly after he began to meet antique dealers, connoisseurs and collectors. During his time in Andalusia his innate taste and criteria led him to acquire Hispano-Moresque works of enormous quality. Fortuny was attracted to a wide range of objects, particularly arms, ceramics, textiles, ivories, furniture and glass. A truly outstanding area is Islamic art, the core of his collection, while he also possessed excellent examples of the Italian and Spanish decorative arts as well as Japanese textiles, screens and prints. Fortuny's great technical skills allowed him to work as a restorer and he even made several pieces that look antique, such as the sword on display in this gallery. The display of all these objects alongside his own creations in his studio in Rome resulted in a beautiful setting in which the textures, colours and reflections of the objects directly inspired his own creative activities.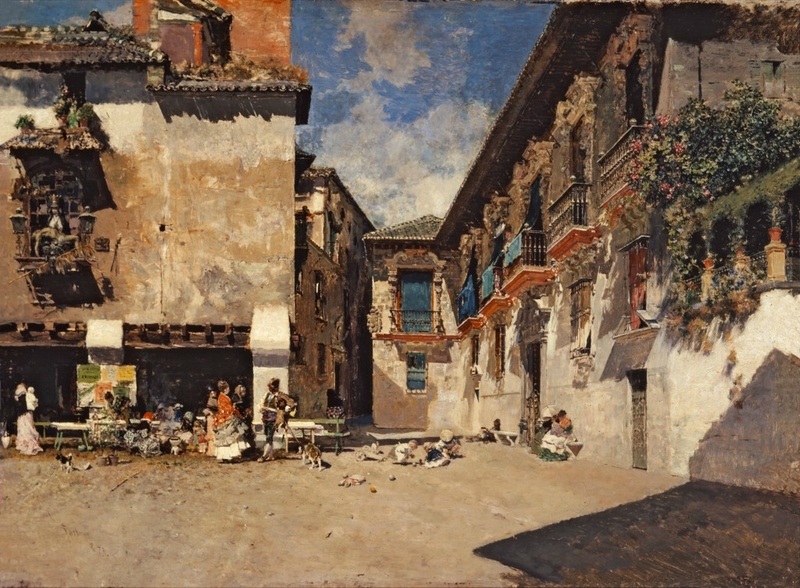 Mariano Fortuny y Marsal, Old City Hall in Granada, 1873. Oil on panel, 35 x 48.4 cm. Granada, Museo de Bellas Artes de Granada. Colección Museística de la Junta de Andalucía.
El atelier.
La actividad coleccionista de Fortuny, comenzada con anterioridad a pequeña escala, se desarrolló entrada la década de 1860, y especialmente tras su contacto con anticuarios, conocedores y coleccionistas. En su estancia en Andalucía obtuvo, guiado por un seguro instinto, obras de arte hispanomusulmán de gran calidad. Se sintió atraído por toda clase de objetos, especialmente armas, cerámicas, textiles, marfiles, muebles y cristales. Entre la variedad de estilos representados destaca el arte islámico, verdadero núcleo de su colección, en la que había también excelentes muestras de artes decorativas italianas y españolas, así como telas, biombos y grabados japoneses. El propio artista, dotado de una gran habilidad, trabajó en la restauración y aun en la elaboración de algunos objetos de apariencia antigua, como la espada incluida en esta sala. La presentación del conjunto en su estudio de Roma, junto a sus propias obras, muestra un ámbito de belleza en el que las calidades, colores y brillos de los objetos fueron motivo de inspiración directa para el propio trabajo del artista.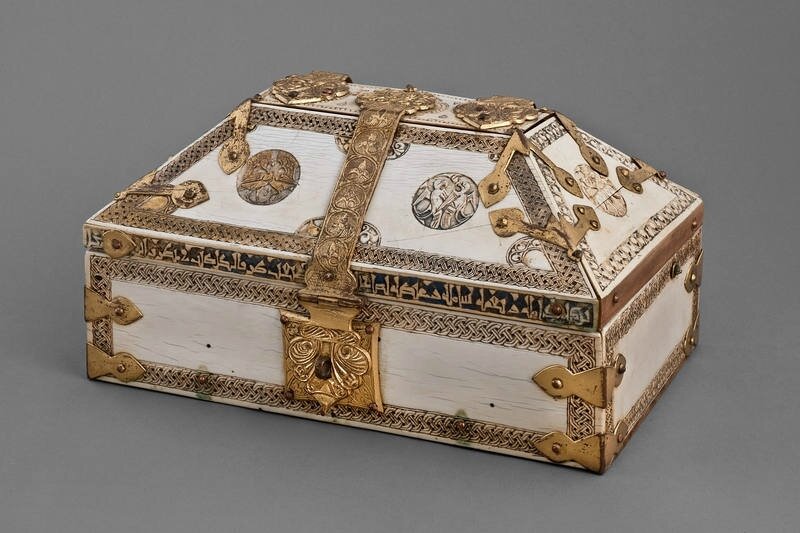 Casket, First half of 13th century. Wood, overlaid with ivory and gilt bronze, 15 x 29.5 x 19.5 cm. Torino, Palazzo Madama-Museo Civico d'Arte Antica.
The final years (1873-74)
In the last years of his life Fortuny returned to the Arab themes that he had depicted years before, now in a more synthetic manner and with greater dynamism and expressivity, achieved through more intense colour and freer brushstroke. He also turned his attention to subjects from daily life, as in Carnival on the Corso, Rome of 1873, and scenes of family life in the form of depictions of his wife and children in the months they spent in Portici near Naples. During that intensely active period Fortuny's practice of working outdoors by the sea enabled him to fully grasp local colour and its relationship with the fall of light, leading him to depict coloured shadows. He also explored other directions, such as the aesthetic of the Far East, in oils and watercolours of an intimate nature, including The Artist's Children in the Japanese Room. Fortuny's sudden, premature death, which was received with consternation in Rome, gave rise to a cult of the artist and his work became widely known and appreciated over the following years.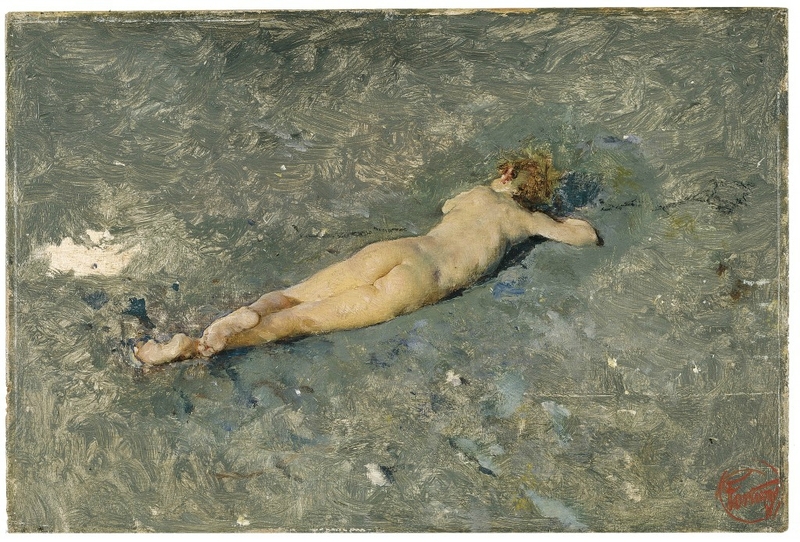 Mariano Fortuny y Marsal, Nude Boy on the Beach at Portici, 1874. Oil on panel, 13 x 19 cm. Museo Nacional del Prado.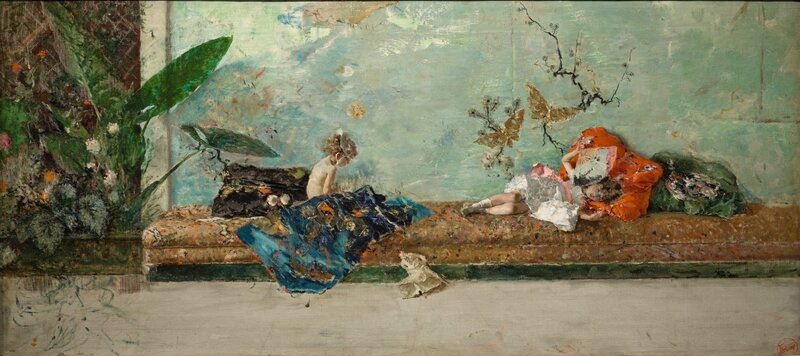 Mariano Fortuny y Marsal, The Painter's Children in the Japanese Room, 1874. Oil on canvas, 44 x 93 cm. Museo Nacional del Prado.
Fortuny (1838-1874)
Mariano Fortuny, who was born in Reus in 1838 and died in Rome in 1874, was the most internationally celebrated 19th-century Spanish artist. His early discovery of light and colour in the broad open spaces of the North African landscape led him to focus on working from life, free from academic convention. In addition, his study of the old masters in Rome and in the Museo del Prado gave Fortuny a profound appreciation of the essence of painting. The virtuosity of his technique, which allowed him to reproduce the textures colours of objects and figures and the reflections on them with a new visual intensity, earned him enormous international success from 1869 onwards. The time the artist spent in Granada (1870-72) and in Portici near Naples (1874) led on to new discoveries in the depiction of figures outdoors and to a unique and distinctive assimilation of different influences, including that of Japanese art, in the different techniques in which he worked.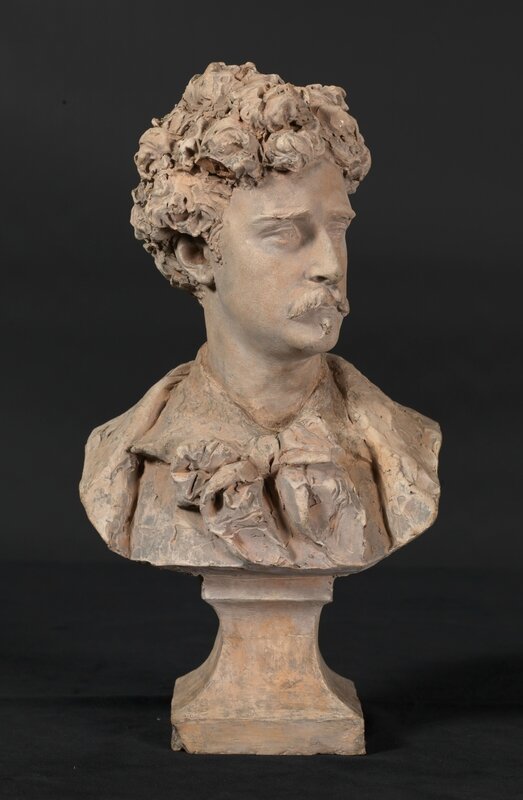 Prosper d'Épinay, Bust of Mariano Fortuny, 1869. Fired clay, 39 x 22 cm. Museo Nacional del Prado.
Fortuny's contribution to watercolour, which was the most significant of the time, laid the way for the renewal of this technique in Spain, Italy and France and he himself treated it with a new freedom of stroke and chromatic intensity. As a draughtsman he captured the character of whatever lay before him through precise, immediate and eloquent strokes. His innovative approach to etching, based on a technique that emphasised nuances and values of light, made him the finest intaglio printmaker of the century after Goya. Finally, Fortuny's activities as a collector, to which he applied his remarkable eye, allowed him to assemble an outstanding group of works, particularly Hispano-Moresque ones, which provided a source of ideas for his own creations. Installed in his atelier alonside his paintings, these works created an aesthetic environment that brought together art of the past with living creation in a new concept of the studio, close to the total work of art, which would become a model for his followers.
The preparation of this exhibition has been based on a rigorous study of various documentary archives never previously researched in a systematic manner. One of them, acquired by the Museo del Prado, has provided the basis for two complementary publications made possible with sponsorship from the Fundación María Cristina Masaveu Peterson: Volume I of the Epistolario del Archivo Madrazo en el Museo del Prado, and the biography Cecilia de Madrazo, light and memory of Mariano Fortuny (the latter also published in English).