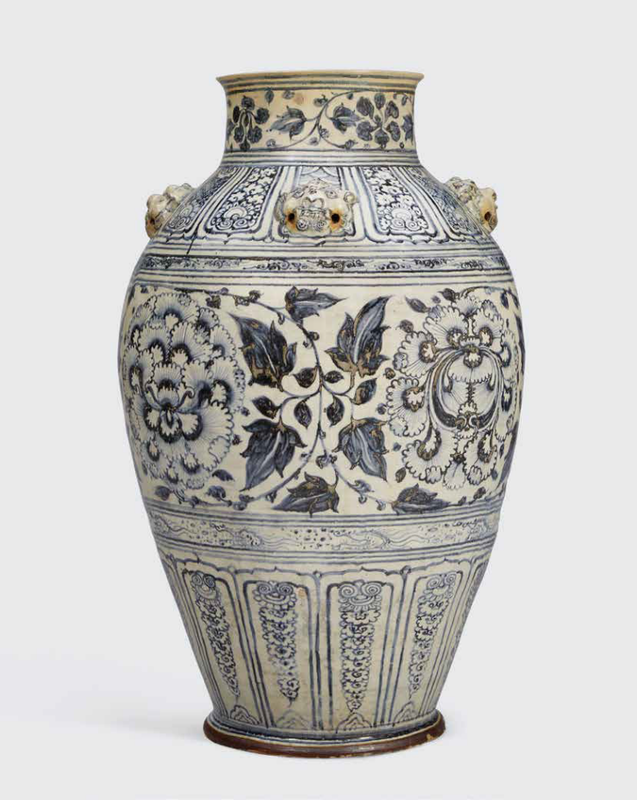 Lot 856. A rare massive blue and white storage jar, Lê dynasty, 15th-16th century; 33 1/4in (84.5cm) high. Estimate US$ 125,000 - 200,000 (€110,000 - 170,000). Sold for US$ 125,000 (€105,529). Photo: Bonhams.
Seventeen years ago last month, the Asian Art group at Butterfield and Butterfield was proud to present Treasures from the Hoian Hoard, Important Vietnamese Ceramics from a late 15th/early 16th century Cargo – a superb archaeological discovery, in these San Francisco rooms. It was a great privilege to work with this 500 year old cargo; its diverse contents were a window into the market taste of late 15th century Southeast Asia, conveying the freshness and vitality of brushwork and the creative imagination of potter and craftsman. The massive excavation effort, commissioned by the Vietnamese government in cooperation with a Malaysian salvage company and Oxford MARE, both returned to Vietnam part of its cultural heritage while enabling museums and private collectors an opportunity to acquire documented objects of rare type and decoration for their collections.
It is with this background and experience that we are delighted to offer selections from the Brow collection of Vietnamese ceramics. This group of lots includes vessels from the 12th to the 16th century, including many pieces which directly relate to the Hoian cargo in shape and decoration, created in the kilns in Hai Duong province, the biggest center of ceramic production in North Vietnam.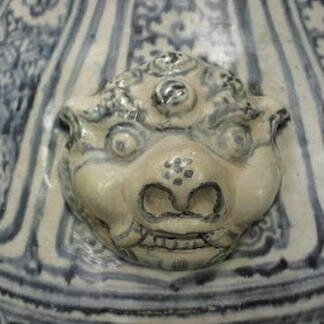 Thickly potted and painted in dark cobalt underglaze with decorative bands that include peony flowers in profile on leafy tendrils around the neck and elaborately petaled peonies on leafy stalks around the body set between a leaf scroll meander above and a row of dragon heads and water spray below, the lotus petal lappets on the shoulder enclosing vegetal and geometric diaper patterns while tall jeweled lotus petals rise from the foot, the shoulder also applied with four pierced animal heads in high relief and the outside edge of the foot striped in ferruginous wash, the well-cut foot pad and recessed base showing the buff unglazed fabric.
Published: James H. Brow and Anh Hoang Brow, 'Vietnamese Ceramics: A Ten Thousand Year Continuum,' Arts of Asia, March-April 2004, p. 92, no. 29.
Note: This jar appears to be the tallest of a group of large storage jars published in various public and private collections. For a discussion of the group, dated variously from the 15th to 16th centuries, and ranging in size from 36.7 to 66 cm, see Kerry Nguyen-Long, 'An Indonesian Collection: Vietnam's Painted Ceramics,' Arts of Asia, March-April 2004, pp. 95-102. Of interest to this lot are the two jars from the private Indonesian collection painted in a similar dark inky blue: the taller (no. 13, height 66cm, as 16th century) with unpierced animal head masks applied on the shoulder; the shorter, (no. 12, height 62.5cm, as 15th-early 16th century), with a band of iron brown wash drawn around the edge of the foot. The shorter jar, in turn, shared characteristics similar to shards excavated at the Ngoi and Chu Dao kiln sites. The same distinctive band of brown wash to the foot rim, peony blossoms and pierced animal head masks applied to the shoulder appear on a jar of larger size from the Ken Baars collection, illustrated in John Stevenson and John Guy, Vietnamese Ceramics: A Separate Tradition, 1997, p. 358, no. 331 (height 73cm, as 16th century. For a small blue and white lamp stand with dark cobalt decoration and iron brown band along the foot, part of the Hoi An/Cu La Cham shipwreck and matching wasters found at the Ngoi site, see Nancy Tingley, Arts of Ancient Vietnam: From River Plain to Open Sea, New York and Houston, 2009, pp. 288-289, no. 86c (as late 15th century).
NDB: This jar was proposed by Zetterquist Galleries in march 2017:
An Important and Massive Blue and White Jar, Lê Dynasty, 15th–16th c. A.D., Vietnam; Height: 86.5cm © Zetterquist Galleries
Cf. my post: An Important and Massive Blue and White Jar, Lê Dynasty, 15th–16th c. A.D., Vietnam