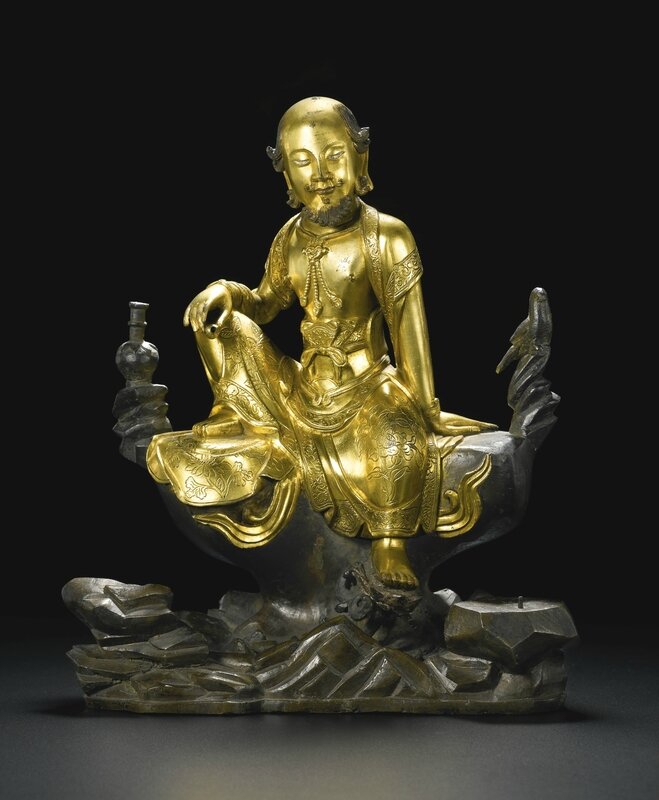 Lot 93. A parcel gilt-bronze figure of Avalokitesvara, Ming dynasty, 16th century; 25.3cm., 10in. Estimate 40,000 — 60,000 GBP. Lot sold 158,500 GBP. Photo Sotheby's 2014
cast seated in rajalilasana with the right arm resting on the raised right knee, the left hand resting beside the pendent left leg, wearing a dhoti tied on a bow at the waist and a shawl draped across the shoulders, elaborately incised with floral sprays and bordered by foliate scrolls, the bare chest adorned with a beaded necklace, the head turned slightly to the left, eyes downcast in a meditative expression, the face detailed with a beard, moustache and curly hair, all supported on a bronze rocky plinth with a bird and a vase on either side.
Note: This bronze figure likely depicts the Bodhisattva Avalokitesvara in the manifestation known as 'Southern Seas' (Nanhai) as indicated by the rocky pedestal on which he rests, which represents Mount Potalaka. He is seated in the pose of royal ease (rajalilasana), which Derek Gillman in 'A New Image in Chinese Buddhist Sculpture of the Tenth to Thirteenth Century', Transactions of the Oriental Ceramic Society, 1982-1983, vol. 47, p. 37, suggests is a variation of the rajalila pose which appeared in the 10th century, possibly inspired by Sri Lankan images of bodhisattva.
Representations of the Southern Seas Avalokitesvara as a bald and bearded bodhisattva are rare and as he is more commonly depicted crowned; see a figure of Avalokitesvara seated on a pedestal of this type, included in A Special Exhibition of Recently Acquired Gilt-Bronze Buddhist Images, National Palace Museum, Taipei, 1996, cat. no. 22; one, seated on a smaller pedestal, sold in our New York rooms, 1st December 1992, lot 195; another sold at Christie's London, 11th November 2003, lot 92; and a fourth example sold at Christie's New York, 21st September 2004, lot 130. Compare also a seated bald and bearded figure, catalogued as Maitreya, from the collection of Otto Rose, sold in our London rooms, 16th May 2007, lot 34.
A large wood sculpture attributed to the Song Dynasty (960-1279), modelled with the bodhisattva seated on a rocky pedestal, in the Nelson-Atkins Museum of Art, Kansas City, is published in Haiwai Yichen [Chinese Art in Overseas Collections: Buddhist Sculpture], Taipei, 1986, pl. 130; and another, but lacking the original pedestal, in the British Museum, London, was included in the Museum's exhibition Buddhism. Art and Faith, London, 1985, cat. no. 296.
Sotheby's. Fine Chinese Ceramics & Works of Art. London, 14 mai 2014